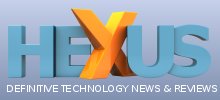 There's a Steam Controller hardware revision on the way

Feature set won't be drastically changed, tweaks focus on look and feel says Valve.

Read More ...
---
Apple to swap MacBook keyboard with Force Touch input structure?

Patent suggests an LED-lit customisable haptic feedback surface is in development.

Read More ...
---
Lian Li lists the PE-550 and PE-750 SFX-L power supplies

Small form factor PSUs are rated at 550W and 750W respectively.

Read More ...
---
Samsung has sold more than a million curved screen monitors

Currently 85 per cent of curved monitors sold worldwide are from Samsung.

Read More ...
---
Corsair's angular SPEC-ALPHA Mid-Tower ATX case shipping

And the firm extends select PSU warranties from 7 years to 10 years.

Read More ...
---
QOTW: Are you tempted by the Tesla Model 3?

It could be the car that changes the motor industry as we know it. But might you buy one?

Read More ...
---
HEXUS Week In Review: EVGA SC17, Travelair AC and more

Your chance to catch up on the week's tech developments.

Read More ...
---
Review: EVGA SC17 Gaming Laptop

EVGA's first-ever laptop reviewed and rated.

Read More ...
---
Adobe Flash update addresses 'Cerber' drive-by ransomware threat

That's just one of 24 critical vulnerabilities covered by this plugin software update.

Read More ...
---
Toshiba announces Q300 SATA III SSD series with 15nm flash

Q300 series uses 3-bit-per-cell TLC, Q300 Pro series drives use 2-bit-per-cell MLC flash.

Read More ...
---
Available Tags:
Steam
,
hardware
,
Apple
,
MacBook
,
keyboard
,
Samsung
,
HEXUS
,
EVGA
,
Gaming
,
Adobe
,
SATA II
,
Toshiba
,
SATA
,
SSD
,