SanDisk Extreme 900 USB 3.1 Gen 2 Portable SSD Review
SanDisk launched the Extreme 900 SSD at
Computex 2015
. The claim to fame was the availability of almost 2TB of flash in a bus-powered enclosure with a USB 3.1 Gen 2 Type-C interface. It was one of the first 2TB-class external drives to arrive in the market. Though the Samsung T3 Portable SSD beat it to our review bench, we finally got SanDisk's review sample last month. Read on for a detailed review of the 1.92TB SanDisk Extreme 900, one of the first USB 3.1 Gen 2 client devices available in the market.

Read More ...
---
The SilverStone Strider Platinum 550W PSU Review
Today we are having a look at the "world's smallest" 80Plus Platinum certified 550W ATX PSU, the SilverStone Strider Platinum. The company boasts that this fully modular, compact PSU is of exceptional quality and can deliver world-class performance, making it ideal for users with constrictive cases.

Read More ...
---
Meizu Launches the m3 note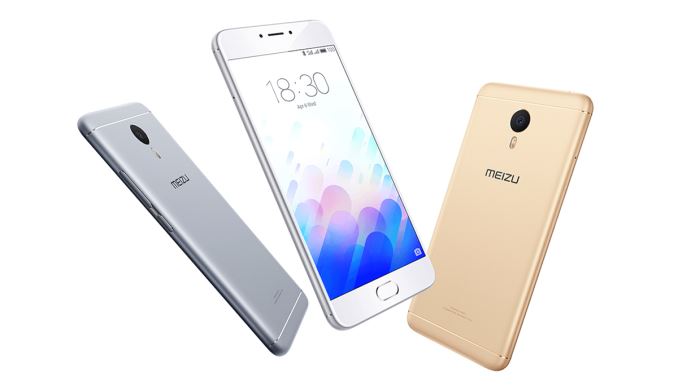 With every year, we tend to see quite a few launches happen in the first two quarters as the cycles in supply chains align for mass production to start around this time. We've already seen a number of new products from
Huawei
,
LG
,
Samsung
, and
Xiaomi
. Meizu is the latest company to join this list with its announcement of the m3 note.
With a 6061 aluminum unibody design, the m3 note draws heavily from the PRO 5. The rear camera is accentuated by a large, black surround with the pill-shaped dual-color LED flash sitting just below. Unlike the PRO 5, however, the camera sits flush with the back. Meizu's unique T-slot design also carries over from the PRO 5. Instead of the usual plastic antenna strips, Meizu machines slots into the aluminum back, whose polished finish provides a nice contrast to the sandblasted aluminum.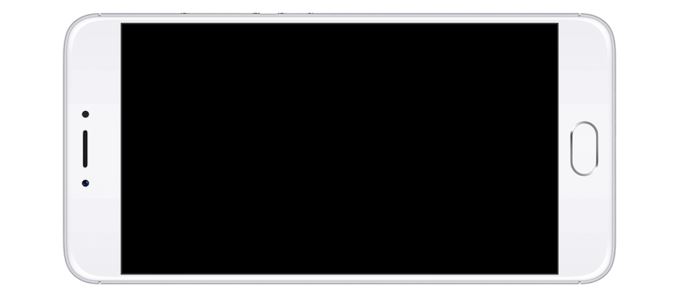 The volume rocker switch sits above the power button inside a groove machined into the right edge, while the SIM and SD card combo slot is on the left edge. A 3.5mm headphone jack is found up top. The downward firing speaker sits next to a centered microUSB port on the bottom.
The m3 note's 5.5-inch FHD IPS display—which reaches a peak brightness of 450 nits, according to Meizu—sits behind edge-to-edge glass. There's also an mTouch 2.1 fingerprint sensor below the screen that's surrounded by a stainless steel accent ring. Overall, the rounded corners, beveled edges, and 2.5D curved cover glass give the m3 note a similar in-hand feel to the iPhone 6s Plus.
Meizu m3 note Specifications
SoC
MediaTek Helio P10 (MT6755)

4 x 1.8GHz Cortex A53 (Performance)

4 x 1.0GHz Cortex A53 (Efficiency)



Mali T860MP2
RAM
2/3GB LPDDR3-833
NAND
16/32GB (eMMC 5.1) + microSD
Display
5.5" 1920x1080 IPS LCD
Modem
2G / 3G / 4G LTE Category 6

(Integrated MediaTek WorldMode)

Dual SIM DSDS
Mainland China variant



GSM: B2/B3/B8/B5

TD-SCDMA: B34/B39

WCDMA: B1/B2/B5/B8

CDMA: BC0

TDD-LTE: B38/B39/B40/B41

FDD-LTE: B1/B3/B7
International Market variant



GSM: B2/B3/B8/B5



WCDMA: B1/B5/B8



TDD-LTE: B40

FDD-LTE: B1/B3/B7
Dimensions
153.8mm x 75.6mm x 8.2mm; 163g
Camera
Rear Facing

13MP

f/2.2 PDAF Dual LED Flash
Front Facing

5MP

f/2.0
Battery
4100 mAh (15.79Wh)
Launch OS
Android 5.1 with Flyme 5.1 UI
Connectivity
802.11 a/b/g/n/ac, Bluetooth 4.0

GPS/GNSS, Micro USB 2.0, DLNA
Launch Price (CN)
799/999 RMB (125/155 USD) 2GB/3GB
Inside the aluminum chassis is an octa-core
MediaTek Helio P10 SoC
. This midrange SoC uses four ARM Cortex-A53 CPUs with a max frequency of 1.8GHz and another four with a max frequency of 1.0GHz in a big.LITTLE arrangement. These frequencies are a little below the P10's rated frequencies of 2.0GHz and 1.1GHz, respectively. So either Meizu is underclocking the P10 to save power, or it's using a lower-binned version of the P10.
The P10 SoC also includes an ARM Mali-T860MP2 GPU. This is ARM's current midrange GPU, which features two ALUs per core instead of three ALUs per core like the high-end Mali-T880.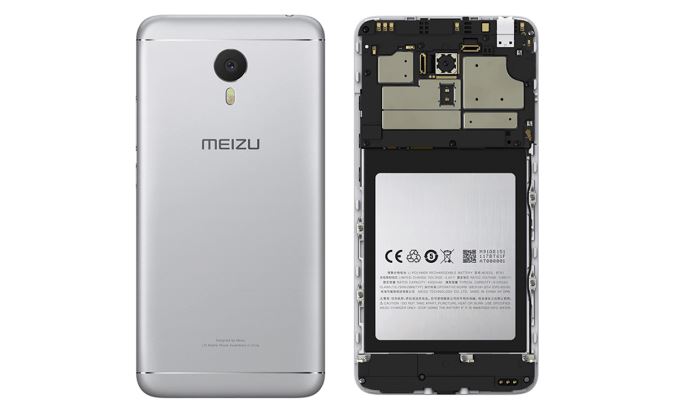 The m3 note comes in two different configurations: 2GB RAM / 16GB internal storage and 3GB RAM / 32GB internal storage. Both versions support microSD cards for storage expansion and feature a rather large 4100 mAh battery, which should provide the m3 note and its lower-clocked P10 SoC with excellent battery life.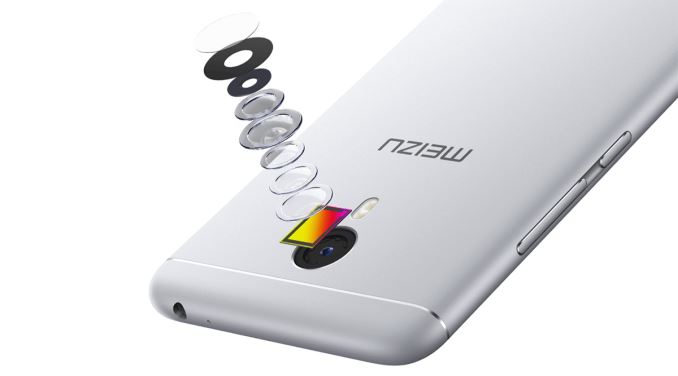 The 13MP rear camera sits behind a 5-piece lens array with an f/2.2 aperture. It's unclear who makes the sensor, but it does use PDAF to improve focus speed. There's no OIS support, which is a feature that has yet to trickle down to this price point. The m3 note records video at up to 1080p30, a limit imposed by the P10 SoC.
The m3 note comes in three different colors: gold/white, silver/white, and gray/black. It will be available in China for 799 and 999 RMB for the 2GB and 3GB models respectively. The m3 note will also be available India, Russia, France, Spain, Brazil, Italy, Russia and several other countries throughout Europe, Southeast Asia, Middle East and Latin America, with exact pricing to be determined.

Read More ...
---
EVGA Releases GeForce GTX 950 Low Power Graphics Cards with 75W TDP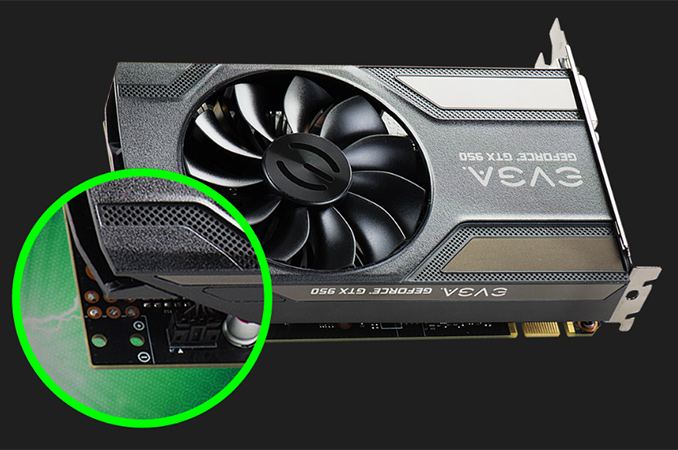 EVGA this week unveiled their NVIDIA GeForce GTX 950-based video cards with reduced power consumption. As a result, these new cards do not require auxiliary power connectors and can be powered entirely by a PCIe x16 slots Similar variants have already been announced from companies like
ASUS
and
MSI
, but EVGA decided to release a range of such graphics cards as well, including factory-overclocked models.
EVGA's family of low-power GeForce GTX 950 graphics cards
that do not need external power consists of four models, which is a lot by contrast to other manufacturers. The GPUs are based on NVIDIA's cut-down GM206 graphics die (768 stream processors, 48 texture units, 32 ROPs, 128-bit GDDR5 memory interface) but use EVGA's custom PCB with 3+1 phase VRM. The GPUs are equipped with 2 GB of GDDR5 memory, one or two DVI connectors depending on model, one HDMI 2.0 port and one DisplayPort output.
From the four cards, two of them run at NVIDIA's reference GPU clock rates of 1025/1190 MHz, while the other two a little bit faster and run the graphics chip at 1076/1253 MHz. In each pair, one has a single DVI-I while the other has DVI-I and DVI-D connectors. All the boards feature 6.6 Gbps GDDR5 memory. As for cooling, they use dual-slot single-fan EVGA ACX 2.0 coolers.
Unfortunately, EVGA does not mark its GeForce GTX 950 boards with reduced power consumption with any easy to recognize label, hence, the only way to distinguish the adapters without PCIe connectors is by referencing the product numbers:
NVIDIA GeForce GTX 950 Graphics Cards Specification Comparison
EVGA GTX 950
EVGA GTX 950
EVGA GTX 950
EVGA GTX 950
MSI

GTX 950
ASUS

GTX 950
Ref
Product Name
02G-P4-0952
02G-P4-0956
02G-P4-0954
02G-P5-258
2GD5 OCV2
GTX950-2G
-
CUDA Cores
768
Texture Units
48
ROPs
32
Core Clock
1025

MHz
1076

MHz
1025

MHz
1076

MHz
1076

MHz
1026

MHz
1024

MHz
Boost Clock
1190

MHz
1253

MHz
1190

MHz
1253

MHz
1253

MHz
1190

MHz
1188

MHz
Memory Clock
6.6 Gbps

GDDR5
Memory Bus Width
128-bit
VRAM
2 GB
TDP
75 W
90 W
Outputs
DVI-I

DP 1.2

HDMI 2.0
DVI-I

DP 1.2

HDMI 2.0
DVI-D

DVI-I

DP 1.2

HDMI 2.0
DVI-D

DVI-I

DP 1.2

HDMI 2.0
DVI-I

DisplayPort 1.2

HDMI 2.0
Architecture
Maxwell 2
GPU
GM206
Transistor Count
2.94 B
Manufacturing Process
TSMC 28nm
Launch Date
Apr '16
Mar '16
Mar '16
Aug '15
Launch Price
unknown
$159
While graphics cards like the GeForce GTX 950 are not used to build high-end gaming PCs, these new PCIe-less models can be purchased to upgrade inexpensive or older PCs which sometimes come without an auxiliary PCIe power connector on the power supply. In addition, a GM206-based adapter is a reasonable choice for an HTPC as the GPU supports hardware-accelerated decoding and encoding of H.265 (HEVC) video, as well as HDCP 2.2 content protection over HDMI 2.0 (which is required for Ultra HD Blu-ray playback).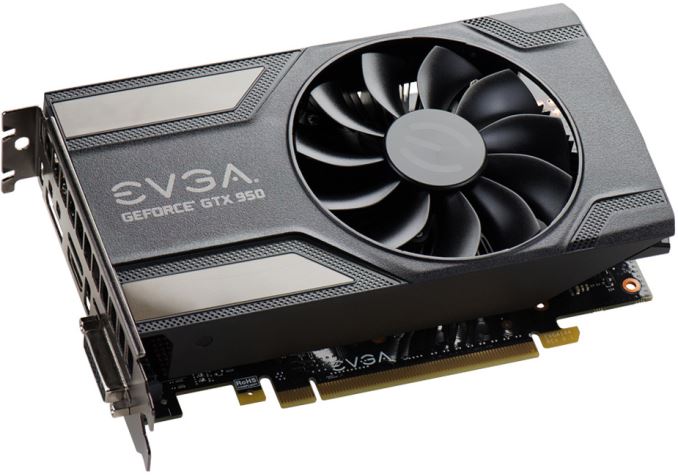 Since at least three manufacturers of NVIDIA graphics cards already offer GeForce GTX 950 boards without auxiliary PCIe power connectors, it is could be assumed that the GM206-251 GPU (revealed by MSI) has been selected due to reduced power requirements. It is unclear whether NVIDIA picks such GPUs itself and then marks them accordingly, or if there is a new revision of the chip and makers of add-in-cards have to test power requirements themselves through binning.
Right now EVGA does not sell its GeForce GTX 950 low power graphics cards on its website. It is unknown at what price these units will be launched at this time.

Read More ...
---
Samsung Begins To Produce DDR4 Memory Using '10nm Class' Process Tech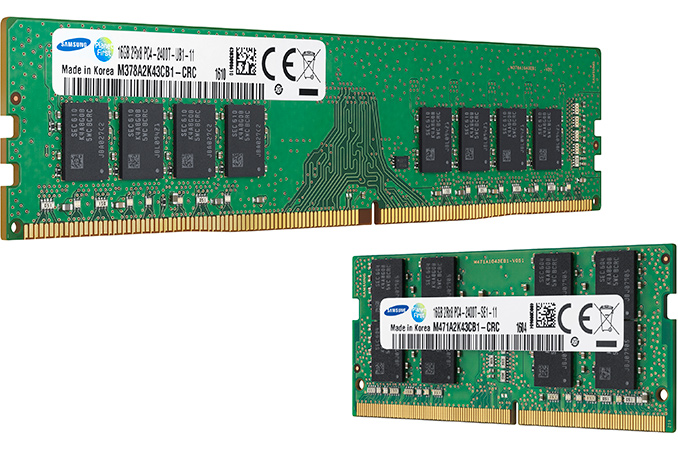 Samsung Electronics has started to manufacture DDR4 memory using its new '10nm class' production technology. '10nm class', by definition, implies sub-20nm but without fully disclosing the methodology, similar to the first sub-20nm NAND production that used 1x/1y terminology. By using a sub-20 nm fabrication process, this typically helps a company make ICs/DRAM cheaper, faster and more energy efficient, depending on the process complexity. In this case, Samsung continues to use ArF (argon fluoride) immersion lithography tools with quadruple patterning to make its latest memory, which indicates a very high complexity of the new process tech. What is also important is that the new DRAMs feature Samsung's new memory cell structure.
In the news today, Samsung's new DDR4 memory chips are produced using 10nm-class manufacturing technology, have 8 Gb capacity, and can operate at 3200 Mbit/s data rate (DDR4-3200). In addition, the new DRAM devices are reported to consume 10 – 20% less power than equivalent DDR4 memory ICs made using a 20 nm fabrication process, based on tests conducted by the memory maker. Finally, Samsung can produce 30% more 8 Gb chips on a single 300 mm wafer thanks to the new manufacturing technology, which will lower their costs once their yields match those of current-gen chips due to having more chips per wafer.

Samsung does not disclose many details about its production process, such as its smallest half-pitch size (which gives actual names to DRAM manufacturing technologies, such as 20 nm or 25 nm). What we do know is that the new tech stacks very narrow cylinder-shaped capacitors on top of transistors, which implies a new DRAM cell structure (4F
2
?). Manufacturers of memory have historically changed the structures of DRAM cells every five or six years, and each change represents a major technology challenge as the density changes. Samsung says that it has refined the dielectric layer deposition technology and enabled substantial performance improvements, which may mean that the new memory chips can have a higher clock-rate potential than Samsung's existing DRAMs, or more units will pass the base tests. If this is the case, if we extrapolate, this may open doors to DDR4 memory modules with unprecedented data rates (e.g., higher than DDR4-4400). Nonetheless, use of quadruple patterning significantly increases the complexity of manufacturing, which may somewhat slow down the ramp up of the new memory ICs and cause delays in increased yield refinements.
Samsung claims that later this year it intends to use its 1x nm manufacturing technology to make LPDDR memory with increased capacity, which should help makers of smartphones, tablets and notebooks boost the amount of DRAM inside their devices or reduce pricing.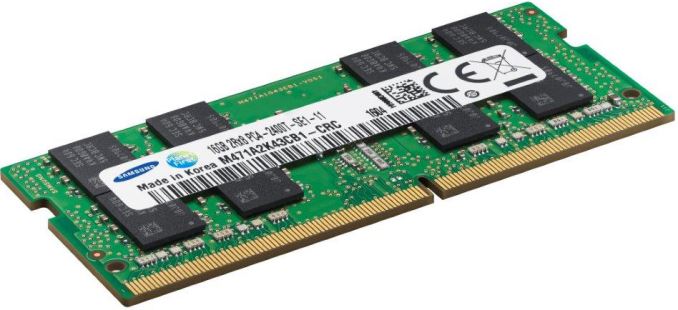 Use of the sub-20 nm process technology to produce 8 Gb DDR4 chips should make such DRAM ICs cheaper (eventually), which will help PC and server makers to install more memory without increasing prices of their products. At press time, one 8 Gb DDR4 chip costs $4.688, according to DRAMeXchange. By contrast, a 4 Gb DDR4 IC is priced at $1.672. Therefore, using low-capacity chips is still cheaper than using high-capacity DRAM devices. Meanwhile, if you are building servers, you might not have a choice but to utilize 8 Gb chips to create high-end memory modules (i.e., with 128 GB capacities). For that reason, for server manufacturers, Samsung's new 8 Gb DDR4 chips should be useful.

Read More ...
---
3DMark Adds VRMark Preview and an Updated UI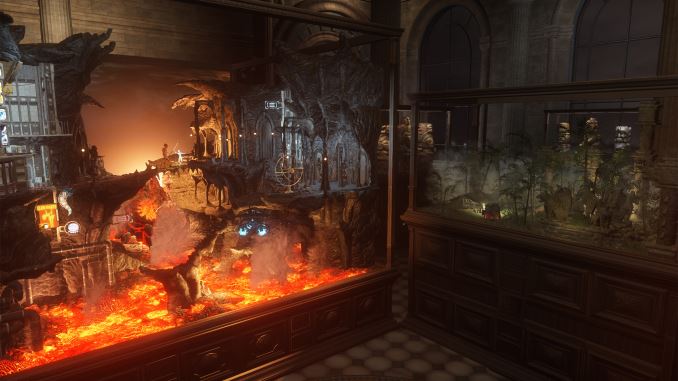 We now have the release of the high end consumer VR headsets behind us. That sets the stage for a (hopefully) steady flow of software to use with the new (and future) headsets. Among the latest announcements is the inevitable release of a benchmark from Futuremark, who has long been a staple in PC gaming benchmarks. Their latest update brings a new VR experience, an updated user interface, and control over benchmark downloads and updates.
FutureMark's latest release is an interactive preview of VRMark, which is now available for the 3DMark Advanced and Professional editions. In this preview users are allowed to freely explore two test scenes with the Oculus Rift, HTC Vive, and of course a standard monitor.
Both scenes included take place in an exhibit room of a museum and feature scenes from benchmarks in years past. With this preview of tests to come the first scene is geared toward the minimum level specifications we have seen outlined for both the HTC Vive and Oculus Rift, with scene two targeting more powerful hardware. No scores are given by either demo, but they both ran smooth on a Titan X running a G-Sync monitor. Though I would have to jump in with a headset to really see how demanding this preview is to run.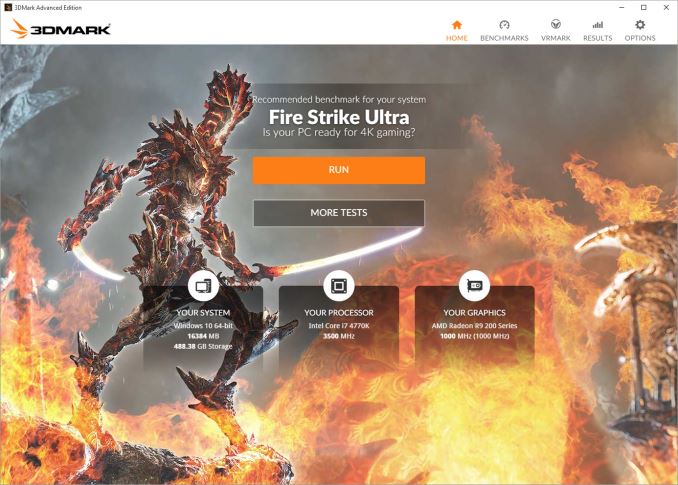 To coincide with the release of the VRMark preview, FutureMark is also updating the user interface of 3DMark as a whole. When the 3DMark suite is first started up a new home screen recommends a test based on the configuration of the system. On a deeper level all benchmarks are now downloaded on an individual basis and can be updated independently as well. Which can help avoid large downloads every time there is an update.
Alongside all of this news Ice Storm Extreme and Ice Storm Unlimited are now unlocked in 3DMark Basic Edition. Additionally, SystemInfo has been updated to version 4.43, bringing with it improved hardware detection. FutureMark also states that their next major update will bring us the new Time Spy benchmark which features DirectX 12. For more information about VRMark see
Futuremarks VRMark landing page
.

Read More ...
---
The ASUS Maximus VIII Extreme Review: The Other $500 Option
On the back of our last $500 motherboard review, it was clear that a number of readers were surprised that a mainstream motherboard could cost so much. We took the opportunity to ask ASUS why such a thing exists, especially when a high-end desktop platform combination could cost less. The answer is due to the engineering: an ROG motherboard takes twice as long to design and validate, as well as custom ICs and finding the secret sauce to each platform. ASUS said that they have platforms for any budget, but for the users who want to squeeze every last morsel of performance in a mainstream halo budget, they have a product for that as well. That product is the Maximus VIII Extreme, and this is our review.

Read More ...
---
Tyan Introduces 1U POWER8-Based Server for HPC, In-Memory Applications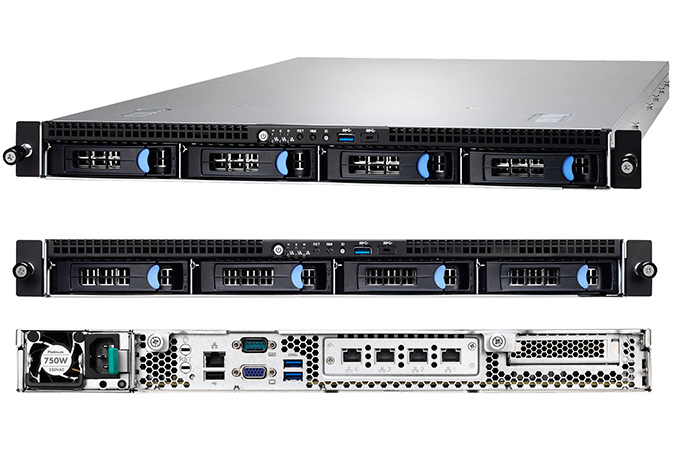 At this week's OpenPOWER Summit in San Jose, California, Tyan has introduced its new
IBM POWER8
-based 1U servers designed for high-performance computing (HPC) as well as in-memory applications. The new machines are designed to target niche markets that do not require extreme processing performance, but need a lot of RAM. The new Tyan GT75 expands the range of Tyan's POWER8-based machines and helps IBM's POWER8 platform to compete against Intel Xeon in niche markets.
Nowadays over 95% of servers are based on Intel's Xeon microprocessors, which does not make producers of servers and operators of large datacenters happy because they have one supplier of key components that controls platform development and prices. Three years ago, IBM teamed up with Google, Mellanox, NVIDIA and Tyan to establish the OpenPOWER Foundation to develop servers based on IBM's processors collaboratively. So far, IBM POWER-based servers have not gained a lot of market share, but it looks like they are starting to gain traction as companies like Tyan are expanding their POWER8 hardware offerings.
The Tyan GT75 machines (just like the Tyan TN71-BP012 servers launched a year ago) are based on one IBM POWER8 Turismo SCM processor with eight or ten cores and can be equipped with up to 1 TB of memory. The systems feature 32 R-DDR3L DIMM slots using four IBM Centaur memory buffer chips (MBCs) and support 32 GB modules, which are considerably more affordable than 64 GB or 128 GB memory sticks.
Comparison of IBM POWER8 Turismo CPUs Compatible with

Tyan's SC75 and TN71 Servers
POWER8 8-Core
POWER8 10-Core
POWER8 12-Core
Core Count
8
10
12
Threads
64
80
96
Frequency (nominal)
2.328 GHz

3.325 GHz
2.095 GHz

2.926 GHz
2.561 GHz
L2 Cache
512 KB per core

2 MB per CPU
512 KB per core

5 MB per CPU
512 KB per core

6 MB per CPU
L3 Cache
8 MB eDRAM per core

64 MB per CPU
8 MB eDRAM per core

80 MB per CPU
8 MB eDRAM per core

96 MB per CPU
DRAM Interface
DDR3L-1600, memory connects to CPUs using the IBM Centaur MBCs
PCI Express
3 × PCIe controllers, 32 lanes
TDP
130W

190W
130W

190W
190W
While the GT75 servers (BSP012G75V4H) feature only one CPU, each IBM POWER8 core can process up to eight hardware threads simultaneously thanks to 16 execution pipelines. The chips also have massive caches (512 KB L2 per core, 8 MB eDRAM L3 per core as well as 16 MB per MBC), which are particularly useful for memory-intensive applications.
Comparison of Tyan GT75 Servers
BSP012G75V4H-B4C
BSP012G75V4H-Q4T
BSP012G75V4H-Q4F
CPU
IBM POWER8

8-Core

2.328 GHz

130 W/169 W TDP
IBM POWER8

10-Core

2.095 GHz

130 W/169 W TDP
IBM POWER8

10-Core

2.095 GHz

130 W/169 W TDP
Installed RAM
8 × 16 GB R-DDR3L
16 × 16 GB R-DDR3L
32 × 16 GB R-DDR3L
RAM (subsystem)
Up to 1 TB of DDR3L-1333 DRAM, 32 RDIMM modules, four IBM Centaur MBCs
Storage
2 × 512 GB SSDs
2 × 1 TB SSDs
4 × 1 TB SSDs
Tyan Storage Mezzanine
MP012-9235-4I

(4-port SATA 6Gb/s IOC w/o RAID stack)
LAN
4 × GbE ports
4 × 10 GbE ports
4 × 10 GbE ports
Tyan LAN Mezzanine
MP012-5719-4C

Broadcom 1GbE LAN Mezz Card
MP012-B840-4T

Qlogic+Broadcom 10GbE LAN Mezz Card-
MP012-Q840-4F Qlogic 10GbE LAN Mezz Card
The Tyan GT75-BP012, which is a 1U server that is designed for in-memory computing, HPC and virtualization, can be equipped with up to four 3.5" hot-swappable SAS 12G/SATA 6G HDD/SSDs, four network controllers (1 GbE and 10 GbE) as well as a 750 W PSU. The server uses the PLX PEX8748 PCIe switch and one PCIe 3.0 x8 expansion slot. Tyan did not reveal the price of the system, but said that it would be available already in April.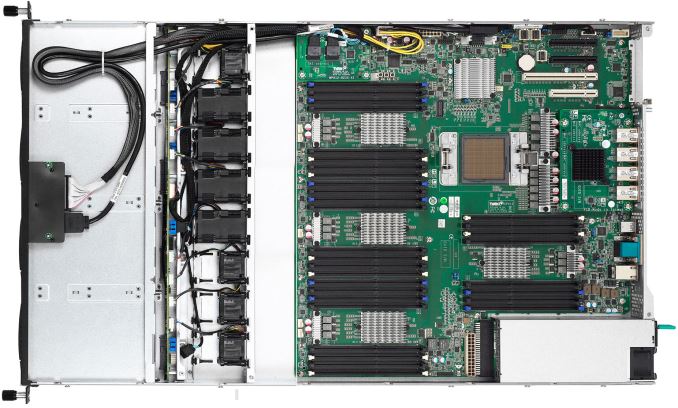 The new 1U machines complement the Tyan TN71-BP012 launched in March, 2015. The TN71 is a 1-way 2U platform for data analytics and applications, it supports 12 3.5" hot-swappable SAS 12G/SATA 6G HDD/SSDs, four 10 GbE network ports as well as two 1200 W PSUs for redundancy reason. This machine supports IBM POWER8 Turismo SCM processor with up to 12 cores and is generally more powerful than the GT75.

Read More ...
---
Available Tags:
USB
,
SSD
,
EVGA
,
GeForce
,
GTX
,
Samsung
,
DDR4
,
ASUS
,
Other
,
Server
,