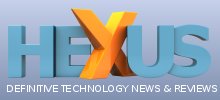 QOTW: Which smart home gadgets do you own?

Or are there any you're contemplating buying?

Read More ...
---
HEXUS Week In Review: ThinkPad Yoga 260 and Corsair Void

Your chance to catch up on the week's tech developments.

Read More ...
---
Google Docs voice typing now includes editing and formatting

"No keyboard required" to compose a letter or write your next novel boasts Google.

Read More ...
---
AMD releases Radeon Software Crimson Edition 16.2 drivers

Optimised to support Stardock's Ashes of the Singularity - Benchmark 2 and more.

Read More ...
---
Samsung intros UFS flash chips with double speed and capacity

Expects 256GB chips to be bought by makers of high-end tablets and smartphones.

Read More ...
---
ZOTAC launches the SONIX 480GB PCIe SSD

Its first PCI Express based storage solution.

Read More ...
---
Kinjal Dave blog: Embedded systems is a whole new ball game now

ARM's CPU Product Manager discusses the future of rich-embedded applications.

Read More ...
---
Review: Lenovo ThinkPad Yoga 260

A business laptop that does it all?

Read More ...
---
Kyocera shows off improved solar powered smartphone

More efficient than last year's model: 3mins of sun providing 1min of talk time.

Read More ...
---
AMD market share expected to hit new low in current quarter

Taiwanese industry sources say the above statement is true for both GPUs and CPUs.

Read More ...
---
Available Tags:
HEXUS
,
Google
,
AMD
,
Radeon
,
Samsung
,
ZOTAC
,
SSD
,
Lenovo
,
smartphone
,
Market Share
,