The Toshiba Q300 SSD Review: Toshiba Becomes a Retail Brand
Today we're looking at Toshiba's Q300 SSD. The Q300 is the entry-level model from the Toshiba's first line of SSDs sold directly to consumers and through retail outlets. Based on the same platform as their OCZ subsidiary's Trion 100, it competes in the crowded market for low-end drives using TLC NAND flash.

Read More ...
---
Best SSDs: Q1 2016
Many SSD manufacturers have been predicting that the 120-128GB class of SSDs will reach price parity with hard drives this year. If they do, it probably won't matter. As higher capacity 3D NAND rolls out and pushes price per GB down, 128GB drives face a dilemma: use the newer and more cost-effective flash while losing performance due to a reduction in the number of dies to spread operations across, or stick with lower capacity dies (made on an inferior process) to retain better performance through a larger number of chips. Samsung's new 750 EVO chooses the latter option by adopting 16nm planar TLC even as Samsung's third-generation 3D NAND is about to hit the market.
As always, the prices shown are merely a snapshot at the time of writing. We make no attempt to predict when or where the best discounts will be. Instead, this guide should be treated as a baseline against which deals can be compared. For drives not mentioned in this guide, our
SSD Bench
database can provide performance information and comparisons.
The only things changing in the high-end segment of the SATA SSD market are the prices. The Samsung 850 Pro and SanDisk Extreme Pro are still two of the best SATA drives on the market, with no successors or new competitors. The Samsung 850 Pro is overall a bit faster, has a higher endurance rating and has hardware encryption support. The Samsung 850 Pro has continued to put price pressure on the SanDisk Extreme Pro, and they are now even at the 240/256GB class, making the Samsung drive the clear choice. Samsung also has the advantage of offering a 2TB model that has come down significantly in price, and a 4TB version will be showing up soon as Samsung moves to their third generation V-NAND that doubles the capacity per die.
The value segment of the market is flooded with models based on Phison's S10 controller, with most drives using either Toshiba's A19nm flash or their 15nm flash. Many other value models are still around and well-priced, and Samsung's brand-new 750 EVO is a new non-Phison drive. Out of the current crop of budget TLC drives, Phison-based drives like PNY's CS1311 are better performers than drives like the Crucial BX200 and ADATA SP550 using Silicon Motion's SM2256 controller. That said, we have a hard time justifying putting any of them on our recommended list because MLC drives with substantially better performance are only marginally more expensive (typically $10-20 extra).
The best deal in this market segment is obviously Mushkin's 1TB Reactor. At $0.23/GB it's priced to beat most TLC drives and is $20 cheaper than it was in November, but the Reactor uses MLC and thus has significant performance and power efficiency advantages over low-end TLC drives. The other capacities of the Reactor are currently priced higher than they were in November. The Crucial BX100 seems to still be available and the 250GB model is attractively priced, so it stays in the recommendations for another round. Both the Mushkin Reactor and the Crucial BX100 use the Silicon Motion SM2246EN controller, the most power-efficient SSD controller we've tested.
The PNY CS2211 pairs Phison's S10 controller with MLC NAND and manages to bump the OCZ ARC 100 off the recommended list by offering slightly better throughput at a slightly better price and with a longer warranty. A full review is forthcoming.
I've also included the Samsung 850 EVO, the one TLC drive that can actually compete against MLC drives on performance and power. At the moment the 500GB model offers a reasonable performance increase for the extra price, but the other capacities are too expensive for what they offer.
New PCIe drives based on controllers from Phison and Marvell are coming soon, but they haven't hit the market yet. That leaves Samsung and Intel as the only vendors offering PCIe 3.0 NVMe drives in the consumer space. Intel's SSD 750 is based on its enterprise SSD lineup and is only available in PCIe x4 add-in card or 2.5" U.2 form factor, while Samsung's consumer PCIe drives all use the M.2 2280 form factor.
The price of the Samsung 950 Pro has fallen slightly since the November edition of this guide, and it continues to be one of the most affordable PCIe drives. It's the clear leader for real-world performance on client workloads, and
with the addition of a heatsink
it tops the charts for most synthetic benchmarks as well. It's the easiest recommendation in this guide. Micro Center has been selling the 512GB model for under $300 all month, almost $30 less than the going rate at Newegg and Amazon. That's cheap enough that buying a 950 Pro 512GB and a PCIe x4 to M.2 adapter with a heatsink will still be cheaper than the 400GB Intel SSD 750.
For users who don't have systems capable of booting from an NVMe drive, we recommend the AHCI variant of the Samsung SM951. As an OEM drive you won't get a warranty from Samsung and it isn't supported by their SSD Magician software, but the price and performance are both reasonably close to the 950 Pro. We've found that its idle power consumption is better than the 950 Pro, which makes it a good upgrade choice for notebooks that shipped with a lesser PCIe M.2 drive.
Selection is limited for these smaller form factors, and the drives carry a premium. The Samsung 850 EVO and Crucial MX200 trade places depending on the benchmark and capacity, with the only constants being that the 850 EVO has lower idle power consumption and the MX200 has better steady-state random write performance. On average, the 850 EVO performs a bit better, but it's a tough generalization to make. We haven't benchmarked the mSATA or M.2 versions of the MX200, but performance should be mostly the same as the 2.5" versions, except that the small form factors have SLC caching enabled on all capacities. The 850 EVO and its predecessor 840 EVO are the only 1TB mSATA drives, and a 1TB M.2 version of the 850 EVO is due soon.

Read More ...
---
Microsoft Ends Effort To Bring Android Apps To Windows 10 Mobile
The death of Project Astoria won't come as a big surprise to those who have been keeping track of Windows 10 Mobile's development process since BUILD. Back in October of last year, preview builds of Windows 10 Mobile stopped including the Android runtime and there wasn't really any explanation as to why. Since that time, Project Islandwood has continued to be promoted by Microsoft while there hasn't been much news about Astoria. This led many in the development community to suspect that Microsoft had decided to kill the project, although there was no official confirmation until today.
In my view, the death of Project Astoria has both good and bad elements. Since it was essentially packaging Android applications to run on Windows 10 Mobile, the applications never fit in with the rest of the platform and so the question then became why you wouldn't just go buy an actual Android device. On the other hand, it did provide an easy way for developers and users to bundle up applications that didn't exist at all on Windows 10 Mobile, which would help fill the app gap in a less than optimal but usable manner.
According to Microsoft, the official reason for the death of Astoria is that developers felt that having two bridges from mobile operating systems was mostly redundant when their applications likely existed on both Android and iOS. With Microsoft's recent purchase of Xamarin, they may also be betting on developers creating applications in C# that can be deployed across Android, Windows, and iOS. In any case, Microsoft's bridges for Objective-C, JavaScript, and Win32 apps are still very much alive, but the prospect of easily bringing over Android applications to Windows 10 Mobile is gone.

Read More ...
---
Price Check: Price Gap Between DDR3 and DDR4 Memory Almost Gone
Prices of DRAM Memory Chips Are Down Again
The average price of one 4 Gb DDR4-2133 memory chip was $1.814 on Taiwanese spot market in late-February, according to
DRAMeXchange
, one of the world's leading DRAM and NAND market trackers. This month was the first time when the spot price of one 4Gb DDR4 memory IC dropped below $2. In late December, 2015, a DDR4-2133 chip was priced at $2.221, while in late June, 2015, a similar IC cost $3.618. Overall, one DDR4-2133 chip became 18.4% cheaper in about two months and lost nearly 50% of its price in about eight months. Meanwhile the contract price of one 4 Gb DDR4 chip was $1.63 in the second half of January.
Spot prices of DDR3 memory are also dropping. One 4 Gb DDR3-1600 chip currently costs $1.807 in Taiwan, down from $1.878 in December and $2.658 in late June, 2015. It is clear that the price of DDR3 memory ICs is decreasing slower than the price of DDR4 DRAMs - leading to the impending DDR3/DDR4 price crossover point - but the trend is obvious: memory is getting cheaper. Contract price of one 4 Gb DDR3 IC was $1.59 in the second half of January.
Low prices of DRAM chips naturally influence the pricing of actual memory modules. The price of one 4 GB DDR4-2133 SO-DIMM dropped to $15.50 in the second half of January (down from $18 in December, 2015), whereas the price of one 4 GB DDR3-1600 SO-DIMM decreased to $15.25 (down from $16.75 in December, 2015).
The gap between prices of 4 Gb DDR4 and DDR3 memory ICs on the spot market is now about 7 U.S. cents, leaving DDR4 just a little more expensive than its predecessor. However, if we look at the contract price of two different 4 Gb chips, we will see that one 4 Gb DDR4 IC is an even narrower, it is only 4 U.S. cents more expensive than one 4 Gb DDR3 device. Moreover, contract prices of actual DDR4 and DDR3 4 GB DIMMs, which are used today by a lot of PC makers, are nearly the same (DDR4 is about 1.63% higher, but that is insignificant).
Retail Prices of DDR4 Modules Continue to Decline
It is evident that despite Chinese New Year, a holiday that traditionally drives prices of computer hardware a little bit up because of increased demand and paused production in China, prices of DDR4 DRAM chips and modules are still falling. Let's take a look how that affects actual retail prices of various DDR4 and DDR3 kits in the U.S.
We'll start things off with Kingston's HyperX Fury Black DDR4-2133/CL14 2x8 GB kit (HX421C14FBK2/16), a pretty typical enthusiast-class memory module set. Such modules are used by both DIYers and system integrators, hence, their prices give us a good idea about where the market is going. Right now, Kingston's kit runs for $69.94 from Amazon, according to
CamelCamelCamel
, which tracks prices of various items at Amazon and its partners. Just about two months ago the same DDR4-2133 HyperX Fury Black 2x8GB kit was priced at $108.99, which means that it has become 33.9% cheaper in a relatively short period of time.
Since many people these days can build relatively affordable Haswell or Skylake-based PCs, it makes sense to see how much entry-level DDR3L modules cost. Kingston introduced its HyperX Fury Low Voltage 16 GB (2*8 GB) kit (HX318LC11FBK2/16) rated to run at DDR3-1866 frequency with CL11 latency back in October at MSRP of around $96. Today, this kit costs
$83.09
at Amazon.
If you are willing to take some risk and use DDR3 instead of DDR3L with Skylake, there is Kingston's HyperX Fury Black 2x8 GB DDR3-1866/CL10 kit (HX318C10FBK2/16) available for
$68.58
, down from around $80 in December, 2015. Kingston also offers HyperX Savage Red 2x8 GB kit (HX321C11SRK2/16) that works in DDR3-2133 mode with faster CL11 12-12 sub-timings. The kit is available for
$94.29
at Amazon and its price has not significantly changed in roughly the last half-year.
Meanwhile G.Skill's enthusiast-class Ripjaws V DDR4-3200/CL16 2*8 GB kit (F4-3200C16D-16GVK) currently runs for
$107.14
from an Amazon partner. The initial price of this Ripjaws V kit in the U.S. was $176.64 when it first hit the market in November, but it quickly dropped to $136.59 in December, knocking 22% off of its price.
At the top-end of the performance spectrum, G.Skill's blazing-fast TridentZ DDR4-4266/CL19 2*4 GB kit (F4-4266C19D-8GTZ) is available from an Amazon partner for
$361.22
not including shipping, which is down from
$460
in mid-December, 2015. Despite being a high-priced niche product, even the G.Skill Trident Z DDR-4266 8 GB kit has become around 22% cheaper in a couple of months' time.
High capacity kits have also come down in price as well, though perhaps by not as much as mainstream kits. The Corsair Dominator Platinum DDR4-2666/CL15 64 GB kit (CMD64GX4M8A2666C15) was among the first 8x8 GB kits from Corsair, and was specifically designed for high-end desktops running Intel Core i7 Haswell-E processors. When it was introduced in early 2015, it cost $1759.99 at Amazon, and ended the year at $679.99. Today, this kit is priced at $539.99, a further 20.5% drop.
In fact, Corsair has quietly introduced a new version of its Dominator Platinum 64 GB DDR4-2666/C15 kit (CMD64GX4M4A2666C15) consisting of 4*16 GB modules in December. The new quad-channel kit for HEDT PCs was initially priced at
$631.99
, but right now, it can be acquired for
$509.99
, or 20% below its original December launch price.
It is obvious that retail prices of advanced non-ECC unbuffered DDR4 memory modules are dropping even faster than the prices of actual DDR4 DRAM ICs. In the last several months IC costs have continued to drop and volumes increased, while demand for all compute components in the first quarter is usually pretty low, which gives retailers like Amazon and Newegg as well as manufacturers themselves good incentive to decrease prices of their modules in a bid to keep their sales on decent levels.
What is noteworthy is that DDR3-1866 and entry-level DDR4-2133 memory modules (such as Kingston HyperX Fury) today have almost reached pricing parity. Moreover, DDR3L and higher-end DDR3-2133 kits are more expensive than DDR4-2133 kits. While DDR3 has an advantage of lower latency, it will get considerably harder and more expensive to upgrade such platforms in the future after DRAM makers reduce production of previous-generation memory.
DDR4 on Track to Become Dominant PC Memory Standard
The miniscule difference between DDR3 and DDR4 pricing indicates that supply of the latter is ramping up and is getting on par with the former. Meanwhile, due to slow demand for PCs in general and continuing shipments of PCs featuring previous-generation CPUs, demand for DDR4 is lower than supply. Nonetheless, since DDR4 is very affordable already, PC makers will gradually shift to the new type of DRAM. As a result, just as expected by companies like IHS and Intel, DDR4 should become the dominant PC memory standard in about a year from now.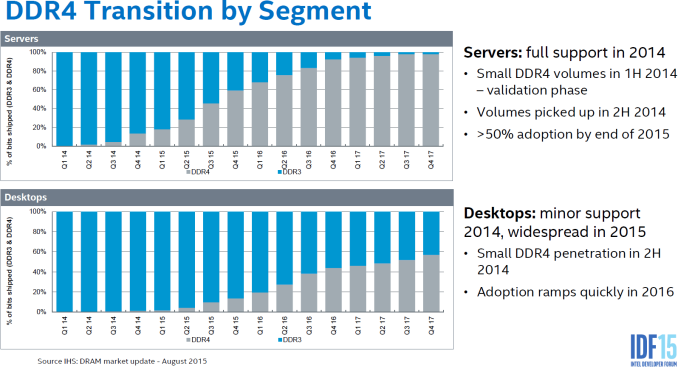 Which is not to say that DDR3 will disappear overnight. Intel's latest Skylake platforms for desktops and notebooks support DDR4, DDR3L and LPDDR3 memory (except Core M, which only support DDR3L and LPDDR3), hence, PC makers can choose which type to install based on their requirements and prices. The vast majority of advanced desktops and high-performance notebooks featuring Skylake CPUs already utilize DDR4 memory. However, a lot of mainstream desktops and notebooks were designed for DDR3 modules because it used to have a considerable price advantage. Even if the price of DDR4 chips drops below that of DDR3 chips in the next couple of months, it will hardly be worth the effort to redesign motherboards of those PCs to accomodate DDR4. Moreover, many Intel's partners still sell systems based on CPUs featuring Haswell and Broadwell micro-architectures, which only support DDR3. According to analysts from DRAMeXchange, until PC makers clear-out their previous-generation inventory, they will continue to consume a lot of DDR3. As a result, many PCs will continue to feature the previous-gen DRAM for quite a while.
"DDR3 will still account for a large share of the PC DRAM market during the first half of 2016,"
said
Avril Wu, a research director at DRAMeXchange. "DDR4's market share will not expand rapidly until the end of the second quarter, when PC OEMs finished clearing their inventories."
As Intel ramps up shipments of its Skylake processors, more and more PCs will use DDR4. Since Intel's code-named Kaby Lake processors are rumoured to arrive only in late 2016 or early 2017, we may see a number of mainstream laptops embracing Skylake CPUs and DDR4 memory this year.
Otherwise, from the standpoint of DRAM manufacturers, DDR4 will become the dominant type of PC-class memory already this year in terms of bits shipments. The server industry started its transition to DDR4 in Q4 2014 along with the launch of Intel Xeon Haswell-EP platform. The majority of new x86 server designs nowadays already use DDR4. Servers utilize considerably higher amounts of memory than notebooks or desktops (i.e., they consume a lot more DRAM bits than PCs), so memory makers have to produce more DDR4 memory to satisfy demands of datacenters. IHS and Intel expect crossover in DDR4 and DDR3 production to happen in 2016 and it seems like they are right in their prediction.
DRAM Supply Exceeds Demand
The impending DDR3/DDR4 crossover is being driven by softer DRAM prices overall, which in turn is a product of weaker DRAM demand and growing inventories. Worldwide PC shipments totaled
71.9 million
units in the fourth quarter of 2015, a minor 2.7% increase from the third quarter and a 10.6% decline compared to the same period in 2014, according to IDC. Sales of tablets reached
65.9 million
units in Q4 2015, an increase of 35.3% sequentially, but a 13.7% drop year-over-year, the researchers claim. Meanwhile, shipments of smartphones hit
399.5 million
units in the fourth quarter of 2015 (up 12.4% sequentially and 5.7% YoY), setting a new record.
The vast majority of PCs and many inexpensive tablets use commodity DDR3 or DDR4 DRAM, while smartphones use more expensive LPDDR3 or LPDDR4 memory. Even though shipments of PCs and tablets in Q4 were higher than in Q3, actual DRAM industry revenue dropped by 9.1% quarter-over-quarter to
$10.27 billion
due to oversupply of commodity DRAM products, market analysts claim. By contrast, LPDDR revenue fell by only 1% to
$4.499 billion
in the fourth quarter compared to the previous quarter, according to DRAMeXchange.
Part of this drop in demands is of course seasonal, as sales of electronics are typically down in the first half of the year. For example, shipments of notebooks are expected to decline by
20%
sequentially, whereas shipments of smartphones are projected to drop by around
16%
quarter-over-quarter in Q1 2016. As a result, demand for DRAM is expected to be weak, which is why DRAM prices will remain under pressure. This in turn why we're seeing actual retail prices of memory modules decline faster than the spot/contract prices of DRAM ICs.
"We expect notebook shipments to have a quarterly decline of 20% in the first quarter of 2016 on account of seasonality," said Mr. Wu. "Therefore, DRAM manufacturers are under pressure to lower contract prices in order to digest inventory."
Transition to Newer Fabrication Processes Pushes DRAM Prices to New Lows
There are only three major DRAM manufacturers on the planet, but the competition between them remains tough. Nobody wants to cut-down DRAM production because nobody wants to lose market share. Moreover, Samsung, SK Hynix and Micron are aggressively adopting smaller manufacturing technologies to cut down costs. As fabrication processes shrink, so do the sizes of memory cells, increasing bit output per wafer and essentially boosting DRAM output and causing prices to decline further.
Samsung began to transit its DRAM production to 20 nm fabrication technology in Q1 2014 and analysts from DRAMeXchange
believe
that by now their yields are very high. Meanwhile market observers anticipate Samsung will start producing memory using their 18 nm manufacturing process sometimes in the middle of 2016, which will further increase the total capacity of DRAM on the market. Smartphone manufacturers are already preparing for the jump, and DRAMeXchange claims that Xiaomi, OPPO and Vivo have already qualified Samsung's 12Gb mono-die LPDDR4 ICs made using 18 nm technology.
Opposing Samsung, SK Hynix is gradually increasing their DRAM production using their 21 nm manufacturing technology. While the company's plans concerning smaller processes are unclear, SK Hynix is ramping up its M14 fab (which was
completed
in August, 2015), which will eventually have a capacity of 200 thousand wafer starts per month. Even without introducing a new process technology, SK Hynix is increasing output of DRAM by deploying the fab. Moreover, the company has not yet started high volume production of monolithic 8 Gb DDR4 ICs on their 21nm process. Once the company kicks off mass production of such chips, their bit output will increase further and will add pressure on prices.
Finally, Micron started to produce memory chips using their 20 nm fabrication process in early 2015. Late last year the company said that they remained on-track with their conversion plan and yield targets for their 20 nm technology. In fact, according to a slide that Micron demonstrated at its Winter Analyst Conference this month, their 20 nm yields are better than their existing 25 nm yields. The Boise, Idaho-based company hopes that half of their DRAM bit output will be produced at 20nm by mid-2016. The DRAM maker also plans to increase production of high-margin memory products, including 8 Gb DDR4, 8 Gb GDDR5/GDDR5X, and LPDDR4. Micron has also publicized aggressive plans for their 16 nm manufacturing technology. The company's fabs will be ready to start production of 16nm DRAM by September, which will further increase output provided that yield rate will be high enough.
Otherwise, as prices of commodity 4 Gb DRAM chips are declining, makers of computer memory are now pinning their hopes on LPDDR ICs, server DRAM, and graphics/specialty memory as major profit drivers. Usage of 8 Gb DRAM ICs is also growing in servers and client PCs, so there are opportunities for memory makers to earn money in the short term, however 8 Gb chips will also commoditize over time.
Samsung Remains Top DRAM Manufacturer
Thanks to its aggressive transitions to leading-edge process technologies as well as vast manufacturing capacities, Samsung has been the world's largest DRAM manufacturer for well over a decade. It is not surprising that the company retained its leading position in Q4 2015.
Samsung's DRAM revenue for the fourth quarter dropped to $4.762 billion, or by 9.7% sequentially, according to DRAMeXchange. The company commanded 46.4% of the global memory market and is considerably ahead of the world's second largest DRAM maker, SK Hynix. DRAM sales of the latter declined by 9.3% quarter-over-quarter to $2.865 billion, whereas its market share remained nearly flat at 27.9%. Third place Micron's DRAM shipments deteriorated by 10.5% and totaled $1.945 billion in Q4 2015. The company's market revenue share also decreased to 18.9%, the analysts found. By contrast, smaller memory makers (Nanya, Powerchip and Winbond), who controlled 3.7% of DRAM market share in the fourth quarter, managed to slightly increase their shipments and share mostly thanks to specialty and industrial memory.
Samsung also shipped the lion's share of mobile DRAM in the fourth quarter. The company's LPDDR revenue totaled $2.619 billion, up 1.3% sequentially. Samsung in turn supplies mobile DRAM to Apple; its own mobile division, the world's top maker of handsets; as well as rapidly growing suppliers from China.
SK Hynix remained the distant second largest manufacturer of mobile DRAM in the fourth quarter of 2015. The company's sales of LPDDR fell to $1.175 billion from the previous quarter, whereas its revenue share dropped to 26.1%. SK Hynix is another key supplier of LPDDR4 to Apple, which is why its shipments are still very high. Finally, Micron's mobile DRAM sales declined by 7.7% in Q4 to $642 million, its market share shrank to 14.3%, according to analysts.
Overall, DRAMeXchange expects LPDDR4 to account for 45% of mobile DRAM shipments this year, up from 18.2% in 2015. Meanwhile usage of 8 Gb DDR4 chips is also expected to increase, and if Samsung manages to kick off 18nm DRAM production in mid-2016, as analysts expect, it may again benefit from the capacity and power advantages of a leading-edge manufacturing process. Micron, in contrast, will only be ready with its 16 nm production technology in Q4 2016, so they won't be able to capitalize on the new process until late in the year.

Read More ...
---
MSI Rolls-Out CUBI 2 Plus SFF PCs Featuring Intel's Mini-STX Platform
It is not a secret that sales of mainstream desktop computers are stagnating or even declining these days. However, there are two types of desktops, which popularity is actually growing: gaming PCs as well as small form-factor (SFF) systems. To further stimulate demand for miniature computers, Intel in the recent years introduced a number of all-new small form-factors, hoping to improve sales of its microprocessors. Last year the world's largest maker of CPUs introduced three new types of mini PC designs: Compute Stick, Mini Lake and 5" × 5". The first two are fully-integrated platforms that cannot be upgraded, they should be produced completely by PC makers or OEMs, which greatly lowers their design flexibility, something that is important for numerous resellers. By contrast, the 5" × 5" platform (which Intel calls mini-STX) features a CPU socket, two SO-DIMM slots, one or two M.2 slots, SATA connectors as well as various I/O ports. For many resellers, the mini-STX platforms should be more preferable than Intel's NUC because they allow installing different processors, depending on requirements, as well as use inexpensive standard coolers.
MSI is one of the first companies to offer SFF PCs featuring mini-STX form-factor motherboards. The MSI CUBI 2 Plus based on the Intel H110 platform controller hub (PCH) will target mainstream users, whereas the MSI CUBI 2 Plus vPro featuring the Intel Q170 PCH are designed for business and enterprise customers, who will take advantage of
Intel's latest-generation vPro technology
with Intel Authenticate feature. The systems can be powered by Intel's Core i3-6100T, Core i5-6500T or Core i7-6700T processors with 35W TDP and integrated graphics. The systems feature two SO-DIMM slots for up to 32 GB of DDR4-2133 memory, one M.2 slot for a Wi-Fi module, one M.2 for an SSD as well as one SATA port for storage devices.
MSI CUBI 2 Plus Specifications
CUBI 2 Plus
CUBI 2 Plus vPro
CPU
Intel Core i3-6100T (2 cores, 3.20 GHz, 3 MB LLC)

Intel Core i5-6500T (4 cores, 2.5 GHz/3.10 GHz, 6 MB LLC)

Intel Core i7-6700T (4 cores with HT, 2.8 GHz/3.6 GHz, 8 MB LLC)
PCH
Intel H110
Intel Q170
Graphics
Intel HD Graphics 530 with 24 execution units
Memory
Two SO-DIMM slots, up to 32 GB of DDR4-2133
Storage
One M.2 slot for SSDs

One SATA connector for 2.5" SSD or HDD
Wi-Fi
802.11ac + BT 4.0 or 802.11b/g/n
Ethernet
Gigabit Ethernet with RJ45 connector
Display Outputs
1 HDMI,

1 DisplayPort
Audio
TRRS connector for headset with microphone
USB
1 USB 3.0 type-C (5 Gbps),

2 USB 3.0 type-A (5 Gbps),

4 USB 2.0 (including one with charging capabilities)
Other I/O
SD card reader
Dimensions
155.3 x 147.9 x 58.6 (mm)
PSU
External, 90 W
I/O capabilities of the MSI CUBI 2 Plus PCs are pretty rich: one USB 3.0 type-C (5 Gbps), two USB 3.0 type-A, four USB 2.0 (including one with charging capabilities), one DisplayPort, one HDMI, one Gigabit Ethernet connector. In addition, the system is equipped with one TRRS mini-jack and an SD card reader.
Both versions of the MSI CUBI 2 Plus will use Microsoft Windows 10 Home operating system, which is somewhat strange, given positioning of the version featuring Intel's vPro technology.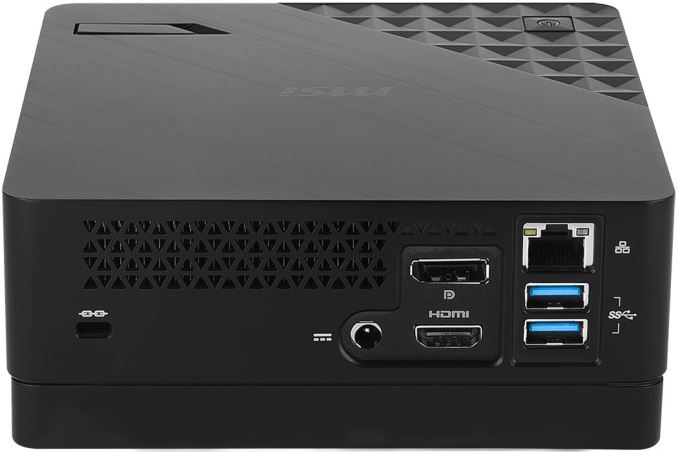 It is interesting to note that at present Intel does not offer Skylake-S CPUs with higher-end integrated graphics. The highest-performing integrated GPU inside Intel's socketed desktop chips is the HD Graphics 530 with 24 execution units (EUs). Meanwhile, Intel already offers its NUC systems with its
Core i7-5557U CPU featuring the Iris 6100 graphics
(48 EUs) or the
Core i5-6260U with the Iris 540 graphics
(48 EUs, 64 MB eDRAM). While such CPUs will offer lower general-purpose performance compared to Intel's socketed Skylake processors because of lower number of cores and lower clock-rates, their performance in graphics-intensive workloads will be higher. Moreover, Intel also offers mobile
CPUs with the Iris Pro 580 graphics
(72 EUs, 128 MB eDRAM), which can be integrated into NUCs and rival current-gen Skylake-S chips in all types of workloads. As it turns out, at present it is impossible to get a mini-STX system with proper integrated graphics, which means that if you want to get maximum graphics performance out of an SFF PC, you should wait for Intel's
Skull Canyon NUC
. While small form-factor systems are not expected to run demanding games, it does not hurt to have a performance headroom.
Exact prices of the MSI CUBI 2 Plus SFF systems will depend on their actual configurations.

Read More ...
---
Hands-On With the Xiaomi Mi5 - High-End at a Mid-Range Price
It's been over 18 months since Xiaomi announced the Mi 4 back in June 2014, and today the company is finally ready to release the predecessor in the form of the Mi 5. The western launch here in Barcelona was presented by VP of Global, Hugo Barra and we were lucky enough to have the opportunity to
live-blog the event
and get a more in-depth hands-on later in the day. The Mi 5 is Xiaomi's 5"-range form-factor flagship device and will be one of the main devices competing for buyer's attention this generation.
In a fashion that is very popular with Chinese vendors, Xiaomi was eager to talk about the detailed specifications of the Mi 5 during its presentation, so without much ado, let's go hands-on with Xiaomi's latest phone.:

Read More ...
---
AMD Releases Radeon Software Crimson 16.2 Drivers
This release continues what has become a steady flow of bugfixes. From AMD solving general stability issues such as TDR errors found when running a system with Intel and AMD Graphics to an HDMI monitor, to multiple fixes from Fallout 4 relating to graphics glitches and edge cases found with AMD Crossfire and AMD Freesync. The recently released Rise of the Tomb Raider has also received some attention to fix both visual glitches and a crash that occurs when running very high settings and SMAA at 4K.
This latest driver also brings performance and quality improvements for Rise of the Tomb Raider and a report of the Radeon R9 390, Nano, and Fury series cards receiving VR Recommended status in Valves new SteamVR Performance Test. But what AMD draws the most attention to is Radeon Software Crimson Edition 16.2 being optimized for Yesterdays release of Stardock's Ashes of the Singularity - Benchmark 2, of which we gave a
thorough running as well
.
As always, those interested in reading more or installing the updated hotfix drivers for AMD's desktop, mobile, and integrated GPUs can find them either under the driver update section in Radeon Settings or on
AMDs Radeon Software Crimson Edition download page
.

Read More ...
---
Intel Announces XMM7480 LTE Modem: 4x DL CA, 256QAM
At a high level, the XMM 7480 platform introduces a number of new features that haven't been seen in previous Intel cellular solutions. One addition is the AmpTrack envelope tracking IC, which allows for closed loop voltage control of the power supply for the power amplifier on the transmit chain. This isn't really a new technology per se as we've seen Qualcomm's QFE1100 as early as the Galaxy Note 3, but it's nice to see that an OEM hoping to integrate Intel's X-Gold 748 baseband no longer needs to do the work to integrate a separate envelope tracking IC. It's likely that the baseband is leveraging CEVA's DSP IP,
based upon a recent announcement by CEVA on Twitter.
Intel has also updated their transceiver for the XMM 7480, which enables 33 LTE bands in a single SKU. Absent disclosures by other vendors in the industry, it's hard to say whether this is record, but I suspect that other companies with announced UE Category 16 modems will be able to top that number depending upon configurations for things like carrier aggregation. Judging by stated maximum upload/download of 450/150 Mbps, it's likely that we're looking at UE Category 9 on the downlink and Category 13 on the uplink. The XMM 7480 also implements a number of 3GPP Release 12 features like Enhanced Voice Service, which is a new codec to improve speech quality, and enhanced Dual Sim Dual Standby, which allows for two SIMs to be on the device but only one SIM will be active at any given time.
Overall, the XMM 7480 provides a solid upgrade over the XMM 7360. It should be sampling to OEMs in 2H 2016, and with any luck we should be seeing design wins by the end of 2016 or early 2017.

Read More ...
---
Samsung Announces 256GB UFS Embedded Storage Solution
By moving to V-NAND, random reads and writes are now at 45k and 40k IOPS, or 176 and 156 MB/s with 4KB blocks, which is well over double what shipped in the Galaxy S6. For sequential reads, speeds top out as high as 850 MB/s which is even faster than the 520 MB/s maximum of some SATA SSDs. Given that this is likely to be Samsung's 30nm V-NAND process, I suspect that the storage density needed to achieve this kind of performance involves some sort of SLC/TLC hybrid, but in the absence of more information it's hard to say.
While the new NAND definitely is part of the speed improvement, it couldn't have been achieved without an increase of the interface bandwidth. The new memory today is the first announced UFS 2.0 solution based on a 2-lane interface. The UFS 2.0 standard defines a lane running at up to HS Gear 3 at up to 600MB/s, so doubling up of the lanes gives a theoretical maximum of 1.2GB/s. It'll definitely be interesting to see what devices adopt this storage solution in the near future.

Read More ...
---
Available Tags:
Toshiba
,
SSD
,
Toshiba
,
Microsoft
,
Android
,
Windows
,
DDR3
,
DDR4
,
MSI
,
AMD
,
Radeon
,
Intel
,
Samsung
,