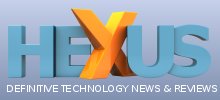 QOTW: How much storage do you have inside your main PC?

Is it more or less than a few years ago?

Read More ...
---
HEXUS Week In Review: camo monster laptops, SFX PSUs

Your chance to catch up on the week's tech developments.

Read More ...
---
Study of fireflies boosts OLED efficiency by over 60 per cent

Scientists looked at the structure of the 'lantern' in which fireflies hold their chemicals.

Read More ...
---
MSI launches Aegis compact desktop gaming PC

'Designed from scratch' to provide desktop gaming power in a compact form.

Read More ...
---
Tesoro launches GRAM Spectrum slim mechanical keyboard

Using Tesoro's own AGILE 'red' or 'blue' low-profile mechanical switches.

Read More ...
---
Review: Corsair SF600 SFX PSU

Does going small mean compromises?

Read More ...
---
PC Specialist launches enthusiast Liquid Series PCs

Now offering premium liquid-cooling on gamer systems.

Read More ...
---
Next@Acer event debuts more Predator gaming gear

And there's an interesting liquid cooled 2-in-1 called the Switch Alpha 12.

Read More ...
---
Corsair intros trio of RAPIDFIRE Cherry MX Speed keyboards

The K70/K65 RGB RAPIDFIRE and K70 RAPIDFIRE feature Cherry MX Speed keys.

Read More ...
---
Cherry MX Speed launched, "the fastest mechanical MX switch"

Actuation point at just 1.2mm, and 45cN actuation force, contribute to its speed.

Read More ...
---
Available Tags:
HEXUS
,
MSI
,
gaming
,
keyboard
,