Nikon's new, speedy premium compact DL-series cameras shoot 4K video
Nikon is entering the world of premium compact camera with its new DL series.
In an interesting spin, the Japanese camera company is introducing not one but three new high-end cameras. They all share the same underlying 1-inch 20.8 megapixel (MP) sensor, EXPEED 6A image processor, RAW image capability and a 171-point hybrid AF system. However, what makes them different is they've outfitted with three different types of zoom lenses.
The DL24-85 is acclaimed as a great travel and general photography camera thanks to its compact size. It also comes equipped with a 3.6x zoom lens offering an 35mm equivalent focal length spanning 24-85mm and a f1.8-2.8 aperture range, making it a good choice for everything from street shooting to taking portraits. Nikon has also programmed a Super Macro Mode to help users capture extremely small details on objects such as flowers.
Next up the DL18-50 comes fitted with a wider and shorter 18-50mm f1.8-2.8 lens. Compared to the DL24-85, this Nikon point-and-shoot features optics better suited to shooting landscapes with its wider lens. The 2.8x zoom lens also sports a unique Nano Crystal coating that helps prevent ghost and flaring, two undesirable artifacts often created by bright lights like the sun.
Last but not least is the DL24-500 and as you might have been able to summarize by its name this is Nikon's superzoom option. The premium compact comes fitted with a 21x zoom lens featuring a 24-500mm focal length and a surprisingly generous f2.8-5.6 aperture range. The DL24-500 is also the only camera in the DL-series with a built in OLED electronic viewfinder.
On top of sharing the same sensor, all three cameras are capable of 20fps continuous shooting (up to 60fps with the focus locked in). The DL-series can also record 4K UHD video at 30p and extreme slow motion video up to 1,200 fps.
Wi-Fi connectivity comes stock, allow users to easily share image through Nikon's SnapBridge app available on iOS and Android.
Nikon's new DL-series cameras will be available this summer with the DL24-85 retailing for $649, the DL18-50 for $799 and the DL24-500 priced at $999.

Read More ...
---
mwc2016: Forget smartphones, Visa wants your car to pay for fuel
Next time you stop for some fuel or need to pay for parking, Visa wants you to let your car handle the bill.
Partnering up with Honda and ParkWhiz, Visa is showing off its
in-car Visa Checkout
feature at
MWC 2016
, which will let you pay for parking and fuel with "one click".
The system uses integrated apps on Honda's head unit, with the fuel app able to detect when the car is low on fuel, navigate it to the nearest gas station, fill up on the required gas and then pay the final cost. It can be used to buy anything you might need from the gas station, like candy, Red Bull, etc, and integrate any loyalty or rewards program.
The parking app will let you simply park, and click to start a meter in ParkWhiz off-street parking spots. Once you come back to the car, you can click on the app again, which will calculate how much you owe for the exact time you were parked and confirm the transaction.
Visa says this will ensure you don't over or under pay for the time you parked, or end up with a fine for an expired meter.
While the demonstrations during MWC is currently in the prototype stages, Visa says this is just touching on the potential for in-car payments.
Last year, Visa also demonstrated in-car payment systems for drive-through restaurants. And this year, along with demonstrating car-payments for fuel and parking, the company has also announced it will be expanding its
Visa Ready program
with NFC-enabled payments to wearables like Pebble, Chronos and others.

Read More ...
---
Review: HP Spectre x360 15
Introduction and design
The ultra-light and thin craze has undeniably changed the landscape of
Ultrabooks
, and now it's transforming the world of 15-inch laptops. In 2015, we saw some incredibly thin and powerful notebooks, like the
Toshiba Satellite Radius 15
and
Dell XPS 15
.
Now HP, introduces the Spectre x360 15, one of the thinnest 15-inch, 2-in-1 laptops.
Measuring just 0.63 inches (16mm) thin, it comes at the same thickness as its 13-inch Ultrabook sibling, the
HP Spectre x360
. What's more, the starting weight of this rig is just four pounds, making the HP Spectre x360 15 truly one of the thinnest and lightest 15.6-inch laptops of this year so far.
Design
The Spectre x360 15 is an absurdly thin notebook. When you hold it from the side, it feels a bit crazy that it's as thin as its Ultrabook sibling. What's more, it's just a gorgeous piece of machinery built with an entirely aluminum chassis.
The all-metal body makes it feel as if you're wielding a shorter version of Cloud's sword from
Final Fantasy VII
. It doesn't help that this convertible has oddly wide dimensions, making it one long slab of metal. Meanwhile, its front edges meet to create a defined, curved wedge.
Luckily, it's not designed to be as sharp as the cheese-cutting
MacBook Air
. Instead, the edges are blunt, nicely rounded and feature a mirrored finish, a classy touch some might remember from HP's original 13-inch hybrid.
The 15-inch Spectre x360 is basically a blown up of its smaller predecessor in a similar way to the
15-inch MacBook Pro
. Like Apple, HP stuck with the same number pad and focused on improving the sound system by adding a pair of speaker grills instead of bolting on a number pad.
The keyboard layout has been changed up with a new side row of shortcut keys, like a Home and Delete key. While they're meant to helpful, they often get in the way. For example, when I mean to reach for the Enter key normally found on the edge of the keyboard, I end up hitting the Page Down button and go flying down webpages instead.
I also wish HP would have used up more of the available space on the keyboard deck for larger keys. As it stands, the keyboard is like a tightly knit set of island keys floating in a sea of aluminum. HP could have made each chiclet key larger by either expanding the keyboard's overall size, or reducing the amount of space between each key.
HP's extra wide trackpad makes a return on this 2-in-1 laptop. The pointing device's broad proportions make more sense here than with a 13-inch model, but it's still positioned askew in the middle. If your hands are on the home row, some of your palm will sit on the trackpad at all times, causing all manner of accidental mouse tapping and zoom gestures.
You can easily avoid this by turning off some of the gesture controls, but that will eliminate some of the functionality of
Windows 10
. Thankfully, when you're not rubbing against it while typing, the trackpad feels almost as smooth as glass and delivers a decent click.
The Spectre x360 15 may have a number of annoying quirks, it's an undoubtedly premium device. Its all-metal body is still a rarity in the Windows laptop world, and, on a 15-inch system, it's almost unheard of.
You also get a larger selection of ports, including three USB 3.0 ports with an SD card reader. HP has included a USB Type-C port, but it only supports data and charging devices. Luckily, you won't find yourself up the creek without a video connection, as the Spectre x360 15 also has built-in HDMI and mini DisplayPort options.
Sound off
One of the HP Spectre x360 15's more notable features is its four speakers spread across the top and bottom of the base. While it might seem this quad-speaker setup was designed to amplify the sound space by firing off at the same time, only two tweeters activate at a time, depending on whether you're using the machine as a traditional notebook or holding onto it as a tablet.
By simply being forward facing, the 15-inch hybrid's speakers sound better than the usual bottom or side-firing tweeters typically found in notebooks. At lower volumes, the speakers produce a balanced listening experience with audible lows and softened highs. However, when you start to turn it up – and you will have to often – the audio experience falls apart into a tinny mess.
Similarly, the 2-in-1's 15-inch screen renders deep colors and distinct levels of contrast, but it's not very bright. Even in a well-lit office, I often find myself increasing the screen brightness past 50%. You'll also have to max out the display's backlight, if you plan on using the machine next to a sunlit window. Even then you're still dealing with a considerable amount of glare.
Specifications and performance
As mentioned before, the Spectre x360 15 looks like an outlandishly wide laptop, but in reality it's actually narrower than other 15-inch laptops. The hybrid's broad 14.8 x 9.75 x 0.63-inch (37.6 x 26.8 x 1.6cm; W x D x H) shape is exaggerated by the rest of the machine's more modest dimensions.
Thanks to being smaller, the HP machine is easier to slip into a bag than the 15.04 x 9.94 x 0.78-inch (38.2 x 25.3 x 2cm)
Dell Inspiron 15 7000 2-in-1
. Meanwhile, the
Toshiba Satellite Radius 15
is slightly more compact with its 14.9 x 9.6 x 0.79-inch (37.8 x 24.4 x 2cm) dimensions.
No matter how you slice it, though, there's no denying this hybrid is lighter than your typical 15-inch laptop at 4.02 pounds (1.82kg). By comparison, Dell and Toshiba are heavier convertibles, weighing 4.7 pounds (2.13kg) and 4.96 pounds (2.25kg), respectively.
Spec Sheet
Here is the HP Spectre x360 15 configuration sent to techradar for review:
CPU: 2.3GHz Intel Core i5-6200U (dual-core, 3MB cache, up to 2.8GHz with Turbo Boost)
Graphics: Intel HD Graphics 520
RAM: 8GB
Screen: 15.6-inch, 1,920 x 1,080 Full HD, WLED-backlit, IPS touchscreen
Storage: 256GB Flash SSD
Ports: 1 x USB 3.0 Type-C, 3 x USB 3.0, HDMI, mini DisplayPort, headset jack
Connectivity: Intel 802.11ac WLAN and Bluetooth
Camera: HP TrueVision Full HD webcam with dual digital microphones
Weight: 4.02 pounds
Size: 14.8 x 9.75 x 0.63 inches (W x D x H)
What you see above is the basic configuration for the HP Spectre x360 15, priced at $1,149 (about £806, AU$1,607). It's by no means an affordable 15-inch laptop, which mostly start around $700 (about £494, AU$967) for a similarly basic Intel Core i5 processor and 500GB hard drive.
That said, most 15-inch laptops don't come built entirely out of metal with a 1080p display, convertible features or even a touchscreen right out of the gate.
Dell offers some stiff competition in its Dell Inspiron 15 7000 2-in-1 for $1,049 (about £741, AU$1,449). On top of costing less, you're getting a high-end spec version of the Dell hybrid that's even better equipped with a UHD display and Intel Core i7 CPU.
If you're willing to spend a little more, you can also get Toshiba's Satellite Radius 15 for $1,249 (about £882, AU$1,725). Like the convertible Inspiron, the Radius 15 is a better-equipped machine than the Spectre x360 15, with a sharp 4K screen and 12GB of RAM giving it more to multitask with.
Fortunately, the optional 4K screen is only a $60 upgrade for the Spectre x360 15 in the US. Australians, however, wont' have much choice for this upgrade as the laptop isn't available for the region. HP's 15-inch hybrid is only available in the UK with a 4K display, faster Core i7 CPU and double the storage and RAM for £1,299 or $1,549 (about AU$2,166) – roughly what you would pay for a fully decked out Ultrabook.
I have to hand it to Dell for having the best value-oriented laptop – and a solid one, at that. If you're looking for an extremely color-correct display, the Toshiba Radius 15 excels in this category.
The Spectre x360 15 is a premium device with an all-aluminum shell, and the bigger price tag reflects this. It's also the lightest and thinnest system out of these three laptops, but whether paying more for the extra portability is worth it is up to you.
Performance
Thanks to Intel's latest line of Skylake processors, the Spectre x360 15 flies even with the lowest-end Core i5 processor. The 15-inch hybrid easily tackles everyday tasks from web browsing to image editing as well as some light gaming.
However, without a discrete GPU, like the 15-inch MacBook Pro and Dell XPS 15 proudly tout, this system doesn't pass muster on games more graphically intensive than the odd round of Hearthstone or exploring the storied woods in FireWatch.
Benchmarks
Here's how the HP Spectre x360 15 performed in
our suite of benchmark tests
:
3DMark: Cloud Gate: 5,661; Sky Diver: 3,452; Fire Strike: 848
Cinebench CPU: 288 points; Graphics: 42 fps,
GeekBench: 3,022 (single-core); 6,395 (multi-core)
PCMark 8 (Home Test): 2,719 points
PCMark 8 Battery Life: 5 hours and 23 minutes
While my review sample only came sporting a lower-end Core i5 chip, it still put up some impressive benchmark scores that wiped the floor with the Dell and Toshiba's respective hybrids.
In the PCMark 8 test, which simulates a day's worth of tasks including video chatting and photo editing, the 15-inch Spectre scored 2,719 points. By comparison, the Broadwell-powered Dell and Toshiba topped out with 2,239 and 2,179 points, respectively.
Graphically, the HP hybrid also pulled ahead, delivering 3,452 points in the Sky Diver 3DMark benchmark. Thanks to the major enhancements to integrated graphics in Skylake, the Inspiron 15 lags behind again with only 2,547 points. The Radius 15 also suffers from this generational gap in silicon and in pushing a higher-resolution 4K screen, two factors which end up dragging down its Sky Diver score to 2,452 points.
Battery for (half-)days
Higher benchmark scores are nice and all, but the laptop's most impressive figures come from its long battery life. Thanks to packing a denser 64.5WHr battery, the Spectre x360 15 lasted for 5 hours and 23 minutes on the PCMark 8 battery test. Dell's 15-inch, 2-in-1 laptop lasted for a considerably less impressive 3 hours and 40 minutes. Meanwhile, the 4K Toshiba Radius 15 drained the fastest, shutting down after a short 2 hours and 45 minutes.
In techradar's standard battery test, we play Guardians of the Galaxy on a continuous loop with screen brightness and volume set at 50%. You can expect this laptop to easily get you through six hours of usage, and seven if you crank down the screen brightness. Still, I wished it came a little closer to HP's original claim of 13 hours of battery life.
On my own, I squeezed 5 hours and 31 minutes out of the Spectre x360 15 while browsing the web, streaming Google Music, writing this review and watching a good chunk of YouTube and Netflix videos.
Bundled software
Once again, HP has done an admirable job of keeping the amount of preloaded software to a bare minimum. There's still a small sprinkling of bundled apps, but almost everything has its uses.
HP Support Assistant – An essential always-on system tray application, which keeps an eye out for software updates, such as new BIOS installs and Intel HD Graphics patches.
HP Recovery Manager/Media Creation – Back up your laptop and restore it with these preloaded apps.
Verdict
The HP Spectre x360 15 is an impressively thin and light hybrid notebook with more than a few features to make it stand out. It's a sleek machine that packs an overall smaller footprint than most 15-inch machines – all while integrating one of the best hinges for a 2-in-1 notebook ever made.
We liked
The metal body of the Spectre x360 15 is on a whole other level compared to most thicker and plastic 15-inch laptops. The aluminum frame is exquisitely thin and hasn't sacrificed anything in the way of battery life or performance – two areas where this machine delivers in spades. The screen uses an excellent IPS touch panel and it only gets better if you add on the affordable 4K screen.
We disliked
Everything there is to like about this 15-inch hybrid is accented by an annoying quirk. The vibrant display is lacking in brightness, the balanced speakers lack power and the laptop's ergonomics could use work, with a larger keyboard and smaller trackpad.
Final verdict
Ultimately, the Spectre x360 15 is an excellent 15-inch, 2-in-1 laptop that stands out with its thin, metal body, strong performance and long battery life. However, the same elegant engineering also raises the price and profile of this 15-inch hybrid into the realm of the 15-inch MacBook Pro and Dell XPS 15. But it has no hopes of keeping up with either when it's limited to just integrated graphics.
Meanwhile, the HP has other, more affordable rivals with the Dell Inspiron 15 7000 2-in-1 and Toshiba Satellite Radius 15. Dell's hybrid comes at a better value and with stronger ergonomics, while Toshiba's convertible offers one of the best displays on a laptop today.
Still, you'll get through a longer day with the Spectre x360 15, thanks to its portability and longer battery life. If you're willing to deal with the annoyances and have no qualms with the higher price, this is a fine machine for students and light office work.

Read More ...
---
Hands-on review: MWC 2016: Huawei MateBook
The Huawei MateBook is supposed to be the ideal 2-in-1 tablet, one that perfectly compliments your Huawei
Mate 8
phone. It did just that with style at my
MWC 2016
demo.
This is a 12-inch
Windows 10
convertible inside an aluminum unibody that matches the Huawei phone down to the color choices with silver, space gray and gold. It feels like an
iPad Pro
running Microsoft software.
In fact, Huawei's first Windows-powered device can turn into a Microsoft
Surface
-like tablet thanks to a keyboard case attachment that includes a solid-feeling glass trackpad and has an outside enveloped in classy leather.
Starting at $699 or €799 (about £500), it's not your average inexpensive Huawei gadget, but the higher-end design mirrors the specs, so the focus here is more on performance for the value.
Design and specs
The Huawei MateBook is ultra-thin, measuring 6.9mm and weighing just 640g. Inside is a dual core Intel Core M processor that's clocked at 3.1GHz.
Like the Huawei
MediaPad 2
, it feels more expensive than it actually is, and you'll find higher end features like two speakers embeded in the top of the frame.
There are two options for memory: 4GB and 8GB of RAM, with the latter being the much advised option for running Windows 10 Pro instead of the Windows 10 Home option.
Unlike Apple's tablet, you won't find a 16GB option here. Far from it, in fact. Its SSD storage options start at 128GB, which is where the iPad hits a ceiling.
The Huawei Mate also has options for 256GB in case you want double the internal space, and 512GB if you want to double it again. There's no microSD card slot, sadly, so choose carefully.
Connections and fingerprint sensor
The MateBook isn't at a loss for wireless connections and sensors. It includes both 2.4GHz and 5GHz Wi-Fi, wireless standards 802.11 a/b/g/n/ac MIMO and Bluetooth 4.1.
Sensors consist of an ambient light sensor, accelerometer, gyroscope, Hall effect sensor and a snazzy fingerprint sensor built into the power button. There's also a 5MP fixed focus camera you'll never use.
The Huawei MateBook's fingerprint sensor is similar to the scanner on the Huawei Mate 8, but it's on the side of the frame here. If you've used the Sony
Xperia Z5
anywhere but the US, you'll know how this side-mounted biometric fingerprint sensor works.
Where the Huawei MateBook may fall short at first is with its solo USB C port. As any new
MacBook 2015
owner know, it can be a hassle.
Luckily, the company has built an adapter that looks more like a tiny plastic brick. It includes a normal USB ports, an Ethernet port and another USB-C so you can charge and play.
Battery life still needs to be tested in our full review, but we now know that the capacity is 33.7Wh, which translates to 4430mAh. It'll charge quickly via USB C.
Huawei MateBook accessories
The new MateBook is a mobile productivity-focused tablet that tries to pull off being laptop too, and its accessories make that crossover believable.
That leather-clad keyboard, which costs $129 (about £90, AU$180), turns into a triangular stand like an iPad Smart Cover. This one is designed to have two folding positions for use at various angles.
The MatePen $59 (about £41, AU$83) is Huawei's tricked out take on the Apple Pencil. This stylus recongizes 2,048 levels of sensitivity.
Testing the three buttons on the MatePen, I found that one acts as a customizable app shortcut, one takes a screenshot of whatever is on the tablet and the last is a handy laser pointer.
Finally, Huawei is offering a MateDock, retailing for $89 (about £62, AU$125), just in case you want to prop up the tablet while charging it, too.
Early verdict
The Huawei MateBook isn't as cheap as most of the company's gadgets because it's taking on new, more expensive challengers, like the iPad Pro and Microsoft Surface line.
While that's a big step for Huawei and its consumers, the Matebook runs Windows 10 Home or Pro, which is certainly the software that business users are familiar with.
The accessories, especially the MatePen, appear to be genuinely useful and not just afterthoughts to sell with the main product.
All in all, the MateBook is a promising first 2-in-1 from the Chinese company. It manages to feel fresh despite arriving late to the party.

Read More ...
---
Snapchat finally allows 100% original filters, but there's more than one catch
Snapchat is bringing custom geofilters to the picture-sharing service, allowing users to make their own, 100% personalized frames locked to a specific location.
The service's past geofilters, created by artistic members of its community, could only promote public areas, such as a city landmark, or be tied into a specific occasion, such as a holiday or The Super Bowl. (Even then, they had limits on what type of artwork could be used, e.g. brand logos.)
Starting today, however, Snapchatters in the US, the UK, and Canada
can make On-Demand Geofilters for private use
, such as a throwing a wedding, hosting a party, or promoting a sale for their local business.
That boundless creativity will cost you
Users now have the control to create their own designs from scratch, as well as determine exactly where and for how long their custom tags will be active. The custom geofilter can exist for a length of anywhere between an hour to 30 days.
Naturally, Snapchat isn't allowing for custom geotags from the kindness of its heart. On-Demand Geofilters start at $5 (about £3.53) a pop, with the final price reflecting how big a location and how long a duration you'd like to publish your filter for.
While the feature could be a boon for promoting smaller festivals, local businesses or private events, there is no telling if Snapchat's latest attempt to make money will just go the way of the
quickly-cancelled Lens Store
.
YouTube : https://www.youtube.com/watch?v=E_ZjEeEez_0&feature=youtu.be

Read More ...
---
Tesla Model S gets wireless charging in April, but Tesla didn't make it
While Tesla has yet to introduce its own wireless charging solutions for its electric fleet, Evatran is readying a Plugless Power solution for Tesla's most popular electric vehicle (EV), the Model S.
You can reserve yourself a
Plugless Power
inductive wireless charging pad for the Tesla Model S, which should begin shipping out in April, for a deposit of $244 (about £172, AU$338).
The company says its wireless charging will work with Tesla's system. Specifically, the pad should add 20 miles to your Model S's range per hour of charging, claiming it has the "same charging time as a 7.2kW Level 2 corded charger."
It can be installed in the garage or outdoors, and involves a 7.2-kW system that requires a 50-amp circuit. The required adapter will, however, need to be installed by an Evatran-certified technician, but the price will be included in the total cost.
Unfortunately, a total price has not yet been announced. Comparatively, though, the Evatran wireless charging pad for the
Chevrolet Volt
costs $1,260, $1,540 for the
Nissan Leaf
and $1,940 for the Cadillac ELR.
The company also plans on eventually making wireless charging pads for the rest of Tesla's fleet, including the Roadster, Model X and Model 3, though it hasn't yet issued a timeframe for those releases yet.

Read More ...
---
MWC 2016: Mark Zuckerberg on AI: we're nowhere near understanding how intelligence works
When Mark Zuckerberg took to the stage today at
MWC 2016
for the Facebook keynote, he talked
again
mostly of his excitement for VR. He also discussed the future of 5G, Free Basics and a growing focus on sharing video.
But the Facebook CEO also had some choice words regarding artificial intelligence (AI), revealing perhaps why we shouldn't worry about AI just yet.
He said that, while AI is becoming increasingly important in a lot of different fields of life and study, "we're nowhere near understanding how intelligence actually works." Instead, most AI programming being used today is based on pattern recognition, such as facial or voice recognition.
This level of AI isn't what
Elon Musk and Stephen Hawkings
warn us against, which is more a concern over the potential militarization of AI. However, Zuckerberg explains the AI technology being used in autonomous cars, for example, uses pattern recognition to stay in a lane. Meanwhile, in the medical field, AI programming is becoming powerful enough to accurately diagnose skin cancer.
Jarvis, or 'M'?
Zuckerberg himself is currently building his own personal, Iron Man-style artificial intelligence. "I just want to control my house," he explained very simply of the project, which he described
earlier this year
as a personal effort that would help him run his home and help him with his work.
While he plans on eventually sharing his Jarvis-like program with the world, it isn't clear whether this Jarvis-type program will eventually become "M", which Facebook
introduced last year
as a personal assistant that lives inside of Facebook Messenger.
Either way, you shouldn't expect to see the fruits of Zuck's labor anytime soon, with the young CEO saying in his address that it "takes a lot longer than people think" to build an AI program.

Read More ...
---
MWC 2016: 5 unmissable computing highlights from MWC 2016
Introduction
MWC is the best convention in the world if you're into smartphones. As it turns out, Barcelona's tech-fest is also a grand time if you're not into smartphones, partly thanks to a bunch of nifty computing products hitting the show floor this year.
So, come on: put down that phablet, grab a mouse and check out the most killer computing products to emerge from
MWC 2016
.
1. Huawei Matebook
Huawei? Launching a Windows convertible? More like, "No way!" It's true: the Chinese smartphone giant has made its first Windows 2-in-1, and it's looking rather lovely.
Featuring a raft of future-gazing tech, such as a USB Type-C port, fingerprint reader, QHD-resolution display and digital stylus packing 2,048 levels of pressure sensitivity AND an eraser, the
Matebook
has enough going for it to give Microsoft's
Surface Book
a run for its money.
The Matebook's Core M processor makes it a closer competitor to Microsoft's cheapest
Surface Pro 4
, and once you've ogled its smartphone-thin chassis, you might be prepared to accept a little less power under the hood.
2. HP Elite x3
With
Windows 10
, Microsoft wants your phone to act as your PC. HP is putting its own on spin on the concept with its
Elite x3
, a phablet-sized Windows phone with a 5.96-inch display.
Like Microsoft's
Lumia 950
and 950XL, you can hook it up to a monitor along with peripherals to get a desktop-like experience. However, HP is also offering the massive handset with a 12.5-inch laptop called the Mobile Extender.
The x3 connects to the peripheral using WiGi and Miracast wireless tech to display the Windows desktop on its 1,920 x 1,080-pixel display. It's bound to be a more affordable way of using Windows on the go than buying a separate laptop, and we're keen to find out if it'll offer any benefit in terms of battery life.
3. HTC Vive
If you've been tuning in to virtual reality, you're already familiar with the
HTC Vive
. This year's MWC finally saw the headset's price tag revealed, and it'll set you back a cool $799 (around £550, AUS$1,115).
Orders start February 29, with shipping to start on April 1. HTC also told us about one of the Vive's newest features, Vive Phone Services, which lets you make and receive calls using the headset's built-in microphone.
The service also lets you send messages and check calendar updates through the headset, removing the need to take your smartphone out of your pocket when it goes off. The announcement leaves just one question for high-end VR enthusiasts: Oculus, Vive or hold out for
Playstation VR
?
4. Imagination PowerVR GR65000 GPU
Processor maker Imagination thinks you deserve a better gaming experience on your smartphone than what you have today. The company reckons it can deliver one through its new PowerVR GR6500 GPU, a chip small enough to slip into mobile devices.
Imagination has been
talking up
the chip's capabilities in Barcelona, and it's all down to a programming trick called ray tracing. By using it, reflections, shadows, lighting and other visual tricks are rendered on-the-fly, removing the need for programmers to spend time baking them into games manually.
The result is gorgeous-looking games running on smaller devices such as smartphones and tablets, giving you one fewer reason to get your gaming fix from a console or PC. How the times are a changin'.
5. Panasonic FZ-F1
It's tiny – it's a tablet! And it's also hard as a rock, so don't call the Toughpad FZ-F1 any names. Panasonic's 4.7-inch device is designed to be a highly portable (and practically indestructible) Windows 10 tablet used for business.
Weighing less than 280 grams, Panasonic is aiming the device at couriers and warehouse operators (thanks to its barcode scanning capabilities), in addition to workers in retail and manufacturing, and the emergency services. It's something of a Skype warrior, too, thanks to three onboard microphones that pack noise suppression tech. Its connectivity options include a micro USB port, micro SD card slot and dual micro SIM slots.
It's not the most conventional choice, but if you need a small, robust and durable tablet for using outdoors, there's nothing stopping you using the FZ-F1 outside of business environments too. Just don't expect it to come cheap.

Read More ...
---
Hands-on review: MWC 2016: Alcatel Idol 4
This is a flash hands on review to give you the chance to see what the phone is all about as soon as possible. Stay tuned as we'll be expanding and upgrading this review very shortly with more info.
I'm still a bit confused about the Alcatel Idol 4. The manufacturer has rebranded and in the process refined its phones impressively.
The Idol 4 is a sleek, metal and glass phone that has a distinctly midrange price of around €279 - and it's using decent Qualcomm chips and has a decent camera too.
One of the main selling points here is the four way speakers, pointing forward and backward at the top and bottom. They're tuned by audio brand JBL and offer some impressive sound whether placed face down or in the hand watching a movie.
The Idol 3 had a clever trick: you could use the phone either way up and the screen would flip to fit you.
That's back again and this time you can double tap the screen to wake it - so you don't need to worry about tapping the peskily-placed power key (which is under your thumb knuckle when the phone is upside down.
Another addition is the Boom Key, which performs a variety of functions, from showing you a weather animation on the home screen to enhancing audio during music playback, or creating a collage of your photos when in the gallery.
The camera wasn't particularly mind blowing in tests, but it was swift to take a picture and had a decent level of detail for a phone of this price.
The screen of the Idol 4 is bright and clear, despite being only Full HD (unlike the QHD of its bigger Idol 4S brother). The 5.2-inch size fits well in the hand and overall it's a slim and lightweight phone, despite feeling a little on the cheap side of the smartphone spectrum.
Early verdict
It's hard for any brand to transition from a middle-of-the-pack choice to something that's well know and respected in its own right.
However the Alcatel Idol 4 is a phone that could help the brand do just that - as consumers become more enamored with the idea of spending less on their handsets, choices like the Idol 4 become a lot more attractive.
Will it be a market leader? No. But it will certainly not harm any prospects of the brand making headway from its position as tenth biggest smartphone brand in the world.

Read More ...
---
MWC 2016: Imagination shows off jaw-dropping graphics from new mobile GPU
Over at
MWC 2016
, Imagination has been busy showing off its real-time ray tracing trickery running on the firm's quad-cluster PowerVR GR6500 GPU, a chip small enough to fit into mobile devices.
What's so great about ray tracing? Normally, when programming a game, the graphics have to be done and then realistic lighting effects such as reflections and shadows (and other visual effects such as transparency) have to be added on top in an often very lengthy process.
Ray tracing, however, boils this process down and simplifies things to make it a far less stressful endeavour. Imagination told us: "What you do is you define properties for the materials. You shoot some rays and the computer creates the reflections for you. Instead of having to program shadows and reflections, you just have to use ray tracing to do that."
As you might guess, however, this is demanding on graphics hardware, but Imagination's new PowerVR GR6500 with its
Wizard ray tracing tech
is set to deliver such nifty visuals to smartphones and tablets, as it's small enough to fit in these mobile devices. (Although it's also highly scalable, and thus aimed at the likes of laptops and games consoles as well, if you bundle up multiple GPUs together for a multi-core solution).
Outmuscling Nvidia
There's a lot crammed into the GR6500, and Imagination claims that it's around 50 times more efficient than an Nvidia desktop GPU when it comes to ray tracing, graphics or compute workloads.
That's quite some boast, and the company notes that for ray tracing duties, you would require around 600 square millimetres of Nvidia GTX GPUs.
YouTube : https://www.youtube.com/watch?v=QSjkzft5Z-A
The MWC demos Imagination is showcasing boast some impressive-looking scenes, including one which features zombies prowling the eerie streets of a deserted city (which uses an experimental version of the Unity 5 game engine that supports the Wizard ray tracing technology). Check it out above.
Doubtless we can expect to be hearing a lot more about this soon, and Imagination reckons that a games console boasting two to three teraflops in performance could be realised using four of these compact power-packed GPUs.
Additional reporting by Marc Chacksfield

Read More ...
---
How the Apple vs FBI situation is heating up – and what could happen next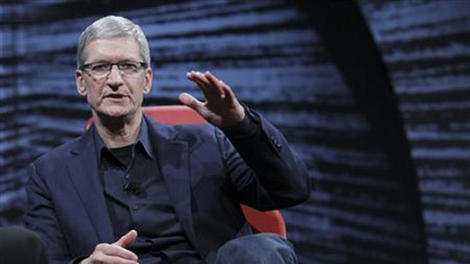 After a heated weekend of backlash from the FBI and San Bernardino victims, Apple shows no signs of talking back its refusal to create a backdoor into the shooter's iPhone, according to CEO Tim Cook's recently leaked internal memo to his staff.
First reported by
BuzzFeed News
, Cook sent an email to Apple employees Monday morning, thanking them for supporting the company's ongoing fight with the FBI. The ongoing dispute between the two pits the argument between maintaining every iPhone users security (Apple's side) versus seeking crucial evidence for the investigation into the tragic terrorist attack in San Bernardino, Calif (the FBI's side).
The memo is more emotional than
Apple's first, public statement
, restating the Cupertino company's stance on not bypassing its own security to protect its customers, "whose data is under siege," the memo reads.
"We work hard to improve security with every software release because the threats are becoming more frequent and more sophisticated all the time," Cook continues. "We all know that turning back the clock on that progress would be a terrible idea."
On top of delivering a more impassioned defense of Apple's position on cracking its encryption for the FBI, the email touches on Cook's regret for having to take this defensive stance.
"Apple is a uniquely American company," he wrote. "It does not feel right to be on the opposite side of the government in a case centering on the freedoms and liberties that government is meant to protect."
The long, long way forward
The Apple CEO also suggested the best way forward would be for the US government at large to withdraw its demands to unlock the iPhone in question. As important as this one case is, the data security of millions of law-abiding citizens is also at stake. (At least that's Apple's take.)
Therefore, Cook has called Congress to "form a commission or other panel of experts on intelligence, technology and civil liberties to discuss the implications for law enforcement, national security, privacy and personal freedoms" – a forum that the iPhone maker "would gladly participate in."
Passions over the FBI versus Apple dispute are beginning to bubble over. This past weekend, FBI Director James Comey
explained on the bureau's website
that the San Bernardino litigation is about the victims and justice, and not "about trying to set a precedent or send any kind of message."
Some victims of the San Bernardino attack have
announced, Reuters reports
, that they will file a legal brief to support the US government's demands for Apple to unlock the recovered iPhone belonging to the shooter.
At this rate, legal recourse may be the most likely route – especially if Apple doesn't comply with the
Department of Justice's court order
by February 26, which doesn't look likely. (Apple just hired a
crack legal team
, after all.)
And if either party were to allow this case to go to court, it almost definitely wouldn't end quickly. On that kind of public stage, the dispute could set a new precedent for digital security and the US government's reach over private companies.

Read More ...
---
At last - Morgan Freeman's soothing voice will narrate your car journey
Could this be the cure to road rage? We reckon so.
Thanks to a new promotional campaign for the release of London Has Fallen, Waze is letting you select Morgan Freeman as the latest "voice" for the sat nav app, helping you get from A to B with his silky smooth guidance.
Phrases spoken by Freeman include:
"The time has arrived, President Wazer. The world awaits your commands."
"The American people are counting on you... to drive. Let's go."
"Accident reported ahead. I'll get a line to emergency command."
To download it, you just need to head into Settings > Sound > Navigation Guidance (on Android) or Settings > Sounds > Voice Language (on iOS).
According to Waze, Freeman is one of the most requested voices of all time. He joins a handful of other famous voices on the service including Arnold Schwarzenegger and C-3PO. Unfortunately Snoop Dogg is still very much exclusive to TomTom users.
We'd like Jony Ive next please, Waze.
[Image credit: Focus Features]

Read More ...
---
What's your top gadget from MWC this year?
At
MWC 2016
we're always on the lookout for ways to help you guys get involved, so step up to vote in our Readers' Choice Award at the techradar MWC Awards 2016.
Later in the week we're going to be announcing a whole slew of devices up for everything from Best Phone to Best Wearable to Best In Show, but for now we need your help.
Check out our poll below to choose from the most intriguing, most talked about and most exceptional tech we've encountered so far - if you're chatting about it, we want to know if you love it.
So simply let us know which bit of tech below has surprised, delighted or excited you the most - and stay tuned to find out all the nominees in the techradar MWC Awards 2016!
56cb23a28f0287d70a5e0fff
And if you want to get in contact, give us a nod on Twitter, Facebook, Instagram or Vine using the hashtag #TRawards to let us know what's been your top tech of MWC 2016 so far.

Read More ...
---
MWC 2016: Intel: industry collaboration key to 5G success
Intel has used
MWC 2016
to announce four industry collaborations with mobile network providers and hardware manufacturers that will test the viability of 5G communications.
The chipmaker is extending its current partnership with Ericsson to conduct new trials around network transformation, cloud and Internet of Things (IoT).
It is also collaborating with Ericsson's archrival, Nokia, on pre-standard 5G radio technologies and network solutions to allow early implementation of 5G mobile client, wireless infrastructure.
In another trial, it will work with SK telecom on new radio access technologies and joint solutions for Licensed Assisted Access (LAA) in unlicensed spectrum bands. Finally, Verizon and Intel are to conduct field trials for 5G wireless solutions through the Verizon 5G Technology Forum. They will demonstrate how millimetre wave spectrum can allow for fast wireless connections to homes and businesses.
Intel also plans to team up with Korea Telecom to kick off joint trials in 2018 that will focus on the development and verification of 5G wireless technology and devices, virtual network platforms and joint standardisation efforts.
Team player
Speaking to journalists, Aicha Evans, general manager of Intel's Communications and Devices Group, said that infrastructure and mobile network providers have a part to play in helping 4G's successor off the ground.
She said: "Communications are not going away, and we believe it's our responsibility as an ecosystem to make the networks ready [for 5G]. It's about getting together and making sure we're developing trials, prototypes, and taking advantage of major events that are going to present an opportunity to demonstrate the tech."
In contrast to 4G, which was mainly concerned with increasing speeds, Evans said that 5G will be focused on supporting "more than 50 billion devices" expected to connect to networks - from IoT devices to smart meters, robots and consumer technology - in the next few years.
She said: "When we look at 5G, it's not just about a faster connection - it's about getting everything in place so that when devices are coming onboard we're ready, with all the major players pulling in the same direction."
Evans added: "We feel that we are living in a world that's becoming increasingly smart and connected, and this is both in the consumer space as well as the enterprise. From self-driving cars to drones to robots, smart cities and agriculture, basically this is the next era.
"5G networks and devices are essential to delivering on that promise, and we think they're going to be absolutely necessary."

Read More ...
---
Lightroom for Android 2.0 delivers raw power to your smartphone camera
Lightroom Mobile is a companion app for the main Lightroom desktop application. You can use it to browse through your photos, edit them, add ratings and flags and have all your adjustments synchronized automatically to your main image library via Adobe's Creative Cloud.
Until now, Apple users have been getting the latest features first – we reported back in December 2015 on the
Lightroom Mobile 2.1 for iOS
announcement, which added more in-depth editing tools to the mobile app but also brought a new in-built Camera mode. Lightroom stepped up from being just a photo editor and organizer to a capture tool too.
Now you can use it to take pictures on your phone, edit them, organize them and share them, all from a single app.
Android sneaks ahead
With the announcement of Lightroom for Android 2.0 update, Adobe's brought feature parity with the iOS version in key areas. As well as using the camera directly within the app, you can use a series of 'shoot-through' presets for specific image effects. These are previewed live by the camera, but because Lightroom is a non-destructive editing tool, the adjustments can be reversed, modified or removed at any time later on.
But the Android version goes further. On iOS, Lightroom can only work with the JPEGs captured and processed by Apple's iSight camera, but Android offers a more direct connection with the camera hardware, so that Lightroom for Android 2.0 can capture unprocessed raw files.
What this means is that you're no longer processing images twice – once in the phone and once in Lightroom. Instead, Lightroom can intercept the phone's raw image data before the phone itself has had a chance to do anything with it.
This raw image contains all the color data needed for choosing a white balance setting, which means that you can set the white balance after you've taken the picture, and then re-set it later if you change your mind again.
It also means that you can tap into the extra highlight and shadow information captured by the sensor, which is normally discarded by the phone's internal image processing. If your picture has overexposed, burned-out highlights (often a problem with bright skies), you can often pull back a little of that detail from the raw file – and do the same with pitch black shadows.
Indeed, Adobe boasts that this is the first ever end-to-end raw mobile photography solution, and it's clearly pitching its Lightroom Mobile product at an ever-expanding mobile photography market that consists not just of casual snappers, but pros looking for a new angle and artists who've found that smartphones give a unique and very different vision to regular cameras.
Smarter editing
Elsewhere, the Android 2.0 version brings it up to the same level as the iOS version, with the addition of the Dehaze tool that first appeared on the desktop version – this is designed to reduce haze and mist in landscape shots. Lightroom for Android 2.0 also adds split-toning controls for atmospheric black and white shots, a targeted adjustment tool for quick and intuitive changes to individual colors and tones, and the addition of a 'point' mode in the the Curve tool which gives much more precise contrast adjustments.
The best part is that Lightroom for Mobile is a free app – you don't have to be a Lightroom desktop user, and you can shoot, edit and share your photos direct from the app. It is designed to synchronize and dovetail with the desktop app, though, and ultimately this is the way to get the most from what Lightroom has to offer.
This is where Adobe has been smart, though. Existing Lightroom users can get a free mobile version that lets them leave their laptops at home, while new smartphone fans get a free and powerful introduction to Lightroom and Adobe's Creative Cloud service via the apps.
See also:

Read More ...
---
LG G5 tips and tricks
LG G5 tips and tricks
LG has unveiled its new flagship smartphone, the
LG G5
, at this year's
Mobile World Congress
– and it's much more than a simple iterative update from the
LG G4
.
It has an innovative modular design that enables you add even more features to the handset, as well as a premium aluminium body and a number of companion devices – called 'LG Friends' – which connect to the LG G5 to further expand the functionality of this awesome new smartphone.
If you're planning on being first in line to buy the LG G5 when it launches, we've got a number of tips and tricks to help you get the most out of the new handset.
1. Get your essential info at a glance
LG claims that many people turn on their smartphones to quickly check the time, or view their notifications, up to 150 times a day, and this can have a noticeable impact on battery life.
The LG G5 aims to make life easier for habitual phone-checkers with an always-on display that will constantly show the time, date and various notifications.
Although the screen is always on, it's designed to be as power efficient as possible, and it means you can quickly glance at the LG G5's display to get all the information you need – ideal if you're in a meeting.
2. Unlock with your finger
You can quickly unlock the LG G5 by placing your finger on the power button, which includes a built-in fingerprint sensor that's handily placed on the back of the phone, making it easy to reach.
You don't need to press down on the button either – just a quick brush of your finger should be enough to unlock the LG G5.
3. Use KnockOn to wake the device
Another way of quickly waking the LG G5 is by using the KnockOn feature. All you need to do is double-tap the screen and it will wake up the handset.
4. Replace the battery
Rejoice! While competitors like Samsung and Apple have dropped (or never bothered with) the ability to swap out the batteries of their premium smartphones, LG still allows you to change the battery of the LG G5.
Even better, thanks to the new cartridge-like 'magic slot' – more on that in a bit – it's now easier than ever to quickly replace the battery, as you no longer need to pry off the back of the handset.
The benefits of being able to quickly swap out a dead – or dying – battery are numerous. It means you can hang on to the handset for longer, as when the battery begins to lose its ability to hold its charge you can simply get a new battery, which is much cheaper than upgrading your entire phone.
It also means that if you invest in a second battery and keep that charged, you'll be less likely to get stuck with a dead phone when you need it the most, as you can just pop in the spare to keep the LG G5 ticking over.
5. Take better photos
The LG G5 comes with an extra-wide-angle lens, which at 135 degrees is currently the widest available on a smartphone. This enables you to take unique and breathtaking shots of your surroundings, and the LG G5 camera app includes a number of photo effects to enhance your shots.
And if you're really serious about taking shots on your LG G5, you can dramatically expand the photo-taking capabilities of the new smartphone with the LG CAM Plus camera module.
This add-on clips into the 'magic slot' of the LG G5, adding a comfortable grip along with physical buttons for power, shutter, record and zoom, an LED flash indicator, and autofocus and exposure lock settings.
Perhaps best of all, the LG CAM Plus adds a 1,200mAh battery to the LG G5 as well, which means you can go out and take photos for even longer without having to worry about running out of battery.
6. Get creative with your photos
While the LG CAM Plus effectively turns the LG G5 into a digital compact camera, you can get really creative with your photos by buying some of LG's companion devices.
The LG 360 CAM enables you to take 360-degree images thanks to two 13MP wide-angle cameras, and connects easily to the LG G5. It can capture 2K video as well as record 5.1 surround sound soundtracks, and the footage you take can be uploaded to YouTube360 or Google Streetview, and can even be used in virtual reality devices.
Meanwhile the LG Rolling Bot is a cool device that rolls around like a ball while taking photos and recording videos – all controlled by the LG G5. You can also use it to monitor your house – or torment your pets – while you're away.
7. Play high-end audio on the LG G5
Many of us use our smartphones to listen to music, and thanks to the LG Hi-Fi Plus with B&O PLAY modular add-on for the LG G5, you won't have to sacrifice sound quality.
Using 32-bit Hi-Fi DAC upsampling technology, even standard music will sound amazing when played through the LG G5 and the LG Hi-Fi Plus.
The add-on also supports 32-bit 384KHz high-definition audio playback, so if you have a collection of high-definition music you'll be able to listen to it in all its glory.
8. Enter the world of virtual reality
Virtual reality is the technology (almost) everyone is talking about in 2016, and LG has gotten into the game with the LG 360 VR companion device, which connects to the LG G5 via a cable.
While wearing it you can explore 360-degree footage, as well as watch content as if you were viewing a massive 130-inch TV.
Unlike the
Samsung Gear VR
, which attaches to the
Samsung Galaxy Note 4
, you don't clip the LG G5 into the LG 360 VR. This makes the VR headset incredibly light at just 118g, so it's comfortable to wear for long periods of time.

Read More ...
---
Hands-on review: MWC 2016: ZTE Spro Plus
Is it a bird? No. Is it a plane? No. In fact, we're not entirely sure what the ZTE Spro Plus actually is, but this tablet/projector hybrid is certainly a bit different.
At first glance you might arrive at the conclusion that the Spro Plus is the world's bulkiest tablet - looking more like a hardback book than the slender glossy magazine stylings and thickness of a modern slate.
But, to be fair, there's a reason for that. The Spro Plus has a laser projector that projects 500 lumen which is, and we're going on the company's assertion here, "the ideal luminescence for either broad daylight of dark rooms."
Charged
That projector is built into a unit that is fronted by an 8.4 inch AMOLED touch screen with a 2K resolution and a whopping 1200mAH battery, running a modified Android OS.
It also boasts a vertical and horizontal keystone correction system that allows it to be used in the wild without a constantly distorted image.
ZTE do have form in projectors - this is not the first entry in the Spro range, and they are very much aimed at business presentations.
Despite its bulk, this is an interesting device - in truth portable projectors have never truly broken into the mainstream, despite hovering around for several years. The Spro Plus is not exactly going to make it into your pocket, but it is certainly portable.
Price wise - there's no announcement but we're pegging this as a non-cheap option.
But, as is so often the case, it needs to prove once and for all that it can avoid falling between several stools - is it a good enough presentation tool to genuinely replace the tried and tested 'stick on the television that every meeting room is likely to have' for instance?
Do you need your tablet to have a 2K screen or a battery the size of a Stephen King novel?
In the meantime - this curate's egg of a device is definitely not a bird, probably not a plane and we can't honestly say that it's that super, man.

Read More ...
---
MWC 2016: Every phone from MWC 2016
MWC 2016
is here and we're on the ground in force, ready to bring you news and hands-on reviews of all the delicious new smartphones from the show.
From big hitters like the stylish
Samsung Galaxy S7
and stunning
Samsung Galaxy S7 Edge
, to the innovative
LG G5
, to the underdogs, the phablets and the what-were-they-thinkings, we're covering it all. It's going to be a long week and we're already seeing phones in our sleep but we won't be finished until every new handset (almost every one..) has had its time to shine.
We'll be linking you from here to all of our hands on articles throughout the week, so keep your eyes glued to this page for regular updates on everything new as it happens. Just be careful, or you too could end up dreaming of smartphones.
Samsung Galaxy S7
This is the big one, the phone we'd wager almost everyone was waiting to see. The Samsung Galaxy S7 takes everything great about the
Galaxy S6
, like its metal and glass design and impressive screen, fixes disappointments like the lack of a microSD card slot or waterproofing and adds a hefty helping of extra power.
Samsung Galaxy S7 Edge
The Galaxy S7 isn't the only phone Samsung's rolled out. It's also announced the Samsung Galaxy S7 Edge. WIth a bigger 5.5-inch curved screen, a larger 3600mAh battery and otherwise the same specs and features as the standard Galaxy S7 it looks like a phone to be reckoned with.
LG G5
The LG G5 has kicked MWC off with a bang. With an all-new metal design, an always-on screen, an accessory port and a dual camera it's clear that LG is being as innovative as ever, while pulling out all the stops for flagship performance.
HP Elite X3
The HP Elite X3 is a mammoth phone in every sense of the word. Mammoth 5.96-inch screen, mammoth specs, mammoth potential. With a Snapdragon 820 processor and 4GB of RAM, plus the ability to hook it up to a monitor or power a laptop it's a seriously versatile device and while it might not kickstart the Windows 10 revolution it's sure to find an audience.
Sony Xperia X and Sony Xperia XA
Sony didn't bring the
Xperia Z6
to MWC, but it has unleashed two new mid-rangers in the form of the Sony Xperia X and the Sony Xperia XA. The Xperia X impresses with a 5-inch 1080p screen, a rounded design, a fingerprint scanner and a 23MP camera, while the Xperia XA slots in below it with a stylish edge-to-edge display.

Read More ...
---
Available Tags:
HP
,
wireless
,
mobile GPU
,
GPU
,
Apple
,
Android
,
smartphone
,
LG
,
ZTE
,