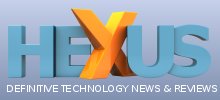 Epic Giveaway Day 13: Win one of six Razer gaming peripherals

A chance to win a stunning new keyboard or mouse!

Read More ...
---
Epic Giveaway Day 12: Win one of two Qnap NAS units

We have a TS-431 for our grand prize and a TS-231 for our runner-up!

Read More ...
---
QOTW: Which Windows 10 apps are worth installing?

And which, if any, do you use on a regular basis?

Read More ...
---
HEXUS Week In Review: The Steam Machine arrives in the labs

Your chance to catch up on the week's tech developments.

Read More ...
---
Review: Gigabyte P35X v5

A laptop with way more power than the 20.9mm frame would suggest.

Read More ...
---
Razer Leviathan Mini Bluetooth Speaker announced

Portable mini speaker provides "deep lows and crisp highs" and 10 hours of untethered playback.

Read More ...
---
Microsoft Translator smartphone / wearable pairing for conversation

Two devices allow for more fluid real-time chat between two people.

Read More ...
---
Majority of high-end smartphones to have Qualcomm inside in 2016

Snapdragon 820 features, performance, battery life and thermals appeal to smartphone makers.

Read More ...
---
AMD CEO Dr Lisa Su talks about Zen+ processor development

And AMD releases the WHQL certified Radeon Software Crimson Edition 15.12 driver.

Read More ...
---
Office document editing via Continuum to require subscription

Policy will come into effect from 1st April 2016.

Read More ...
---
Available Tags:
gaming
,
Windows
,
HEXUS
,
Steam
,
Gigabyte
,
Microsoft
,
smartphone
,
AMD
,
CEO
,
via
,