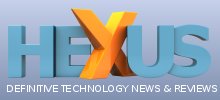 QOTW: How is Windows 10 working out for you?

Three months after launch, how are you liking, or not liking, Microsoft's latest OS?

Read More ...
---
HEXUS Week In Review: SFF PCs, PSUs, rugged HDDs and FirePro

Your chance to catch up on the week's tech developments.

Read More ...
---
Review: Buffalo MiniStation Extreme 1TB

Harder than your average portable storage drive.

Read More ...
---
EA to shift 13 million copies of Star Wars: Battlefront by March

Revises predictions upwards following successful beta. Launch trailer published (video).

Read More ...
---
Windows 10 Insider Preview Build 10576 offers good "fit-an-finish"
Highlights of the new build include 'casting' from Edge and an updated Xbox app.

Read More ...
---
G.SKILL announces Ripjaws DDR4 SO-DIMM kits

Kit speeds of up to 2800MHz and capacities from 4GB to 64GB (4x16GB) are on offer.

Read More ...
---
Steam Halloween Sale features 'spooky titles' until 2nd November

GTA V is among the selection, as it has online 'Halloween Treats' until 16th Nov.

Read More ...
---
Insiders say Chrome OS is to be folded into Android

The combined single OS will be unveiled in 2016, launched in 2017.

Read More ...
---
Review: Rosewill 1,000W Bronze

Mixes high capacity with an aggressive price.

Read More ...
---
ASUS bundles motherboards and graphics cards to double sales

Marketing tactic said to have doubled graphics cards sales in China this year.

Read More ...
---
Available Tags:
Windows
,
HEXUS
,
FirePro
,
EA
,
DDR4
,
Steam
,
Chrome OS
,
Chrome
,
Android
,
ASUS
,
motherboards
,