NVIDIA Launches NVS 810 Digital Signage Video Card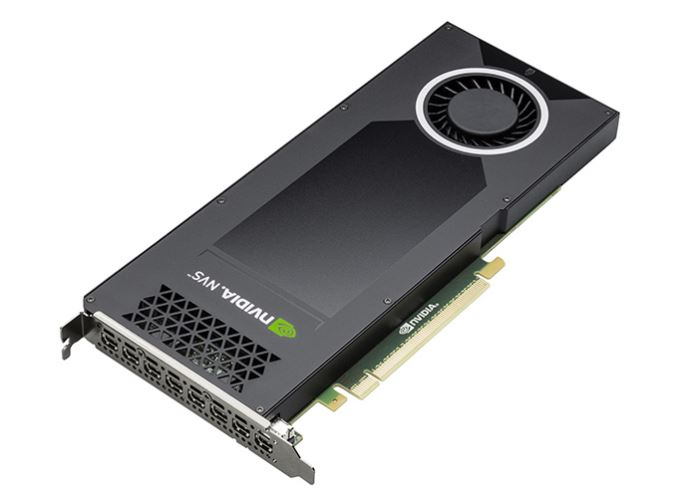 Entry level multi-display workstations aren't a market that gets anywhere near the amount of attention that many of us are used to seeing in other markets. Never the less it is a market that definitely needs something catering to its needs, be it large format signage, financial trading, or any other area where a large number of displays are needed but not a large amount of horsepower to push them.
To that end, today NVIDIA is launching a new entry into their venerable NVS multi-display lineup, the NVS 810. Seeing as this market segment doesn't see updates very often this is the first and possibly only Maxwell based card to be released in this sector. This card is based around a pair of GM107 GPUs on a single board, allowing NVIDIA to outfit the NVS 810 with 8 mini-DP 1.2 ports on a single-wide PCIe card.
For the NVS 810's hardware, under the hood we are looking at a pair of partially enabled GM107 GPUs with 512 of 640 CUDA cores enabled, for a total of 1024 CUDA cores. This is paired up with 2GB of VRAM per GPU for a total of 4GB, and though NVIDIA doesn't specify the memory type it's safe to assume it's DDR3. Otherwise NVIDIA is targeting a relatively low power profile here – just 68W total board power – with the lower board power helping with GPU density and makes stuffing the maximum of four of these cards into a single machine at once a much more civil affair.
NVIDIA NVS 810 Specfications
NVS 810
CUDA Cores
2 x 512 (1024)
Memory
2 x 2GB (4GB)
Display Connectors
8x Mini DisplayPort

(8x 4096x2160 @ 30Hz or

4x 4096x2160 @ 60Hz)
Max Configuration

(Win10/Linux)
4 Boards, 32 Displays
Total Board Power
68W
Length
9.5"
Width
Single Wide (4.4")
Cooling
Active
MSRP
$650-$750
Speaking of stuffing cards in a machine, while I imagine that real world implementations of this may be rare, where I notice that this solution gets immensely crazy is the sheer number of mDP ports on hand coupled with the ability to fit four in one machine. Coupled with NVIDIA's Mosaic display stitching and synchronization software, it's possible to use a pair of NVS 810s together to drive up to 16 4K displays as if they are one massive display. Regardless of the rarity of such an implementation the idea that one could build a micro-ATX computer that could drive what's functionally a 137MP display is a very impressive thought indeed.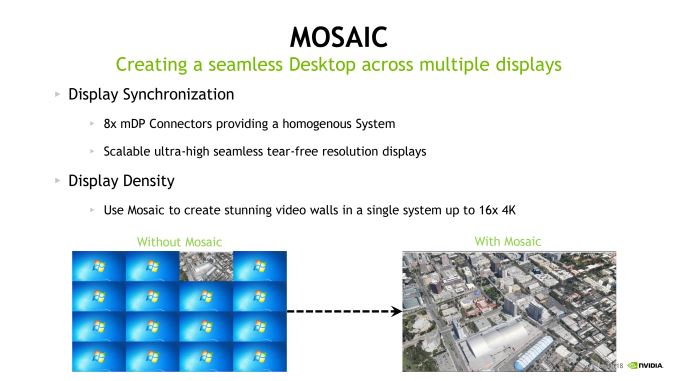 Wrapping things up, NVIDIA tells us that the NVS 810 is expected to have a street price in the $650-$750 range. Overall the company is pitching the NVS 810 as a high density, low total cost solution to situations requiring a large number of high pixel count displays. As a result NVIDIA is chasing a very specific market with the board, but for those with such needs the NVS 810 brings quite a bit to the table.

Read More ...
---
Build-A-Rig Round 2, SilverStone vs Crucial: The $800 PC Build Logs
After starting our second Build-A-Rig project a couple of weeks ago the build logs are in and we can see what it is like to work hands on with the hardware selected by SilverStone's Tony Ou and Crucial's Jeremy Mortensen. Build-A-Rig allows us at AnandTech, with the help of Newegg, to create builds with the parts picked by industry members. Aside from a budget and target use case there are no other restrictions on what each company can do with their build.
With parts list in hand we interviewed both Tony and Jeremy, discussed their background and motives for choosing the components they did, and ran a detailed critique of all the components chosen. For our second Build-A-Rig match they were given the objective to build an $800 back to school build. SilverStone shot for a machine that slanted more toward gaming and high quality components while Crucial maintained a more balanced machine with a more potent processor and larger SSD.

Read More ...
---
The G.Skill KM780 Mechanical Keyboard & MX780 Gaming Mouse Review
G.Skill is entering the gaming peripherals market with a new mechanical gaming keyboard and a laser gaming mouse. The KM780 is the first keyboard with Cherry MX RGB switches that we see after Corsair's exclusive use of them in 2014, while the MX780 combines high performance features with an ambidextrous design.

Read More ...
---
Available Tags:
NVIDIA
,
Keyboard
,
Gaming
,