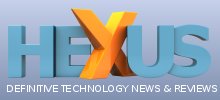 QOTW: Which Windows 10 devices might you actually buy?

The hype train is picking up pace, but will you be getting onboard?

Read More ...
---
HEXUS Week In Review: R9 390, new chassis and a mini-ITX rig
Your chance to catch up on the week's tech developments.

Read More ...
---
Review: Fractal Design Core 500

Ready to downsize your PC? This could be the perfect place to start.

Read More ...
---
MSI launches 'thin stealth' GS40 Phantom Series gaming laptop

Slim 14-incher features Skylake Intel Core i7 and Nvidia GeForce GTX 970M graphics.

Read More ...
---
Georgia Tech researchers demo CPU 'on-die liquid cooling'

Scientists cut microfluidic passages into a chip surface to liquid cool it efficiently.

Read More ...
---
Nvidia WaveWorks demonstrated in War Thunder, Dagor Engine 4.0

Shows realistic waves, wake and foam effects for oceans, seas, rivers and lakes.

Read More ...
---
HP and SanDisk partner to develop Storage Class Memory
Tech is said to be 1,000 times faster than flash memory, taking on Intel/Micron 3D Xpoint .

Read More ...
---
Fallout 4 PC system requirements published

And we are told the date, hour and minute of the game's release in various territories.

Read More ...
---
Review: Chillblast Fusion Nano Fury

AMD Radeon brought to the fore in a potent mini-ITX gaming rig.

Read More ...
---
Facebook Reactions will augment the simple Like

From tomorrow Facebook users in Ireland and Spain will be able to use the buttons.

Read More ...
---
Available Tags:
Windows
,
HEXUS
,
MSI
,
gaming
,
CPU
,
Nvidia
,
HP
,
Fusion
,
Facebook
,