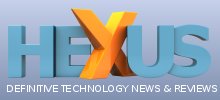 Is AMD back on track with the upcoming Zen CPU?

All signs point to renewed competition next year.

Read More ...
---
HEXUS Week In Review: unique chassis and Intel's Compute Stick

Your chance to catch up on the week's tech developments.

Read More ...
---
C.H.I.P. is the world's first $9 microcomputer

This 1GHz barebones machine measures just 60 x 40mm (2.3 x 1.5-inches).

Read More ...
---
Gigabyte P55K 15.6-inch gaming laptop features GTX 965M GPU

Nvidia Maxwell GPU is partnered with Intel Haswell Core i7 CPU and 'passionate' design.

Read More ...
---
Windows 10 is "the last version of Windows," says Microsoft dev

Because it is to become a service with a constant stream of improvements and updates.

Read More ...
---
AMD lists Radeon R9 380, R9 370 and R9 360 OEM card specs

They all appear to be rebrands of previous models.

Read More ...
---
Review: Gigabyte X99-UD4P
Improved attributes for overclocking Haswell-E.

Read More ...
---
Nvidia Q1 2016 results shows GPU sales up 14 per cent

CEO talks about "singular focus on visual computing".

Read More ...
---
Available Tags:
AMD
,
HEXUS
,
Gigabyte
,
gaming
,
GTX
,
GPU
,
Windows
,
Microsoft
,
Radeon
,
Nvidia
,