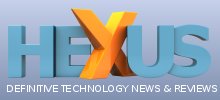 Apple Watch Edition returns are inspected under a microscope

And weighed, just in case you've shaved off a bit of gold to sell on to 'Moolah4Gold' or similar.

Read More ...
---
Review: Deepcool DQ750 Evo Quanta

Deepcool takes aim at the highly-competitive PSU market.

Read More ...
---
HP launches updated Pavilion x360 and Envy x360 convertibles

Featuring new Intel processors plus Bang & Olufsen audio.

Read More ...
---
Star Wars: Battlefront not built with DLC in mind says DICE

But there is a DLC pack due less than a month after its launch.

Read More ...
---
Samsung was the clear leader in SSD shipments last year

Its SSD business generated twice the revenue of second placed Intel.

Read More ...
---
CyberPowerPC launches eye-catching Trinity gaming PC

Featuring a unique tri-blade form factor.

Read More ...
---
Available Tags:
Apple
,
HP
,
Samsung
,
SSD
,
gaming
,