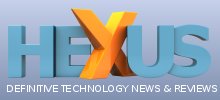 QOTW: Are upgradeable games consoles a good idea?
And if you were in charge of Xbox One or PS4, how would you implement such a feature?

Read More ...
---
HEXUS Week In Review: TS-251+, Z170-Gaming K3 and Defiance II

Your chance to catch up on the week's tech developments.

Read More ...
---
Review: PC Specialist Defiance II 14

A 14in gaming laptop short on frills but high on speed.

Read More ...
---
Tim Sweeney: Devs must oppose Microsoft Windows 10 UWP

Epic Games co-founder doesn't like how the Universal Windows Platform is shaping up.

Read More ...
---
Microsoft teaser video touts benefits of DirectX 12 over DX 11

Promising up to 20 per cent GPU, and up to 50 per cent CPU, performance uplifts.

Read More ...
---
No Man's Sky launches in June on PC and PlayStation 4

And there's an Explorer's Edition (10,000 available only) for PC priced at $150 (about £105).

Read More ...
---
Oculus Mac will arrive "if they ever release a good computer"

Even the $6,000 Mac Pro "doesn't match our recommended spec," laments Palmer Luckey.

Read More ...
---
AMD Reddit AMA: Polaris arrives mid-2016, Fury X2 is on-track

But most of the juicy details people want to know are under "strict NDAs".

Read More ...
---
Intel preparing an augmented reality headset, says report

Wall Street Journal says device will be powered by Intel RealSense technology.

Read More ...
---
AMD Zen and Intel Kaby Lake to go toe-to-toe at end of 2016
Intel Kaby Lake volume production target slips to clash directly with AMD Zen rollout.

Read More ...
---
Available Tags:
HEXUS
,
Microsoft
,
Windows
,
Mac
,
AMD
,
Intel
,