The Dell XPS 15 9550 Review: Infinity Edge Lineup Expands
It was roughly a year ago that we had a chance to review
Dell's XPS 13
, which was the first laptop from Dell to feature the Infinity Edge display. In addition to making the laptop look as much like a bezel-less display as possible, it also let Dell squeeze a 13-inch laptop into a much smaller chassis. The XPS 13 is still, to this day, unparalleled in the PC space in this context. So the obvious question at the time was when or if Dell was going to do the same to the rest of the XPS lineup? That question was answered in October 2015, when Dell launched the updated XPS 15 with Skylake and Infinity Edge. Just like the XPS 13 before it, the laptop was bezel-less and the larger 15.6-inch model fits into a laptop chassis that would normally house a 14-inch display. Smaller, lighter, and with the same styling as the XPS 13, Dell has the potential to set the bar higher in the larger laptop segment as well.

Read More ...
---
Samsung Begins to Ship 15.36 TB SSD for Enterprise Storage Systems
The Samsung PM1633a 15.36 TB SSD can deliver up to 1200 MB/s sequential read performance and features random read and write speeds of up to 200,000 and 32,000 IOPS respectively, according to the manufacturer. The 15.36 TB SSD supports 1 DWPD (drive writes per day) throughout the period of several years (unfortunately, Samsung does not specify of how many), which indicates very high endurance. The new solid-state storage solution features SAS-12 Gb/s interface and is compatible with servers that support drives in 2.5"/15 mm form-factor. Samsung does not reveal power consumption of the PM1633a 15.36 TB SSD, but based on power requirements the SSD can consume up to 13.7W.
Samsung PM1633a SSD Specifications
15.36 TB
Controller
Samsung proprietary controller
NAND
Samsung's 256 Gb 48-layer TLC NAND
DRAM Cache
16 GB DDR3 SDRAM
Sequential Read
1200 MB/s
Endurance
1 DWPD (Drive Writes Per Day)
Interface and Form-Factor
2.5"/15mm SAS-12 Gbps
The PM1633a drives are based on Samsung's new proprietary controller that can concurrently access large amounts of high-density NAND flash with the help of a special firmware. Thanks to the new controller, the PM1633a SSDs are even faster than the
PM1633
drives unveiled last August (sequential read and write speeds of up to 1100MB/s and 1000MB/s, up to 160/18 thousand random read/write IOPS). Typically, high-capacity SSDs do not offer truly high performance because of peculiarities of their internal architecture, but Samsung has managed to develop a controller that weds performance and capacity.
The Samsung PM1633a SSDs utilize the company's third-generation 256 Gb TLC 3D V-NAND memory chips. The 256 Gb dies are stacked in 16 layers and form a single 512 GB package. Samsung uses 32 of such packages to build its most spacious SSD, leaving around 1 TB of NAND for overprovisioning. The giant drive also features 16 GB of DRAM cache to ensure smooth performance. The Samsung PM1633a 15.36 TB will be the second product to use the company's 48-layer TLC 3D V-NAND after the
Portable SSD T3
. Eventually, Samsung will further expand usage of this flash memory.
The advantages of 15.36 TB SSDs in the server space are hard to overestimate. There are 2U servers that can fit in 48 SAS3/12G storage devices (
1
,
2
). Each of such machines can store 737.28 TB of data (if fully populated with Samsung's new PM1633a SSDs), whereas a 42U cabinet featuring 21 of such servers will be able to store 15482 TB of data (15.4 PB). By contrast, storage capacity of a standard 42U storage rack based on 360 3.5" 10TB HDDs is around 3600 TB.
Samsung did not reveal the price of its 15.36 TB SSD, but is probably in the range of several thousands of dollars.
Later this year Samsung plans to add drives with 7.68 TB, 3.84 TB, 1.92 TB, 960 GB and 480 GB into its PM1633a lineup.

Read More ...
---
Microsoft Reveals Additional Details About HoloLens and Begins to Take Pre-Orders
The Microsoft HoloLens is custom-built wearable
personal computer
running Windows 10 operating system. The HoloLens is based on an undisclosed 32-bit Intel processor and a custom-designed Microsoft holographic processing unit (HPU) that processes data from multiple sensors. In fact, the list of HoloLens' sensors is very impressive: the device features one 2 MP video camera, an inertial measurement unit (which means, a set of accelerometers, gyroscopes and maybe even a magnetometer), one depth camera, four environment understanding cameras, four microphones, an ambient light sensor as well as mixed reality capture IC. Since the mixed-reality headset does not use any markers or extra cameras to track movement that are located outside of itself, a sophisticated set of sensors inside it is absolutely required.The HoloLens can track gaze, understand gestures and voice commands thanks to its sensors and underlying software.
The device is equipped with 2 GB of RAM (1GB for the processor and 1GB for the HPU) as well as 64 GB of NAND flash storage. The HoloLens can connect to the Internet or other devices using Wi-Fi 802.11ac and Bluetooth 4.1 LE wireless technologies. In addition, the device is equipped with a Micro-USB 2.0 port, a 3.5 mm audio jack and a surround sound system. The HoloLens can operate for two or three hours on one charge, which is not a lot, but its unlikely you would be wearing this around for a work day. It can also charge while in use, tethering it somewhat but allowing developers to test applications on it as they work.
The AR headset from Microsoft uses its advanced sensors to track the position and orientation of the user's head relative to their surroundings. The system attempts to predict position where the user's head will be in at the exact moment and applies holograms accordingly. Microsoft makes a number of recommendations to software makers how to ensure that the hologram is added to the right place at the right time, but the system constantly monitors not only data from sensors, but also adjusts the length of the rendering pipeline.
The HoloLens uses two see-through holographic lenses (each of which consists of three layers — red, green and blue) with an optical projection system to generate multi-dimensional full-color holograms. Maximum resolution that the HoloLens can render is
1268x720 (per eye)
, which is why actual holograms have
a limited field of view
. The holographic content is put at two meters distance from the viewer because Microsoft believes that this is optimal for eyes and will not cause any strain. Since augmented reality is not about maximum resolution, Microsoft puts a lot of focus on quality of each hologram because it is crucial for its usability. According the company, the lenses support holographic density of up to 2.5K radiants (the more radiants and light points there are, the brighter and richer the hologram). But while the quality is very important for AR, to ensure smooth framerate (at least 60 fps) Microsoft suggests to lower resolution of images to 634x360 in certain cases.
Because Microsoft's HoloLens is a fully-fledged wearable PC, it has its own limitations. The CPU is certainly going to be low powered to allow it to be used mounted on a wearable, possibly Quark or Atom, but Microsoft is not disclosing this yet. Since storage of the wearable PC cannot be upgraded, Microsoft caps maximum allocated size for one application to 900 MB. Finally, the software giant warns that because certain applications may require too much processing power, the system-on-chip of the HoloLens can overheat. To prevent that, HoloLens will shut down the application if temperatures hit certain levels. Consequently, even if a developer managed to create something that uses all the resources of HoloLens, it is not guaranteed that their app will actually work in all circumstances, at least with this developer kit.
So far, Microsoft has developed a
limited list of applications
for HoloLens to show off capabilities of the AR to developers. The list of productivity apps includes Skype, HoloStudio and Actiongram, whereas the list of entertainment programs includes HoloTour, RoboRaid, Young Conker and Fragments. With only a limited number of programs that support holographic experience, it makes sense that this is a developer kit and not a public release.

Also, the original demos of Hololens used what Microsoft called an "Air Tap" to do selections. This was not that difficult to pick up on, but to make this easier they will be offering a Bluetooth connected hand held device to let you do the clicking with that, rather than having to do the gesture. Since the Hololens supports Windows 10 and Bluetooth, there is likely opportunity here for more peripherals to do other tasks as well.
The Microsoft HoloLens Development Edition will only be available to software developers in the United States and Canada initially. The developers have to participate in the Windows Insider program. To buy the HoloLens, programmers will have to share their ideas regarding their applications with Microsoft. If the software giant likes the idea, its author will get a chance to buy the AR device. The software giant plans to ship the first batch of HoloLenses to chosen developers on March 30, 2016. When additional devices are manufactured, Microsoft will invite more applicants to purchase to the HoloLens. Interested developers may apply for a Microsoft HoloLens device
here
.
Sources:
Microsoft
,
PC World
.

Read More ...
---
The FSP Hydro G 750W Power Supply Review
Today we are taking a look at the other premium PSU series from FSP, the Hydro G family. Unlike the Aurum PT that we reviewed some time ago, the Hydro G is 80Plus Gold certified, but the company still boasts high performance figures and the PSU does have advanced features. We put the 750W version of the Hydro G to the test and rate its electrical, thermal and acoustics performance, determine the quality and assess its value for money.

Read More ...
---
ZOTAC Announces SONIX PCIe SSD Price & Availability
The final version of the ZOTAC SONIX will be faster than the
preliminary version
of the SSD demonstrated at CES, with the shipping version rated for sequential read performance of 2600 MB/s and sequential write performance of up to 1300 MB/s. The initial flavor of the ZOTAC SONIX SSD will offer 480 GB capacity, will be equipped with 512 MB of DDR3 DRAM cache and will come in half-length half-height PCI Express 3.0 x4 card form-factor. The drive will consume 5.57W when performing read operations, 7.27W while writing and 0.5W in idle mode, according to the supplier.
ZOTAC SONIX PCIe SSD Specifications
480 GB
Controller
Phison PS5007-E7
NAND
Toshiba MLC
DRAM Cache
512 MB DDR3 SDRAM
Sequential Read
2600 MB/s
Sequential Write
1300 MB/s
Active Power (Read/Write)
5.57 W/7.27 W
Idle Power
0.5 W
Encryption
AES-256
MTBF
2,000,000 hours
Interface and Form-Factor
PCIe 3.0 x4 HHHL card
The ZOTAC SONIX SSD will be among the first solid-state drives to use Phison's PS5007-E7 controller
demonstrated in mid-2015
. The chip fully supports NVMe 1.2 protocol, error correction with 120-bit/2KB BCH code, NVMe L1.2 power saving mode, end-to-end data path protection, advanced global wear-leveling, an AES-256 engine and so on. The PS5007-E7 has eight NAND flash transfer channels and can perform up to 300K random read IOPS (input/output operations per second) as well as 200K random write IOPS. As we
reported
back in January, the PS5007-E7 had been finalized and the final firmware was due in February.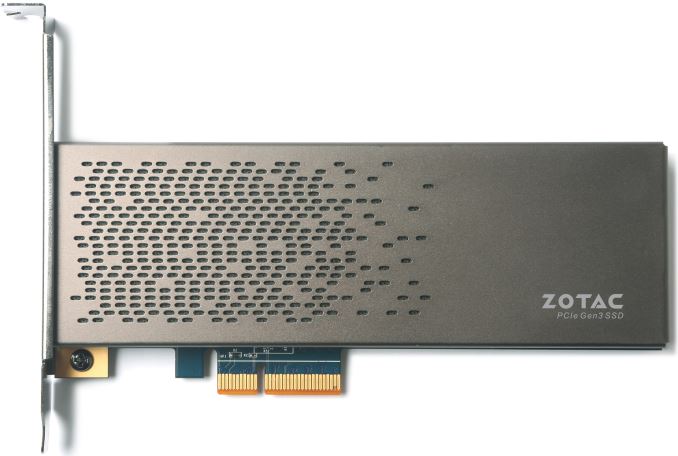 As expected, the ZOTAC SONIX drive will use Toshiba's multi-level cell (MLC) NAND flash memory and will be positioned as ZOTAC's premium offering. The product will hit the market in mid-March at the price of $369.99, which is comparable to that of Kingston's HyperX Predator M.2 480 GB SSD (
$364.99
) as well as
Samsung's 950 Pro
M.2 512 GB SSD (
$327.99
).
It should be noted that Phison not only develops controllers, but sells packages consisting of a controller, NAND flash memory, firmware and even production services. The majority of Phison-based SSDs are made by a contract manufacturer under supervision of the controller developer. While the approach somewhat constraints innovation of SSD suppliers because drives based on the same Phison controller offer similar feature-set and performance, it also guarantees relatively high quality, competitive pricing and broad availability.
If ZOTAC starts to ship its SONIX PCIe SSD in mid-March, other partners of Phison, including Corsair, Kingston, Mushkin, Patriot, PNY and other will likely follow shortly. As a result, the market should have a significant number of PCIe 3.0 x4 and M.2 SSDs with up to 2600 MB/s sequential read performance based on MLC NAND memory. Competition between various suppliers will naturally affect prices of actual products, which is good for the end-user. Keeping in mind that Samsung's 950 Pro M.2 512 GB SSD already costs $328, it looks like prices of high-end PCIe NVMe SSDs this year will get very competitive. Moreover, when and if new SSDs based on
SandForce's SF3500
controller arrive, things will get even more intense.

Read More ...
---
Market Views: Hard Drive Shipments Drop by Nearly 17% in 2015
Today we're launching a new feature on the AnandTech Pipeline: Quarterly HDD shipments reports. Here we'll examine HDD sales and analyze what's behind them. Since some numbers are estimates, we recommend you to check our counting methodology in the end of the story before reading.
While no one is writing off the PC market entirely, since it's heyday nearly a decade ago the PC market has been in a slow decline for some time, and that decline has yet to bottom out. Sales of personal computers declined by roughly 25 – 30 million units year-over-year, hitting
an eight-year low in 2015
due to economic trends, weak international currencies, and competition from tablets and smartphones in some markets. Shipments of PC components naturally dropped alongside weak PC sales, but hard drive sales in particular have made for an interesitng observation: for 2015, declines of HDD sales greatly outpaced the regress of the PC market. Based on estimates from Western Digital and Seagate (see counting methodology below), the total available market of hard drives contracted by nearly 100 million units year-over-year in 2015.
Sales of HDDs Total 469 Million Units in 2015
The three major producers of hard drives shipped a total of 468.9 million hard drives in 2015, according to estimates from both Seagate and Western Digital. This is down from 564.1 million units in 2014, or by 17%. By comparison, back in 2010 at the peak of HDD sales, the industry sold 651 million HDDs.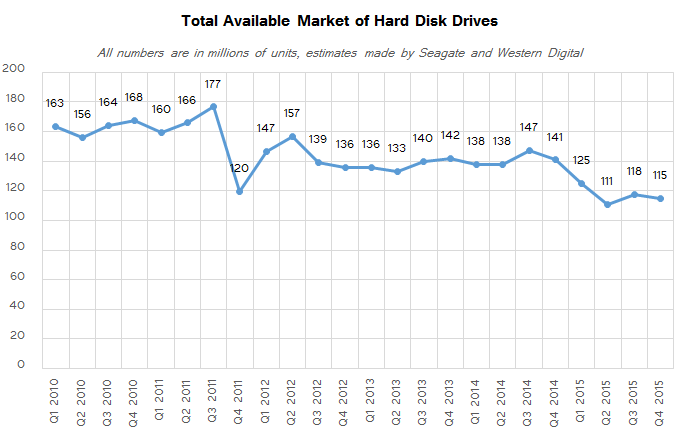 Typically, sales of HDDs are rather high in the fourth quarter. They may be slightly higher or slightly lower than in Q3, which is seasonally strong since PC makers are stockpiling components for the back-to-school and holiday seasons. Shipments of hard drives in Q4 2015 totaled 115.1 million units, which was well below shipments of HDDs in any fourth quarter of any year of this decade. In fact, even in Q4 2008, when the global economic crisis struck, the industry shipped about 124 million hard drives. Moreover, HDD TAM in Q4 2015 dropped below the levels in Q4 2011, when a devastating flood in Thailand damaged production facilities of hard drive makers.
Western Digital sold 49.688 million of HDDs in Q4 2015 (a drop of 18.6% year-over-year) and said that shipments of hard drives for gaming PCs as well as for enterprise were weaker than expected. Western Digital
expects
total available market of HDDs to drop to 100 million units in the first quarter of 2016, which would be the lowest HDD TAM in a decade. In a bid to remain competitive and profitable in new market realities, Western Digital plans to optimize and streamline its roadmap and eliminate at least six programs to reduce costs. In addition, the company intends to close-down its head wafer manufacturing facility in Otawara, Japan. After the fab is shut down, Western Digital will have just two head wafer facilities.
"We anticipate weak demand in the March quarter, resulting in a hard drive TAM of approximately 100 million units," said Stephen Milligan, chief executive officer of Western Digital, in a conference call with investors and financial analysts. "We are reducing our cost base through a series of planned actions, including the elimination of redundancy in functions, products, and facilities. […] We are streamlining our product roadmap by focusing our efforts to eliminate redundancy and optimize the products we offer, resulting in the elimination of a minimum of six programs."
On an annual basis, Western Digital sold 204.46 million HDDs in 2015, a decline of 18% compared to 2014.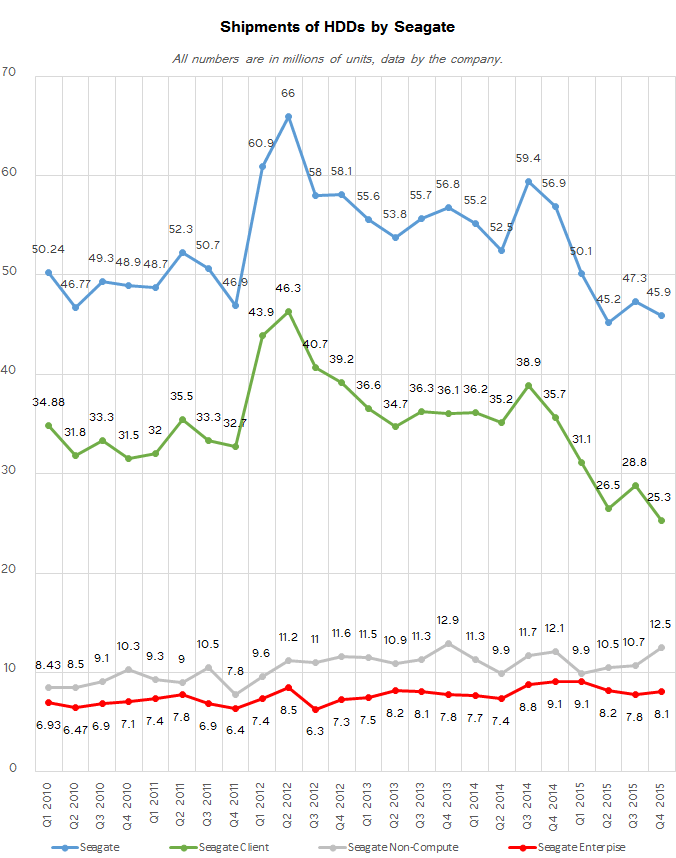 Seagate shipped 45.9 million of hard drives in Q4 2015, which was 20% below shipments in the fourth quarter of prior year primarily due to slow demand for PCs. Back in January the company
said
that it expected HDD market to stay weak, which is why it would perform a reorganization, optimize its internal and external supply chains, accelerate its roadmap, raise prices in certain markets and even cut-down its manufacturing capacity in a bid to stay financially healthy in the coming months.
"Taking into account macroeconomic factors, we believe overall storage market demand will be seasonally down in the March quarter which has ranged between 5% and 10% over the last five years," said Steven Luczo, chief executive officer of Seagate, in a conference call with investors and financial analysts. "We anticipate our non-GAAP gross margins will be sequentially flat in the March quarter and ongoing activities that will improve our profitability, including raising prices in certain markets, aggressive product transitions and internal and external supply chain optimization such as reducing manufacturing capacity."
Seagate shipped 188.5 million hard drives in 2015, down 15.9% from 224 million units in 2014.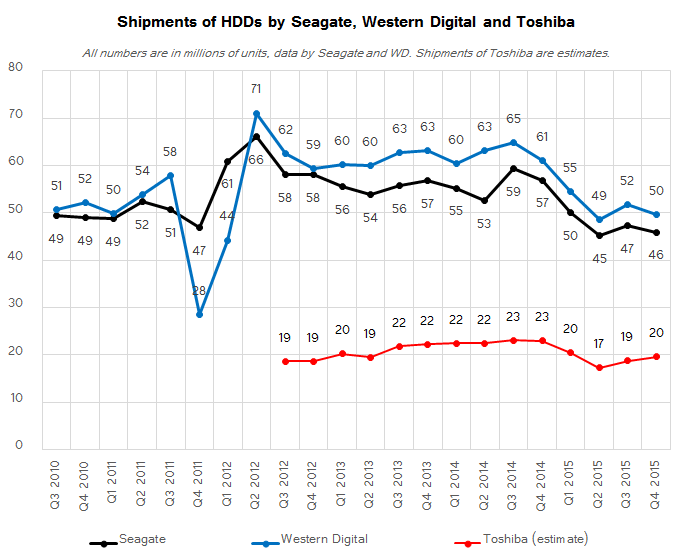 By contrast, HDD shipments of Toshiba slightly increased in the fourth quarter compared to the Q3 2015, if the estimates are correct. When compared to the same period last year, sales of Toshiba's hard drives declined by around 15%. The company shipped about 76 million HDDs in 2015, a decline of approximately 16% from around 91 million a year before.
Capacity Shipped Hit Record as Average HDD Capacity Is Increasing
But while unit sales of hard drives are declining, demand for HDD storage has not. Both Seagate and Western Digital set records in terms of capacity shipments both in Q4 2015 and in for the whole year. Total capacity of Seagate's HDDs shipped in 2013 was around 194.2 EB (Exabyte), but total capacity of hard drives the company sold in 2015 was 222.1 EB. Western Digital shipped 250.1 EB of HDD storage last year, up from 202 EB in 2013.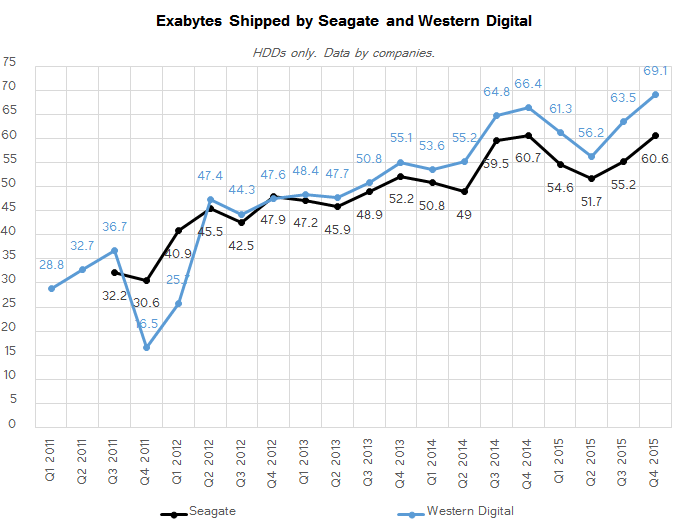 The reason why total capacity shipments are setting records amid declines of unit shipments is simple: the average capacities of hard drives have been almost skyrocketing in the recent quarters. Average HDD capacity was around 1 TB in Q3 2014, but it jump by 31% (Seagate) or even 38% (Western Digital) to roughly 1.3 – 1.4 TB per drive in Q4 2015.
Average HDD Costs Around $60
Yet despite the significant shifts in both units shipped and capacity shipped, HDD average selling prices have hardly changed. The ASP of one HDD is around $60 for both Seagate and Western Digital. HDDs have been on this level for quite some time now.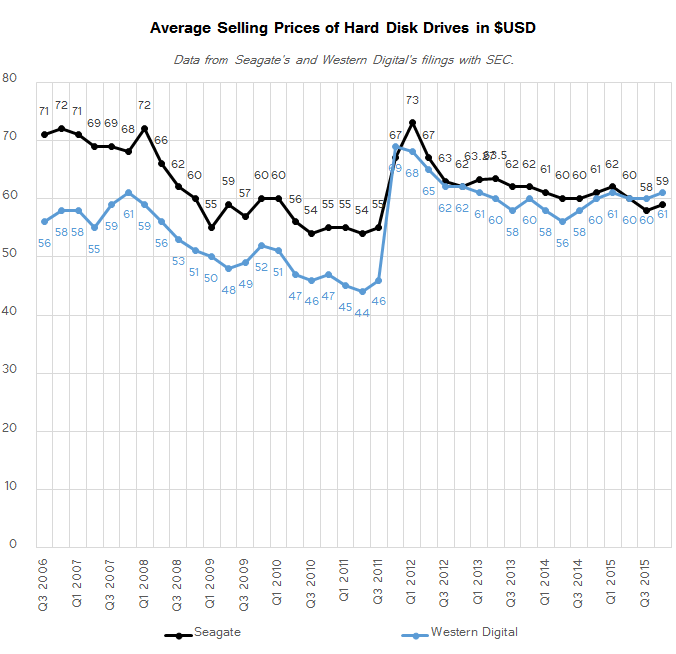 Historically, Seagate's ASPs were higher compared to ASPs of its arch-rival because the company sold more enterprise-class HDDs. After the flooding in Thailand in 2011 and Western Digital's acquisition of Hitachi GST in 2012, its ASPs improved significantly. Perhaps, after the two HDD makers adjust their manufacturing capacities in the coming months and reconsider their prices, their ASPs will improve.
Western Digital Retains Leadership Position
Western Digital controlled about 43% of the HDD market in Q4 2015, based on our estimates. Seagate came second with nearly 40% market share, and finally Toshiba was the distant third with roughly 17%.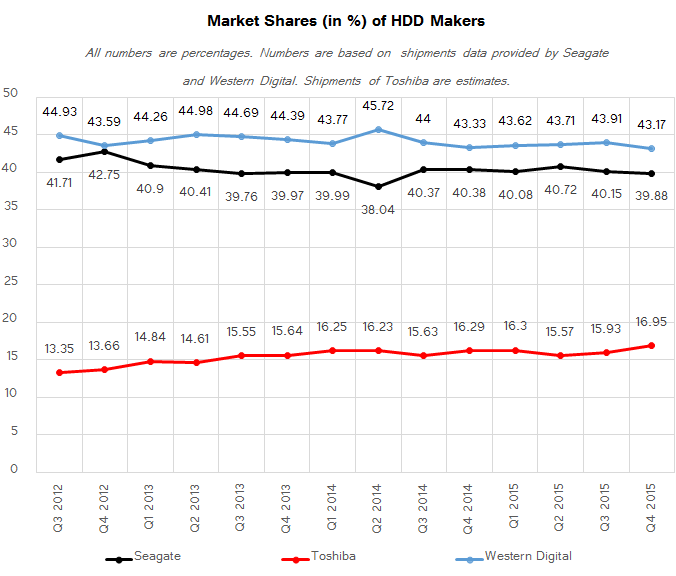 Keeping in mind global economic trends, competition from SSDs, and many other factors, it is unlikely that there will be significant changes in the HDD market in the upcoming quarters. In a bid to win market share, manufacturers of hard drives would have to sacrifice already thin margins, something they are unlikely to do. Therefore, the ranking of HDD makers has all chances to remain the same in the coming quarters.
Shipments of Client HDDs Decline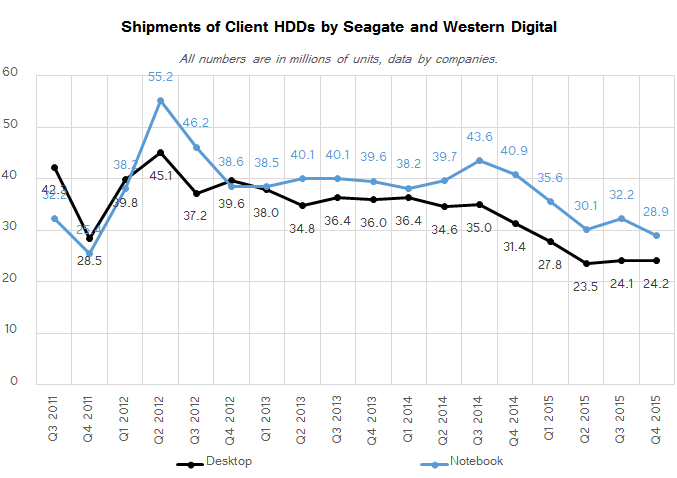 Given the fact that sales of PCs
dropped to 71.9 million units
, or by around 10.6% year-over-year, in the fourth quarter of 2015, it is not surprising that shipments of client HDDs by the two leading manufacturers declined to approximately 53 million in the same period, or by 26.5%. Even though we should not forget about consumer hard drives by Toshiba, it is essentially a given that SSDs are gaining in popularity in notebooks and high-end gaming systems at the expense of HDDs. According to TrendForce, as much as
25% of laptops used SSDs
in Q4 2015.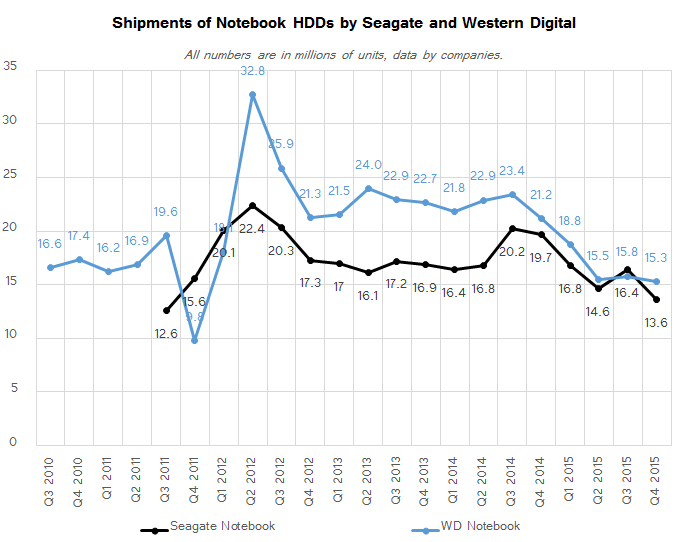 Looking at client notebook (2.5") HDD sales, we have a somewhat fuzzy picture. Seagate includes shipments hard disk drives it ships for game consoles into its 2.5" client HDD category, whereas Western Digital includes its drives for consoles into its consumer electronics category. Nonetheless, it is evident from the numbers that Western Digital generally sells more 2.5" hard drives than its rival does. In Q4 2015 Western Digital sold 15.3 million 2.5" HDDs (a 28% drop from the same period a year before), whereas Seagate supplied about 13.6 million 2.5" drives to its customers (a 31% decline from the same quarter in 2014).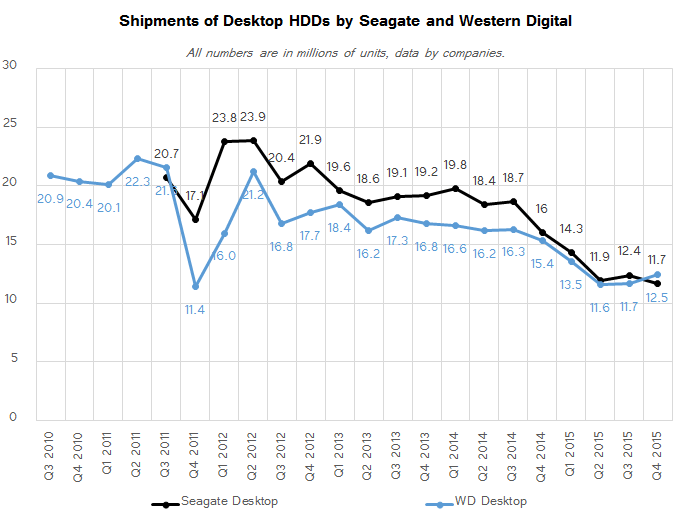 While historically Seagate outsold Western Digital on the desktop HDD market, in Q4 2015 the latter managed to become the world's largest supplier of 3.5" hard drives with 12.458 million desktop HDDs shipped (versus Seagate's 11.7 million). Only time will tell whether it will stay on top for long, but considering weak demand for PCs as well as measures to maintain profitability, it remains to be seen whether Seagate, Toshiba and Western Digital will fiercely compete for desktop market share at all.
Seagate claims that its retail, gaming and client offerings are continuing to move to higher capacity points thanks to the company's latest platters. Perhaps, instead of dropping prices on mainstream capacities, Seagate will attempt to either make higher-end HDDs more attractive, or introduce unique products, such as the recently launched
2 TB 2.5"/7mm SMR HDD for mobile PCs
.
Looking at the data, it seems that shipments of 3.5" HDDs have hit the bottom and will hardly drop significantly further going forward. However, taking global economic situation into account, making predictions is barely a good business these days.
Apart from weak sales of PCs and growing adoption of SSDs, there are other reasons why the market of HDDs is shrinking. Desktops may not be the most popular type of computers, but small form-factor systems and all-in-one (AIO) PCs are gaining traction. As a result, instead of purchasing several moderate-capacity HDDs, consumers are buying one large-capacity hard drive for storage purposes. Moreover, since SFF and AIO PCs are not upgradeable, this further reduces addressable market for internal HDDs.
Sales of External HDDs and NAS Remain Strong
Since the vast majority of notebooks, AIO PCs and SFF systems cannot house more than one hard drive, external storage is getting more popular. Both Seagate and Western Digital sell external HDDs and NAS devices under their own brands as well as under G-Technology and LaCie trademarks.
Sales of external HDDs and NAS from Seagate and Western Digital decreased in 2015 (just like shipments of other hard drives), but at a much slower pace than shipments of internal HDDs.
Western Digital has historically outsold its arch-rival with its My Cloud and My Passport products, but in the recent quarters Seagate began to catch up. In Q4 2015, the two competitors shipped similar amounts of branded storage devices — 6.443 million (Western Digital) and 6.3 million (Seagate) units.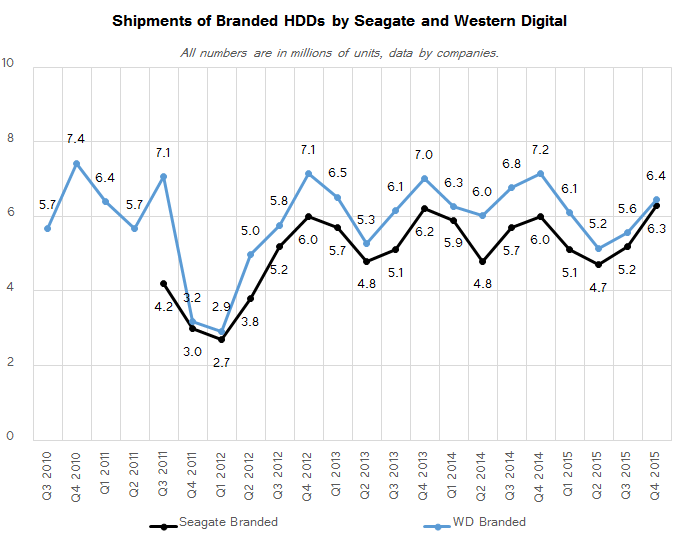 The Q4 2015 was a mixed bag for these two companies. While both managed to increase shipments of their branded hard drives sequentially, sales of Seagate's products increased by 5% year-over-year, whereas sales of Western Digital's external storage systems declined by 12% compared to the same quarter a year before.
Consumer Electronics Remains a Sizeable Market for HDDs
Nowadays the vast majority of consumer electronics (CE) applications use NAND flash memory. There are no ultra-mobile (players, tablets, etc.) devices with rotating media inside, whereas devices like smart TVs tend to utilize NAND memory as well. Applications like set-top-boxes, DVRs, surveillance systems and other may not be significant consumers of HDDs, but their sales are still important overall. Moreover, thanks to success of Sony's PlayStation 4, Western Digital sells loads of drives for consumer electronics (CE).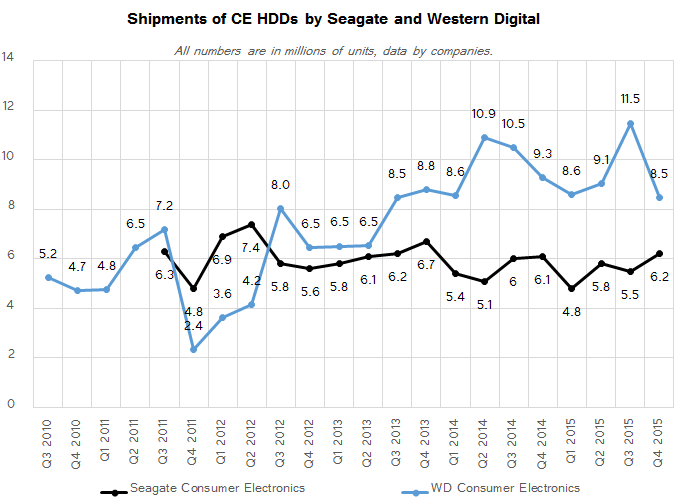 In Q3 2015, sales of Western Digital's CE HDDs set a record as the company shipped millions of HGST Travelstar hard drives for the PS4. In the fourth quarter sales of Western Digital's CE drives dropped to 8.46 million, a 9% drop year-over-year. Seagate includes sales of its drives for consoles into its client HDD shipments, so, it is impossible to directly compare CE HDD businesses of the two hard drives makers.
Seagate recently said that shipments of its HDDs for surveillance applications were growing rapidly and there was strong demand for HDDs specifically designed for these workloads. Hard drives for surveillance and video streaming systems should offer low price per gigabyte, support for ATA streaming technology and improved reliability. Thanks to its latest platters with high areal density, Seagate can address this market with unique offerings. Western Digital also addresses these markets with its Purple HDDs, which use its advanced platters as well.
Sales of Enterprise HDDs Remain High
Enterprise-class hard drives are arguably the most lucrative part of HDD makers' business. Such drives are naturally not shipped in huge quantities, but they are sold with a huge premium because they are based on specially-designed platforms. High-performance HDDs for mission-critical applications can feature 10000 RPM spindle speeds and the faster SAS interface. Despite their moderate capacities, such hard drives retail for $700+ and are still used by many datacenters even with the rise of SSDs. Moreover, both Seagate and Western Digital now offer helium-filled HDDs for those, who need maximum capacity per rack and are willing to pay extra for that.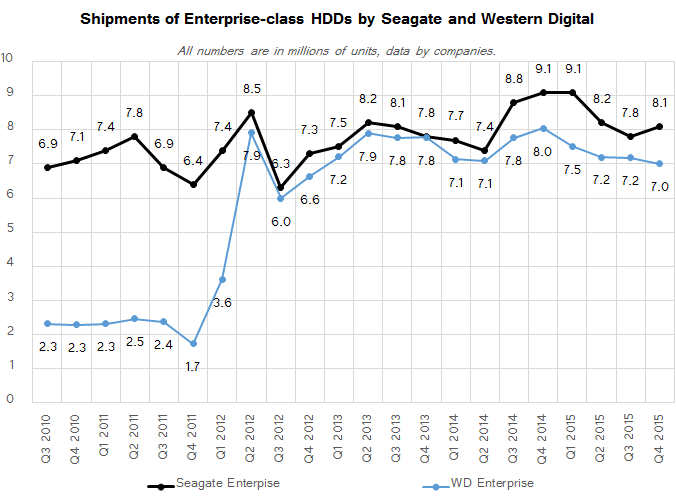 Seagate has been the leader of the enterprise HDD market in terms of unit sales for a long time and nothing changed last year. The company sold 33.2 million enterprise-class hard drives in calendar 2015, up 200 thousand from the previous year. The reason why the company failed to significantly increase unit sales of its server HDDs was slower demand for its 4 TB and 6 TB nearline HDDs in the second half of 2015. Even with this, the average capacity of its enterprise drives increased to 2.2 TB in Q4 2015, or by 15% year-over-year, the company said recently. Enterprise total capacity shipped was up 21% sequentially in the fourth quarter, according to Seagate, which indicates that the product mix improved in Q4 after the manufacturer introduced its family of 8 TB PMR-based HDDs in September. Right now Seagate is shipping such hard drives in high volume.
Although HGST's product portfolio has included high-capacity 8 TB helium-filled HDDs for well over a year, the vast majority of the company's clients are still evaluating its helium drives, which is why Western Digital did not capitalize on its leading capacities from the unit sales point-of-view. The company sold 28.911 million server-grade hard drives in calendar 2015, down from 30 million in 2014 and 30.6 million in 2013.
In Q4 2015, sales of Western Digital's enterprise HDDs dropped to 7.008 million units, or by 12.5% compared to the same period a year before. Nonetheless, the growing number of datacenters are deploying its helium-filled 8 TB and 10 TB drives these days, so, the company remains optimistic about its future in the enterprise. HGST sold 1.5 million helium-filled HDDs last quarter, up from a million a quarter before. Moreover, despite of unit sales drop, Western Digital saw 32% year-over-year growth in enterprise capacity shipments in Q4 2015.
Final Words
The market of personal computers is transforming and so is the data storage market. As more client PCs adopt SSDs, fewer internal consumer-class HDDs will be sold. That said, even with these declines the overall market for hard drives is not going anywhere.
Looking at broader market trends, as Ultrabooks and other thin form-factor notebooks gain in popularity, unit sales of 2.5" HDDs will inevitably suffer. Nonetheless, analysts from TrendForce expect 66% of laptops to use hard drives this year, hence, TAM of 2.5" HDDs will still exceed 100 million units in 2016, especially thanks to the latest game consoles from Microsoft and Sony. What remains to be seen is how HDD makers optimize their mobile lineups to improve profitability (by cutting-down costs) while making their products attractive from capacity, performance and price standpoints. Solid-state hybrid drives have not become popular or widespread so far. Similarly, the recently introduced SMR-based 2.5"/7 mm HDD with 2 TB capacity looks more like an experiment than a product Seagate pins a lot of hopes on. So, it should be interesting to see what Seagate, Toshiba and Western Digital plan to do in order to sustain relevancy of 2.5" HDDs for mainstream PCs in the coming years.
Shipments of 3.5" HDDs for client computers have also been decreasing for a while, but last year the industry still sold well over 100 million of such hard drives. The form-factor has a lot of advantages: it is inexpensive, it can offer high capacity points and it is compatible with 100% of desktop motherboards that are available today. Nonetheless, since unit sales of 3.5" HDDs are declining, expect manufacturers to shrink the number of their offerings going forward. Last year Western Digital already folded its WD Green drives into its WD Blue family. In the future, makers of HDDs may get rid of mid-tier affordable 7200 RPM HDD families and focus on cheap 5400 RPM drives and high-performance 7200 RPM drives in a bid to optimize their costs.
Meanwhile both Seagate and Western Digital claim that while the HDD TAM is declining because of shrinking sales of consumer drives, shipments of enterprise-grade HDDs are growing. However, if we take a closer look at the numbers posted by these two companies in 2012 – 2015, we will notice that Seagate sold between 31.6 and 33.2 million server HDDs per year, whereas shipments of enterprise hard drives from Western Digital fluctuated around 30 million units per annum during the period.
Since average capacities of server-grade HDDs are rapidly increasing, it is likely that many enterprises are adopting new 3.5" hard drives, whereas sales of mission-critical 2.5"/3.5" models are either stagnating or even declining as SSDs take their place in the datacenter. Keeping in mind that it is easier to swap HDDs than to expand the datacenter itself in order to increase storage capacity, it is logical to assume that unit sales of server-grade hard drives will remain at the current level, or will even grow slowly. The bigger question is whether shipments of such HDDs will actually start to grow rapidly to compensate for diminishing sales of consumer drives. This did not happen in the recent years and it is unclear whether this will happen in 2016.
---
Methodology and Important Notices


There are three major manufacturers of hard drives today: Seagate, Toshiba and Western Digital. Other suppliers are reselling hard drives made by these three companies.

Seagate and Western Digital reveal their HDD unit shipments as well as TAM (total available market) estimates every fiscal quarter. While such numbers are considered preliminary, they are usually rather accurate and re-affirmed by third-party analysts. Our TAM is the midpoint between Seagate's and Western Digital's TAM estimates. If only one hard drive maker reveals its TAM, we consider the number from only one vendor.

Meanwhile Toshiba does not officially disclose its HDD shipments. We subtract quarterly shipments of Seagate and Western Digital from our TAM estimate to get the number of drives sold by Toshiba. The approach is is the reason why we do not report historical shipments of Toshiba prior to Q3 2012. Based on estimates of hard drive makers and industry observers, Toshiba cannot produce more than 22 – 23 million of HDDs per quarter.

Seagate's and Western Digital's fiscal quarters end on the last business day of the last week of a calendar quarter (e.g., the Friday next to December 31). While fiscal quarters of HDD makers may not correspond exactly to calendar quarters, they are very close. Fiscal years of Seagate and Western Digital do not correspond to calendar years as they begin in July.

Historical TAM data comes from financial reports of Seagate and Western Digital.

Note 1: Seagate completed acquisition of Samsung's HDD business in December, 2011. The company started to include sales of Samsung-branded HDDs in its quarterly shipments in Q1 2012 (Q3 FY2012).

Note 2: Western Digital closed acquisition of Hitachi Global Storage Technologies in March, 2012. Western Digital began to include HGST shipments in its financial reports in Q2 2012 (Q4 FY2012).

Note 3: Toshiba acquired some of Western Digital's 3.5-inch HDD manufacturing equipment and intellectual property in May, 2012. It was expected that the manufacturing transfer could be complete within 6 to 12 months. Western Digital made HDDs for Toshiba on a contract basis until late Q4 2012. Due to the contract manufacturing agreement between Western Digital and Toshiba in 2012, there may be some inaccuracies in the historical data in that period (i.e., since the drives were made by Western Digital and then sold to Toshiba, they are attributed to the former, not the latter).

Note 4: Seagate defines client HDDs as 2.5" and 3.5" hard drives for desktops, notebooks and hybrid PCs as well as game consoles. Seagate considers HDDs for external storage and network-attached storage (NAS) as "branded" drives. Hard disks for DVRs and surveillance systems belong to Seagate's family of HDDs for consumer electronics. Enterprise lineup includes 2.5" and 3.5" drives for mission critical (SAS, SCSI, Fibre Channel), enterprise storage, nearline and other datacenter applications.

Note 5: Western Digital attributes desktop and mobile 2.5" and 3.5" hard drives to client HDDs. External hard drives and NAS are referred to as "branded products". Western Digital's consumer electronics HDDs are used in DVRs, game consoles, video streaming applications and security video recording systems.

Read More ...
---
BaseMark Announces The Power Assessment Tool (PAT)
PAT (Power Assessment Tool)
comes in. The PAT is a tool that doesn't require destructive dismantlement of a device to be able to measure its power consumption. This is an area where I'm particularly familiar with as over the last year and more have been instrumenting a lot of smartphones via external power supplies and measurement equipment by physically opening them and replacing the lithium power cells.
Basemark relies on the fact that when smartphones are fully charged, they usually enter a power bypass-mode where the internal battery cell is no longer used, and power is
instead
drawn
directly from the connected charger. To do this the PAT is connected to a conventional charger input. Currently this is a microUSB port but Basemark tells me future revisions might consider going USB C. The output is a USB-A port and thus one can connect any kind of receiving device, be it USB C, microUSB or Lightning port.
On the software-side the PAT comes with an interface and analysis software that is able to connect to the hardware and show in real-time the power consumption of the device.
It's still a bit early to talk about the capabilities of the beta software but Basemark shows promise and once all features are implemented the PAT should represent great value in terms of analysis for both professionals and enthusiastic hobbyists.
The charger input power measurement methodology does come with limitations. For example power consumption exceeding charger power will lead to the device PMIC to compensate by drawing power from the battery - power which then can no longer be tracked. Another problematic scenario is when devices implement charge current limits when the screen is on. While in practice they would be able to charge at rates of up to 12W, they limit themselves to ~5W when the device is used. This limit sometimes falls below the peak power consumption of devices and thus can result in a misleading measurement data.
While the PAT is officially advertised and validated for
power
measurement over a device's USB port, an interesting use-case that I couldn't help myself testing is trying to use it to directly power and measure the device's battery power input. With some cable splicing and modifications to be able to just use the + and GND pins of the USB connectors and connect them to the device's battery input I was able to avoid any of the limitations and draw-backs of measuring power via the device's input power.
Basemark publishes that the power range on the input and output ports ranges from 4.10V (3.9V output) to 5.25V at up to 1.8A. I'm not sure if these are technical limits or simply the currently validated ranges that Basemark has tested the hardware on as I had no issues connecting fast-chargers with supply voltages of up to 9V. The internal ADC is 16-bit in resolution and able to measure voltage with accuracy of
÷ 140 µV and currents at up to ÷ 1 mA accuracy for the least-significant-bit (LSB). Currently the data sample-rate is configurable down to 1ms resolution but Basemark tells me that the internal ADC is capable of up to ~100kS/s and maybe taken advantage of in future firmware updates.
Overall the PAT is an interesting and useful little tool. Basemark prices the first generation at 995€ without VAT for corporate costumers with limited availability starting in April. At a rather steep starting price, the PAT will need to distinguish itself via its software and analysis capabilities. I'll be reviewing the PAT more in-depth in the coming months as Basemark continues to refine the software suite, so keep an eye out for more in-depth testing!

Read More ...
---
VESA Releases DisplayPort 1.4 Standard: DisplayPort Adds Compression & HDR
After an update for the Embedded DisplayPort standard last year with
eDP 1.4a
, being announced this week is the next iteration of the DisplayPort standard, bringing it to 1.4. And like the examples above, this is another case where some features are making their way back from eDP to the mainline DP standard, while at the same time new features are coming to the DisplayPort family for the first time. To that end, DP 1.4 is a mix of both old and new, and while also serving as interesting case in highlighting how the two DisplayPort standards differ and why this is necessary.
First off then, despite the updated version number and unlike previous DisplayPort "point updates," the latest update does not change the physical layer for DisplayPort. HBR3, introduced with
DisplayPort 1.3
, remains the newest and fastest bandwidth standard for DisplayPort.
Instead what has changed for DisplayPort 1.4 is the DisplayPort feature set, and in a major way. Surprisingly absent in DisplayPort 1.3 was support for the VESA's
Display Stream Compression
standard, which uses lossy ("visually lossless") encoding to cut down on bandwidth needs, allowing for display setups with fewer lanes or at higher resolutions – such as 8K uncompressed – that can't be carried within the bandwidth limitations of DisplayPort. Rather the first VESA standard to include DSC was last year's Embedded DisplayPort 1.4a, and now a year later, DisplayPort is finally adding DSC support with the 1.4 standard.
As we've since found out, there are a couple of good reasons for why we haven't seen DSC in the mainline DisplayPort standard until now, and with 1.4 the VESA has finally addressed those issues to allow DSC to be included in the standard. Of particular interest here is support for Forward Error Correction (FEC), which the VESA considers necessary for DSC on external monitors.
From a signal integrity standpoint, as displays are the highest bandwidth external interface on a typical PC, we've known that the VESA has been pushing the envelope on external signaling for quite some time now. This is part of the reason vendors are coalescing around USB Type-C, as it's easier for vendors to all back a single well-developed solution. In the case of HBR3, this means pushing 32.4Gbps over a 4 lane connection, which is easy in a short run inside a laptop measured in centimeters, but it is a greater challenge with DisplayPort cables extending up to 2 meters. Practically speaking, while a solid DP1.3/HBR3 setup shouldn't see any errors to begin with, the real world error rate – though quite low – is still higher than would be ideal.
For uncompressed images this isn't an issue; any corruption is limited to a handful of pixels and quickly corrected in the next refresh. However once DSC is brought into the fold, any errors become a much larger problem. An error in a compressed data chunk will cause decoding to fail or make the decoded result very wrong over a large number of pixels, making the error far more noticeable. Consequently DSC requires a high level of reliability, which eDP with its short runs could provide, while DP's longer runs could not.
The end result is that the combination of DP 1.4 and the recently released DSC 1.2 specification include
Forward Error Correction
for DSC. Although Forward Error Correction increases bandwidth requirements slightly, the additional, redundant data it carries allows for errors to be corrected, making DSC suitably reliable over DisplayPort connections. This is the key change to DSC and DisplayPort that finally allows DSC to be deployed to external monitors.
Meanwhile at DP 1.4 is also the first DisplayPort standard to incorporate DSC 1.2, it also becomes the first standard to gain DSC 1.2's other benefits. Along with the aforementioned error resiliency, DSC 1.2 introduces some new functionality specifically for HDR displays. The compression standard now supports 4:2:0 and 4:2:2 color spaces and has added 14-bit and 16-bit per channel color support to the existing 8/10/12-bpc supported bit depths. In this case the VESA has their eye on HDR with displays over 4K, as while DP 1.3/1.4 offers enough bandwidth for HDR at 4K, this is where it tops out.
Display Bandwidth Requirements (RGB/4:4:4 Chroma)
Resolution
Minimum DisplayPort Version
1920x1080@60Hz, 8bpc SDR
1.1
3840x2160@60Hz, 8bpc SDR
1.2
3840x2160@60Hz, 10bpc HDR
1.3
5120x2880@60Hz, 8bpc SDR
1.3
5120x2880@60Hz, 10bpc HDR
1.4 w/DSC
7680x4320@60Hz, 8bpc SDR
1.4 w/DSC
7680x4320@60Hz, 10bpc HDR
1.4 w/DSC
While on the subject of HDR, DP 1.4 also includes some HDR functionality of its own. The other major addition for the 1.4 standard is support for HDR static metadata, specifically the CTA 861.3 standard already used in other products and standards such as HDMI 2.0a. While the full details of what it takes to implement HDR are beyond the scope of this article, HDR
static
metadata is specifically focused on recorded media, such as Ultra HD Blu-Ray, which use static metadata to pass along the necessary HDR information to displays. This also improves DP/HDMI interoperability, as it allows DP-to-HDMI adapters to pass along that metadata.
The last new feature being introduced with DP 1.4 is updating the audio formats supported by the DisplayPort standard. As with the video portion of the standard, this is focused on functionality since the physical layer (and available bandwidth) haven't changed. The VESA specifically notes that this latest update adds support for items such as 32 audio channel configurations, and while they don't say its name, this sounds like the underpinnings for supporting decoded Dolby Atmos audio.
Wrapping things up, like previous DisplayPort specification announcements, we're expecting some significant lag time between today's announcement of the DisplayPort 1.4 standard and when this functionality shows up in shipping products, as manufacturers still need to develop controllers implementing the standard. As it stands we still haven't seen any DisplayPort 1.3 equipment hit the market yet (this despite being introduced in 2014), so it's likely that DisplayPort 1.4 is some time off. Meanwhile as DSC is always a hot topic in our comment section, so far we haven't heard anything about plans for monitors to actually implement it. Most likely we won't see anything until monitors with resolutions over 5K hit the market, as the primary focus of DSC for external monitors is for ultra-high resolution monitors coupled with HDR. It's here where the uncompressed bandwidth requirements become well in excess of what DisplayPort could provide.

Read More ...
---
NVIDIA Releases 362.00 WHQL Game Ready Driver
Right on cue NVIDIA has delivered another game ready driver for a collection of newly released titles. Bringing, alongside the typical performance and stability reasons, additional graphical improvements to the games in question.
NVIDIA's 362.00 WHQL driver release continues through the 361 driver branch. Furthermore, there are no new issue fixes reported by NVIDIA this time around.
This driver provides game ready support for the recently released Farcry Primal, including performance optimizations and an SLI profile. Game ready support is also provided for Gears of War: Ultimate Edition, bringing to the original Gears of War improved graphics, 60FPS, and support for resolutions up to and including 4k, alongside the inclusion of NVIDIA's own HBAO+.
Dying Light and the recent Dying Light: The Following have received NVIDIA GameWorks Percentage Closer Soft Shadows (referred to as PCSS). This newly released technique works to further improve the believability of in game shadows by softening shadows more as the move further from the shadow caster.
Anyone interested can download the updated drivers through GeForce Experience or on the
NVIDIA driver download page
.

Read More ...
---
Available Tags:
Dell
,
Samsung
,
SSD
,
Microsoft
,
ZOTAC
,
NVIDIA
,
WHQL
,
Driver
,