Google Adds New Hands-Free Features to Android Wear
Starting things off is a set of new navigation options for wrist gestures. At present, Android Wear smartwatches can do simple navigation by flicking your wrist. With the new update, Google is adding the ability to expand a card, bring up apps, or return to watch face with a push, lift or shake of the wrist.
Also present in the latest update are improved voice control functions for third party apps. Smartwatches running Google Android Wear already support voice commands to control music playback, make notes/reminders, search the Internet, etc, while the latest update will all voice commands to send messages from applications like Google Hangouts, Nextplus, Telegram, Viber, WeChat, and WhatsApp.
Finally, all Android Wear watches can monitor incoming calls. However, there is a new breed of Android Wear-based watches (the Huawei Watch and the ASUS ZenWatch 2), which feature built-in speakers and with this update will be able to make calls outright in this fashion when paired with a smartphone.
The new Google Android Wear update does not seem to be too significant or game changing. However, it shows certain trends. Smartwatches are gaining functionality and bring some of smartphone capabilities to the wrist, which increases importance of such devices in general. Added convenience is what made mechanical wristwatches popular a century ago. Perhaps, improved feature-set of smartwatches will make them more widespread in the coming years.
The new update will be rolling out to all Android Wear watches over the next few weeks, but actual manufacturers will have to adopt them to their products and, perhaps, add their own features or even applications. Availability of the update depends on makers of actual devices.

Read More ...
---
VAIO to Start Selling Smartphones in Japan
VAIO will promote its smartphones together with Microsoft and local operators in Japan. One of the selling points of the VAIO Phone Biz will be its support for the Continuum technology, which lets users to connect their smartphones to large displays or televisions using Miracast technology, HDMI/DisplayPort outputs, USB type-C ports or special accessories in order to use their phones like PCs (e.g., create/edit Office docs, send email, browse Internet, etc.). Since the VAIO Phone Biz smartphones will run Windows 10 Mobile, they will be fully compatible with Office 365, OneDrive, Azure Active Directory, Intune mobile app manager as well as Skype for business out-of-box. Microsoft will also help VAIO to promote its smartphones, just like it helps to sell notebooks and tablets designed by the company.
With its handsets, VAIO intends to address business users, the target audience of its PCs. Such positioning will, perhaps, help VAIO to avoid direct competition with Sony, Samsung and other companies selling Google Android-based handsets to the masses. However, since Microsoft considers itself a cloud company, it wants its apps and services to work on all mobile platforms, even a close collaboration between VAIO and Microsoft will hardly create a lot of unique advantages for the hardware company.
The VAIO VPB 051 smartphone will feature a 5.5-inch display with 1920x1080 resolution. The handset will be based on the Qualcomm Snapdragon 617 system-on-chip (eight ARM Cortex-A53 cores clocked at 1.50 GHz, Adreno 405 graphics core) and will be equipped with 3 GB of LPDDR3 RAM, 16 GB of NAND flash storage as well as a microSD card slot. The handset from VAIO will also feature 13 MP rear and 5 MP front cameras, 802.11a/b/g/n/ac Wi-Fi, Bluetooth 4.0, a micro USB 2.0 connector, various sensors, a 2800 mAh battery and so on. The smartphone is compatible with 3G/LTE bands 1, 3, 6, 8, 11, 19 and 21 with carrier aggregation (so, this particular model is not suitable for the U.S.). The smartphone will be 8.3 mm thick and will weigh 167 grams.

The VAIO Phone Biz model 051 will use a unibody carved out of solid aluminum (VAIO does not reveal exact type of alloy), which means that it should be rigid. Keeping in mind that many premium smartphones nowadays are made of polycarbonate, aluminum body could become a tangible advantage of the VAIO smartphone.
The smartphone will be manufactured by a contract manufacturer, its quality will be checked and tested at the Nagano Technology Site (Azumino City, Nagano Prefecture), the former hub of Sony's PC operations, where VAIO already performs final checks and assembly of its PCs.
The VAIO VPB 051 will hit the Japanese market this April at the price of ¥50,000 ($428). The smartphone will not be sold with contracts, the owners will be able to choose their operator. For this reason, the handset's bundle will include an adapter for nanoSIM cards.
The addition of a smartphone into the VAIO lineup is a clear sign that the company is planning to expand and address new markets. Moreover, with tablets, notebooks and smartphones in the family, the VAIO product line will be one of the most comprehensive Windows product lines in the world. The example of Apple shows that a vertically-integrated product stack helps to sell more products to loyal customers.
What remains to be seen is when VAIO plans to bring its smartphones to the U.S. The first-gen model is not suitable for the U.S. because of LTE compatibility issues (in fact, a business phone that cannot really support LTE in the U.S. is a strange business phone), if VAIO wants to sell it in North America, it will have to redesign its LTE module.

Read More ...
---
OCZ Releases Trion 150 SSD
The specifications for the Trion 150 are otherwise unchanged from the Trion 100, but the press releases have mentioned some improvements in sustained performance. Supporting the 15nm NAND required at least some firmware tweaks and it's possible that some performance optimizations were introduced as well. It's also possible that the Trion 150 adopts more overprovisioning or larger SLC-mode caches.
OCZ Trion 150 Specifications
Capacity
120GB
240GB
480GB
960GB
Controller
Toshiba TC58
NAND
Toshiba 15nm TLC
Sequential Read
550MB/s
550MB/s
550MB/s
550MB/s
Sequential Write
450MB/s
520MB/s
530MB/s
530MB/s
4KB Random Read
79K IOPS
90K IOPS
90K IOPS
90K IOPS
4KB Random Write
25K IOPS
43K IOPS
54K IOPS
64K IOPS
Endurance
30TB
60TB
120TB
240TB
DevSleep Power
6mW
Idle Power
830mW
Max Power
4.8W
Warranty
Three years
Price (Amazon)
$45.99
$69.99
$139.99
$269.99
We initially found the Trion 100 to be a fairly poor performer compared to other modern SSDs, but its pricing of late has been very low and more recent TLC drives like Crucial's BX200 have sacrificed even more performance for the goal of affordability. The allure of the cheapest TLC SSDs has been reduced by the availability of some decent MLC drives for only slightly higher prices, such as Mushkin's Reactor. With the switch to denser NAND, the Trion 150 may be able to widen the gap and take a clear lead in affordability over MLC drives. Even if the Trion 150 turns out to be another step in the race to the bottom among value SSDs, it will still vastly outperform hard drives, and that's all that value SSDs are really aiming for at the moment. On the other hand, if it does offer significant real-world performance improvements without any price increase, it can probably be competitive against other value SSDs at some capacities.
OCZ hasn't announced pricing for the Trion 150, but Newegg is
currently listing
the Trion 150 at around $0.29/GB for the 240GB and larger capacities and
Amazon's listing
(not in stock yet) has the 120GB drive slightly cheaper.

Read More ...
---
ARM Announces New 28nm POP IP For UMC Foundry
U
manufacturing process. To date we haven't had the opportunity to properly explain what ARM's POP IP actually is and how it enables vendors to achieve better implementation of ARM's IP offerings. While for today's pipeline announcement we'll be just explaining the basics, we're looking forward to a more in-depth article in the following months as to how vendors take various IPs through the different stages of development.
When we talk about a vendor licensing an ARM IP (CPU for example), this generally means that they are taking the RTL (Register Transfer Level) design of an IP. The RTL is just a logical representation of the functioning of a block, and to get to from this form to one that can be implemented into actual silicon requires different development phases which is generally referred to as the physical implementation part of semiconductor development.
It's here where ARM's POP IP (Which by the way is not an acronym) comes into play: Roughly speaking, POP IP is a set of tools and resources that are created by ARM to accelerate and facilitate the implementation part of SoC development. This includes standard cell libraries, memory compilers, timing benchmarks, process optimized design changes and in general implementation knowledge that ARM is able to amass during the IP block development phase.
The main goal is to relieve the vendor from re-doing work that ARM has already done and thus enable a much better time-to-market compared to vendors which have their in-house implementation methodology (Samsung and Qualcomm, among others, for example). ARM explains this can give an up to 5-8 month time to market advantage which is critical in the fast-moving mobile SoC space.
One aspect that seemed to be misunderstood, and even myself had some unclear notions about, is that POP IP is not a hard-macro offering but rather all the resources that enable a vendor to achieve that hard-macro (GDSII implementation).
This is where we come back to today's announcement. ARM's new POP IP targets UMC's new 28nm process called
28HPC
U
for ARM's Cortex A7 and Cortex A53 cores
. The acronym has a dual meaning standing for 28nm High Performance Compact "UMC" or "Ultra-Low IDDQ" with I
DDQ
being the leakage current which is being describes as being considerably lower than UMC's first-generation 28nm HKMG process and able to give significant battery life improvements to devices.
While ARM isn't able to disclose which vendors use POP IP, they state that the main target is low-cost Asian market, which most likely means various Chinese vendors. According to
S.C. Chien, vice president, corporate marketing, UMC:

Read More ...
---
Alpenföhn Unveils Olymp: A Giant Air Cooler Rated for 340W TDP
The Alpenföhn Olymp is an oversized asymmetric twin-tower cooler made of aluminum with a nickel-plated copper base as well as six U-shaped 6-mm nickel-plated heat-pipes. The heatsink is 165x151x150mm in size and weighs 1.2 kilograms (without fans); it requires a special mounting mechanism with custom retention plates and will not fit into many small form-factor PC cases (especially with fans installed). The sides of the fins of the heatsink are slightly bent in order to make the most of their surface area and to optimize airflow.
Alpenföhn does not disclose exact cooling fin surface area of the Olymp, but it is pretty clear that it is huge. While heatsinks of such weight and dimensions can cool-down even higher-end CPUs passively (for example, Thermalright positions its
HR22
and
Macho Zero
as passive cooling solutions), the Alpenföhn Olymp can be equipped with 140-mm fans to maximize its potential. Since the cooler is gargantuan, to ensure maximum compatibility with memory modules Alpenföhn proposes installing one fan between the towers and another on the backside of the cooler. Such configuration is common for oversized coolers and it's a rather straightforward solution for dual-channel memory platforms (i.e., LGA115x, FM2/AM3, etc.). However users of quad-channel memory platforms (i.e., LGA2011, where modules are installed on both sides of the CPU socket) will have to adjust height of front and/or back fans so not restrict the installation of memory modules in slots that need to be used.
The Alpenfoehn Olymp is shipped with two WingBoost 140-mm fans with PWM control that have 300 – 1400 RPM speed and can push up to 123.38 m
3
of air per hour. The airflow pressure of Olymp's fans is slightly lower than that of the competing
Noctua NH-D15
(140.2 m
3
/h), but with a heatsink that large, it shouldn't matter much for the vast majority of real-world use cases. The fans are rated to produce from 8 to 26.8 dbA of noise — just slightly louder than the maximum amount noise declared for the NH-D15. Alpenföhn rates its fans for 280 thousand hours MTTF (mean time till failure), or about 32 years of 24/7 operation.
The manufacturer believes that its Olymp cooler can effectively dissipate up to 340 W of heat, an extreme amount that greatly exceeds any reasonable TDP of a commercial chip. The Alpenfoehn Olymp will compete against other super-coolers, including
Thermalright SilverArrow Extreme
(officially rated for 320 W TDP), as well as advanced liquid cooling solutions.
The Alpenföhn Olymp is compatible with virtually all modern CPU platforms, including Intel's LGA115x, LGA2011 and LGA775 as well as AMD's AM2/AM3 and FM1. Keeping in mind its huge dimensions and weight, it makes a lot of sense to check thoroughly whether the cooler is compatible with a particular setup before purchase. The cooler is available for €79.9 in various stores across Europe.

Read More ...
---
Dell To Add Off-Host BIOS Verification To Endpoint Security Suite Enterprise
A new feature coming to this suite is going to be BIOS verification. Dell found that there was a gap in the market with regards to securing the boot process. BIOS attacks are especially nasty, because they load up before the operating system and can more easily avoid detection. Most malware protection products focus on heuristics and virus signatures, but that landscape is changing with less mass targeting of malware and more directed attacks at specific companies, or even people. Dell's Endpoint suite was recently updated to use Cylance as their anti-virus engine, and it uses machine learning which, according to Dell, can stop 99% of malware, even if it's a zero-day or unknown exploit. Signature based detection is accurate 50% or less of the time, according to the same tests.
But all of that is to protect the operating system. If malware gets into the BIOS, it can be very difficult to detect. There are already methods to help deal with this – Microsoft Windows offers protection called Measured Boot which verifies the BIOS with help of the Trusted Platform Module. Dell wants to take this one step further, and remove the local host from the equation at all. Instead, Dell computers with the Endpoint Suite will be able to compare a SHA256 hash of the BIOS against a known good version kept on Dell's servers. Since Dell is the one that originally creates the BIOS, they would be the authority to ensure that it has not been compromised.
Dell's suite will perform a hash function on the BIOS, and send it to Dell. If the BIOS is found to have a non-matching return value, Dell's servers will send an alert to the designated IT admins for the organization.
Unlike Secure Boot, Dell's solution does not actually stop the device from booting, or even alert the end user. The hashing and comparison is not done in real-time, but rather after the machine finishes booting, the Endpoint Suite will send it to Dell. Dell made it very clear that their intention was not to interfere with the device itself, but rather to give the IT admins notification of an issue so that they can deal with it through their own response and policy.
One obvious question I had to ask was if this same hashing could be done on a continuous basis, rather than just at boot, because the Endpoint Suite is what gathers the information and sends it to Dell. They were happy to let me know that a policy based scan of the BIOS is something they are working on, and they are hoping for it to be available in Q2 of this year. Scanning the BIOS every hour, or whatever is deemed a good time by the IT admins, would give them a leg up to catch the software before it even gets to go through a boot process and get itself into the system.
Dell has focused very much on being a one-stop shop for all of a companies computing needs, from servers, to desktops, to displays, and even services. This addition to their Enterprise Security Suite Enterprise will initially be available for Dell's lineup of commercial PCs based on 6
th
generation Intel processors. They were keen to point out that BIOS attacks are not anywhere near as commonplace as traditional malware, but it is important to be out in front of these types of attacks.
Source: Dell

Read More ...
---
Who Controls the User Experience? AMD's Carrizo Thoroughly Tested
In Q2 of 2015, AMD officially launched Carrizo, their new APU aimed at mobile devices such as laptops and portable all-in-ones that normally accommodate 15W-35W processors. Quoted in the media as 'the biggest change to Bulldozer since Bulldozer itself', the marketing arm of AMD released information regarding the architecture of the new processor which contained a long list of fluid and dynamic implementations on improving the Bulldozer based architecture over the previous iteration of Steamroller. Despite this, AMDs target market for the Carrizo platform has not been receptive to AMDs product stack in recent generations due to issues surrounding performance, battery life and designs. AMD believes to have solved the first two of those with Carrizo, whereas the third is out of their hands and up to the OEMs to embrace AMDs platform. We wondered if the OEM's concerns were well placed, and organized some special testing to confirm AMD's claims about Carrizo.

Read More ...
---
ioSafe Launches BDR 515 Backup and Disaster Recovery Appliance
Before going into the details of the BDR 515, it might be useful to see the conditions under which a BDR NAS unit might make sense. These appliances are usually installed in server rooms and automatically back up all the data stored on servers both locally and to the cloud. If the servers are damaged because of a major hardware outage, a natural disaster, or other emergency, BDRs can help to quickly restore the data. Thanks to the fact that BDRs store data both locally and in the cloud, they can restore data even if they are physically damaged as well. Moreover, the BDR can act as a replica of the server it is attached to and work as a backup machine.
ioSafe's BDR 515, like their complementary NAS offerings (1515+, 1513+ and the 214), is resistant to both fire and water damage. The protection specifications are the same as before - fire with temperatures up to 1550°F for 30 minutes (in accordance with the ASTM E-119 testing standard) and submergence in 10-feet deep water for three days without any harm to data. Unlike other BDR servers, the model 515 from ioSafe protects data immediately after it is recorded on its HDDs thanks to its ability to protect data in the harshest environments. Even if the Internet connection is absent after a fire or flooding, the protection for the hard disks in the BDR 515 allows data to be restored from the device after retrieval of the appliance from the disaster site.
The ioSafe BDR 515 is based on the dual-core Intel Core i5-4570T (2.90 GHz) and is equipped with 16 GB DDR3 memory. It uses the Areca ARC-1225-8i hardware RAID controller and two Intel i210 Gigabit Ethernet controllers. The BDR 515 can be equipped with up to five 6 TB WD Red hard disk drives and store up to 30 TB of data. ioSafe's previous flagship BDR - the 1515+ running Synology's DSM - utilized a low power Intel Atom processor. The 515's Core i5-4570T should help ioSafe to significantly improve performance of the solution, but, at the cost of higher power consumption.
To ensure that the BDR 515 can handle the CPU with higher TDP, ioSafe had to install a dedicated air duct to pull fresh outside air directly across the processor heat sink. In addition, the company increased the quantity of FloSafe vents for greater airflow over HDDs. The fans are also larger compared to the ones in the 1515+.
The device will only be available via ioSafe's channel partners and its price depends on actual configuration.

Read More ...
---
The Zalman ZM-K700M Mechanical Gaming Keyboard Review
Zalman joins the market of mechanical gaming keyboards with the ZM-K700M, a keyboard based on Cherry MX switches and with white backlighting. The primary difference between this keyboard and most other gaming keyboards is that Zalman has designed it to perform the majority of its extra functions directly through hardware, independently from the OS.

Read More ...
---
Giveaway: Rise of the Tomb Raider (PC)
This time the folks over at Square Enix sent over a rather sizable cache of game keys for
Rise of the Tomb Raider
to promote the recent PC release of the game and its availability on the Windows 10 Store.
Rise of the Tomb Raider
is the latest game in the long-running action-adventure series, and is the direct sequel to the 2013 reboot,
Tomb Raider
.
Originally released on the Xbox One last November,
Rise of the Tomb Raider
was released on the PC last week. Of note, the PC version contains several graphical effects not present in the Xbox One version, including HBAO+ ambient occlusion, more wisely used tessellation, a more impressive sun soft shadow rendering system, and generally higher image quality at the high-end thanks to the greater rendering power of PCs. Meanwhile the fine folks at Eurogamer's
Digital Foundry
have put together a video showing off the enhancements, which you can see below.
For this giveaway Square Enix has sent over 200 keys for the
Windows 10 Store version of the game
, and on that note I believe this is the first AAA game to get a simultaneous release through the Windows Store. Please note that Square Enix has confirmed that these keys don't work on Steam, so you'll need to be on Windows 10 in order to redeem and play the game.
Finally, so that we can give out the keys and let the winners start playing ASAP, we'll be running a shorter than usual entry period on this contest. Our
Rise of the Tomb Raider
giveaway will only be open for 24 hours, from 8am ET today (February 3
rd
) to 8am ET on February 4
th
. Please note that standard AnandTech rules apply, so we're only able to open up this contest to legal residents of the United States who are 18 years or older. You can read the full terms and conditions below.
Good luck to everyone, and an extra thank you to Square Enix for sending over so many keys.
Update 02/04
: All of the winners have been contacted and keys distributed. Congrats to our winners, and thanks again everyone for entering.

Read More ...
---
ASUS Launches 970 Pro Gaming/Aura Motherboard: USB 3.1 and M.2 to AMD FX Platform
The ASUS 970 Pro Gaming/Aura is based on the AMD 970 + SB950 chipset, which is not AMD's top-of-the-range core-logic for the FX processors, but which is pretty affordable for mainstream motherboards. The AMD 970 did not officially support any multi-GPU technology when it was released five years ago. AMD has removed this limitation since then and modern AMD 970-based mainboards, such as the 970 Pro Gaming/Aura, can run more than one video card. The motherboard has two PCI Express slots for graphics cards operating in PCIe 2.0 x8 mode and officially supporting both AMD CrossFire and NVIDIA SLI. In addition, the new mainboard features two PCIe 2.0 x1 and two PCI slots for add-in cards.
AMD 900 Series Chipsets
990FX + SB950
990X + SB950
970 + SB950
Code Name
RD990
RD980
RX980
Released
Q2 2011
Q2 2011
Q2 2011
PCIe Lanes
42 PCIe 2.0 lanes
26 PCIe 2.0 lanes
26 PCIe 2.0 lanes
CrossFire
x16 + x16

x8 + x8 + x8 + x8
x8 + x8
x16 + x4

x8 + x8 + x4
SLI
x16 + x16

x16 + x8 + x8

x8 + x8 + x8 + x8
x8 + x8
x8 + x8
NB TDP
19.6W
14W
13.6W
HyperTransport (MHz)
2600
2600
2400
SATA 6 Gb/s
6
6
6
RAID
0, 1, 5, 10
0, 1, 5, 10
0, 1, 5, 10
USB 2.0
14
14
14
PCI
Yes
Yes
Yes
SB950 TDP
6W
6W
6W
The ASUS 970 Pro Gaming/Aura supports all AMD FX processors in AM3+ form-factor with up to 125W TDP as well as their predecessors, such as the Phenom II, the Athlon II and the Sempron 100-series chips (but advised against using the 220W FX-9000 series). The new motherboard has upgraded 8-phase power delivery and similar to other ASUS designs the 970 Pro Gaming/Aura uses the company's Digi+ custom power controller. The motherboard features four memory slots and supports up to 32 GB of DDR3-2133 memory.
The 970 Pro Gaming/Aura comes with six SATA 6 Gb/s ports with RAID 0, 1, 5 and 10 support as well as an M.2 slot for SSDs (2242/2260/2280 form-factors are supported) that operates in PCIe 2.0 x4 mode and supports data-rates of up to 20 GT/s, making it suitable for drives such as the
Samsung XP941
. The UEFI/BIOS of the motherboard fully supports NVMe protocol and therefore the platform can take advantage of modern SSDs, such as
Samsung 950 Pro
. However it is unclear whether the M.2 slot uses PCIe lanes from the AMD970 or the SB950 controller. The platform also comes bundled with RAMcache software to speed up launches of frequently used applications.
Meanwhile for USB functionality the motherboard is equipped with ASMedia's ASM1142 USB 3.1 controller that enables two USB 3.1 type-A connectors on the rear panel. In addition, the mainboard supports two USB 3.0 ports (also using an ASMedia controller) and 14 USB 2.0 ports.
For other functionality we get Intel's I211-AT Gigabit Ethernet controller with the GameFirst software for network traffic prioritization as well as LANGuard ESD and power surge protection. Audio comes through ASUS' SupremeFX, their upgraded Realtek ALC1150 codec solution, with EM shielding, PCB separation of analog/digital signal and support for up to 300 ohms headphones.
The motherboard is designed for low-cost gaming systems, though that hasn't stopped ASUS from adding a set of overclocking features into its BIOS and the components necessary to drive it. The aim is to get a full system price that is competitive. For example, the
AMD FX-8320
featuring four Piledriver modules and unlocked multiplier can be purchased for $145, which is comparable to the price of Intel's dual-core Core i3 processors. Once overclocked, the FX-8320 chip can offer rather decent performance for its price (
see our results of the FX-8370E overclocked to 4.8 GHz here
). The mainboard also supports AMD CrossFireX, NVIDIA SLI, as well as USB 3.1 and M.2/NVMe, which should attract attention of people seeking for the latest technologies and an easy upgrade path (at least, for graphics).
As an added flair for users that are interested, the ASUS 970 Pro Gaming/Aura also features Aura RGB LED on the south bridge, which can produce various lighting effects, such as pulsating, strobing, fading and so on. The motherboard is clearly not the first affordable platform to offer LED lighting, but ASUS just had to include the technology into the package simply because a number of competing offerings come with LEDs. They can also be switched off if needed.
The ASUS 970 Pro Gaming/Aura has not yet reached retailers, however
Newegg
already has a listing up for $119.99.

Read More ...
---
AMD Launches Excavator on Desktop: The 65W Athlon X4 845 for $70
two new Kaveri based APUs as part of the FM2+ platform, the A10-7860K and the A6-7470K
, as well as clarifying the way the new 125W Wraith stock cooler would be distributed at this time. What went under the radar almost was the release of a third part, the Athlon X4 845 CPU, featuring no integrated graphics but AMD's newest architecture instead.
This makes good timing, because our review of AMD's Carrizo, the mobile platform using the latest AMD architecture is set to go up in the next couple of days. AMD's Excavator cores were the poignant part of AMD's Tech Day in mid-2015, where the new Excavator architecture was discussed and especially in relation to the previous generation Steamroller cores.
The goal of Excavator, as we were told at the time, was to develop a series of big steps into improving the efficiency of the base Bulldozer microarchitecture through high density libraries, better metal stacks in production, more on-chip analysis to save power, more power planes to regulate those chances and everything in-between. We were told we wouldn't see the Excavator core on the desktop in its desktop form because the design focused on the 15W-35W power window, rather than the 45W+ on the desktop.
Fast forward to today and there seems to be a slight reversal here. The new AMD Athlon X4 845 is a pair of Excavator modules in a desktop package, designed to slot right in where the Steamroller design through Kaveri has been sitting for a couple of years. Why the change? And why a single SKU at 65W, way off the 15W-35W range quoted as 'ideal' back at the Tech Day?
AMD Excavator Based Lineup
A12 PRO-

8800B
FX-

8800P
A10-

8700P
A8-

8600P
A6-PRO

8500B
Athlon X4

845
Platform
Mobile

Mobile

Mobile

Mobile

Mobile

Desktop
Modules
2
2
2
2
1
2
Threads
4
4
4
4
2
4
Core Freq. (GHz)
2.1-3.4
2.1-3.4
1.8-3.2
1.6-3.0
1.6-3.0
3.5-3.8
Compute Units

4+8

4+8
4+6
4+6
2+4
4+0
Streaming

Processors

512

512
384
384
256
N/A
IGP Freq. (MHz)

800

800
800
720
800
N/A
TDP

15-35W

15-35W
15W
15W
15W
65W
DRAM

Frequency

2133

2133
2133
2133
1600
2133
L2 Cache

2x1MB

2x1MB
2x1MB
2x2MB

2x1MB

2x1MB
One thing that was made perfectly clear in AMD's briefing on the new Athlon was that this is not a performance part – due to the nature of Excavator the new CPU would be purely an efficiency play, allowing customers to take advantage of the latest architecture in the desktop if they didn't need the full-fat performance. Arguably you could already find Excavator in the desktop, through Dell's Inspiron 3656 range which uses a mobile part in a desktop case with a discrete graphics card.
With the new Athlon, the fact that there is no graphics part to the FM2+ processor does raise several questions. Is this a new die specifically for the Excavator on desktop, which might run into the tens of millions of dollars to produce, or is it repurposed mobile silicon put into a desktop package. Instinct tells us it's the latter, perhaps better binned parts to show that the core can do 3.8 GHz at 65W, but at the expense of the integrated graphics, or due to production issues the integrated graphics on die are unusable. One of the interesting things is also the L2 cache situation, because the Excavator modules in Carrizo were designed with 1MB of L2 per module, rather than the 2MB of L2 cache per module in desktop Kaveri. This is somewhat balanced by the larger L1 data cache in Excavator, but because there is no L3 cache either, it has to rely on other Excavator enhancements (better prefetch, wider prefetch windows) in order to bring it up to speed.
The PCIe 3.0 lanes are also at x8, which is another mobile limitation rather than the result of the PCIe root complex being half-disabled.
AMD has already stated that the next generation of AMD APUs will be on the AM4 platform, code named Bristol Ridge and Summit Ridge. We assume Bristol Ridge to be Excavator based, because there has to be something between now and Zen, but it would seem to suggest that the Excavator memory controller has support for DDR3 and DDR4, similar to what was suggested when
AMD announced their DDR4-capable R-series APUs for embedded
late last year. This may mean that AM4 supports both DDR3 and DDR4 as a result, which would not be unsurprising given how most DRAM transitions go.
We have asked for samples when they start to circulate. The Athlon X4 845 will have a MSRP of $70.
Source: AMD
Additional, 3rd Feb
: We have been told by AMD that 'The Athlon X4 845 is based on the "Carrizo" die with the GPU and FCH disabled. [T]he Athlon X4 845 supports DDR3 memory at speeds up to 2133MHz.'. Also, despite the focus on efficiency, the X4 845 will not have a configurable TDP.

Read More ...
---
AMD Launches new Coolers and 65W Kaveri APUs: the A10-7860K and A6-7470K
A10-7850K
, the
A8-7600
, the
A10-7800
, the
A8-7650K
, the
A4-7400K
, the
A10-7700K
, the
A10-7870K
and the
A8-7670K
. If there's one thing that is clear, it is that AMD's strategy in this space is to have a trickle effect - start with a few models and slowly fill out the product line. Some of those later models are part of the 'Kaveri Refresh' line, or 'Godavari', which are meant to be better binned and more robust parts. As part of this line, AMD is releasing two more APUs and another CPU into the mix. We'll address the CPU in a separate piece because it implements something a little different, but the two APUs are 65W parts and include the first 65W part with a 4.0 GHz turbo frequency and a full set of eight compute cores. The new parts are:
The A10-7860K, four threads, 3.6 GHz / 4.0 GHz turbo, R7 graphics (512 SPs) at 757 MHz
The A6-7470K, two threads, 3.7 GHz / 4.0 GHz turbo, R5 graphics (256 SPs) at 800 MHz
The A10-7860K aims to replace three processors currently on the market, giving an upgrade to all of them:
In this case the Kaveri A10 parts all gain some GPU frequency, the new AMD 95W cooling solution, and at least one or two getting better TDP or two more GPU cores. The A10-7860K is set to retail for $118 MSRP. The other part, the A6-7470K, brings the improved Kaveri process down to a single module version, while still having up to 4.0 GHz and half the GPU of the A10 in the 65W TDP. The MSRP for the A6-7470K has not been officially set.
New AMD Kaveri Lineup
A10-

7890K
A10-

7870K
A10-

7860K
A8-

7670K
A8-

7650K
A8-

7600
A6-

7470K
X4

860K
X4

845
Modules
2
2
2
2
2
2
1
2
2
Threads
4
4
4
4
4
4
2
4
4
Core Freq. (GHz)
up to 4.3
3.9-4.1
3.6-4.0
3.6-3.9
3.3-3.8
3.1-3.8
3.7-4.0
3.7-4.0
3.5-3.8
Compute Units
4+8
4+8
4+8
4+6
4+6
4+6
2+4
4+0
4+0
Streaming

Processors
512
512
512
384
384
384
256
N/A
N/A
IGP Freq. (MHz)
unknown
866
754
754
720
720
800
N/A
N/A
TDP
95W
95W
65W
95W
95W
65W
65W
95W
65W
DRAM

Frequency
2133
2133
2133
2133
2133
2133
2133?
1866
2133?
L2 Cache
2x2MB
2x2MB
2x2MB
2x2MB
2x2MB
2x2MB
1MB
2x2MB
2x1MB
The next part of the announcement today is surrounding
the new Wraith Cooler
which was previewed at CES. This cooler is part of a family of new stock cooler solutions from AMD – one set at 95W and the other at 65W:
These are designed to have a similar sound profile than the Wraith (within 1-3 dB) but look to be aimed more at the APU market. These will be part of an all new 'product-in-box' (PIB) sales strategy, although it is worth checking with retailers to see which one is part of the bundle. As noted above, the new A10-7860K will get the 95W version and the A6-7470K will get the 65W model.
The Wraith cooler, designed for 125W, is going to be bundled with the FX-8370 only at this point. The cooler is a straight swap in for the old cooler with no extra cost, with the older solution now cheaper than before.
AMD understands that there are a number of users who may want the Wraith separately, or with other models (such as the APUs) to offer more headroom, although the plans to do this are currently in the works. Chances are that these coolers will play more in the market when the next platforms, Summit Ridge and Bristol Ridge, come into play.
The updated price list for the processors with the new coolers is as follows:
AMD FX-8370 Wraith - $199.99

AMD FX-8370 - $189.99

AMD A10-7860K - $117.99

AMD A8-7670K - $105.99

AMD A8-7650K - $95.99

AMD Athlon X4 870K - $89.99

AMD Athlon X4 860K - $79.99

AMD Athlon X4 845 - $69.99
As noted before, AMD will soon be consolidating their three CPU/APU platforms into one. So AM3+, FM2+ and AM1 will all be under the AM4 socket in the future. The timetable for this is unknown at this point, however part of the reason for the new cooler announcement at this time might be so it does not get overshadowed by the next generation.
We'll be covering the new Excavator based CPU,
the Athlon X4 845 in another news post
.
Source: AMD

Read More ...
---
ECS LIVA One Skylake mini-PC Review
The desktop PC market has been subject to many challenges over the last few years. However, the miniaturization trend (including the introduction of the ultra-compact form factor - UCFF - NUCs) has provided some bright spots. The recent introduction of the mSTX (5x5) form factor has provided yet another option between the NUC and the mITX form factor for PC builders. Companies like ASRock and Zotac have been marketing mini-PCs based on mSTX-like custom boards for a few years now. ECS joined the fray in early 2016 with the launch of the LIVA One based on a Skylake platform. Read on for our review of the pre-configured version of the ECS LIVA One.

Read More ...
---
VAIO to Start Selling Laptops in the U.S. This Spring
VAIO Is Back
For Sony, which spends billions of U.S. dollars on research and development every year, its VAIO PC business was always a way to capitalize on its technologies. The VAIO notebooks were the first to get a webcam, a LED backlight, a Blu-ray disc drive, switchable graphics processors and a number of other inventions that are common and widely used nowadays. Innovating, maintaining premium quality, improving sales and earning money at the same time is not easy, which is why Sony's PC division lost hundreds of millions.
For VAIO, which does not invest anything in fundamental research (i.e., new types of displays, storage technologies, new materials, etc.), PC business is a completely different thing. VAIO needs to design high-end PCs, preserve Sony's heritage, earn profit and grow. The company evaluates technologies developed elsewhere and may decide to adopt them to make its products more competitive. VAIO's staff count is around 240, these people are involved into planning, design, development, manufacturing and sales. The main goal for the company is not to create industry-first products, but to thoughtfully target lucrative niche market segments with high-end offerings.
The first product that VAIO started to sell in the U.S. last year was its VAIO Z Canvas high-end 2-in-1 hybrid PC for creative professionals that starts at $2199 and is clearly not designed for the masses. This spring, the company plans to bring its VAIO S and VAIO Z business notebooks based on Intel's latest Skylake CPUs to the market. The new laptops and convertibles will be available through
http://us.VAIO.com/
, Microsoft Stores (both online and retail), authorized resellers and select retailers.
VAIO S: The New Classic
The all-black VAIO S is a laptop designed to appeal to anyone looking for a portable and durable system. The notebook is made of molded magnesium alloy and its case is further reinforced by adding ribs to the designated points, which also prevents bending. Magnesium alloys are usually very light as well as rather strong, hence, the laptop should be good for road warriors.
The VAIO S notebooks are based on the dual-core Intel Core i7-6200U/6500U processors with Intel HD Graphics 520 and 15W thermal design power. The laptops are equipped with 8GB of DDR3L-1600 memory (not upgradeable), a 128 GB SATA or a 256 GB PCIe SSD (depending on the model), 802.11b/g/n/ac Wi-Fi, Bluetooth 4.1, Gigabit Ethernet, a 0.92 MP webcam, an SD card reader and so on. Despite being very thin, the VAIO S sports three USB 3.0 ports (including one always-on USB 3.0 for charging), a TRRS connector, an HDMI and a D-Sub output.
The VAIO S features a 13.3" display with 1920×1080 resolution, it weighs just about a kilogram (2.34 lbs) and is only 13.2 – 18 mm thick. According to VAIO, the model S can work for about nine hours on one charge, depending on the model and usage.

Although the manufacturer positions the VAIO S notebooks for business executives, the PCs clearly lack such essentials as Intel's vPro technology, SSD encryption, sophisticated methods of authentication (e.g., a fingerprint reader) as well as trusted platform module (TPM). Moreover, some models actually run Microsoft Windows 10 Home operating system. Perhaps, VAIO wants to address the higher-end mobile PC market in general with its VAIO S systems because their configurations point to the fact that these are actually stylish consumer laptops without a lot of multimedia functionality.
The VAIO S notebooks will cost $1099 – $1399 when they are available in early March.
VAIO Z Clam and VAIO Z Flip: Performance Meets Style and Long Battery Life
The VAIO Z systems will offer superior performance, feature-set and battery life compared to the VAIO S laptops, but at the cost of higher price and portability. Sony will offer two types of VAIO Z models: the VAIO Z Clamshell and the VAIO Z Flip. Both types are made of aluminum and UD carbon, which are strong and lightweight materials.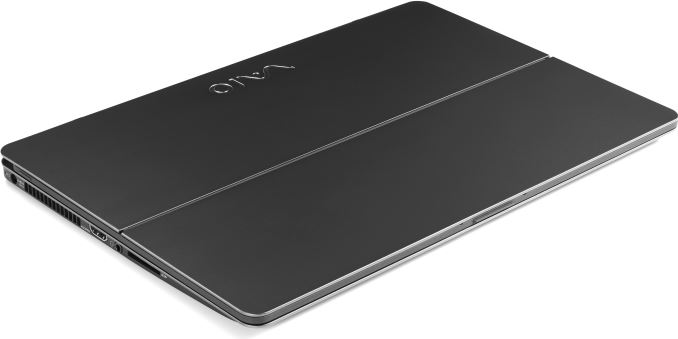 The VAIO Z notebooks are powered by the dual-core Intel Core i7-6267U/6567U processors with Intel Iris Graphics 550 and 28W thermal design power. The laptops feature 8 GB or 16 GB of DDR3L-1866 memory (not upgradeable), a 256 GB or a 512 GB PCIe SSD (depending on the SKU), 802.11b/g/n/ac Wi-Fi, Bluetooth 4.1, Gigabit Ethernet, a 0.92 MP webcam, an SD card reader, a TCG 2.0-compliant trusted platform module and so on and so on. The VAIO Z systems sport two USB 3.0 ports (including one always-on USB 3.0 for charging), a TRRS connector and an HDMI output.
VAIO claims that for the Z-series notebooks it used its new motherboard architecture (the company calls it "Z Engine technology"), which has smaller footprint and leaves more space for batteries and fans. Usage of larger fans generally means less noise, whereas larger battery packs enable longer battery life.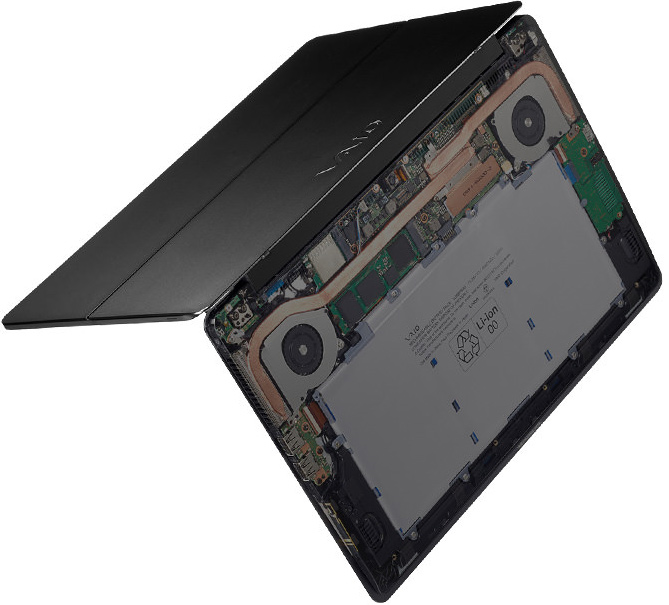 The VAIO Z Clam can be equipped with a 13.3" display with either 1920×1080 or 2560×1440 resolution, its weight is approximately 1.17 kg (2.58 lbs) and it is 16.76 mm thick. Depending on the display panel, the VAIO Z Clam can work for up to 15 hours and 30 minutes (full HD panel) or up to 13 hours and 45 minutes (WQHD panel) on one battery charge. The VAIO Z Claim notebooks will cost $1499 or $1799, depending on SKU.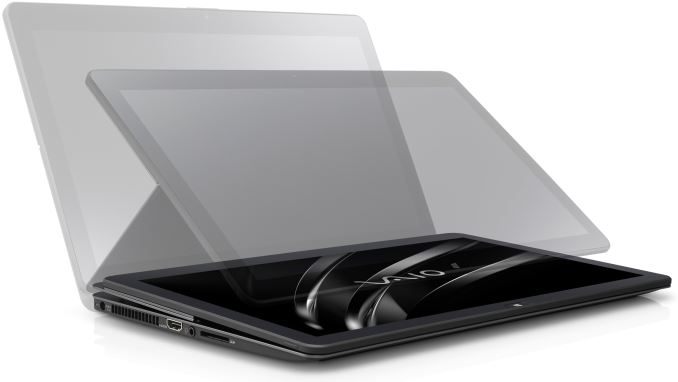 The VAIO Flip model, which can flip the display like Lenovo's Yoga and other convertible notebooks (yet, using a different rotational mechanism), will appeal to those, who need performance of a powerful laptop as well as tablet-like input. The VAIO Z flip has an additional 8 MP camera and CamScanner software, which allow users to capture, store, edit and share documents and images. In addition, the model Z flip comes with a pressure sensitive digitizer stylus, which could be useful not only for business users, but also for creative professionals.
The VAIO Z Flip convertibles are equipped with touch-sensitive display panels featuring 2560×1440 resolution, they weigh 1.34 kg (2.96 lbs) and are 16.76 mm thick. The VAIO flip Z will be priced at $1799 – $2399 depending on the SKU and will be available later this year.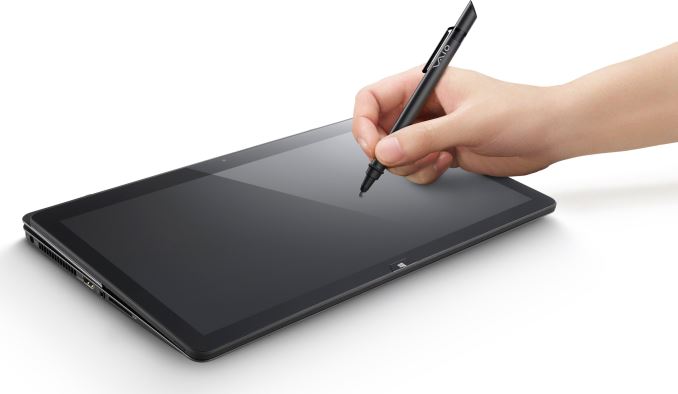 Just like the VAIO S, the VAIO Z lacks numerous business- and security-oriented features, including the vPro technology, storage encryption, fingerprint reader and so on. While it is clear that VAIO has no plans to target government or corporate sectors with its laptops and it does not have to be compliant with certain requirements, certain technologies will be missed.
Welcome Back
While the VAIO Z Canvas is an extremely interesting product, it is designed for a niche market and it is very expensive. It is impossible to sell a lot of such parts. Hence, it was a matter of time before VAIO decides to bring its other PCs to the U.S. market.
One of the keys to success in the PC market is a product lineup that can appeal to the masses, but which does not confuse customers with a huge amount of models. Responsible approach to expansion of the VAIO product lineup is a good thing to note about the new company. With the addition of the S- and Z-series notebooks to its U.S. product family, VAIO will cover a number of important high-end PC segments. However, it will have to face Apple, Lenovo and other suppliers of high-end PCs, the companies, which made Sony to drop its PC business.
Without any doubts, VAIO has no intentions to offer mainstream models right now and its main goal now is probably to offer good quality and excellent user experience, but not lower prices. What remains to be seen is what advantages VAIO products offer at their price-points and whether the latter are justified. It has been a while since we reviewed a VAIO laptop here at AnandTech and it will be extremely interesting to try a new VAIO that is no longer a Sony VAIO.

Read More ...
---
Apple Recalls "Duckhead" Power Adapters for Select Mac Laptops and iPads
Apple has found that its AC wall plug adapters (AKA "duckheads") designed for use in Continental Europe, Australia, New Zealand, Korea, Argentina and Brazil may malfunction and create a risk of electrical shock if touched. These wall plug adapters were bundled from 2003 to 2015 with Mac PCs as well as iPads. In addition, they were also included in the Apple World Travel Adapter Kit. The company will voluntarily exchange affected wall plug adapters with a new, redesigned model, free of charge.
The affected wall plug adapters have four or five characters or no characters on the inside slot where it attaches to an Apple power adapter. The new wall plug adapters feature a 3-letter regional code in the slot (EUR, KOR, AUS, ARG or BRA). To exchange your device, you should visit a
special page at Apple's web-site
.
The Verge
reports that Apple is aware of 12 incidents that have occurred around broken adapters in the past 12 years. Details of the incidents are unknown; their exact circumstances are unclear too. From 2003 to 2015, Apple shipped over 120 million Macs and over 230 million iPad. The exact number of devices sold in Europe, Australia, New Zealand, Korea, Argentina and Brazil is uncertain, but it is likely that many tens of millions of AC plug adapters are potentially dangerous. On the other hand, 12 incidents that occurred over 12 years is a miniscule number. Moreover, the vast majority of laptops, smartphones, tablets, phones and players that are more than five years old are no longer in use. Nonetheless, the recall will cost Apple millions of U.S. dollars.
Meanwhile the AC wall plug adapters for the U.S., the U.K., Canada, China, Hong Kong and not part of the recall, which likely indicates that they aren't affected by the underlying issue.
Finally, it should be noted that Apple's AC wall plug adapters are made by contract manufacturers, such as Volex. The same producers make similar devices to other suppliers of consumer electronics.

Read More ...
---
Microsoft Releases Q2 FY 2016 Results: Lower Results Despite Cloud Growth
Microsoft Q2 2016 Financial Results (GAAP)
Q2'2016

Q1'2016

Q2'2015
Revenue (in Billions USD)
$23.796

$20.379

$26.470
Operating Income (in Billions USD)
$6.026

$5.793

$7.776
Gross Margin (in Billions USD)
$13.924
$14.712
$16.334
Margins
58.5%

64.6%

61.7%
Net Income (in Billions USD)
$4.998

$4.620

$5.863
Basic Earnings per Share (in USD)
$0.63

$0.57

$0.71
A big chunk of the difference this year has to do with currency rates, and Microsoft has released Non-GAAP measures as well to exclude these factors, along with restructuring charges. $1.2 billion of revenue was affected by currency rates. On a Non-GAAP basis, revenue was down only 2% to $25.693 billion, with gross margin of 61.6%. Non-GAAP operating income was up 3% to $7.9 billion, net income was up 8% to $6.3 billion, and earnings per share were up 11% to $0.78.
Microsoft Q2 2016 Financial Results (Non-GAAP)
Q2'2016
Q1'2016
Q2'2015
Revenue (in Billions USD)
$25.693
$21.660
$24.994
Operating Income (in Billions USD)
$7.923
$7.074
$7.011
Net Income (in Billions USD)
$6.275
$5.380
$5.229
Basic Earnings per Share (in USD)
$0.78
$0.67
$0.63
Microsoft's largest segment is the More Personal Computing group, which includes Windows, Surface, Xbox, Search, and Phone. Revenue for this group was down 5% to $12.66 billion, however operating income was up 35% to $2.04 billion. Operating expenses were down 14%, in part due to the change in phone strategy that was announced in July of last year, so clearly the phone business was a major burden on the company. Windows OEM Pro revenue declined 6% for the quarter compared to Q2 2015, and non-Pro declined 3%, which is actually fairly strong considering the decline in PC sales. Microsoft attributes this to higher premium and mid-range devices, which means that they are having to give away discount or free versions of Windows 10 on fewer devices. Once again the major cuts to Lumia have driven device revenue down 22% (CC) and this was mostly driven by phone revenue which was down 49% (CC). Lumia sales were 4.5 million for the quarter. Surface, on the other hand, has grown 29% (CC) thanks in no small part to the launch of the Surface Pro 4 and Surface Book. Gaming revenue was up 9% (CC) but Microsoft no longer breaks out Xbox sales numbers. They did state that Xbox Live now has 48 million monthly active users, which is a 30% gain year-over-year. Game revenue was up 57% (CC) with the launch of Halo 5, as well as Minecraft. Xbox hardware revenue was down due to lower Xbox 360 console sales. The final part of More Personal Computing is search, and search revenue grew 21% (CC) year-over-year, with gains in both search volume, and higher revenue per search.
Productivity and Business Processes, which is the financial group responsible for Office, Office 365, and Dynamics CRM had revenues of $6.69 billion for the quarter, down 2% compared to the same point last year. Operating income was down 8% year-over-year to $3.31 billion. Office commercial and cloud services revenue was up 5% (CC), with big gains in Office 365 commercial, which had its revenue grow 70% (CC) since last year. Standalone Office commercial products revenue fell 8% (CC). Office 365 commercial seats grew 59%. On the consumer side of Office, Office consumer revenue fell 8% (CC) which Microsoft states outperformed the PC market. Office 365 consumer continues to do well though, and Microsoft now has 20.6 million users of Office 365 consumer. A stat in their notes, although not directly relevant to their earnings, is that Outlook has been installed on over 30 million active iOS and Android devices.
Finally, the Intelligent Cloud segment, which includes Server, Azure, and Enterprise services, continued outperforming the rest of the company, with revenue up 5% (11% CC) to $6.34 billion, although operating income was down 1% to $2.58 billion. Server products and cloud services revenue grew 10% (CC), but Azure revenue grew 140% (CC). Azure compute usage is up almost 100% year-over-year, and Azure SQL database usage has increased more than 500% since Q2 2015. The move to the cloud was slow to get started, but certainly appears to be ramping up. Enterprise Services revenue was up 16% (CC) for the quarter.
Microsoft Q2 2016 Financial Results (GAAP)
Productivity and Business Processes
Intelligent Cloud
More Personal Computing
Revenue (in Billions USD)
$6.69
$6.34
$12.66
Operating Income (in Billions USD)
$3.31
$2.58
$2.04
Revenue Change YoY
-2%, +5% CC
+5%, +11% CC
-5%, -2% CC
Operating Income Change YoY
-8%
-1%
+35%
Overall, the quarter was pretty steady for the Redmond company. The decline in the PC market has certainly hit them, like it has hit most PC companies, but despite this Windows revenue outperformed the drop in PC sales. Microsoft's phone strategy took a big shift last July, with the layoff of most of the remaining Nokia people, and that continues to affect their results, with a decline in revenue, but also a decline in expenses. The cloud side has been growing at a very sold rate though. It is a long way from overtaking the PC side of Microsoft, but the diversification is helping them weather rough days in the PC space. The free upgrade to Windows 10 will continue for the rest of this fiscal year, and we'll have to watch and see if that continues to make an impact on revenues or not.
Source:
Microsoft Investor Relations

Read More ...
---
Das Keyboard Unveils Its First Gaming Peripherals
From Pro to Gaming
The history of Das Keyboard began in 2005 when Daniel Guermeur, the owner of Metadot, decided to create a keyboard with blank keycaps in order to speed up his typing and remove the imbalance of printed or embossed keys. The first version of Das Keyboard resembled IBM model M keyboard and did not feature mechanical switches. Nonetheless, it became relatively popular among enthusiasts. In 2006, the second iteration of Das Keyboard emerged: it featured similar design with blank keycaps, but mechanical switches with tactile feedback. At the time, mechanical keyboards were rare, so the second-gen Das Keyboard turned out to be more popular than the first. The third version of the Das Keyboard was launched in 2008 and it was vastly different from its predecessors. The new keyboard sported a minimalistic X40 design, a built-in USB hub, blank or marked keycaps as well as Cherry MX switches (originally introduced in 1984) with improved tactile feedback. The third iteration of Das Keyboard appealed to gadget gurus, gizmo elitists, touch-typers as well as average professionals searching for quality hardware (i.e., the higher-end of the mass market). The keyboard is still commercially available, which is a testament of its commercial success.
The Das Keyboard III gave the brand a voice among broader audiences, but also popularized Cherry MX switches among gamers and professionals by showing advantages of such switches over then popular dome and buckling spring switches. One could argue that the Das Keyboard III largely rejuvenated mechanical keyboards on the mass market. Since 2010, many makers of accessories for gamers have released their keyboards with Cherry MX switches. Moreover, both Razer and
Logitech
have even developed their own mechanical switches for keyboards. However, even in its fourth generation released in early 2014, the Das Keyboard itself remained an item for professionals. With the introduction of Division Zero by Das Keyboard, Metadot enters a new territory.
The initial product lineup of Division Zero consists of the X40 keyboard, the M50 mouse, a gaming mouse bungee (cord management), mousepads, top panels for keyboards as well as a bag. The inclusion of a mouse bungee as well as mousepads into the family implies that the lineup is designed for users who want not only advanced functionality, but 'stylish design' too.
The Division Zero X40 Keyboard
The Division Zero X40 keyboard uses Metadot's own Alpha-Zulu switches developed,
according to the company,
specifically for gaming keyboards. The AZ switches have different specifications than the Cherry MX as well as the
Razer Green
: they have higher actuation point (1.7 mm) and slightly longer advertised lifespan (60 million switches compared to the 50m of Cherry MX linear ones), which, makes them slightly faster and more durable compared to rivals on paper. The differences may seem noticeable (23% shorter actuation distance in theory means 23% higher typing/striking speed), but the real-world benefits of the Alpha-Zulu switches compared to competing switches are yet to be found (which is not an easy thing to do given how fast gamers press keys).
Comparison of Mechanical Keyboard Switches
AZ Linear
AZ Tactile
Razer Green
Cherry MX
Actuation Point
1.7 mm
1.7 mm
1.9 mm ± 0.4 mm
2 mm/2.2 mm ± 0.6 mm
Actuation vs Reset Point
no data
no data
0.4 mm
no data
Total Travel
4 mm
4 mm
4 mm
4 mm
Actuation Force
45 g
45 g
50 g
45-55 g
Actuation Feel
linear
soft tactile
soft tactile
linear/tactile
Switch Lifecycle
60 million
60 million
60 million
50 million
Switch Color
olive
mustard
green
red/brown/

black/blue
Since there are two different types of Alpha-Zulu switches, and gamers will be able to choose their keyboards based on their preferences.
Just like competing keyboards for gamers, the Division Zero X40 is also equipped with adjustable red LED backlighting, five programmable macro gaming keys, a special 2 meter long braided fiber USB cable combined with audio and mic cables, a USB port (with pass through support) as well as audio-out/mic-in jacks. The keyboard also supports full n-key rollover, features media controls via Fn keys, as well as interchangeable aluminum top panels.
The X40 keyboards are
available for $149
, a custom cover
costs another $39
.
The Division Zero M50 Mouse
Metadot is not known for mice, but if you want to compete for gamers, you have to offer a complete product stack, not just one keyboard. Specifications of the M50 are comparable to those of other mainstream gaming mice and the company does not reveal whether the part utilizes any specially-developed hardware.
The Division Zero M50 is an ambidextrous mouse with an adjustable 6400 dpi 4G laser sensor, a metal tilt wheel, 1000 Hz polling rate, nine programmable buttons and red LED lighting. The pointing device has its own microcontroller and memory that can store presets. The M50 Pro can handle up to 300 clicks per minute and has a 20-million primary buttons click life cycle. The mouse comes with a 2.1-meter long cable, which can be managed with Division Zero's bungee cable management.
Comparison of Mainstream Gaming Mice
Division Zero M50
Razer Taipan
Corsair M65
ROCCAT Kova
Sensitivity with Overdrive
6400 dpi
8200 dpi
8200 dpi
7000 dpi
Polling rate
1000 Hz
1000 Hz
120 - 1000 Hz
1000 Hz
Acceleration
unknown
50 g
unknown
20 g
Programmable Buttons
9
9
8
12
Number of Profiles
6
unknown
unknown
unknown
Dimensions (L*W*H)
129.8*70*34.8mm
124*63*36mm
118*72*39mm
131*66*38mm
Weight
132 grams
95 grams
135 ± 20.5 grams
99 g
Adjustable Weight
no
no
yes
no
Click Lifecycle
20 million
unknown
unknown
unknown
Cable Length
2.1 m
2.1 m
1.8 m
1.8 m
LED Lighting
three red LEDs
two green LEDs
three RGB LEDs
two RGB LEDs
Price
$79
$79.99
$74.99
€69
The M50 is made of plastic with a hydrophobic coating and a fingerprint resistant coating of primary buttons and a metal bottom. The mouse has low-friction metal Teflon feet, similar to competing products from other manufacturers. The mouse weighs 0.38 lbs/172 grams. The weight of the mouse cannot be adjusted.
The design of the M50 resembles that of
Razer's Taipan
, but since Metadot's product has dissimilar dimensions and weight as well as a different sensor, the M50 does not seem to be a rebadged mouse developed and made by another manufacturer, but a product designed in-house.
The Division Zero M50 costs $79, the bungee is available for $19 and mouse pads are priced at $19 or $29.
Only The Beginning
The market of gaming peripherals is highly competitive, making it very diverse in order for individual firms to find a niche. Companies like Razer and Logitech offer a lot of different products to meet requirements of different users as a result. Metadot recognizes this and has been offering various versions of Das Keyboard with different types of switches and with different designs for some time now. The Division Zero product lineup consists of essentially three products: one keyboard with two types of switches, and a mouse. It will be interesting to see whether the Division Zero family will expand. It remains to be seen whether the Division Zero by Das Keyboard family will actually make Metadot a viable competitor to Corsair, Razer, Logitech and other on the market of gaming peripherals. Nonetheless, I find it nice to see a well-respected producer of professional keyboards entering the market of gaming devices.
The new models will filter through distribution to etailers such as Amazon over the coming weeks, or can be found on the
daskeyboard.com
website directly.

Read More ...
---
Available Tags:
Google
,
Android
,
VAIO
,
OCZ
,
SSD
,
Dell
,
Security
,
Zalman
,
Gaming
,
Keyboard
,
ASUS
,
USB
,
AMD
,
Apple
,
Mac
,
Microsoft
,