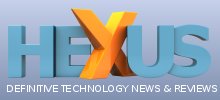 Last chance: Win Vuzix iWear Video Headphones

There's still time to enter, but be quick!

Read More ...
---
Last chance: Win one of four Sinclair ZX Spectrum Vegas

The deadline for entries is midnight tonight!

Read More ...
---
HTC and Valve announce the 'Vive Pre' development kit

The second generation version of the HTC Vive includes a range of improvements.

Read More ...
---
Review: Corsair Carbide Series 400C

Meet Corsair's alternative to the NZXT H440.

Read More ...
---
ASUS unveils world's first USB Type-C 15.6-inch portable monitor

Plus a range of other monitors, various PCs, and more.

Read More ...
---
SanDisk unveils world's thinnest 1TB M.2 SSD

It also intros a rugged All-Terrain portable SSD, and boosts its mobile flash drive capacities.

Read More ...
---
Cooler Master launches its MasterCase Maker 5 chassis

Plus MasterAir Maker 8 and MasterWatt Maker 1200 PC components are unveiled.

Read More ...
---
Samsung Galaxy TabPro S 2-in-1 tablet with Windows 10 unveiled

Samsung has lots of new products at CES including TVs, laptops and white goods.

Read More ...
---
Last chance: Win a Piper Smart Home Security System

The 2015 Epic Giveaway is coming to an end, but there's still time to get those entries in!

Read More ...
---
Nvidia announces DRIVE PX 2, DriveWorks, DRIVENET car tech

Boasts that its DRIVE PX2 computer provides power of 150 MacBook Pros for in-car AI tasks.

Read More ...
---
Available Tags:
HTC
,
Valve
,
ASUS
,
USB
,
SSD
,
Cooler Master
,
Galaxy Tab
,
Samsung
,
Galaxy
,
tablet
,
Windows
,
Security
,
Nvidia
,