Intel Expands Compute Stick Family with Cherry Trail and Core M Models
ARM SoC vendors started the trend of HDMI sticks, but Intel joined the game in CES 2015 with the
Bay Trail Compute Stick
. The first iteration was, to put it kindly, a bit underwhelming, but Intel showed its commitment to the form factor by announcing three new Compute Stick models at CES 2016.
Cherry Trail Compute Stick
This is a straight-on follow-up to the Bay Trail model from last year. The I/O ports and hardware construction are similar, except that the Cherry Trail model is slightly longer and includes a USB 3.0 port in addition to the previously existing single USB 2.0 port.
Other improved aspects include the use of Intel's own 802.11ac Wi-Fi chipset instead of the Realtek one found in the Bay Trail version. Obviously, Cherry Trail's GPU is better than Bay Trail's. However, the cooling fan still remains part of the hardware. The eMMC capacity is only 32GB and the RAM is only 2GB - two aspects that have an artificial limitation imposed on them by Intel's decision to pre-install Windows 10 Home. Even though the information is not public, it is likely that Microsoft mandates neutering of a PC's hardware specifications in exchange for a lower price for the Windows 10 OEM license.
Skylake Core M Compute Sticks
While the Cherry Trail Compute Stick was more or less expected, the Core M-based Compute Sticks were a real surprise. Later this year, Intel will launch two Compute Stick models with a Core m3 and Core m5 vPro configuration respectively. The OS will not be pre-installed, and this means that we don't need the storage or RAM to be limited by anything other than what the hardware design allows. In terms of available ports, the design retains the microSD slot from the other Compute Stick models. However, there is only one USB 3.0 port on the unit itself. Power to the unit is delivered by a USB Type-C connector.
The USB Type-C power adapter also includes two USB 3.0 ports. This is a very novel use of the USB Type-C power delivery mechanism. Intel mainly expects the Core M Compute Sticks to be popular amongst businesses and enterprises (thanks to the availability of vPro).
NUCs
Intel has been shipping the Skylake NUCs for a couple of months now. They had one on display at their booth. Interesting aspects include the presence of a SDXC slot as well as a full-sized HDMI port in the rear panel.
They also talked about the upcoming 'Skull Canyon' mini-PC featuring a 45W TDP Skylake H CPU with Iris Pro graphics. It will not be in the NUC form factor, but will be a slightly larger rectangle with height similar to the current NUCs which don't support 2.5" drives. The unit is still a work in progress, but we expect it to launch in the second half of this year. Unfortunately, Intel didn't allow us to take photographs of the Skull Canyon mini-PC.
On the whole, Intel is showing strong commitment to the mini-PC market segment. This will keep x86 relevant in the home computing space even as ARM continues to strengthen its hold in mobile computing.

Read More ...
---
Hisense at CES: Affordable and Feature-Packed 4K TVs for HTPCs
Vizio and Hisense 4K TVs are perfect for those on a tight budget. However, a limited budget also means that one can't afford to be an early adopter and be stuck with an outdated television early on. In June 2014, we covered the
launch
of the Hisense 50H7GB 4K TV. In that article, we covered the minimum features that a 4K HTPC display needed to support in order to not become obsolete within a couple of years. The 50H7GB 50" 4K TV was launched at $600. It supported HDMI 2.0 and HDCP 2.2, with the only disappointing factor being the absence of HDR capabilities. Consumers considering this model obviously have price, and not picture quality, at the top of their purchase factors. In late August 2015, Hisense had launched the H10 series ULED TV with full-array local dimming and quantum dot technologoy for a wider color gamut (the 65" model is
currently available
for $2500).
At CES 2016, we stopped by Hisense's booth to get an idea of what they had in store for consumers over the rest of the year and what they are working on for future products. The good news is that all the four 4K TV lineups get updated with HDR processing capability - the H7, H8, H9 and H10.
The new H10 will be similar to the one currently available on Amazon with all the Smart TV and Wi-Fi features, but Hisense hopes to get THX certification for this high-end curved model.
The H9 (55", $1000, February 2016) gets all the features of the new H10 except that it will not have 3D or quantum dot technology.
The H8 (50" - $600, 55" - $700, April 2016) is not a curved model. But, Hisense indicates that it will not have the vibrant picture quality of the H9 and H10.
The H7 (43" - $400, 50" - $550, 55" - $650, 65" - $1300, February 2016) doesn't have the full-array local dimming present in the other models, but carries forward other features from the H8.
It is exciting to see that HDR is making an appearance at mainstream price points. However, wider color gamut is absolutely essential to better appreciate the right 4K content. It might be worthwhile to take a look at the complete specification sheets of the above models before making a purchase decision. Important aspects to track down would be the panel type and panel bitwidth, color gamut coverage and black levels.
Hisense believes that there is a big tussle going on between ULED technology and OLED. To give consumers their perspective, they had the same clip running on a ULED TV as well as an OLED TV side by side in their booth.
To be frank, the OLED TV playback was more pleasing to the eye. However, a side chart indicated that OLEDs have trouble reaching brightness levels that can be achieved via ULED technology. In addition, the quantum dots technology being used in ULED TVs can deliver 106% of the NTSC color gamut, while the best OLEDs can only reach 85% of the NTSC color gamut. While the ULED TV on display was consuming 280W, the equivalent sized OLED TV was consuming 500W. Finally, the OLED TV on display currently costs three times as much as the ULED TV. It would be nice if ULED TVs could further evolve to get some of the more desirable features of OLED TVs - particularly in terms of black levels.
Looking further into the future, Hisense also had a static demo of a 8K model in their booth. Other than the resolution (7680x4320), there was no other information about the television or expected release dates.
As part of their press releases, Hisense also indicated that the Sharp brand is going to be alive and well, and will be around as a premium brand. The N9000, a 70" flat-screen 4K TV with other specifications similar to the H10 series, will come to the market in July for $3000.

Read More ...
---
Netgear Updates Networking Lineup at CES
launched in October
. At CES, Netgear took the opportunity to upgrade the Nighthawk X4 line. Interestingly, the original X4 - the R7500 - was launched with Quantenna radios and a Qualcomm IPQ SoC, and promised MU-MIMO support in a future firmware update. However, Netgear decided to enable MU-MIMO only with a hardware upgrade - the R7500 v2 with full MU-MIMO support became an all-Qualcomm Atheros affair. The R7500 v2 is being replaced by the Nighthawk X4S at the same price point.
The Nighthawk X4S (R7800) comes with an IPQ8065 dual-core SoC at 1.7GHz and the QCA9984 radio. Unlike the AC2400-class routers introduced towards the middle of last year, this 4x4 design supports 160 MHz (either contiguous or 80MHz + 80 MHz) and MU-MIMO out of the box. Client support is needed in order to take full advantage of both these features. The router has a MSRP of $270 and is available now.
A wall-plug Wi-Fi extender with MU-MIMO capability (EX7300) was also launched at CES. It belongs to the AC2200 class - 4x4 1733Mbps in the 5 GHz band and 3x3 450 Mbps in the 2.4 GHz band. The antennae are internal and the unit also has a GbE RJ-45 port. The extender is available for purchase now and is priced at $170. At the $140 price point, Netgear is launching the EX6400, a AC1900-class extender with 3x3 spatial streams in both the 2.4 GHz and 5 GHz bands. 256-QAM support exists for the 2.4 GHz band. The EX6400 can also be used as a Wi-Fi access point.
On the PLC side, Netgear has introduced the PLW1000, which combines powerline technology with Wi-Fi. Based on the HomePlug AV2 standard, this adapter can support up to 1 Gbps of theoretical throughput. In addition, the PLW1000 also creates a Wi-Fi hotspot at the place of installation. While not explicitly specified, we believe this is a 1x1 configuration for both 2.4 GHz and 5 GHz bands. It is marketed as a 802.11ac access point. The PLW1000 is priced at $120 and is available now.
Netgear also launched the C6250 Wi-Fi cable modem router. The DOCSIS 3.0 modem supports bonding of 16 downstream and 4 upstream channels. The Wi-Fi side is AC1600, i.e, 2x2 in the 2.4 GHz band (300 Mbps) and 3x3 in the 5 GHz band (1300 Mbps). The C6250 has a MSRP of $170 and will be available for purchase soon.
In ReadyNAS news, Netgear had the RN20x and 21x series on display. One of the interesting aspects was the tie-up with Plex. On purchase of models such as the RN202, RN204, RN212, RN214, RN312, RN314, RN316 and RN516, customers can obtain three free months of Premium PLEX Plus.

Read More ...
---
Linksys Expands Max-Stream Networking Lineup at CES
EA7500 - AC1900-class with MU-MIMO
The EA7500 is a 3x3 dual-band router based on a Qualcomm Atheros platform (1.4GHz IPQ8064 SoC, QCA8337-AL3C switch, and QCA9982 and QCA9983 radios). This one enables 256-QAM to deliver 600 Mbps in the 2.4GHz band. The 5 GHz band still delivers 1300 Mbps theoretical throughput.
Priced at $200 and slated to come to the market next month, it will go against the Netgear Nighthawk R7000 with similar speeds, but come with MU-MIMO enabled. The latter is an important selling point as more and more MU-MIMO clients come to the market. More information can be found on the
Linksys product page
.
EA9500 - AC5400-class with MU-MIMO
The
EA9500
is based on the Broadcom Tri-Band Wi-Fi platform (two 4x4 5GHz SSIDs and one 4x4 2.4GHz SSID). This is the same platform as the AC5300 Nighthawk X8 router released by Netgear in October 2015. Compared to the Nighthawk X8, this one comes with 8 LAN and 1 WAN port and 8 external antennae. There doesn't seem to be any link aggregation capabilities out of the box, but that is just a firmware feature.
Priced at $400, availability is slated for April. The delay is due to the fact that Broadcom is yet to bring MU-MIMO capability to the platform in the firmware (the hardware is claimed to be MU-MIMO capable).
Miscellaneous Products
The
RE7000
is a MU-MIMO-capable Wi-Fi range extender in the plug-in form factor. It is AC1900 class, but, instead of having the same spatial stream configuration for both 2.4GHz and 5 GHz bands, the product does 4x4 in the 5GHz and 2x2 in the 2.4GHz channels. It comes with a single GbE port. Priced at $150, it will come to market in Spring 2016.
The AC600 USB MU-MIMO adapter (WUSB6100M) finally brings MU-MIMO to USB WLAN adapters. With a 1x1 configuration (433 Mbps in 5GHz and 150 Mbps in 2.4 GHz), it needs only a USB 2.0 interface to connect to the host PC. The big draw here is the MU-MIMO capability which helps improve overall system performance when used alongside other MU-MIMO clients and a MU-MIMO-capable router.
On the cable modem side, the CM3008 (DOCSIS 3.0, 8 downstream / 4 upstream channel bonding, 343 Mbps down / 120 Mbps up, $70, Spring 2016) and the CM3024 (DOCSIS 3.0, 24 downstream / 8 upstream channel bonding, 960 Mbps down / 240 Mbps up, $130, Spring 2016) were on display. There is also a growing trend to integrate the Wi-Fi router and cable modem in one (particularly from a service provider perspective). To address this market, Linksys is also introducing the CG7500 which combines the CM3024 24x8 DOCSIS 3.0 platform with a AC1900 (1300 Mbps + 600 Mbps) wireless router platform. The unit comes with four RJ-45 GbE ports and one USB 2.0 port. The antennae are all internal. It will be priced at $250 and be available in Spring 2016.
Linksys also took the opportunity at CES to announce DD-WRT support for the routers based on Marvell silicon (
WRT1900AC
,
WRT1200AC
and
WRT1900ACS
).

Read More ...
---
Synology Demonstrates RT1900ac 802.11ac Router at CES
covered
it in great detail. In the conference, the beta version of DSM 6.0 was launched. Synology also talked about their 2-bay Braswell unit, the DS716+ and a 802.11ac router, the RT1900ac.
Synology's booth at CES 2016 had a working demo of the RT1900ac. The 'DSM' experience delivered by the Synology Router Manager (SRM) OS on the router is quite impressive and will definitely make other router vendors rethink the interface for their offerings. As is common nowadays, management of the router can also be done via a mobile app. The router OS also has plenty of interesting features for power users. One of the unique features is the application layer QoS optimization that can bring down the bandwidth available for, say, YouTube or BitTorrent. Other routers have similar features, but Synology claims that their implementation provides the best granularity.
Hardware-wise, the unit is based on the legacy 2nd generation Broadcom 802.11ac platform (AC1900 - 3x3 in 5GHz band for 1300 Mbps and 3x3 in 2.4 GHz with 256-QAM for 600 Mbps). The rest of the specifications as well as the hardware aspects are reproduced below from the datasheet.
Going with an older platform has allowed Synology to price the unit at $150. This is quite cheap for the specifications and will definitely be a worthy competitor to the Netgear R7000 Nighthawk router which has similar specifications and is priced at $200.
Synology DS716+
Coming back to the NAS side, Synology was also demonstrating the DS716+, a 2-bay Braswell NAS which can be expanded up to seven bays with the DX513. The interesting aspect here is that the unit is capable of supporting btrfs volumes.
The hardware specifications of the DS716+ are reproduced below.
Synology claims around 223 MBps for reads and 137 MBps for writes to a RAID-1 volume on the DS716+. Enabling encryption doesn't cause any noticeable drop in the claimed numbers. The Quick Sync engine is now taken advantage of in DSM to deliver real time 4K transcoding (no HEVC, though). The DS716+ is available for
$450 on Amazon
.
Synology DS416j
In fresh NAS news (i.e, what we didn't hear about at the Synology 2016 conference), Synology also launched the DS416j in order to replace the DS414j in their budget-friendly 4-bay lineup. As is usual for budget NAS models, this unit comes with only one network port. However, RAID-5 performance is still very good, with reads coming in at 112 MBps and writes at 101 MBps according to Synology.
The interesting aspect here is that Synology has opted to go with the Marvell ARMADA 88F6828 with four native SATA ports. It is a high-end variant in the the ARMADA 38x family, and replaces the Mindspeed SoC used in the DS414j. The DS416j is available for
$340 on Newegg
.
Synology has focused more on bringing attention to their RT1900ac router at CES 2016. Personally, I was hoping to hear about Braswell-based NAS units with 4+ bays. Consumers looking at commercial off-the-shelf NAS units with btrfs support will definitely be waiting for those.

Read More ...
---
QNAP at CES: A M.2 SSD NAS, Dual-Xeon ZFS NAS and More
TBS-453A 4-bay M.2 SSD NASbook
The TBS-453A looks more like a mini-PC, rather than a NAS.
The most surprising aspect of the chassis is the presence of five RJ-45 ports. These appear as two physical LAN ports to the OS (since the second set of four is actually connected to the main SoC using a hardware switch chip).
Removing the bottom panel reveals four M.2 slots (capable of supporting M.2 2242, 2260 and 2280 SSDs) and two DDR3L SO-DIMM slots. The 2.08 GHz 4C/4T x86 SoC (Intel Celeron N3150 belonging to the Braswell family) is cooled by a notebook fan (SUNON MF60090V1-C482-S9A). The absence of any 2.5" or 3.5" drives make it quite compact. The combination of ports, speed and relative silence make it suitable for file sharing, presentations and multimedia applications (including karaoke singing concerts) in a portable form factor.
The QTS Network Manager incorporates software-defined virtual switch technology providing configuration flexibility. The presence of five RJ-45 ports on the unit can lead to some interesting applications such as private networks for surveillance cameras.
The TBS-453A also supports Linux using Docker functionality. QNAP has always had the Hybrid Desk (HD Station) app to enable video output over HDMI on selected QNAP NAS models.
Linux Station
builds upon Hybrid Desk and utilizes containers to provide users with a complete Linux desktop on the NAS. The NASbook along with Linux Station can act as a standard Linux desktop in this way.
Other than these features, the usage of Braswell provides AES-NI capabilities for better performance with encrypted volumes and folders. The integrated Quick Sync engine can also transcode 4K material (both in real-time and offline) Container Station and Virtualization Station enable a number of different applications (including the running of different OSes on the machine as well as sandboxing certain processes for greater security).
Dual HDMI ports allow for multimedia enjoyment using apps such as Kodi. The unit also comes with an IR receiver and remote. Apps such as OceanKTV allows for usage of the NASbook as a karaoke system.
Other than the above unique features, the standard QTS capabilities for data storage, backup and file sharing exist in the NASbook also. The storage capacity of the TBS-453A can be expanded via the UX-500P and UX-800P which provide five and eight 2.5" / 3.5" drive bays respectively. They can connect to the TBS-453A using one of the USB 3.0 ports.
We do not have concrete pricing information yet, but, with the launch towards the end of this quarter, that should soon be clarified.
TDS-16489U Dual-CPU NAS
The TDS-16489U is, in QNAP's own words' a hyperconverged enterprise NAS. The capabilities of the unit are best brought out using the hardware architecture documentation.
The software capabilities enable the unit to act as both a storage server and an application server. QNAP's QTS provides all the storage server functionality. Linux and Windows VMs can enable all the compute heavy stuff. The usage of powerful Xeon CPUs give the unit bonafide data center server credentials.
In a tradtional setup, boxes such as those from QNAP are used as a storage server, with another server running Hyper-V or some VMWare tools for virtualization. Even though QNAP's Virtualization Station can't hold a torch to those dedicated virtualization systems, it comes with no licensing costs and enables tighter integration of the guest OS and the storage server infrastructure in products such as the TDS-1648U.
The hardware specifications of the NAS are reproduced below
Pricing information has not been made available yet.
ES1640dc ZFS NAS and Miscellaneous Products
QNAP also talked about their upcoming ES1640dc, which is a significant departure from their usual products.
Unlike the traditional Turbo NAS models that run the Linux-based QTS, this unit runs QES 1.1, and is based on FreeBSD. The important enterprise-targeting feature is the move from ext4 to ZFS for the file system.
While the move to QES with ZFS brings features such as inline compression, data deduplication, checksumming / bitrot protection and increased shapshot capabilities, we lose support for powerful QNAP apps such as Virtualization Station and Container Station.
On the hardware side, the ES1640dc and ES1642dc both come with dual active controllers in order to provide high availability if one of the controllers were to fail. The units also provide support for usage of a DRAM DIMM as a write cache as long as a dedicated battery backup unit is installed to copy contents to a mSATA SSD when power fails. Additionally, this scheme also reduces wear on the flash memory when the mSATA SSD is used as a write cache. The EJ1600 / EJ1602 expander modules (again, with dual controller support) can be used to increase the storage capacity of the ES1640dc.
Moving on to other SMB-focused products, QNAP also had the TS-x53A on display in their suite. Based on the Intel Celeron N3150 platform, these products make up the Braswell update to the Bay Trail-based TS-x53 series. Like the TBS-453A NASbook, the TS-x53A series come with two HDMI outputs, two microphone inputs
Recent software updates have enabled apps such as the JRiver Media Center for media management and playback. The other unique features such as the ability to run full-fledged Linux using Linux station have already been covered in the NASbook section.
The full specifications of the various models in the TS-x53A lineup are in the extract from the above spec sheet.
On the whole, I would say that QNAP had a quiet CES. There was one major innovative product in the TBS-453A NASbook. The rest of the products show the direction in which QNAP has been heading, but they have all already been talked about in the APAC market. The only disappointing aspect, in my opinion, was that QNAP had no updates to share on the move from ext4 to btrfs for their home consumer and SMB lineup. Considering that Netgear has already been shipping an implementation for more than a year now, and Synology is shipping btrfs in beta form for a couple of months now, this was quite surprising.

Read More ...
---
NVIDIA Anounces Rise of the Tomb Raider GeForce GTX Bundle
If you are interested in the new Tomb Raider and are also looking for a GPU upgrade, you can get the game thrown in for free and have ample graphics power on launch. From now until February 16th the Rise of the Tomb Raider GeForce GTX Bundle will be given to anyone who purchases a qualifying the GTX 970 or better (excluding Titan X) desktop cards or qualifying 970M, 980M or 980 equipped notebooks computers.
NVIDIA Current Game Bundles
Video Card
Bundle
GeForce GTX Titan X
None
GeForce GTX 980Ti/980/970
Rise of the Tomb Raider
GeForce GTX 960/950
None
GeForce GTX 980 For Notebooks
Rise of the Tomb Raider
GeForce GTX 980M/970M
Rise of the Tomb Raider
GeForce GTX 965M And Below
None
Those wishing to participate are encouraged by NVIDIA to check the product description of the item they are purchasing to ensure that
the seller is participating
in the "Rise of the Tomb Raider GeForce GTX bundle", as NVIDIA cannot provide codes and coupons for purchases made at non-participating retailers and e-tailers. Per the
Terms and Conditions
, the offer is valid worldwide excluding China. Rise of the Tomb Raider will be released for the PC on January 28, 2016.

Read More ...
---
AMD Announces A10-7890K APU and Upgrades Desktop Platforms
Same Thing, Only Faster
The upcoming AMD A10-7890K accelerated processing unit is based on the Kaveri design introduced two years ago. The APU will integrate two Steamroller modules (four x86 cores), 4 MB L2 cache, the AMD Radeon R7 integrated GPU with 512 stream processors and GCN 1.1 architecture, a dual-channel DDR3 memory controller (which supports up to DDR3-2133 memory) as well as second-generation video coding engine (VCE) and fourth-generation unified video decoder (UVC) units for video playback. Just like all modern hybrid processors from AMD, the new APU is compatible with heterogeneous system architecture specification 1.0 and can use its graphics core for general-purpose processing (in appropriate applications). The chip will feature unlocked multiplier.
The main difference of the new microprocessor compared to its predecessors will be slightly higher clock-rates and slightly better performance. AMD does not disclose exact specifications of the A10-7890K, but claims that its maximum turbo frequency will be 4.3 GHz, which means that its default clock-rate will likely hit 4 GHz or higher (AMD did not confirm this). It is unclear whether AMD plans to bundle its new
Wraith cooler
with the A10-7890K, but if the new chip gets the latest cooling solution, then it will get somewhat more competitive.
AMD's latest APUs for desktops — also known as Godavari — feature upgraded power supply circuitry designed to deliver cleaner and higher amount of power to the die and are made using slightly refined GlobalFoundries' 28 nm super high performance (SHP) process technology. Improved binning process and increased voltages (compared to the original Kaveri) enable AMD to increase clock-rates of its APUs gradually. This helps the company to sustain average selling price (ASP) of its desktop chips while staying competitive against Intel's Core i3 and Pentium offerings.
The release of the AMD A10-7890K accelerated processing unit may not be a breakthrough in terms of additional performance. However, it shows two important things. Firstly, AMD can increase clock-rates of its existing chips (which potentially means that overclockers can boost them further). Secondly, AMD is confident that its upcoming code-named Bristol Ridge APUs will be powerful enough to leave current-gen hybrid processors behind in terms of performance.
New Motherboards Incoming
AMD also revealed at CES that its partners are working on a new generation of socket AM3+ and socket FM2+ motherboards. The new breed of mainboards from various manufacturers will feature USB 3.1 gen 2 controllers (ASMedia ASM1142) that will enable USB type-A and USB type-C ports. Besides, select motherboards will also have M.2 connectors for solid-state drives.
The implementation of the USB 3.1 is relatively easy: the ASMedia ASM1142 controller requires two PCI Express 2.0 lanes (something that all modern AMD platforms have), everything that motherboard makers need to do is to install one chip and supporting logic. Meanwhile, a properly implemented M.2 connector for contemporary solid-state drives needs four PCI Express 3.0 lanes in order to provide up to 3940 MB/s of bandwidth. The AMD FX (AM3+) platforms do not support PCIe 3.0 natively at all, hence, AMD's partners will have to either implement an M.2 connector using four PCIe 2.0 ports (which would limit bandwidth to 2000 MB/s), or use a PCIe switch to "convert" eight PCIe 2.0 lanes into four PCIe 3.0 lanes. The AMD A-series (FM2+) processors support PCIe 3.0 x16 and hence can support an M.2 port with PCIe 3.0 x4 bandwidth, but in that case graphics cards will have to work in PCIe 3.0 x8 mode. In general, it is possible to add USB 3.1 and M.2 to current-generation AM3+ and FM2+ platforms, but that comes at a cost.
Waiting for Next-Generation
Without any doubts, higher clock-rates and better feature-set will make AMD-based platforms faster and more compelling. Unfortunately, a minor increase in frequency as well as addition of the USB 3.1 and the M.2 to several new motherboards will hardly dramatically increase popularity of AMD's A-series or FX-series microprocessors. Nonetheless, proper pricing and up-to-date features will help AMD to maintain its positions.
What the market is waiting for is the next-generation AMD platform that is based on the company's microprocessors code-named Summit Ridge. The CPU developer hopes that its Zen micro-architecture will deliver 40% higher IPC (instructions per clock) performance compared to the predecessor, whereas new 14nm/16nm FinFET process technologies will help to lower power consumption and/or increase clock-rates.

Read More ...
---
AMD Reveals Wraith: Next-Generation Cooler for Microprocessors
At present, AMD equips its boxed FX-series central processing units (CPUs) with a rather small air cooler called the AMD D3. The latter is made of aluminum, is equipped with four heat-pipes as well as a 70-mm fan. The thermal solution can remove up to 125W of heat, but at the cost of a lot of noise (up to 51 dbA, according to AMD). The vast majority of enthusiasts, who buy AMD FX CPUs, usually obtain their thermal solutions from companies like Corsair, Noctua or Scythe. However, certain PC makers utilize bundled coolers, which may not be a very optimal decision since they get rather loud when CPUs get hot. AMD's high-end accelerated processing units (APUs) can dissipate up to 95W, but their boxed versions are also equipped with rather tiny and noisy coolers, which is not a problem for power users (who use third-party solutions anyway), but is not exactly good for PC makers.
Apparently, AMD plans to offer better coolers with its microprocessors going forward. This week the company revealed its Wraith thermal solution, which will be used to cool down both current and upcoming chips from the developer. The AMD Wraith, which was designed to take away around 125W of heat, features a rather large aluminum heatsink with ultra-thin fins, four heat-pipes as well as an 80-mm fan. AMD claims that the Wraith features 24% more cooling fin surface area (179,730.1mm
2
) compared to its predecessor (144,397.8mm
2
), which seems like a significant improvement. Contemporary 80-mm fans can generate significant airflow while staying rather quiet. According to AMD, the new fan pushes 55.78 cubic feet of air per minute (CFM), or 34% more than the predecessor (41.6 CFM). The maximum noise level generated by the Wraith cooler is around 39 dBA (based on what AMD says), which is quieter compared to the current-generation D3 cooler from the company, but is significantly louder than noise levels generated by
advanced coolers
from companies like Noctua or Scythe (20 – 32 dBA, based on figures published by these manufacturers). Overall, the new cooler from AMD seems to be rather efficient for an in-box solution, but only real-world tests will show how good the Wraith cooling system actually is.
While AMD did not disclose all details about its new thermal solution, it did show it in action on its
YouTube channel
. The new cooler is noticeably larger than the AMD D3. It is also noticeably quieter, but it is clearly not as noiseless as 120mm low-RPM fans used on giant coolers.
The AMD Wraith cooling system will be bundled with select microprocessors going forward and will also be sold separately. The Wraith should be compatible with all recent AMD sockets (e.g., FM2+, AM3+, etc.), but we are not sure about the upcoming AM4 at this point. Since changing mounting mechanism of a cooler is not that hard, it looks like AMD's Wraith will cool down the company's chips for quite some time.
While enthusiasts will continue to use third-party coolers with AMD's current and future central processing units, for many PC makers new thermal solutions will mean that AMD-based systems will get considerably quieter (which means generally more competitive). Since the Wraith is not large, it will fit into small form-factor systems. As a result, it will soon be possible to build an inexpensive SFF PC based on a high-performance AMD APU that will be relatively quiet.
AMD did not reveal when exactly it plans to start bundling the Wraith cooler with its chips, but expect the new thermal solution to show up in the coming months.

Read More ...
---
Zeiss Smart Optics: Discreet Smart Glasses
Some of the other systems I've seen for projecting a display for smart glasses have also been pretty obvious to spot such as any of ODG's smart glasses, although those aren't really designed to be subtle in any way as they try to pack a full tablet of hardware into something head-worn. Sony's SmartEyeGlass gets closer to something subtle, but it's still glaringly obvious that you're wearing something odd.
Zeiss identified this as an issue, and in response they created an internal team to try and make an optical system that resolves all of these issues. Their solution is what they're now calling Smart Optics. This optical system takes a display mounted at the edge of the lens and can project it directly into the eye at an arbitrary position on the lens, with an arbitrary focus to either place the displayed image a short distance away from the eye (~2m), or even at infinity to create a true HUD.
In essence, this optical system relies upon total internal reflection and a Fresnel structure to transmit the light from the display through the lens into the eye. A complex prism design reflects the light from the display at the edge of the display into the lens, where the Fresnel structure then reflects the light in the lens out into the eye. The Fresnel structure is index-matched with the lens itself, which makes it almost invisible to the eye unless you have the right lighting to highlight the structure.
The entire design is made from injection-molded polycarbonate, which means that it's capable of being mass-produced in a method similar to most current glasses. Based on discussions with those that worked on this project, the prism in particular was especially difficult to create as its shape is complex and voids and other defects would appear in the polycarbonate as it cooled. Zeiss also emphasized that their design was covered with over 250 patents to drive home the difficulty of making this optical system work.
Zeiss showed off an early prototype, which even at this stage was impressive as there was no visible translucency that could occlude vision and the projection worked flawlessly. Unfortunately, as the design is supposed to be made with a prescription for those that need one I couldn't quite get the full experience as the corrective lenses that they had for the prototype weren't quite strong enough for my eyes, but their rapid prototyping rig worked well and showed acceptable resolution and luminance.
I wasn't really able to get much in the way of details regarding whether any devices with this optical system were imminent, but it sounds like Zeiss is working with partners that can put their optics to use. Based upon a lot of the discussions I've had with various people working with wearables it sounded like smart glasses were at least 5-10 years out, but with technologies like this I wouldn't be too surprised to know that by the 7nm node that smart glasses using this technology will start to reach mass consumer adoption.

Read More ...
---
Dell Demonstrates 30-inch 4K OLED Display
The Dell UltraSharp UP3017Q is a 30-inch display with 3840×2160 resolution, 0.1 ms response time and an unknown refresh rate (yet, it should be very high). The monitor can reproduce 1.07 billion colors, it covers 100% of Adobe RGB color space as well as and 97.8% of DCI-P3 color space (used for digital movie projection by the U.S. movie industry and is expected to be adopted in televisions and in home cinema), according to Dell. Just a few professional displays nowadays cover 100% of Adobe RGB. The manufacturer declares 400,000:1 dynamic contrast ratio, but admits the value is only that because testing equipment won't go higher.
The UltraSharp UP3017Q ultra-high-definition display has very narrow bezels; the monitor itself is thin, but not remarkably thin like OLED TVs, possibly because it features internal power supply unit as well as complex logic inside. The monitor features a mini DisplayPort (mDP) connector, an HDMI port as well as a USB type-C port, which could be used for video and data connectivity as well as for power delivery (it can be powered using a type-C cable, or deliver power to another device).
Emissive electroluminescent layer in organic light-emitting diode is made of organic compound that emits light in response to an electric current. The organic semiconductor layer is situated between two electrodes and does not require a backlight. As a result, it can display truly deep black levels, unlike liquid crystal display (LCD) panels, which use various kinds of backlighting. Besides, since the emissive electroluminescent layer is very thin and can take different shapes, it is possible to build ultra-thin and even curved monitors and TVs using OLEDs.
While OLED technology can deliver deep blacks, high contrast ratio and exceptional colours, it is not free of drawbacks. The organic layer may burn down over prolonged amount of time, and colors can shift over time. To maximize lifespan of the OLED panel inside the UltraSharp UP3017Q, Dell integrated a special presence detector into the front panel of the display, which switches the monitor off when nobody uses it. Another disadvantage of OLEDs is a possibility of static image burn in. To reduce the chance of burn in, the UP3017Q has a special pixel-shifting technology.
The Dell UltraSharp 30 OLED monitor will cost whopping $4,999, which it becomes available on March 31, 2016, in the United States. The display at this point is only aimed at professionals, who work in color-critical environments such as graphic arts and photography. However, due to exceptional colors and contrast as well as ultra-fast response time, the UltraSharp UP3017Q will be a dream display for gamers, prosumers and other users, who value quality.
OLED panels are considerably more expensive to produce than modern LCD panels, partly because of lower yields. Last year an executive from LG Electronics said that yields of OLED panels had reached 80% and would continue to grow. At the International CES 2016, Kwon Bong-suk, the head of LG's TV business,
said
that the company had cut prices of OLED TVs in the U.S. by 45% late in 2015. As a result, LG now expects sales of OLED televisions to triple this year. Price reduction of OLED TVs indicates that production costs of organic light-emitting diode panels are going down. Perhaps, over time, the Dell UltraSharp UP3017Q will also become more affordable, or Dell will release an OLED display for a wider audience.

Read More ...
---
Revisiting Keyssa: Commercial Availability, Products in Q1 2016
For those that haven't seen Keyssa in action before, it's hard to really understand the potential of this technology. At a high level, it's basically like NFC in the sense that this technology is very short range wireless with a range of roughly an inch or a few centimeters before the 60 GHz signal disappears completely. However, within that range you get 6 Gbps of bandwidth and relatively low power compared to something like 802.11ad/WiGig. Unlike 802.11ad WiFi, the connector and chip needed to enable this technology is almost absurdly tiny, as the chip is no more than a few millimeters squared. This is purely a physical layer technology, which means that at the operating system level a Keyssa connector can appear to be USB, DisplayPort, HDMI, SATA, PCIe, and pretty much any point to point digital connection protocol you can name today.
As a result, Keyssa has the potential to completely do away with physical data ports in devices. Probably the most obvious example of this would be 2-in-1 hybrid devices like the Surface Book, which in theory could completely do away with all of the wired connections that introduce additional engineering challenges when designing a device like the Surface Book.
Keyssa has also discussed the potential to replace flex cables internally in smartphones and other devices, which could reduce board area and/or z-height along with simplifying design and reducing cost as flex cables would no longer need to be laid out by hand.
This connector can also use simple plastic with certain shapes like tubes to introduce directionality and make wire-like connections over distance without the need for actual wires or proper connections.
Overall, Keyssa shows great potential and judging by the discussions I've had there's a significant amount of interest from OEMs and ODMs for this technology, with hints that devices with this technology are already in development. It's hard to say what the full potential of this technology is, but it's definitely going to be interesting to see how this develops.

Read More ...
---
Ambarella CES 2016 Tour
The high end SoC in Ambarella's line of chips for cameras is H2. H2 is built on Samsung's 14nm process, and it incorporates a quad core 1.2GHz Cortex A53 cluster, and its capable of encoding 4K HEVC video at 60fps, or 4K AVC video at 120fps. The latter makes it capable of doing 4K slow mo videos by playing back the 120fps footage at 30fps. H2 also includes support for capturing video with 10-bit color, as well as support for HDR which has recently been integrated into the Blu-ray and UHD standards.
The next SoC in Ambarella's line is H12. H12 isn't shown in the image above, but it's capable of encoding 4Kp30 video using AVC or HEVC. It uses a single 1GHz Cortex A9 core, and it's built on a 28nm process.
The last two SoCs are A9SE and A12D. A12D is an entry level chip, while A9SE has some advanced functionality, but is intended for devices sitting at lower prices than ones that incorporate H2. A9SE offers 4Kp30 support, and can do 1080p60 video with electronic image stabilization.
One of the demos that Ambarella showed was an example of their electronic image stabilization for 4K video. Part of the drive behind this is the fact that stabilization on drones has had to be implemented using a mechanical system that shifts the camera along each axis to keep the sensor in the same position. This type of system increases the size, mass, and cost of the drone, and so it's obviously something that drone makers would be keen to eliminate in order to allow for reduced prices and improved battery life. Above you can see a short video which compares two real time video feeds with EIS on and off. As you can see, the difference is dramatic, and the level of stabilization that can be done by the SoC is extremely impressive.
Another exhibit showcased the ability to record 4Kp120 video. This is the first time that I've seen any 4K footage recorded at a high enough frame rate to slow it down an appreciable amount.
Several of the exhibits that Ambarella had related to technology that will be used in self driving cars. Some of this builds on demos that were shown at last year's CES. The demo that I found most interesting is the electronic mirror. Essentially this is a mirror that integrates a display which streams footage from a rear-mounted camera on your car. The reasons for using an electronic mirror include the ability to have a higher field of view, no obstruction from passengers in rear seats, and better visibility at night due to the HDR processing that can be done by the SoC at night in order to make the car behind you visible without making the headlights overpoweringly bright. It's important to note that the mirror can act as a normal mirror in conditions when the camera is not necessary.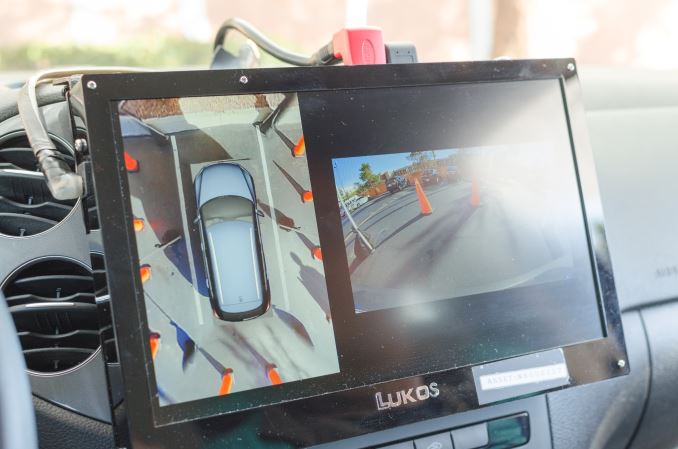 Another car-related demo from Ambarella involved mapping the environment around a vehicle using cameras mounted on the various sides. This isn't exactly a new concept, but it does tie in with their new SoCs. Some things demoed included environment mapping for self-driving cars, and using the cameras to view an environment in order to implement features like automatic parking.
The last demo that I found quite interesting demonstrated the image de-warping capabilities of the H2 and H12 SoCs. The demonstration shown gave the example of a fisheye camera being used in a security camera mounted on on a door, with the de-warping being used to put the image into a state that is easy to view.
As far as real-time video encoding goes, the tech being shown off by Ambarella definitely impresses. I haven't seen 4Kp120 recording in anything else that is consumer-focused, and the push for improved 4Kp60 HEVC encoding with 10-bit color and HDR support is something that will be necessary as new standards for UltraHD video are adopted.

Read More ...
---
Oculus VR Reveals Retail Price of Its Virtual Reality Headset: $599
The Oculus Rift bundle includes the VR headset, an Xbox One gamepad, a sensor, the Oculus Remote controller as well as
EVE: Valkyrie
and
Lucky's Tale
VR games. The initial bundle will not include the Oculus Touch controllers, which were recently delayed to the second half of the year. The Oculus Rift virtual reality headset is available for pre-order for $599 on the company's web-site and will ship starting March 28, 2016, to 20 countries. Select retailers will also sell Oculus Rift hardware in April. In addition, makers of gaming PCs plan to offer Oculus Ready PCs with the headset next month starting at $1499.
Back in early October, 2015, Palmer Luckey, the founder of Oculus VR,
said
in an interview that the price of one Oculus Rift headset was in the "$350 ballpark", but it was "going to cost more than that". As it appears, the virtual reality head mounted display (HMD) costs nearly two times more than that. The $599 price-point is a yet another indicator that the first-generation VR headsets are expensive to make in general. However, that price is too high for the mass market and for many gamers, believes Jon Peddie, the head of Jon Peddie Research, which tracks sales of graphics adapters and PC gaming hardware.
A Lot of Custom Hardware
While the virtual reality HMD is available for pre-order now, Oculus VR still has to confirm its final technical specifications. Based on what the company revealed about six months ago, the Oculus Rift uses two custom AMOLED panels (one per eye) with 2160×1200 resolution and 90 Hz refresh rate (1080×1200 per eye). The AMOLED displays were architected for low persistence, they display each image for about 2 ms in a bid to minimize delays and avoid effects like motion blur, which can cause nausea. The headset also features specially designed adjustable lenses to enable wide field of view. Each headset has integrated headphones and a microphone. Besides, the Oculus Rift sports various sensors, including the company's own Constellation system based on infrared sensors, which tracks position of the user's head.
To connect to a PC, the Oculus Rift and devices that accompany it (gamepad, sensor, remote, etc.) use one HDMI 1.3/HDMI 1.4 interconnection, three USB 3.0 interconnections and one USB 2.0 interconnection.
The Oculus Rift virtual reality headset uses a lot of custom components that were designed specifically for this device. For example, the low-persistence AMOLED display panels were co-developed by Oculus and Samsung Electronics. Oculus VR claims that they wanted to make a device that will offer the best virtual reality experience possible today, which is why they tried to avoid any trade-offs or compromises. Due to extensive usage of parts that are not mass-produced today, the cost of each Oculus Rift should be rather high, which is one of the reasons why the headset is priced at $599.
High-End PC Needed
Since the Oculus Rift should run games in 2160×1200 resolution at 90 Hz with minimal latency, it requires a rather powerful personal computer to offer comfortable experience. Oculus VR recommends a PC with a quad-core Intel Core i5-4590 microprocessor (or equivalent), an AMD Radeon R9 290 or NVIDIA GeForce GTX 970 graphics adapter (or equivalent) as well as 8GB of RAM. The company admits that the more powerful your system is, the better experience with Oculus Rift you are going to get.
Developers of graphics processing units have implied multiple times that for the best VR experience a dual-GPU graphics sub-system is required today. For example, AMD plans to
align release of its new dual-chip Fiji video card with availability of VR headsets
in the second quarter. In a dual-GPU graphics sub-system, each graphics chip renders its own part of the scene for one eye. Such approach doubles performance and lowers latency. However, two GPUs also require a more powerful central processing unit as well as a high-end power supply unit.
For makers of computer hardware the launch of the first VR headset for gamers means a chance to improve sales of their higher-end products. Not only manufacturers of video cards or microprocessors can benefit from availability of the Oculus Rift, but also producers of RAM, solid-state drives and motherboards can take advantage of the headset as enthusiasts begin to build their new systems. Unfortunately, significant investments in hardware may slowdown adoption of virtual reality HMDs by both gamers and the general public.
Oculus VR: 100+ Virtual Reality Games to Be Available in 2016
Oculus VR claims that more than 100 games designed for virtual reality and compatible with the Rift are set to be available by the end of 2016, including "dozens of full-length AAA" games. The company does not reveal a lot of names, but in addition to the titles bundled with the VR headset, the firm mentions
Rockband VR
by Harmonix,
Edge of Nowhere
by Insomniac, and
The Climb
by Crytek.
While over a hundred of titles that support VR is a lot, only a handful of them will actually attract users to the platform. Since $599 is a significant investment for many gamers, there should be several compelling titles, which not only demonstrate the technology itself, but make people want to play.
A Lot of Excitement
There is a lot of excitement about virtual reality technologies not only among gamers, but also among developers of hardware and software. While the technology itself has a lot of potential for video games and beyond, the very first Oculus Rift headset is designed primarily for games. The price of the HMD is high for many gamers, but for general users it is prohibitively expensive. Therefore, sales of the device will likely be rather limited. In fact, even Facebook, the owner of Oculus VR, does not expect to sell a lot of VR headsets this year.
Sales enthusiast-class graphics cards, which cost $399 and higher, total approximately three million units a year, according to Jon Peddie Research. There are many PC gamers nowadays, but only a fraction of them invests thousands of dollars in hardware. Various analysts make different predictions about sales of the first-generation VR gear, some are optimistic and some are pessimistic. For example, according to a report released by Juniper Research several months ago, cumulative sales of VR headsets in their first year of availability (i.e., 2016) will be approximately three million units. There are three major VR devices to be released this year: the Oculus Rift, the Vive from HTC and the PlayStation VR from Sony. It is highly likely that the majority of hardcore enthusiast gamers will buy only one of them. Juniper predicted that cumulative sales of VR headsets will hit around 30 million units by 2020 as hardware and software evolves.
It remains to be seen how many virtual reality head-mounted displays Oculus VR will sell this year. Palmer Luckey said in an interview that the first consumer version of the Oculus Rift was developed to offer great experience and to show potential of the technology to the world. Hopefully, it will deliver to the promise.

Read More ...
---
Available Tags:
Intel
,
Router
,
SSD
,
NVIDIA
,
GeForce
,
GTX
,
AMD
,
APU
,
Dell
,