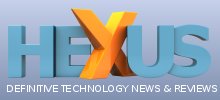 Epic Giveaway Day 22: Win one of two Qpad gaming bundles

Two lucky readers will each bag a keyboard, mouse, headset and mousepad!

Read More ...
---
Firefox OS may be installed on HDMI sticks, routers, tablets etc

Surprising turn after Mozilla abandoned smartphone plans earlier this month.

Read More ...
---
Surface Phone hinted at by Microsoft chief marketing officer

Says that an upcoming phone must offer a real breakthrough.

Read More ...
---
Does job vacancy posting point to Elite: Dangerous Linux version?

SteamOS needs more blockbuster games and Elite: Dangerous could be one of them.

Read More ...
---
Fujitsu to spin off its PC and mobile divisions in February

Fujitsu Client Computing Limited will contain its laptop and desktop divisions.

Read More ...
---
Researchers investigate North Korea's Red Star OS 3

Based on Fedora Linux. It's MAC OS X skinned, privacy invading and very hard to tamper with.

Read More ...
---
Available Tags:
gaming
,
Firefox
,
Microsoft
,
Linux
,
Fujitsu
,