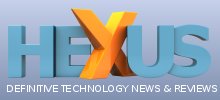 Epic Giveaway Day 24: Win one of four Sinclair ZX Spectrum Vegas

Pre-loaded with over 1,000 licensed games and more nostalgia than one can shake a stick at.

Read More ...
---
ASUS ROG announces ROG Maximus VIII Formula mainboard

It comes with an exclusive CrossChill EK hybrid cooling block installed.

Read More ...
---
Samsung's 2016 900X-series Ultrabooks revealed

At least six models to come with Windows 10, Skylake, plus thin & light metal chassis.

Read More ...
---
Windows 10 installed on over 200 million devices, says report

This is a significant milestone for Microsoft's latest OS to reach before we hit 2016.

Read More ...
---
Google, HPE, Oracle back RISC-V, an open source ARM alternative

These tech titans and 12 other companies become members of RISC-V trade group.

Read More ...
---
Samsung making industry's first Smart Bio-Processor

An all-in-one advanced system logic chip for the health-oriented wearables market.

Read More ...
---
Available Tags:
ASUS
,
Windows
,
Oracle
,
Samsung
,