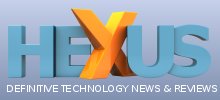 QOTW: What did you buy on Black Friday 2015?

Consumers are expected to spend almost £2bn in the UK alone, so do tell, what did you buy?

Read More ...
---
HEXUS Week In Review: HS-251+, Transformer Book and WaterForce

Your chance to catch up on the week's tech developments.

Read More ...
---
Review: Qnap HS-251+

A silent NAS to accompany your HDTV.

Read More ...
---
Self-healing gel can repair and connect electronic circuits

University of Texas researchers say healing process doesn't require any external stimuli.

Read More ...
---
ASUS launches "the fastest GTX 980 Ti on the planet"

20th Anniversary Gold Edition GTX 980 Ti boasts base/boost clocks of 1266/1367MHz.

Read More ...
---
LG Display to invest $8.7 billion in OLED manufacturing plant

Meanwhile we hear that Apple will shift to using OLED displays from 2018 onwards.

Read More ...
---
AMD will launch Radeon R9 Fury X2 at December event says report

And a clue to it already being in game developer hands was Tweeted by DICE yesterday.

Read More ...
---
Scan Computers launches Black Friday promotion

Been waiting to upgrade your PC? Now may be the opportune moment.

Read More ...
---
A full on remake of System Shock is in development

And you can grab earlier System Shock games cheap in the Steam Exploration Sale.

Read More ...
---
Nvidia SHIELD Tablet X1 spotted on benchmarks site

Meanwhile the Nvidia SHIELD Android TV gets the Black Friday treatment, at £119.99.

Read More ...
---
Available Tags:
HEXUS
,
ASUS
,
GTX
,
LG
,
AMD
,
Radeon
,
Nvidia
,
Tablet
,