Supermicro with Greenlow Motherboards at SuperComputing 15
At SuperComputing 15 this past week, Supermicro had a few of their workstation based Greenlow motherboards on display.
As you might imagine, they essentially very similar to the 100-series motherboards we have already seen, except with minimal styling and a few workstation focused features. This one is the X11SAE-M, a micro-ATX design that uses eight individual SATA ports at right angles from the chipset as there is only one PCIe 3.0 x16 slot for a PCIe accelerator card. Note the use of PCI (!) as well, and a power delivery subsystem of only five phases. The pre-requisite COM/TPM headers are here, along with two SuperDOM, a PCIe 3.0 x4 based M.2 slot, and two Intel NICs with one being pro-focused with another low power.
The X11SAE-F is the bigger brother, extending the feature set to dual PCIe 3.0 long slots in an x16 or x8/x8 configuration, doubling the PCI slots, and equipping the board with an AST2400 controller chip to allow for remote management. There is also a Thunderbolt header in play for PCIe based TB cards.
We also caught wind of the X11SAT which looks more like the consumer ATX parts, however this one uses a PLX chip under the mid heatsink (I assume it's an 8747, and not a 9000 sries part) that gives x16/x8/x8 layouts for the PCIe slots. There is also an Intel Alpine Ridge controller, which the blurb states supports Intel's Thunderbolt as well as Type-C to DisplayPort and USB 3.1.
These should all be part of a larger SM stack of boards, and currently in the hands of SM's sales people and common distributors. We're hearing word that some of the Greenlow boards, covering both server and workstation, should offer quad-1G NICs, or dual 10G, some with LSI 3008 RAID controllers on board and even one with four PCI slots (for long-life legacy applications).

Read More ...
---
Omni-Path Switches at SuperComputing 15: Supermicro and Dell
These are the default Intel switches, in 48-port and 24-port variants in a 1U form factor. Each has two power supplies built in for redundancy, with a network managing port as well as a USB port on the left hand side. For the initial release, customers can buy these switches either direct from Intel or one of their partners, and at the beginning they'll be pretty much the same with a slight rebrand:
Of course, each has their own model number to play with:
The difference will be in the support packages for their customers, I suspect. Perhaps not unexpected, both Supermicro and Dell also use the same information plaques for the swiches:
As you can see, each port supports QSFP28 type cabling, with a redundant fan and power supply. Intel is stating a 100-110 ns port-to-port latency (includes per-hop error detection and resubmit without forcing an end-to-end resubmit) along with QoS, dynamic lane scaling, and up to 195 million MPI messages per second per port. The other swtch in the family is this 9U behemoth, mocked up through Intel's news channel:
Alongside the switches are the cards, of which we saw an engineering sample back at IDF. It turns out there seems to be two cards on offer, one for a PCIe 3.0 x8 link and another on PCIe 3.0 x16:
The difference here is that the x16 card gets a larger heatsink, and the x8 gets a sticker on one of the chips on board. Dell had the x16 card in a half-width dual processor node on show.
I found it slightly amusing that on every display for Omni-Path hardware, there was this little disclaimer saying that the technology is still waiting for FCC approval:
I quizzed both Charlie Wuischpard, VP & GM of Workstation and HPC at Intel, and Raj Hazra, VP & GM of Enterprise and HPC Platforms Group at Intel, about this. Part of my brain was thinking that the wording was a little odd (I'll be honest, it doesn't even read that well), and the fact that if Intel is shipping Knights Landing in Q4 to customers then the Omni-Path part of KNL needs to pass the standards and that time is approaching rapidly. Intel has had years of practice dealing with FCC regulations, so I would have assumed that despite the wording and my doubts, it shouldn't be an issue. Both Charlie and Raj confirmed that this should be the case, and everything is still going to schedule internally, but this qualifier was needed purely for legal reasons.
Intel's aim for Omni-Path is directed at Infiniband, attempting to combine their current HPC/server ecosystem with a fabric that saves customers money. As well as being high performing, Intel plans to focusing on metrics that matter to their users. It is interesting that there are rumblings of Omni-Path working its way down to Xeon CPUs in the future, and being equipped there as well. This makes it all the more interesting when we went to hear what was being said at the Infiniband presentations during the conference.

Read More ...
---
AMD Moves Radeon HD 5000 & 6000 Series to Legacy Status - All Pre-Graphics Core Next GPUs Now Retired
announcing that video cards based on the company's pre-Graphics Core Next architectures have been moved to legacy status
. This means that GPUs based on the company's VLIW5 and VLIW4 architectures – the Evergreen and Northern Islands families – have been retired and will no longer be supported. All of AMD's remaining supported GPUs are now based on various iterations of the Graphics Core Next architecture.
Overall this means that the entire Radeon HD 5000 and 6000 series have been retired. So have the Radeon HD 7000 to 7600 parts, and the Radeon HD 8000 to 8400 parts. AMD and their partners largely ceased selling pre-GCN video cards in 2012 as they were replaced with GCN-based 7000 series cards, so pre-GCN parts are now about 3 years removed from the market. However some lower-end OEM machines with the
OEM-only 8000 series
may only be 2 years old at this point.
In their announcement, AMD notes that their pre-GCN GPUs have "reached peak performance optimization" and that the retirement "enables us to dedicate valuable engineering resources to developing new features and enhancements for graphics products based on the GCN Architecture." Furthermore AMD is not planning on any further driver releases for these cards – the announcement makes no mention of a security update support period – so today's driver release is the final driver release for these cards.
To that end, AMD is offering two drivers for the now-legacy products. The last WHQL driver for these products is Catalyst 15.7.1, which was released in July for the launch of Windows 10 and brought with them official support for Windows 10 for all supported GPUs. Meanwhile AMD has also released what will be the first and only Crimson driver release for these products; a beta build of Crimson 15.11 is being provided "as is" for their pre-GCN products. So at the very least the last of AMD's pre-GCN parts get to go out on a high-note with most of the feature improvements rolled out as part of
today's Crimson driver release.
Ultimately the retirement of AMD's pre-GCN cards has been a long time coming; it was clear that their VLIW architectures were at a dead-end as soon as
GCN was announced in 2011
, the only question had been when this would happen. With pre-GCN GPUs unable to support DirectX 12 and coming up on several generations old, it would seem that AMD has picked the Crimson driver release as the natural point to retire these cards.
Update
: As a couple of you have now asked, it should also be noted that this retirement includes all APUs using the legacy GPU architectures. So all pre-Kavari APUs: Llano, Trinity, and Richland, are now also legacy APUs

Read More ...
---
Best Tablets: Holiday 2015
While tablet sales have certainly declined, the absolute number of tablets sold every quarter is still very high, and they will undoubtedly be a gift given by many during this holiday season. I'll be going over the options in Apple's iPad line first since they're already pretty well known, followed by the best inexpensive and high end tablets running Android, and the best tablets available running Windows.
iOS Tablets
Even if your phone is an Android device or a Windows Phone, it's difficult to not give the iPad some consideration when looking for a tablet. It's can definitely be difficult to have to manage two different ecosystems with their own apps, but even at this point the iPad still has a significant platform advantage over most tablets as far as applications and multitasking goes, and to improve multitasking and productivity further you really need to move to a full blown Windows tablet.
The iPad line is fairly simple, with only a few options available, and all of them occupying their own screen size. For people who want a smaller tablet, Apple offers the
iPad Mini 2
and
iPad Mini 4
. While the former is definitely getting a bit old, at
$269
it offers a fairly inexpensive entry to the iPad ecosystem.
$399
gets you the iPad Mini 4 which offers significant improvements to the display, performance, and the size and mass of the chassis. The Mini 4 is definitely my recommendation for a small iPad because of the improved display and additional RAM to enable split screen multitasking, but the $399 price for the 16GB model can definitely be hard to swallow.
Click here to read our reviews of the
iPad Mini 2
and the
iPad Mini 4
.
For a buyer that's interested in a more standard sized tablet, Apple sells the
iPad Air
and the
iPad Air 2
at
$399
and
$499
respectively for the 16GB models. With how old it is, and the limited amount of RAM it includes, I wouldn't really go for the iPad Air, especially when one considers what the Mini 4 offers at that same price. As for the iPad Air 2, it's definitely my top recommendation for a standard tablet. Although it's actually over a year old, there's still nothing from the major Android players that competes with its performance and build quality, and on top of that you get access to the library of tablet-optimized applications that the iPad is known for. Both the
iPad Mini 4
and
iPad Air 2
offer upgrades from to 64GB for +$100, and to 128GB for +$200, with cellular capabilities adding on another +$130. Read our iPad Air 2 review
here
.
At the very top of the iPad line sits the recently introduced
iPad Pro
. Josh is still working on our review of it, but based on his feedback so far and my time with it I feel it's worth recommending. There are definitely some caveats to consider. The iPad Pro will inevitably be compared to the Surface Pro 4, and I think there are some significant differences between the two that end up determining which one is a better fit for a given user. If you're looking for something that is first and foremost a modern tablet, the Surface isn't the best option because you're dealing with a lot of legacy software design decisions like having to manage files using a file system, and the number of Modern UI apps is quite small which means you end up having to manage a typical Windows desktop with your fingers.
If you're not a user who will benefit from having a full featured copy of Windows installed, but are looking for a large tablet with keyboard and pen support, then the iPad Pro is definitely worth checking out. Price wise, it starts at $799 for the 32GB model, $949 for 128GB, or $1079 for 128GB + LTE. Including the Apple Pencil will bring the price up by $99, and the Smart Keyboard increases it by $169 which means that the entire package can be quite expensive once you factor in the accessories.
Android Tablets
I've taken a look at a number of Android tablets this year, and pretty much all of them occupied a different price bracket from the others. Something particularly interesting this year was the number of tablets that sported Intel Moorefield SoCs, driven by the existing relationships between PC OEMs and Intel as those OEMs began to make their way into the Android tablet space. Unfortunately, it's pretty accurate to say that 2015 hasn't been the greatest year for Android phones or tablets due to issues with the available SoCs from Qualcomm, and in the case of all but one of the devices I've reviewed, issues with display power usage and calibration. That being said, I think there are two notable Android tablets that one should consider.
Starting off with my recommendation for a low-cost Android tablet, I think the
NVIDIA SHIELD Tablet K1
is the obvious winner of this category. The SHIELD Tablet K1 was originally sold for $299 before being recalled due to battery issues, but It has just recently been re-introduced at a new $199 price point, and with Google seemingly giving up on offering a Nexus tablet at that price there's really nothing in the Android space that competes with it. The performance provided by NVIDIA's Tegra K1 SoC is far greater than what you'd expect from a $199 device, and the GPU performance is still unmatched by any other Android device. Read our review
here
.
The only complaint I really have about the SHIELD Tablet K1 is that while the display is a sufficiently high resolution at 1920x1200, the color gamut and accuracy is lacking. While this can be excused somewhat based on the $199 price tag, it's important to note that it did originally cost $299, and the second generation Nexus 7 shipped with an incredibly well calibrated IPS display at a price of $219 over two years ago. Even with that compromise, I don't know of any current Android tablet that competes at this price point, especially when you factor in NVIDIA's very good track record with releasing Android updates in a timely manner, and the relatively few alterations they make to the Android interface. That coupled with the possibility of game streaming from your NVIDIA PC, and the existence of stylus and controller peripherals made by NVIDIA, make the SHIELD Tablet K1 a pretty unique tablet that's definitely worth considering.
If someone is looking for a high end Android tablet, then the
Galaxy Tab S2
is going to be their best option.
I reviewed the Tab S2 recently
, and while I praised its thin and light build, and high quality AMOLED display, I wasn't fond of the use of plastic, the performance, or the battery life. Software aside, the iPad Air 2 is better in pretty much every respect, and so this is really an option for users who want to stay within the Android ecosystem because of functionality that doesn't exist on iOS, or an existing library of apps that they wouldn't be fond of buying again for iOS. Samsung does try to offer tablet-oriented features, like their multitasking features. Unfortunately, they end up being limited by what changes they can make to core parts of Android without breaking other parts of the system, and so some of the features are implemented in a less than optimal manner. Despite that, out of all the Android tablets I've looked at this year, the Tab S2 is the best one even with its flaws.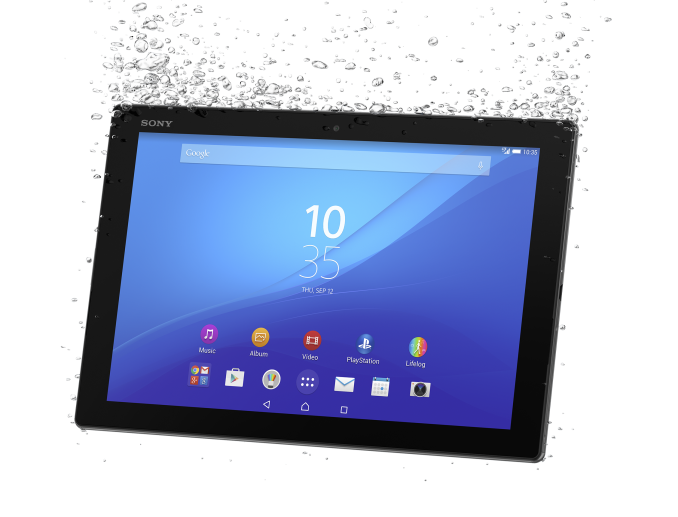 There is one other device that may be worth considering, although I personally can't speak for or against it as I wasn't able to review it this year. That tablet is the
Sony Xperia Tablet Z4
.
While I am skeptical of a device powered by Snapdragon 810, the Z4 offers some pretty interesting features like waterproofing, and for a full size tablet it's pretty thin and light. I really wanted to take a look at it but wasn't able to source a review sample, and so I can't really give a definitive answer on whether it's worth purchasing but it's certainly something I would take a look at myself if I was planning on buying a tablet this holiday season.
Windows Tablets
Much like how the iOS tablet market is really an iPad market, the Windows tablet market is pretty much a Microsoft Surface market at this point. I haven't really seen any successors to the inexpensive Bay Trail tablets from a year or two ago, which suggests that Intel's contra revenue strategy has winded down. Most Windows tablets from this year have really been 2-in-1 laptops that either have a rotating hinge or can be split into two parts. That latter segment hasn't seen an enormous number of product launches either. There certainly have been some notable ones like the ASUS T300 Chi, but they often end just being both a mediocre tablet and a mediocre laptop, and you're better off getting a device that does one of those things really well rather than something that does both poorly. Meanwhile, convertible devices like the HP Spectre x360 can be great laptops, but the convertible form factor means that you always have the mass of the keyboard half of the laptop attached, and I've yet to see one that even remotely approaches being light enough to use as a tablet.
With all that in mind, the only two Windows tablets that I truly feel are worth recommending are the
Surface 3
and the
Surface Pro 4
. Going back to what I said in an earlier paragraph about balancing tablet and laptop functionality, while parts of Windows like window management and managing a file system are unwanted by some users, for others they are absolutely essential features to have available. That's why the choice between the two really depends on your workflow, and what sort of experience you're hoping to get from a tablet. If you're a user who wants something that's more similar to a full fledged Windows laptop, but that can also act as a tablet at times, then the Surface tablets are by far your best options. Not only that, but you get a Windows experience that is free of preloaded software and the rarely useful utilities that OEMs tend to include.
The entry model in the Surface line is the Surface 3. This is both a smaller and less expensive device than the Surface Pro 4, but it still runs a full copy of Windows. The display is a 10.8" 1920x1280 panel with a high degree of color accuracy, although I think the resolution is too low for a tablet that starts at $499. Inside is an Intel Atom x7-Z8700 SoC, along with 2GB of RAM and 64GB of eMMC NAND in the $499 model, or 4GB of RAM and 128GB of NAND in the $599 model. The additional RAM and storage for $100 is definitely worth it if you plan to be running any serious Windows software, although as the price moves even further beyond $499 the display's low pixel density becomes more difficult to overlook. Adding on Microsoft's Surface Pen bumps the price up another $50, and the Type cover is $129 so the cost of the accessories brings the price up fairly quickly. It's also worth noting that the Surface 3 doesn't come with the infinitely adjustable hinge of the Surface Pro 3 and 4, which might be an issue for some users as you'll be limited to three fixed angles.
Of course, the flagship Surface tablet is the recently launched Surface Pro 4. The Surface Pro 4 comes in several configurations, and when you include the BTO models there are far more than I could list here. The pricing ranges from $899 for the fanless model with an Intel Core m3-6Y30 CPU, a 128GB PCIe SSD, and 4GB of RAM, to a whopping $2699 for a dual core Intel Core i7-6650U, 16GB of RAM, and a 1TB PCIe SSD. The average price for the Surface Pro 4 should make it pretty clear why I think it ends up competing more with high end laptops than iPads or Android tablets, but it is technically a tablet. That being said, the base model isn't really any more expensive than the iPad Pro once you factor in what Apple charges for accessories, and for that price you're getting a device that you can really use like a full fledged laptop which will certainly appeal to many people.
As far as common specs go, every Surface Pro 4 has a 12.3" 2736x1824 display, 802.11ac WiFi, and Microsoft's Surface Pen included. The battery capacities do vary based on the CPU you get, and the Core i5 and Core i7 models aren't able to be passively cooled like the Core m3 model is so they do use a fan for cooling. Microsoft's Surface Type Cover will still run you $129 on top of the price of the tablet, or $159 if you opt for the version that has a fingerprint scanner for authentication.
Both Surface tablets can legitimately replace a full fledged Windows laptop, and in part that's because they excel at the types of tasks you would do on a laptop. I definitely wish the Windows Store had a wider selection of Modern UI apps that would allow you to use more like you would use an Android tablet or an iPad, but I also think that many of the buyers interested in a Surface 3 or Surface Pro 4 want one specifically because it can run all of their existing Windows software, and so for those users the lack of tablet-oriented apps may not be an issue at all. If you fall into that category, I really recommend you take a look our reviews of the
Surface 3
and
Surface Pro 4
, because Microsoft has executed the hybrid laptop/tablet idea better than any other company has.

Read More ...
---
AMD's Radeon Software Crimson Driver Released: New Features & A New Look
At the tail-end of 2014 AMD launched their Catalyst 14.12 driver set, better known as the Omega driver set. With Omega, AMD shifted their development process for the Catalyst driver set, focusing on delivering feature updates in fewer, larger updates while interim driver releases would focus on bug fixes, performance improvements, and adding new cards. The Omega release in turn was the first of these major releases, delivering a number of new features for Catalyst such as Virtual Super Resolution, preliminary support for FreeSync, and of course a number of performance improvements.
When briefing the press on Omega, one of AMD's points was that if it was successful they were intending to make it a yearly release – in essence putting major feature updates on a yearly cadence – and after the reaction to Omega AMD has gone ahead and done just that. So launching today and serving as the cornerstone of AMD's video driver plans for 2016 is this year's major update, Radeon Software Crimson Edition.

Read More ...
---
ARM on AMD: The A1100 Seattle Silicon at SuperComputing 15
following AMD's efforts with ARM intellectual property would have had on their periphery the noise of the A1100 product
aimed at servers, codenamed Seattle. The idea was to use AMD's back-end expertise to produce a multi-core ARM chip based on eight A57 cores for server and professional embedded systems, supporting up to 128GB of RDIMM memory and two 10GBase-KR Ethernet ports. The secret sauce of the processor is in the co-processors – a cryptographic one to offload dedicated acceleration of encryption/decryption or compression/decompression, and a system control co-processor that focuses on security and acts like a 'processor within a processor' with its own Ethernet connection, RAM, ROM and IO connectivity for remote management and sensing.
The chip was designed to be the 'scale-out' ARM part that Calxeda attempted to produce with Cortex A9's, but only marginally edged out a dual-Xeon running virtual machines – the step up to a more powerful core was vital to attack this element of the industry. Despite Calxeda's attempts at dense web-server traffic requests, AMD is focusing more on the data center where it feels this chip is more suited for. So even though there have been many delays with the hardware, missing its original time-to-market window by at least nine months, I finally got to see the silicon for my own eyes.
Starting with the platform it is in: this is the SoftIron Overdrive 3000. The silicon has access to eight SATA ports and eight PCIe lanes by default, along with a dual-channel memory controller, but what was interesting in this device was that there are six other SATA ports but no extra controllers. I quizzed the ARM personnel around the product and they said that a future chip might support more SATA ports, so this was almost a long-term drop-in PCB so for the second generation it doesn't need a redesign. But this mini-server design is meant for that simple integration into a rack as an ARM development platform or connecting ARM to an accelerator/storage subsystem.
We also had the HuskyBoard from 96Boards on display, aimed at the embedded development market with the same A1100 silicon in the center but with access to a slot of memory on each side (one on the rear), various power options (seems like DC-In and Molex) and a full PCIe 3.0 x8 slot. This almost looks like one of the maker boards we commonly see with other ARM based solutions.
There we go, it exists! Speaking to other people in ARM, they are actually quite pleased that it is now in production, and they are also impressed with the internal metrics they are seeing from it. The march on ARM for server and embedded has been fraught with peril if you go too big too fast, but I wonder how many resources AMD is still putting into this project rather than their core business units.

Read More ...
---
Creationists are Mad About Google Doodle Depicting Evolution
Daesh (the so-called "Islamic State") probably isn't very happy either

Read More ...
---
Available Tags:
Motherboards
,
Dell
,
AMD
,
Radeon
,
Driver
,
Google
,