Australia bans 220 games in 4 months
Did you hope the
introduction of the R18+ rating
would see fewer games banned in Australia? Well, the last four months has seen Australia ban 220 video games – more than four times as many as were banned for the entire period of 1994-2014.
The enormous increase in bans is the result of more games being refused classification – making them illegal to sell in Australia – following a Federal Government decision to adopt a new model for classifying games sold digitally.
From today, Australia is officially participating in a program that aims to regulate the overwhelming number of games released through online channels. The program employs the International Age Rating Coalition (IARC) tool, which has already been adopted by the USA, Canada, Brazil, UK, and most of Europe.
In the past, games released through digital outlets were able to avoid classification in Australia, but the adoption of the IARC model means this is no longer the case.
Got game?
The reason for Australia's adoption of the program is that the sheer volume of games released through digital shopfronts is prohibitively huge, and simply too much for Australia's Classifications Board to tackle.
An Attorney-General's Department spokesperson acknowledged this, saying: "Due to the online explosion, there are hundreds of thousands — if not millions — of games currently available online.
"It is not realistic or practicable for the Classification Board to manually classify each of them."
Similarly, the Interactive Games and Entertainment Association (IGEA) has welcomed the Government's move, pointing out that around 200,000 titles have been released online in the past year, while the Classification Board only has the means to classify around 400 titles annually.

Read More ...
---
Updated: The VR race: who's closest to making VR a reality?
The VR race: Valve, Sony, Microsoft and Oculus
Update:
E3 2015
revealed quite a lot about the
Oculus Rift
,
Microsoft HoloLens
and new partnerships that we didn't see coming. Read on to find out what it means for the virtual reality race.
Article continued below ...
When it comes to emerging technologies, numerous tech companies appear to be eyeing virtual reality as a veritable New World ripe for plunder. The technology itself, of course, has existed for decades in one form or another; however, it's only been able to offer little more than novel functionality for consumer-facing markets.
But VR technology has evolved dramatically in recent years and the industry is now heating up and heading towards a virtual arms race.
Companies like Samsung, Sony, Google and Oculus are now all names associated with VR for gaming, social and mobile platforms - and they're all getting closer to bringing their products to market, but how fully realized will the products be?
Now that Microsoft has officially entered the playing field with the HoloLens - which focuses on augmented reality, or
holograms
- will AR finally secure a place under the spotlight too?
Let's take a look at how the virtual competition stack up so far.
VR dream team: HTC Vive
In a move few saw coming, Valve, creator of popular PC gaming platform Steam, teamed up with mobile company HTC to create the
HTC Vive
. Not many have been lucky enough to get their hands on the new VR contender, but those who've seen it, have been floored by its superb graphics and VR immersion.
Running the SteamVR platform which has been in beta since January of this year, the Vive is designed to be high-end hardware which brings clearer, crisper images than other VR headsets- and allows for real time 360 movement within the virtual reality landscape.
37 sensors connect to two wireless infrared cameras on the front of the head mounted display, and the head straps are similar to most other HMDs out there. Further specs have yet to be released though the Vive is supposed to hit shelves during the holiday season - which seems ambitious at this point.
Potential Competitive Edge:
Just like Sony and Microsoft, Valve and Steam have a diehard following. If anything can push the Oculus Rift off its pedestal, it's the Vive.
Both are PC oriented headsets and tethered but the Vive seems to be more interactive at this point, with goals aligning closer with the Morpheus's. Like Sony's device, the Vive has controllers which brings forth another piece of interaction within the virtual world. Oculus on the other hand seems set on proving it can provide experiences, leaving the peripherals to third parties.
Pricing will be a tricky point for the HTC-Valve love affair. Apparently it will
cost an arm and a leg
- though most if not all the VR headsets will likely be pricey.
Console gaming and VR: Sony's Project Morpheus
Virtual reality for console gamers may not get more in-depth than Sony's
Project Morpheus
. Reviewers commented that the product feels "more polished" than other products reportedly close to market, including the Oculus Rift.
GDC 2015
saw the latest iteration of the Morpheus complete with updated specs and a firmer release timeline of "early 2016."
Previously 1080p HD LCD display coupled with a 90-degree field of vision and less LED lights for tracking, the headset now has a larger 5.7-inch OLED screen with 1920 x RGB x 1080 resolution. The field of view has been stretched to 100 degrees, and it now supports an impressive 120fps output (a new SDK will let 60fps images output at 120fps, too).
Like many of these devices in the development phase, a chief concern is the weight of the headset. Wearing heavy VR headsets for longer than 15 minutes ruins the experience with the possibility of sore neck muscles and headaches. The newest Morpheus seems to alleviate these issues by lightening the load and configuring various components inside to make it weigh less.
Potential Competitive Edge
: Sony has its own movie and television studios, a huge pile of cash and the
PS4
to its credit. This means the company can supply much of its own content, and that it has a ready-made legion of loyal gamers at its disposal.
While Sony's initial aspirations for its VR headset seem to be a little more limited in scope than Facebook's, they are no less ambitious. When the project was announced last March (perhaps no coincidence that this was roughly the same time Facebook acquired Oculus), SCE President
Shuhei Yoshida went on record
to say, "Project Morpheus is the latest example of innovation from SCE, and we're looking forward to its continued development and the games that will be created as development kits get into the hands of content creators."
Promising reports from tech reviews also appear to indicate that there is little downside to the Morpheus at this stage in its development. It would seem that Sony currently is firing on all cylinders with its VR offering.
No longer lagging behind: Microsoft HoloLens
Microsoft also had a tidbit of information to spill about the future of the HoloLens and gaming during GDC 2015. Head of Xbox Phil Spencer led a
panel
discussing the importance of games on the augmented reality device where he said, "We see this as a full Windows 10 device with holographic capability,"
Spencer added that the HoloLens APIs will be made available with
Windows 10
gaming SDK.
The seven year project has been under wraps for a long time though Microsoft is a late-comer to the VR/AR party with its latest offering: the HoloLens. The
FOVE
was previously on this list as the closest to virtual reality Microsoft ventured into, but it seems like augmented reality is where the company is headed now.
Not much else has been mentioned about the AR device in terms of pricing, but Microsoft is shooting for the same release date as Windows 10 - which is pretty ambitious considering it's been rumored as June 2015.
Aside from giving the HMD a fancy marketing spin - holographic projections opposed to augmented reality, Microsoft invented a third processor: a holographic processing unit or HPU. The HoloLens also includes a CPU and GPU as well. The HoloLens will be wireless, meaning users can move and interact untethered in the world around them as they simultaneously view and interact with projections. It also doesn't need a PC connection or phone to operate making the battery life questionable as it's unknown at this point.
A service called Holo Studios lets HoloLens users create 3D objects, moving and manipulating projected images in space. These creations can then be 3D printed.
Potential Competitive Edge
: Like Sony, Microsoft's
Xbox One
allows for a very clear path to market. And if paired with the console, this headset could make for an incredibly versatile device with a wide range of both gaming and non-gaming applications.
Our hands on with the HoloLens provided a pleasantly surprising experience - one that left skeptics in awe at how well the HMD actually works. It looks like it's past the prototype stage but it still has a long way to go. It doesn't seem likely to launch on time this year considering the device seems pricey to manufacture.
The promising hardware and software coupled with the untethered aspect - if it doesn't suck up all the battery life - could make the HoloLens the biggest achievement for Microsoft in the augmented reality space.
If it fails
however, Microsoft will have the security of its virtual reality
partnerships with both Valve
and
Oculus
.
Industry leader: Facebook's Oculus Rift
If smartphone headsets are the toe-in-the-water version of VR, then Oculus is on an Olympic-diving-board level. Remember that duct-taped Oculus VR prototype with the bulging cable headdress from 2012? That was ages before
Facebook bought the tech startup
for $2 billion in March, 2014. The company's previous development kit for its flagship VR headset, the Oculus Rift (dubbed Crescent Bay by the dev team), was the industry's leader by a massive margin.
Thanks to a pre-E3 2015 conference, we know the Oculus Rift will ship with an Xbox One controller and Oculus Touch controllers later on.
Even better, the company has finally revealed the final consumer version of Rift along with the
release date
of Q1 2016. This aligns with the Project Morpheus's slated launch as well, meaning 2016 is the year we'll finally see VR thrive at home.
Potential Competitive Edge
: The Oculus Rift has both a ton of hype and a boatload of name recognition working in its favor. Additionally, creating its own controllers is a welcome change from the company's previously wishy washy responses about peripherals. Partnering with Microsoft to ship with Xbox One controllers is also a smart move for both companies.
The device's substantial backing by Facebook also ensures it's not going to be looking for financial support anytime soon. Now with a the double whammy of a release date and astoundingly immersive Oculus Touch controllers, Oculus seems poised to take the VR crown.
The only problem? You'll need a pretty
good PC to play
with the Oculus. Aside from the gamer crowd, most people won't have a heavy duty computer, nor will they spend money on one which puts the Rift in a tight spot.
The VR race: Samsung, Google and Razer
Sleek mobile integration: Samsung's Gear VR
Google may want to bring low-cost VR to the masses, but Samsung's
Gear VR
headset makes mobile virtual reality look sleek and seamless with its dedicated platform.
The big reveal for Gear VR happened during
IFA 2014
. The differentiating factor for this headset is the addition of the
Samsung Galaxy Note 4
- meaning Gear VR isn't a standalone device. In fact, there is a compartment at the front of the device for the handset.
Gear VR hasn't been a complete letdown and is in fact, pushing VR along quite nicely. It's helping spawn a mobile VR movement of sorts and with the help of Oculus, the tech seems to sound so far but devs need to step it up and provide more VR experiences.
During MWC 2015, Samsung announced yet another Gear VR making it two mobile VR devices from the company and Oculus. Rather than using a Note 4, the
newest Gear VR
remains an Innovator's Edition that will harness power from the
Samsung Galaxy S6
and the
Galaxy S6 Edge
- devices supposedly even better than the Note 4 version of the untethered headset.
Potential Competitive Edge
: Like Sony, Samsung is capable of putting an enormous amount of funding behind this project. In recent years, the company's smartphones have garnered an enormous base of loyal followers to rival (or even surpass) Apple's iPhone. The Gear VR is also the first virtual reality device to make it to market - plus the first VR mobile device to boot - and it isn't completely horrible.
Despite being the little cousin to
Oculus Rift
, the Gear VR and all its iterations may win the hearts of the public purely because of its portability.
YouTube : https://www.youtube.com/watch?v=jvDb0C5pGYI
DIY virtual reality: Google Cardboard
While many VR companies look to create all-inclusive headsets that use their own operating systems, tech giant Google has gone a decidedly different route. The company's developers wanted to create a way for people to enjoy virtual reality that didn't involve expensive equipment.
What they came up with is "I/O
Cardboard
" - a cut-and-fold VR headset that integrates with any Android phone and its corresponding Cardboard app. The strategy takes aim at democratizing the VR movement by putting headsets into the hands of consumers and developers who may otherwise consider products like these well out of their price range.
Cardboard is an open-source project, which leaves the development field wide open for whoever thinks they can improve on what Google has started. The full design specs to create a Cardboard prototype are
available through Google
for free.
At the latest IO event,
Google announced a new Cardboard
- one that's even simpler to make if you can believe that. The app is also officially available for iOS users. Various Cardboard models now allow larger phones to fit as well.
Potential Competitive Edge
: Google's R&D department is massive, and the company is well-known for its clever designs. It also isn't afraid to take risks in pricing to get its foot in the door against much higher-priced devices (just look at the
Chromecast
). Additionally, some industry observers have speculated that this could lead to some sort of VR integration with Google Glass further down the road.
It seems unlikely, though, that Cardboard will be able to compete directly with some of the more advanced and full-featured headsets in the market. Google also has a pretty significant
graveyard of abandoned projects
, and only time will tell if Cardboard's headstone will be among them.
At the moment, Cardboard is still managing to stay afloat because of its low price, simple design and portability. Its allowance of iOS devices also allows greater accessibility for people curious about trying VR.
Google teams up with LG: VR for G3
Little is known right now about
VR for G3
except that Google software will be used to create a virtual reality environment. The design of VR for G3 is based on the blueprint for Google Cardboard. VR for G3 is also reminiscent of Samsung Gear VR since it uses an
LG G3
phone to provide the visuals and sound.
It will also feature a special "neodymium ring magnet" that uses the phone's gyroscope to let users control it without touching the display.
Potential Competitive Edge:
Pricing is key here. If
Galaxy Note 4
owners are willing to buy the Gear VR, G3 owners may be drawn to the VR for G3. But phone-specific tethering could also kill both VR devices. It's also unclear how well the G3 VR works at this point but the power of Google may help the tech succeed.
Then again, the hype over
Google Glass
didn't do it any good since it's been
shelved
for the unforeseeable future.
Seeking standards: Razer OSVR
OSVR is Razer's answer to the Wild West of virtual reality. The company created a new platform called Open-Source Virtual Reality (OSVR) in an attempt to unify those in the VR field, and people who want a piece of the VR pie. Essentially, the open platform is free and will allow third parties to design and build their own apps and hardware across any operating systems, including Windows, Android and Linux.
The OSVR is available limitedly to developers now, with public access arriving later in 2015
But that's not all from Razer. The company also announced a VR head mounted display its calling the
OSVR Hacker Dev Kit
. The HMD isn't close to being ready for consumers from our hands on during CES, but the prototype promises to be modular and like the software, completely open.
Potential Competitive Edge:
If Google is trying DIY VR, Razer is taking it to another level. The company promises it will be modular and like the software, completely open. Design schematics for the hardware will even be available to print out on 3D printers. But from our hands on during CES, the HMD is far from ready for consumers and is still very much a prototype right now.
Will Razer at least win in terms of standardization? It seems like
more companies
are jumping on board the OSVR train. If hardware won't win, the software and platform may come out on top.
The final verdict? Still unclear
So do any of these companies truly have a decisive advantage? To some extent, arguments could be made for most of these headsets. Oculus currently is still considered the industry leader and now that it's closer to release - with its own set of peripherals - it has set the bar even higher.
At this point, Sony's
Morpheus
appears to be Oculus's strongest competition - and though it's not virtual reality, the
Microsoft HoloLens
is certainly a big player.
It's also worthwhile noting that Sony and Samsung both are extremely well-funded where Sony in particular, can leverage its
PS4
consumer base to hit the ground running with its headset. Microsoft, of course, possesses a similar advantage with its
Xbox One
fans.
While its headset's functionality likely will be used with smartphones, Samsung does have a wide app and gaming environment to help bolster its offering. There may also be other unexplored advantages to coupling a 3D experience with the convenience and portability of a smartphone. Google Cardboard, too, could find itself benefitting from this paradigm, with VR for G3 and even with the
Project Tango
tablet.
In the end, the future of VR headsets will inevitably revolve around these devices' ability to make gamers (and then, presumably, the wider non-gaming market) want to use them. That means the goal is making them affordable, wearable and better at creating a compelling graphical experience than the current model. In either case, the public will find out who truly has the upper hand in a matter of months.

Read More ...
---
Are these the first iPhone 6S photos?
Apple's new iPhone is likely arriving in September with
iOS 9
, but unconfirmed photos suggest that it'll be an incremental update, and shoot down more wild theories.
That's a relief to case and accessory makers and owners, and it makes sense. Apple stuck to the same form factor with the
iPhone 5
and
5S
, and before that the
iPhone 4
and
4S
.
Today's leak is said to account for the 4.7-inch iPhone 6S external metal casing, leaving open the possibility that a 5.5-inchj
iPhone 6S Plus
could still have a different thickness or width.
No iPhone 6 dual camera lens
One of the most exciting iPhone 6S rumors in recent weeks regards a potential dual-lens camera on the back of the smartphone, akin to the
HTC One M8
.
A dual-lense camera in the new iPhone could increase the quality of digital zoom and allow for more light to reach the camera sensor, but it may not happen this year.
Bursting that theory, the rear shell in today's photos look identical to those found on last year's iPhone 6, notes 9to5Mac.
The camera, microphone and LED flash holes seem identical. The same can be said about the headphone jack, microphone, Lightning port and (somehow still) mono speaker holes.
Internal changes abound
Form factor isn't everything, as we've seen in past odd-numbered years from iPhone upgrades. The iPhone 6S is likely to boast plenty of internal changes.
Rumors are strong with a Force Touch display that mimics the pressure-sensitive
Apple Watch
screen and the
New MacBook
trackpad.
iPhone 6S specs are likely to include the next-in-line Apple A9 processor and Apple M9 motion co-processor, all backed up by a
2GB of RAM
, a first for an iPhone.

Read More ...
---
Apple has a new plan to replace your dying batteries sooner
Apple has updated its extended warranty policy, which will now allows users to replace the battery in their iDevice a lot sooner than before.
The
updated AppleCare+ policy
now states that Apple will replace the battery or entire device if "... the capacity of the Covered Equipment's battery to hold an electrical charge is less than eighty percent (80%) of its original specifications..."
The new threshold is a pretty large increase as previously the policy only allowed iOS device batteries to be changed after health dropping to below 50%.
New batteries for all
The policy covers the batteries in all
iOS
and
OS X
-toting devices now as well, including the
Apple Watch
,
iPad
,
iPhone
and
Macs
.
This will be welcome news for Mac owners, who were only covered for manufacturing defects and not for performance degradation before the policy update.
Currently, the AppleCare+ extended warranty policy, which can be purchased through Apple, is only available for devices purchased after April 10, 2015.

Read More ...
---
Updated: 9 Best Ultrabooks 2015: top thin and light laptops reviewed
Best Ultrabooks
Updated:
The world's lightest laptop, the Lenovo LaVie Z has been added to our list of the best Ultrabooks.
The term Ultrabook was coined by Intel, and it specifies laptops with particular specifications, separating them from other ultraportable laptops.
They all have Intel Core i3, Core i5 or Core i7 processors, fast SSD storage to some degree, and now USB 3.0 connectivity, for speedy file transfers.
Ultrabooks are made with design in mind, so they tend to start from around $999 (around £584, AU$1,064) in the lower end, going to nearly $2,000 (around £1,169, AU$2,131) at the very high end.
Ultimately, you're likely to spend between $899 and $1,500 for a newer model, though you can get some older models for good prices. Below are the six best Ultrabooks at the moment, based on our latest reviews.
1. Dell XPS 13
Possibly the best laptop on the planet, Dell's latest is a masterpiece
CPU:
Intel Core i5-5200 |
Graphics:
Intel HD Graphics 5500 |
RAM:
8GB |
Screen:
3,200 x 1,800 |
Storage:
230GB SSD |
Connectivity:
802.11 AC, Bluetooth 4.0 |
Camera:
720p |
Weight:
2.8 pounds
Gorgeous display
Super lightweight
No ethernet port
Off-centre webcam
The new Dell XPS 13 is a 13.3-inch notebook, but it has the small footprint of an 11-inch machine. Fortunately for us, the XPS 13 isn't all beauty and no brains. This laptop features the horsepower to make work and play enjoyable, and it has just enough battery life to never leave you in a lurch. Regardless of whether you choose to upgrade to the touchscreen quad HD+ version, or if you stand pat with the full HD model, the Dell XPS 13 will provide you with a delightful experience for years to come.
Read the full review:
Dell XPS 13
2. Asus ZenBook UX305
A truly excellent ultrabook at a very agreeable price point
CPU:
Intel Core M 5Y10 |
Graphics:
Intel HD Graphics 5300 |
RAM:
8GB |
Screen:
13.3-inch 1920x1080 |
Storage:
256GB SSD |
Connectivity:
802.11n + Bluetooth 4.0 |
Camera:
720p |
Weight:
2.6 pounds
Very thin and light
Incredible performance
Wonky video driver
Tinny speakers
The ZenBook UX305 is a superbly-built, fully metal machine that's thin, light and very attractive. This lightweight system' also easily handled all my daily tasks whether I was browsing the web, watching video or editing images. What's more, you can get excellent battery life out of the machine considering its 1080p display. Of course, the most striking thing about the UX305 is that it comes at a $699 or £649 (about AU$902) price. This is a great price for any mobile computing machine, but in this case you're getting a premium, full-metal Ultrabook with an excellent full HD display and a 256GB SSD to boot. While isnt' exactly a shining symbol of innovation in the Ultrabook space, it is the most affordable Ultrabook out today and it won't disappoint you.
Read the full review:
Asus ZenBook UX305
3. Asus ZenBook Pro UX501
An attractive alternative to a certain fruit-flavoured laptop
CPU:
2.6GHz Intel Core i7-4720HQ |
Graphics:
NVIDIA GeForce GTX 960M |
RAM:
16GB |
Screen:
15.6-inch, 3840 x 2160 IPS Display |
Storage:
512GB PCIe x4 SSD |
Connectivity:
Intel PRO Wireless AC 7260 + BT Wireless LAN Combo |
Camera:
Built-in 720P Video Camera |
Weight:
5.0 pounds |
Dimensions:
15.08 x 10.04 x 0.84 inches
Bright, vibrant screen
Excellent performance
Feels heavy
Mediocre battery life
If you're looking for a laptop with a little more meat on its bones but don't want to break the bank, the Asus ZenBook Pro UX501 is a stylish contender. It features a bright, vibrant 4K display and packs a capacious, highly responsive storage drive that flies.
There's extra beef under the hood in the form of an Intel Core-i7 chip inside and discrete Nvidia GeForce GTX 960M graphics for gaming and graphics work. That high-resolution display is something of a battery drain, and it's not the lightest laptop around, but if you're not planning on lugging it around too much then the UX501's meaty innards and affordability make it an attractive option for content creators and media buffs alike.
Read the full review:
Asus ZenBook Pro UX501
4. Lenovo LaVie Z
The lightest Ultrabook in the world
CPU:
2.40GHz Intel Core i7-5500U |
Graphics:
Intel HD Graphic 5500 |
RAM:
8GB |
Screen:
13.3-inch WQHD (2560 x 1440) LED anti-glare |
Storage:
256GB SSD |
Connectivity:
Wi-Fi 802.11 ac and Bluetooth 4.0 |
Camera:
720p HD |
Weight:
1.87 pounds |
Dimensions:
12.56 x 0.67 x 8.35 inches
Core i7 processor
Excellent WQHD screen
Mediocre battery life
Astronomical price tag
By creating the 1.87-pound LaVie Z, Lenovo has created the lightest laptop in the world. Aside from its lightweight chassis, the Lavie Z offers performance and display are among the best available today. However, the laptop's somewhat questionable build quality, inferior battery life, and inflated price tag are qualities that will turn many off from what is an otherwise splendid device.
Read the full review:
Lenovo LaVie Z
5. HP EliteBook Folio 1020 G1
A thin, attractive business laptop posing as an Ultrabook
CPU:
1.2GHz dual-core Intel Core M-5Y71 |
Graphics:
Intel HD Graphics 5300 |
RAM:
8GB |
Screen:
value |
Storage:
256GB M.2 SSD |
Connectivity:
value |
Camera:
value |
Weight:
value |
Dimensions:
value
Sleek design and tough construction
Fingerprint scanner, enterprise security
Underpowered Intel Core M performance
No full-sized SD card reader
Although it has the look and body of an Ultrabook, the HP EliteBook Folio 1020 G1 is very much a business laptop in disguise. Underneath its MacBook Air like exterior, this machine packs plenty of enterprise perks including fingerprint scanner, enterprise security and the durable build quality to meet a Military Specifications certification.
At the same time though, the HP Folio 1020 G1 has a gorgeous design that's atypical of business-class notebooks. Cloaked in a unibody aluminum shell, the fanless Folio is one of the lighter, more attractive business portables in the world. Add in a gorgeous QHD screen, comfortably ergonomic keyboard, and this premium business machine is well worth its slightly premium price tag.
Read the full review:
HP EliteBook Folio 1020 G1
6. Lenovo Yoga 3 Pro
A triumph for design, Lenovo's flagship is impressive if a little pricey
CPU:
Intel Core M |
Graphics:
Intel HD Graphics 530 |
RAM:
8GB |
Screen:
13-inch 3200x1800 |
Storage:
256GB SSD |
Optical drive:
No |
Ports:
2 x USB 3.0 |
Connectivity:
802.11ac |
Camera:
720p |
Weight:
2.62 pounds
Slim and light
Attractive hinge
Quite pricey
Poor battery life
If you're all about style and don't need a super powerful machine, it doesn't get much better than Lenovo's latest flagship Ultrabook. While it may not be as punchy as its predecessor (thanks in part to its low-power, fanless Intel Core M chip), it can still manage all of the usual tasks you would throw at it.
And given its new metallic hinge and super thin design, the Yoga 3 Pro makes a better case than ever for its multitudes of usage modes. At any rate, this is one of the thinnest, lightest and sharpest Windows laptops to date. And while you'll certainly pay for it, the price for such panache will be worth it for style nuts.
Read the full review:
Lenovo Yoga 3 Pro
7. Samsung Ativ Book 9 Plus
With stunning performance and screen, it doesn't get much better than this
CPU:
Intel Core i5 1.6 GHz |
Graphics:
Intel integrated |
RAM:
4GB |
Screen:
13.3-inch 3200 x 1800 |
Storage:
128GB SSD |
Optical drive:
No |
Ports:
3 x USB 3.0 |
Connectivity:
802.11ac |
Camera:
720p
Incredible touchscreen
Excellent battery
It's expensive
Full of bloatware
Samsung was one of the very first PC manufacturers to jump on the Ultrabook bandwagon. It's done a fine job of representing Intel's baby ever since, with some stunning offerings, including the Samsung Series 5 Ultra Touch and, more recently, the top-of-the-line Samsung Series 9 NP900X3D.
Samsung's new Ultrabook: the Samsung Ativ Book 9 Plus (starting at $1,399, £1,412, AU$2,259), might keep the company ahead of the game for a while, at least if its on-paper abilities are anything to go by.
It's a wonderful-looking unit. It's thin and carefully crafted, with shiny, chamfered edges lining its all-aluminium chassis. But its plain black exterior might lend some clues as to its intent: This is premium-priced Ultrabook focused as much on the business user as the coffee shop regular.
Read the full review:
Samsung ATIV Book 9 Plus
8. Lenovo ThinkPad X1 Carbon
An excellent business laptop that (almost) has it all
CPU:
Intel Core i5-4300U |
Graphics:
Intel HD Graphics 4400 |
RAM:
4GB |
Screen:
14-inch, 2560 x 1440 IPS |
Storage:
180GB SSD |
Optical drive:
No |
Ports:
2x USB 3.0 |
Connectivity:
802.11ac |
Camera:
720p |
Weight:
3.15 pounds
Clever adaptive keyboard
Fantastic design
Generally dim screen
Average battery life
The Lenovo ThinkPad X1 Carbon (starting at $1,186, £1,198, AU$1,699) is a business laptop that straddles the line between form and function more than ever after this update. For those with a penchant for aesthetics, here's a brand new design with some fantastic new features. And to keep the no-nonsense business user happy, this is a plenty powerful piece of hardware.
The connectivity on offer through this Ultrabook's super slim design profile alone is impressive. And the adaptive keys, while divisive, add a ton of function in a limited amount of space and an attractive presentation. Look out, MacBook Pro, you're no longer the only thin and light business option on the block.
Read the full review:
Lenovo ThinkPad X1 Carbon
9. Acer Aspire S7
Acer's luxurious laptop is an ultraportable star
CPU:
value |
Graphics:
value |
RAM:
value |
Screen:
value |
Storage:
value |
Optical drive:
value |
Ports:
value |
Connectivity:
value |
Camera:
value |
Weight:
value
Stunning build quality
Excellent sharp screen
No 802.11ac wifi
Battery life is just 'ok'
For 2014, Acer has updated it's luxury laptop with a super sharp QHD display. This 2560 x 1440 panel is prepared for the day when hyper-HD content is finally viable to watch over wireless internet. In the now, text looks gorgeous, as do images – thus adding to the near-future feel of this device.
The build quality on display here, from the Aspire S7's aluminum and Gorilla Glass frame is palpable. That goes for the snappy keyboard, with its fancy electroluminescent lighting, too.
The Acer Aspire S7 (starting at $1,349, £1,199, AU$2,599) truly feels like a machine built for the now, 2014, and one that you won't mind using well into 2016, possibly longer. So, love the Aspire S7 for its cutting edge build, fine typing experience and premium specs.
Read the full review:
Acer Aspire S7

Read More ...
---
iOS Tips: How to cancel Apple Music's auto-renewal so you don't have to pay
The highly anticipated
Apple Music
subscription service has arrived, bringing limitless song streaming to the seemingly endless iTunes library. And the first three months are free!
But when signing up, you'll notice that Apple sets you up to auto-renew at the end of the trial, which means monthly charges of $9.99/£9.99/AU$11.99 (individual plan pricing) or $14.99/£14.99/AU$17.99 (family plan pricing) could kick in without you realizing it on September 30.
Not to worry: you can cancel the auto-renew right now without affecting your free trial, and it couldn't be easier.
On an
iPhone
or
iPad
, go to Settings > iTunes & App Store, and open your Apple ID. Next tap "View Apple ID" and type your Apple ID password to reach the Account Settings screen.
Scroll down until you reach Subscriptions, and tap Manage. Here you'll find everything you're subscribed to, from Apple Music to magazines. Tap your Apple Music membership to bring up details about this subscription. Here you can toggle off auto-renew, or subscribe at any time if you decide to do so.
On a
Mac
, open iTunes and click on the silhouette at the upper-right that sits next to the search field. In the little Account window that pops up, select Account Info.
Type in your Apple ID password to open the Account Information screen; under the Settings category at the bottom, you'll find Subscriptions. Click Manage in the adjacent column to pull up the Manage Subscriptions screen, which lists Apple Music along with other subscriptions you may have for magazines,
HBO Now
, etc. Click the Edit link next to your Apple Music subscription, and you'll easily spot the option to turn off auto-renew.
And that's it! Now there's no chance you'll be charged at some future date, so you can enjoy your free trial of Apple Music worry-free.

Read More ...
---
Office 365 integration turns Cortana into your work assistant
Cortana takes a bigger presence in the latest Insider Preview
Build 10158
of
Windows 10
, especially for
Office 365
users. Microsoft announced that the Halo-inspired digital voice assistant can deliver alerts for flight information, commuter traffic and package deliveries on the desktop, and Office 365 users can now get a glimpse of their schedule with deeper Cortana integration.
"By integrating with Office 365, Cortana can proactively help you prepare for an upcoming meeting," Microsoft said in a statement. "Cortana brings you helpful information about the people you're meeting with, recent documents they've worked on, and reminders about when and where you need to be next so you won't be late."
Your office assistant
Screenshots posted by Microsoft show that Cortana can complement your schedule with glanceable information, like the weather forecast. On
Windows 10 Mobile
, the screenshot also shows actionable buttons for an appointment entry so you can notify meeting participants if you're running late, or open Skype if it's a virtual meeting. Mobile integration will occur later this year, but desktop and tablet integration is available now.
In another example, Microsoft shows flight information with a flight tracker to notify if your plane is on time. In the same view, Cortana also delivers traffic information to help you get to the airport on time for your flight.
Microsoft isn't the first to roll out proactive or predictive notifications. Rival Google offers similar alerts on its
Google Now
platform, but Google doesn't have deep integration with
Google Apps
.
How it works and how to get it
"Through Office 365, Cortana can pull together insights to help you be more connected – like how you and your colleagues are connected to each other, documents you share and your upcoming meetings with them," Microsoft said. "Cortana will even deliver reminders when that important person contacts you."
Microsoft did not specify where it is gathering the insights to make Cortana more useful for work, but Microsoft demoed various work-related features using data from the
Power BI
platform at the Ignite conference.
"This lets you ask questions like 'which projects are due to be finished by July?' or 'which countries are my best customers in?' or 'how many PCs do my customers have by industry?' – which sound like the questions you can already ask Cortana, just with a knowledge base about your business rather than more general web searches," we reported in May.
To get Cortana integration, you must be part of the Windows Insider program running the latest preview build, have an Office 365 account from work and be part of an organization that supports Cortana through the First Release program. For organizations that do not want Cortana integration at this time, Microsoft allows IT administrators to opt out of Cortana connectivity in the Office 365 Admin portal.
In addition to delivering your daily schedule, Cortana could be used to send emails with your voice. With dictation, you can tell Cortana the email recipient and compose the message with your voice.
It's unclear if Cortana's integration with Office 365 is the same personal assistant project that
Bill Gates
confirmed he is working on. Microsoft is also said to be involved with a
Work Assistant
app.
Windows 10
Windows 10 will be available on
July 29
for customers to download. Microsoft offers Windows 10 as a free upgrade during the first year of release for Windows 7, 8 and 8.1 owners. For ineligible customers,
Windows 10 Home
costs $129 (£99.99, €135) and Windows 10
Pro
will retail for $199. Microsoft has not revealed international pricing for Windows 10 Pro.
Cortana will be one of the highlight features of the operating system, allowing users to search the web, find local files on their systems or network and receive notifications and
alerts
. Other new features included in Windows 10 include the return of the Start menu, new multitasking capabilities, the
Microsoft Edge
browser and Continuum for users who work with convertible notebooks.
In addition to Windows 10 availability, Microsoft has hinted that Cortana could make the leap to competing
iOS and Android
operating systems.

Read More ...
---
Updated: Thanks to Facebook, you've got one less excuse to pay your friends back
Update June 30:
Just over a month after launching in NYC, Facebook Messenger payments are now available to everyone living in the US. No word yet on a global roll-out.
Users can complete person-to-payment payments within Messenger just by adding their debit card information. Any funds you send will go directly into the recipient's checking account.
Facebook promises it's secure, so if you're tired of always owing your pals money, Facebook Messenger payments may be for you.
When the payment option launched in the Big Apple, it brought along a few improvements, including hyperlinked dollar amounts that, when tapped, will automatically start a payment (senders can confirm the payment before it's passed along). Users can also pay individual friends from within a group chat, and people in the multi-person convo can see who has send money and for what amount.
Original article below...
Facebook has launched a new feature for its Messenger app that lets you send money directly to your friends. It's rolling out "over the coming months" in the US and then may (or may not) extend elsewhere.
Simple, quick mobile payments are being built into a whole host of apps and services: Snapchat introduced a similar scheme in the US last November and the feature
arrived in Gmail
for UK users in January.
That's on top of established services such as PayPal and new ones like
Apple Pay
. If you owe your pals a bit of cash then there is now a plethora of different ways to pay them back, with more arriving all the time.
In it for the money
The mass appeal of Facebook Messenger makes this one of the more high-profile options, however. The first time users try to make a payment they'll need to link a valid debit card and set up a PIN.
Facebook is promising "layers of software and hardware protection that meet the highest industry standards" in
the official announcement
. If you're running Messenger on iOS then you can use Touch ID to verify your identity.
The social network already has plenty of experience handling payments of course, from advertisers selling their wares and gamers looking to get to the next level of Bubble Witch, so the launch should be a fairly smooth one.

Read More ...
---
We now know the name of the next Star Trek movie
Director Justin Lin has taken to Twitter to reveal that the next installment of the Star Trek series will be titled "Star Trek Beyond."
"Let the next Starfleet voyage begin! #StarTrekBeyond #LLAP,"
Lin wrote
.
The post also includes a photo of a retro-looking Starfleet arm patch, which we assume is from the set as filming of Star Trek Beyond began in Vancouver last week.
Lin took over the director's helm for the franchise from JJ Abrams, who had directed the first two films of the most recent reboot. Star Trek Beyond is set to release next year, on July 8. That's right in time for the franchise's 50th anniversary on September 8, 2016.
The gang's back again to go beyond
Star Trek Beyond will see Chris Pine, Zachary Quinto, Zoe Saldana and Simon Pegg reprise their roles as the commanding officers of the U.S.S. Enterprise. It's also rumored that Idris Elba will join the cast in an unknown role.
Talking to
Deadline Hollywood
, Lin said that this film will not rehash much from the original TV series, hence the title. "It's all new and fresh," Lin said. "The Klingons, Romulans, and other species are great, but it's time to go further. It has been fun to focus on creating whole new worlds and species."
We'll see how the crowds react to Lin and crew's creations next summer.
Via
The Verge

Read More ...
---
Hands-on review: In Depth: Apple Music
Apple Music review
You can count on one finger the number of companies in the world that could launch a new music streaming service and expect to become a major player overnight.
That company is Apple and today it duly obliged by launching
Apple Music
- the long-awaited music app that integrates subscription-based streaming capabilities with the playback of existing songs in your iTunes library.
So you no longer need to buy an album on iTunes in order to listen to it on your iPhone inside stock apps, you can simply pay $9.99/£9.99 per month and stream as much music as you like directly into your head, preferably via the ears. And you can do it from inside the Music app on your iPhone, iPad and iPod touch, or with iTunes on your PC or Mac.
(An Android app will be available later in the year - an app which is
definitely
still in development and
definitely
isn't being intentionally held back by Apple for, you know, reasons - don't be so cynical.)
Apple Music also offers extensive music discovery channels including round-the-clock radio station 'Beats 1' featuring renowned radio DJs like Zane Lowe, as well as social features that aim to put artists and bands closer to their fans. It's all exciting stuff.
The best thing about all this? Apple is giving everyone three months access to Apple Music as a free trial. That's a killer feature that gives Apple Music a good shot of quickly establishing a respectable subscriber base.
A challenge for Apple
The launch of Apple Music is an enormous moment for the music business, not just because Apple has been such a major player over the last 15 years but also because it's taken Apple so long to get here. After all - music streaming is not a new thing.
Spotify
launched, if you can believe it, seven years ago now. It has 75 million active users around the world including 20 million paying subscribers who have collectively created over 1.5 billion playlists. That's not a temporary deal - Spotify is here to stay and Apple has its work cut out for it if it wants to be the number one.
But as we'll see, Apple's strategy is as self-serving, insular and crafty as usual, with its goal not necessarily to be the number one on the planet from the off, but rather to be a unique and reliable service that can be used in future to sell more iPhones and iPads while becoming a profitable service in its own right.
The basics of Apple Music
Apple Music costs $9.99/£9.99 per month for a standard dose of all-you-can-eat music streaming or 14.99 for a family package which gives access for up to six people.
That pricing is the same as most of Apple Music's competitors, but the family plan is a nice addition and offers real value for money.
Don't even try listening on more than one device at the same time with a standard subscription - you'll be instantly be cut off on one of the devices, given a stern warning and administered with a painful electric shock. One of those things isn't true.
Sound quality is possibly one area of contention, though, because while
Tidal
and others push towards CD-quality music at 1441kbps, Apple Music streams tunes at a fairly pitiful 256kbps, and in the MP3 format as well.
Even Spotify and
Google
are able to stream 320kbps in OGG, a far more accomplished method of music delivery. Come on, Apple, we've moved past 256kbps MP3's by now.
Give us more bits per second!
Focus on music discovery
The Apple Music library is 30 million tracks strong and growing - that's not quite as high as the number of tracks available in iTunes but on a par with Spotify and Google Music which are, lets face it, its biggest rivals.
Any music that you have in your own personal library that perhaps isn't available to stream you can upload to iCloud and have them seamlessly integrated with the other tracks that are natively available. You're currently limited to 25,000 but that will increase to 100,000 when iOS 9 launches.
The service has taken a leaf out of the Tidal playbook by offering playlists created by real, living, breathing (we assume), human music experts and initial signs are positive on that score - I found myself happily sitting through a number of them as I worked this afternoon and for me that shows real patience - normally I don't like anyone telling me what songs to listen to.
And the whole service is underpinned by Beats 1, a real internet radio station in the truest sense.
It's not an auto-generated playlist based on your personal tastes, though Apple has done a good job with those as well, but a full-blown DJ-hosted 24-hour radio station hosted by Zane Lowe and others, designed to help you discover what Apple wants to call "new music".
Whether "new music" to Apple means giving exposure to the indie stars of future or simply being the first to play Kanye West's latest deep sustained booming sounds remains to be seen.
First impressions
I'll be putting Apple Music through its paces for a while before delivering a full verdict, but here are some thoughts while you wait:
As a non-Apple user and someone who abandoned the burning building that is iTunes many years ago, the design of the app is not particularly intuitive. I think the problem is that there is just so much going on in there, finding a place for it all has inevitably led to some compromises in the design. I'll probably get over it but I think it'll put plenty of people off right from the start.
Sound quality is disappointing. I won't labour the point here but in an age where we're pushing for high res music, 256kpbs MP3 just doesn't cut it. It's noticeably inferior to other services when listening with a decent pair of headphones. Sorry Apple, it's not good enough - particularly as you, of all companies, can do a lot better.
Apple has put music discovery at the very heart of this service and I think it works. For those people out there - hey dad - who like music but don't know what to listen to, Apple Music could be a dream come true. I don't usually like to be told what to listen to, but I'm looking forward to testing its effectiveness - does Apple know my music taste better than I do? We'll soon see.
Beats 1 is a backwards idea but I think it's going to really work. Only Apple could pull off a global radio station like this, and while I can't imagine myself listening to it very often - or, let's be honest, ever - a lot of people will, I'm convinced.
The app is slow at times on both my iPad and my iPod touch 5th gen. The app is divided into six main sections - For You, New, Radio, Connect, Playlists, My Music - and switching between them always gives me a spinning wheel of doom. Usually only for a couple of seconds, but still, don't make me wait - I'm impatient.
So to sum up my first couple of hours with Apple Music I'd say that I am impressed. For iPhone and iPad owners who don't currently stream music, it'll be a revelation and I suspect that the more time you spend with Apple Music, the more you fall in love with it.
But whether it's enough to tempt Spotify or Google Music subscribers to jump ship... I have my, albeit preliminary, doubts.
Don't take my word for it though - get stuck in with the free three month trial and let us know what you think of Apple Music in the comments below.

Read More ...
---
How to download music from YouTube
Introduction and music quality
The world's most popular music channel isn't iTunes, Spotify or Radio 1 – it's
YouTube
. 300 hours of video are uploaded to YouTube every minute, and much of that video is music – but it's music in a format that isn't ideal for listening to on portable devices such as smartphones or iPods. That doesn't mean you can't download it or change the format, however.
What you need to know about music files and quality
When you use a service such as ClipConverter, as we'll do in this tutorial, you'll be given a choice of different file formats and settings for the music file you'll create. The options you choose here will affect what devices you can play your music files on, and they can also affect how good the end result will sound.
ClipConverter offers three music options: MP3, M4A and AAC. MP3 runs on almost anything from computers to smart car stereos, and it'll play happily on iPods and smartphone music players too. However, it's a fairly old format and it's not as efficient as more modern music standards, which can store higher quality music in the same amount of space.
ClipConverter's other options, M4A and AAC, are two of those standards. They're widely supported too, but you might find that they won't play on some devices such as USB-enabled car stereos. If they are supported, use them over MP3: they don't include copy protection, and at the same quality settings they sound noticeably better than MP3 files do.
Once you've chosen your format, the next step is to decide what bitrate you want. The bitrate is literally how many bits per second the file format uses – the more bits, the higher the quality. Music file bitrates are measured in kilobits per second, or kbps for short, so an MP3 with a bitrate of 256kbps should be twice as good as an MP3 with a bitrate of 128kbps. And that's largely true, because MP3 uses what's called "lossy" compression.
Lossy compression: what it is, and when it's good
Lossy compression is based on a simple idea: a computer analyses the music and gets rid of anything it decides isn't important. That massively reduces the amount of space a music file takes up – compared to CD quality music files, an MP3 file is roughly one twelfth of the size – but the more you throw out, the poorer the quality becomes.
An MP3 file encoded at 320kbps sounds almost indistinguishable from the original, but the same music at 128kbps is noticeably poorer. Unless you're using really bad headphones or speakers, 128kbps MP3s will sound pretty horrible compared to the rest of your music.
Choosing the right bitrate for YouTube music
Watching a black and white film on a colour TV doesn't magically colourise it, and whacking your audio converter's settings up to maximum bitrates won't magically improve the sound quality of a YouTube video if the original isn't up to snuff.
In most cases, the music you'll hear on a YouTube video is an AAC stream of 128 to 192kbps – even though
YouTube recommends
that video uploaders use a bitrate of 384kbps for stereo audio. That may be for future-proofing, or it may be to get the best results from Google's own music compression, but either way it means there's little point in going beyond 192kbps when you create M4A/AAC files, or around 256kbps for MP3s.
Is downloading music from YouTube legal?
That's a very good question. It's certainly against YouTube's terms and conditions, which say you can only use its content for streaming, and you could argue that it's unethical too: many artists depend on YouTube's ads for their income, so any ad-free playback you do is depriving them of income.
We suspect the legality of this is similar to ad-blocking – content owners would really rather you didn't do it and try their best to stop the tools from working, but there's not a lot they can actually do to prevent you listening ad-free if your listening comes under "fair use" in copyright terms. Then again we're not lawyers, so proceed with this at your own risk.
Step-by-step instructions
Okay, so let's assume you've found an artist who's happy for you to download their music. Here's how to do it.
Step 1
Find the artist whose song or songs you want to download. In this example we're going to use our own music, and we've given ourselves permission to download it because we're nice like that. In the address bar of your browser, select the video's address – it'll be something like:
https://www.youtube.com/watch?v=yIkBID324so
– and use Ctrl-C (Cmd-C on a Mac) to select it.
Step 2
There are lots of YouTube converters out there, but our favourite is ClipConverter.cc as it runs in your browser and doesn't attempt to install unwanted software, toolbars and other irritations. Pop along to
www.clipconverter.cc
and use Ctrl-V (Cmd-V on a Mac) to paste the clip's address into the Media URL to Download box.
Step 3
Click on the kind of file you want to create. MP3 offers the widest compatibility, but M4A and AAC offer better sound quality in smaller file sizes. If you select MP3 you can choose between Auto Mode, in which ClipConverter sets the quality setting for you, or you can uncheck that and choose the bitrate yourself.
Step 4
Click on Continue and ClipConverter will check the URL and detect the video clip. You don't need to change anything here unless you want the very highest quality option. Give the song a file name and then click on Start.
Step 5
ClipConverter will now do its thing – it's usually very, very fast – and present you with a download link. Simply click on that, find the song in your downloads folder and open it to hear the tune in all its glory. You can repeat the process for as many songs as you like.

Read More ...
---
Updated: How to get Apple Music on iPhone, Apple Watch and more
Apple Music is upon us! Coming fresh from its
announcement earlier this month
to its less glamorous
kerfuffle over artists' royalties
, Apple's foray into music streaming has transitioned from making headlines to making its way into homes, starting today with the arrival of iOS 8.4.
What is Apple Music?
Unveiled at this year's Worldwide Developers Conference, Apple Music is an alternative service to the iTunes Music Store that offers unlimited music streaming, akin to competitor Spotify. In addition to music on demand, Apple Music also includes saving music for offline listening, specialty playlists curated by experts, Beats 1 online radio and Siri integration, allowing the digital assistant to take requests through voice commands.
A subscription to Apple Music costs $9.99/month. There is also a family membership for $14.99/month that includes up to six concurrent members. Apple is currently offering a lengthy three-month free trial for new subscribers, beneficial for anyone on the fence about giving the service a try.
I want Apple Music! What do I need?
An Apple ID (Don't have one? You can create an account here)
iCloud Family Sharing enabled (Only if you plan to get the family membership)
A compatible device (details below)
What devices work with Apple Music?
Apple Music is will work on a number of devices, namely the
iPhone
,
iPad
, iPod touch, Mac, PC and even the
Apple Watch
. Android users, unfortunately, will have to wait until the service reaches their platform this fall.
You will have to update your iTunes and/or iOS version to access Apple Music. Not sure how that works? We've got you covered:
Updating your iPhone, iPad and iPod touch
1. Plug in your device to a power supply so the battery doesn't die mid-update.
2. Go to the Settings app and the tap General > Software Update
3. Tap "Download and Install." After agreeing to the Terms & Conditions, and download will begin immediately.
4. Press "Install" after the update is fully downloaded to apply the update and you're set! Apple Music will be incorporated into the Music app, so just head there to enjoy Apple Music's new features.
Updating your iOS device through iTunes
1. Open iTunes
2. Plug in your iPhone, iPad, iPod touch or Apple Watch
3. Click on the device tab in the left-hand corner of the window (for this example, we are using an iPhone)
4. While on the device window, click the "Check for Update" button, under the Summary tab.
5. Choose "Download and Update," instead of "Download Only." This way, the update will be downloaded to your computer and then applied to your device in a single step.
Updating iTunes on your computer
1. Open iTunes
2. If you aren't immediately prompted for an update upon opening, highlight "Help" from the toolbar and select "Check for Updates."
3. Update iTunes, which may take a while depending on your internet connection speed. For best results, restart your computer after downloading the update.
Update:
Users on
Apple's support communities
are reporting that they are unable to update to iTunes v. 12.2, which is required for Apple Music. One user mentioned that Apple Support said iTunes 12.2 will roll out at around 2 pm (presumably Pacific time), so we'll keep an eye out for the update.
Don't have iTunes? Download it for free from Apple's website.
I'm all updated! Now what?
That's it! Once your machine is running the latest version of iOS or iTunes, simply start up Apple Music, select either the Individual or Family plan, and then sign in using your Apple ID to link your account to a payment method. (You can turn off automatic renewal within the app, meaning you can choose to not be charged for any additional months after the trial period ends.
Here's how to do it
.)
Until the three-month period expires, enjoy unlimited music streaming, curated playlists and albums from
Dr. Dre
,
Taylor Swift
, and more.
Still have some lingering questions about Apple Music?
Our extensive Apple Music hub should help.

Read More ...
---
Hands-on review: Olympus Air A01
The interchangeable-lens camera has been an ever shrinking device from full-frame monsters, APS-C sensors to the miniature Micro Four Thirds (MFT) system cameras. Now, Olympus is introducing its smallest camera yet: the Olympus Air A01.
The new pocket shooter is a lens camera much in the same spirit as the
Sony QX1
($399, £250, about AU$520) in that they both rely almost entirely on a smartphone to operate.
It comes outfitted with a 16 megapixel, MFT sensor and a lens mount that will work readily with both Olympus and Panasonic glass. As for the camera screen, you'll have to supply that on your own with an iOS or Android smartphone.
On top of using your phone to see your photos, an accompanying OA.Central app will turn your smartphone into a central hub for everything from composing your shot to editing and ultimately sharing images.
Design
If you've seen Olympus's earlier Open Platform camera, then the Air should look somewhat familiar. Since the camera company initially announced its plans to build a new camera platform, the Air has seen some significant refinements. For starters, rather than looking like an oversized and boxy GoPro, the new Air is a perfect cylinder.
It's also incredibly small, making it perfectly pocketable. Measuring in at 57.1 x 57.1 x 43.6mm (W x D x H) it's compact even compared to the larger 74 x 69.5 x 52.5mm (W x D x H) Sony QX1. In fact, the lens camera is just about the same size as the Olympus 17mm, f1.8 lens.
What's more, while the Sony lens camera has weird outcrops protruding from its cylindrical body, the Air is perfectly smooth on all sides. The Air is also a fair bit lighter, weighing in at only 147g compared to the 216g QX1.
Externally, there aren't many controls on the Olympus Air. Up top, there's a massive shutter button, which makes it easier to trigger the camera no matter how you're holding it. Just below that, you'll also find a small power button, and that's really all there is for controls.
Instead of flicking dials and switches on the camera itself, you'll spend the majority of your time in the Olympus Air smartphone app, tweaking exposure settings and setting up the shot. Thankfully, pairing a phone to the Air is a sinch through NFC or scanning the QR code printed on the device's rear cover.
The Olympus Air comes with a mount for your smartphone to make it one whole, albeit makeshift, camera. Unlike the Sony QX1, the mount does not hold mobile devices flush with the back of the lens camera. Instead, the Air grips smartphones at an angle, making it easier to take photos from overhead or below eye level. Users can also rotate the smartphone mount unlike the Sony QX1.
A whole new world of possibilities
Despite the small size of the camera, the Air can take some truly gorgeous photos. Olympus has equipped its first lens camera with the same MFT sensor taken from the
OM-D E-M10
. The Air also inherits the E-M10's 81 contrast autofocus points – the sensor detects different colors and levels of brightness automatically – and TruePic VII processing engine.
One thing that has been upgraded is the burst rate, which has been increased to 10 frames per second, thanks to the Air's electronic shutter.
Compared to just about any smartphone camera, the Air resolves more detail, fuller colors, better shadows and general better dynamic range. That's not to say you'll be using this lens camera in a studio environment.
However, this camera will up your photography game with better food photos, landscapes, group selfies and just about any picture you would normally take with a smartphone. Don't forget about the extra flexibility either. Because you can point the camera without having to look at the display, you can use the Air can take images from all sorts of new perspectives.
As an added layer of accessibility, the smartphone app comes with an OA genius preset, which takes a single photo you took and transforms it into six variants. Olympus explained that the app creates these six deviations by applying different settings, art filters and cropping images.
From there, you can select a shot that looks best or stick with their original file. Either way the Olympus Air app automatically creates these files. You can also choose your favorite OA Genius-created photos with stars, and the smartphone app will begin understanding your preference.
Of course, more experienced shooters are also free to go fully hands on and manually adjust every aspect of their exposure.
A tiny bit too small
Annoyingly, just about everything on the backside of the camera is obstructed by one layer of plastic or another. At the rear, there's a switch to turn on and off Bluetooth as well as a microUSB connector for charging.
But to get to either, you'll have to take off the smartphone mount. What's more, there's yet another rear cover that blocks access to the microSD card slot.
Additionally, to shrink the Air to such a small size, Olympus sacrificed a few qualities innate to its MFT camera line. Most importantly, the Air does not feature any form of sensor-shifting image stabilization whatsoever. Panasonic lenses with in-image stabilization of their own will work, though.
The Air is also entirely reliant on an electronic shutter (with a maximum 1/16,000th of a second shutter speed) to take photos. Without a mechanical shutter, there's a greater chance images will develop rolling shutter, or the effect of a bent image, if you move the camera – or the subject in the frame is moving at a high speed.
Given the small stature of the Olympus Air, battery life isn't great either. Olympus claims you should expect to get about 320 photos out of a full charge, which should be enough to last several hours of use, but no more than half a day. Luckily, the camera supports USB charging, so at least it can be charged on the go.
Availability and pricing
Priced at $299 (about £190, AU$390), the Olympus Air is just a bit less expensive than the Sony QX1. The Olympus Air will begin shipping stateside this July.
That makes the US the third territory to officially sell the Air, following Japan and Canada. Olympus has yet to announce plans to launch the Air in the UK and Australia.
Early verdict
A few years ago, lens cameras seemed like a strange fad, but with more and more Wi-Fi connected cameras cropping up, it's beginning to make sense. Having a camera that you can use completely independent of your line of sight to a screen or viewfinder opens up a whole new world a photographic possibilities.
You'll have to wait for my full review to see if it works as well in the real world. But for now, the Air shows a breath of promise.

Read More ...
---
Olympus Air gives new meaning to tiny camera, giant lens
Following in the spirit of the
Sony QX1
, the Olympus Air A01 is a new lens camera that hopes to up your photography game with an even smaller smartphone-connected shooter.
No bigger than a simple paper weight, the Air comes packing a 16-megapixel Micro Four Thirds (MFT) sensor, to which users can attach Olympus and Panasonic lenses. While the lens camera does not feature a screen of its own, users can pair the device to their smartphone.
Using the OA.Central app, mobile shutterbugs can arrange their composition remotely while tweaking their settings. Additionally, the app allows users to edit the photos and ultimately share them on the web.
It's the little things
The Air shares the same 16-megapixel sensor and TruePic VII processing engine as the
Olympus OM-D E-M10
.
However, putting the guts of a full-size compact system camera into a compact cylinder has resulted in a few sacrifices. For one thing the Air is not equipped with a mechanical shutter, nor Olympus' renowned in-camera image stabilization.
The good news is the Olympus Air is all around smaller, lighter and more affordable than the Sony QX1 – which costs $399 or £250 (about AU$520). Priced at $299 (about £190, AU$390), Olympus' first lens camera will begin shipping in the states this July (thus far there are no plans for release in the UK and Australia).

Read More ...
---
Updated: Best business tablets: 10 great slates for work
The best business tablets
If your company's new year's resolution is to cut down on the mass of hardware you're sending your team out with every day, you're probably considering a switch to tablets.
While some tablets feature manageable price tags, the market is still dense, and the consumer market winners are still not exactly the best option for CTO's and IT departments to include in their annual budget.
In the interest of giving an overview of the market at the moment, here is a roundup of our tablet recommendations for the business world as it stands today. The requirements for consideration were either a 4-star rating from TechRadar or a hands on review experience that left our editors wowed.
No matter if you rely on Windows, Android, or even iOS, there's something worth recommending. It's only a matter of figuring out what your priorities are.
10. Samsung Galaxy Tab Active
Remember when I brought up the Panasonic Toughpad? If you want an Android tablet with that kind of durability, with the added bonus that it isn't engineered with the intent to replicate a brick, have we got the tablet for you. Our testing included submerging the Tab Active deep in three-feet of water for 30 minutes, exposing it to -4-degree or 140-degree temperatures, as well as drops from up to four feet. Those are the kinds of test that no iPad owner in their right mind would ever consider, since Apple places durability very near the bottom of the list of their priorities. Also, the Tab Active's ten hours of battery life made it memorable, and in the upper tier of that conversation about tablets.
The Samsung Galaxy Tab Active will run you $699.99 (about £450, AU$850.00), a deal that definitely comes at the price of a significantly less dynamic screen than Samsung offers in their Tab Pro line.
9. Samsung Galaxy Tab Pro 12.2
We've already gone over the best tablets from Samsung, the Galaxy Tab S line, but there's this older and larger tablet that's still being sold, and worth discussing.
It wasn't our favorite Tab Pro, that went to Samsung's 10.1" device, but the 12.2"'s marquee feature, a big & bright display, is driven by stellar 1.9GHz Quad and 1.3GHz Quad core processors, 3GB of RAM, and impressive battery life.
All that power, though, is somewhat stripped of its potential thanks to Samsung's annoying Magazine UX premise. Everybody's used to manufacturers messing with Google's platform in order to put a differentiating feature on the spec list, a mistake that could leave you wondering how good things could have been with a stock Android experience. The 12.2 is due to receive Android 5.0 Lollipop in the future, but there is no official timeline for that, only speculation about Q1 or Q2.
Unfortunately, the Tab Pro 10.1, which TechRadar awarded a 4.5/5 star review, was replaced by the Tab S line, making the 12.2 the only Tab Pro model that Samsung itself is selling anymore. It will run you $545 (around £549/AU$995), and clearly you're paying for screen real estate.
8. Amazon Fire HDX 8.9
Just like there must be someone out there for the Panasonic Toughpad FZ-M1, it's easy to envision the use case that the Amazon Fire HDX (starting at $379, £329, AU $468) was built for. Anybody or any team that will be presenting music and video frequently might see a lot of value in this machine.
Not that the Amazon Prime store - which the HDX 8.9 comes with a free month trial of service with - has a library that towers over all others, but if you need a media presentation device, here we've got a brilliant screen and quality speakers for which to present said content.
Aside from being a monitor for Amazon's servers of stuff, their Fire tablet line is still hampered by a lackluster app store. The device can view Word, Excel, and PowerPoint files, though.
The HDX 8.9 starts at at $379 (£329, AU $468) for the 16GB, Wi-Fi only version featuring "special offers" (pre-roll ads that greet you when booting up the device, just like on Amazon's eReaders). If you can get around those ads, the Fire HDX 8.9 is competitively priced in the market, much like everything Amazon pushes. At the top end it goes up to $595 (£489) for the 64GB, LTE, ad-free model, but Amazon isn't pushing that model at their customers
7. Google Nexus 9
If you're running a small business, there's a fair chance your team runs on Google as much as it runs on your Keurig machine. If that's the case, the tablet you need to review before making a decision is the Nexus 9 (starting at $399, £319, about AU460). An 8.9-inch revision/upgrade of last year's Nexus 7, it's not the best machine, but it's the best for Google's suite of solutions.
Of course, that's thanks to it being the first and for-now-only tablet on the market that's running Android's wonderful new 5.0 Lollipop interface, which introduces the world to the concept of Material Design. Other tablets, like the Samsung Galaxy models, will be getting it, but not until a later time. And of course, a Nexus device is the best way to experience the pure unmodified Android experience, without any of Samsung or another manufacturer's bloatware or "solutions."
Lollipop, in a macro sense, is important in current war for tech supremacy between Google and Apple. A war which many believe comes down to a single question: can Apple introduce the best features from Android before Google matches Apple's design skills?
Lollipop allows your tablet to sit closer to the web interface of Google's apps, lowering the learning curve for any employees used to the traditional experience.
The hardware is OK, but nothing stunning. Feature wise, though, it's got some notable upgrades from the Nexus 7. Google had HTC produce the tablet, allowing their phone line's Boomsound audio speakers to be brought over, useful for front facing audio when you're presenting a video, and a high resolution screen that holds up to most standards.
We've got some gripes about the machine, such as a lack of expandable storage and a rise in price. The entry level machine suffers from the same flaw as most Apple mobile devices on the market, a measly 16 GB hard drive. That model will sell for $399 (£319, about AU460) while we recommend the 32 GB option, selling for $479 (£399, about AU$552).
6. Dell Venue 11 Pro 7140
The Venue 11 Pro 7000 balances portability and performance with Intel's Broadwell-based Core M processor at an entry price of $700 (£437 and AU$800) in a travel-friendly package. Business users will appreciate security features like drive encryption, integrated TPM, and certification for FIPS and HIPAA.
For some, a 10.8-inch display may be too small for maximum production, but if that's not a major issue, then this is a solid device. With a full HD screen and endless optional accessories to match any need, the Venue 11 Pro offers excellent flexibility for the business user.
Even more business tablets
5. Sony Xperia Z3 Compact and Z2 tablets
Sony launched the Xperia Z tablet line last year with the 10.1" Z2 model that suffers from a low resolution screen, a sin of omission that doesn't hold up to competition, or side by side in-store (or on-flight) comparison.
That said, the Z2 touts a water resistance that sent us dipping it into every single available bay of water. None of those tests showed signs of altering the life of this tablet, which is based around a 1.5GHz quad-core processor and 2GB of RAM.
Android isn't really pro-business, but the Google Play store features a number of app-based-solutions to assist your in terms of executing on their goals.
Unlike iOS, Android's a much more customizable operating system, allowing your company to optimize deeper-level preferences to suit your needs.
At 8.4", the Z3 is a smaller and friendlier version of the Z2, thanks to ditching the latter's shockingly large bezel (the bar of dead space around the screen, which some argue is there for your grip). Much closer to the look of a Kindle Fire or an iPad Mini, the Z3 offers an excellent thin form factor, ready to slip into a number of small bags, and thanks to an excellent 15-hour battery life, even the most active travellers will find it ready to support their tiring journey.
Much like its larger predecessor, though, the screen resolution just did not stack up against the market. Arguably, that's only a problem if you've seen the competition.
4. Panasonic Toughpad FZ-M1
While Panasonic's Toughpad FZ-M1 ($2,099, £1,183, AU$2,358) is intended only for extreme work environments, it is the only Windows tablet worth mentioning if your team has such rugged needs. If your team has to execute in busy, hectic, and downright disastrous chaos, this is the tablet for you.
This beast runs Windows 8 through the worst conditions, thanks to a chunky and durable body, and an almost undentable screen. For a lot of people, that last part alone is worth the sacrifices inherent. Built for any situation, with a display you can read in almost any situation (its highest brightness levels hit 500 cd/2), this tablet makes a lot of sense if you're tired of treating your devices like precious fine china.
In terms of the FZ-M1's performance, our experience was solid, thanks to a dual-core Intel Core-i5-4320Y vPro processor clocked at 1.6GHz, 8GB of RAM (though we admit the machine defaults at a standard 4GB), and a 128GB SSD. The one area in which the FZ-M1 didn't perform like a road warrior was in battery duration, going kaput after six hours.
If you've had to deal with numerous device repairs with a team that relies on Windows, the FZ-M1 can even be downgraded to Windows 7, this is a device you cannot overlook. Even with a high end starting price.
3. Samsung Galaxy Tab S
Samsung's Tab S line, though, is where the South Korean-based manufacturer earns their highest marks from us. Made in both 8.4- and 10.5-inch form factors, these machines sing thanks to reliably long battery life and a screen meant to consume all the internet and video you could think of.
Of course, though, a half a star is missing from what could have been a flawless 5-star review, and it's the same reason Samsung always misses the mark. Weak design leading to a product that doesn't actually feel right.
The Wi-Fi Tab S 8.4-inch will set you back $399 (£319/AU$479.00), whereas the Wi-Fi Tab S 10.5-inch comes in at $499.99 (£399/AU$599.00).
2. Microsoft Surface Pro 3
The Surface tablet series is posed to be a no-questions-asked easy choice for anybody looking to hunker down on real work, without needing a whole laptop. Bill Gates himself may be willing to admit that Microsoft missed the boat on smart phones, but the company's dedication to the tablet shows a focus on evolving the nascent form, rather than slowly iterating, as are their competitor's instincts.
The Surface is made to be the mobile companion to a life already lived inside of the Microsoft ecosystem, and since the Pro 3 thrives while running Windows 8.1, teams can expect to not lose any of their precious apps on the go, a problem that sunk the Windows Phone line out of the gate. As powerful as the Pro 3 is, though, our testing did show it can become too-hot-to-handle on occasion, and the battery isn't exactly something to sing about.
The Pro 3 (starting at $799, £521 and AU$988) continues Microsoft's assertion that they will replace the laptop by improving their input accessories, with a clearly improved Type Cover and their new Surface Pen. The keys on the cover feature with deeper travel and stronger feedback, a wider glass trackpad that actually clicks, and a new hinge that allows for much more comfortable use, this year's model could have enough to sell users on Microsoft's vision of the tablet future. The Surface Pen, though, in its first year, does seem more gimmick than solution, using a Bluetooth trick to launch apps with the click of its top.
Since the machine has so much going for it, the unit does come in at a premium price: the 64GB model with Intel Core-i3 runs $799 (around £521/AU$988), and the Surface Pro 3 maxes out at 512GB with a Core-i7 for $1,949 (around £1272/AU$2409). Additionally, when comparing comparably specced Surface Pro 3's and iPad Air 2s, the Surface Pro 3 is $300 more expensive, and that's without buying a Type Cover or Surface Pen.
1. iPad Air 2
As time marches on in the tablet field, iOS has only gained strengths in the business market, thanks to Microsoft Office finally landing on the platform this winter, as well as Apple's new partnership with IBM for enterprise software.
These changes go under the radar for a lot of customers, because Apple markets the iPad to consumers, with plenty of new reasons to.
Thinner and lighter than ever, the iPad Air 2 is a great example of the iterative evolutions in Apple's current run of industrial design. Thankfully, though, reductions in size and weight are strictly positives here. The same can't be said for Apple's industrial design for its phones, since bending and a slippery form factor are leading many to question the usability of the iPhone 6 Plus.
Still, though, if your team can operate with the apps available on iOS, this is still the best-in-class, and the only tablet to earn a 5-star review from TechRadar.
The iPad Air 2 runs the gamut of the price tiers in the market, with the entry level model at US$499 (£399, AU$619), but the price can rise up to US$829 (£659, AU$1,019) for the top-of-the-line hard drive with both Wi-Fi + 4G. As much as people have talked about paying an Apple Tax when you buy one of the company's devices, this top-tier tablet is no more expensive than those comparable models from Samsung or Sony.

Read More ...
---
Review: Updated: MSI Prestige PE60 2QD
Introduction and design
The MSI Prestige PE60 2QD ($1,099.00, £709.58, AU$1415.87) is a business laptop that has the build quality and firepower of a tank. Marketed as both a gaming unit and a workstation built for business, the PE60 really has no direct competition.
Best-in-class workstations, such as the supreme
Lenovo ThinkPad W550s
($1,133, £765, AU$1,455) and the Dell Precision M6800 ($3,490, £2,075, AU$3,750) inspire productivity, but not necessarily the joys associated with gameplay.
On the other hand, gaming laptops, such as
The MSI GT80
($3,299, £2,573, AU$4,165),
The Aorus X3 Plus V3
($2,780, £1,800, AU$3,500), and T
he Origin EON15-X
($2,559, £1,698, AU$3,367) wouldn't know a spreadsheet if it had to blow one up to get to level two.
What the MSI Prestige PE60 does it provide affordability and power to users who are just as serious about the work they do from 9-5 as they are about the games they play from 5-12. The consumer based price is appealing, and it is a laptop that will perform excellent Graphics and Design processes.
Design
MSI's newest laptop is built with a minimalist, silky, metallic silver sheen that absolutely dazzles. The laptop is big, which is usually true of gaming laptops and workstations, as the Prestige weighs 5.29 lbs (2.3995 kg) with dimensions of 15.07" x 10.23" x 1.06" (38.28 cm x 25.98 cm x 2.7 cm).
Although the Prestige's bottom panel, which holds the battery, is thick, the upper panel is amazingly thin at 0.25-inches (6.35 mm). As you can see from its dimensions, this device is supposed to be portable. Unlike its gaming cousins, the MSI GT80, which weighs 8.33 pounds (3.78 kg), and The Origin EON15-X, which weighs 7.5 pounds, MSI wants you to be able to bring the Prestige to and from your office each day.
Carrying the MSI Prestige PE60 was like carrying a medium-sized textbook (not thick but big in width and length) to a college class. It doesn't feel bulky or heavy and feels like a general 15-inch notebook would feel. But, when open, the PE60 is bulky enough that it is awkward to move around, say as opposed to a MacBook Pro.
The Prestige features a power button, a turbo button and a True Color Profile button that are situated on the top right corner of the base. Below these exists a beautifully laid out full keyboard with a number pad, which business users will enjoy.
Each key is identified with a big bold, back-lit silver letter that mimics the sleek aesthetic of the body. The keys are soft, yet responsive, with a nice moderate give. Playing games and entering data on the keyboard was smooth. However, the trackpad, which has two buttons for left and right clicks, is incredibly inelegant. The trackpad itself does not have any finesse and requires a bit too much finger pressure. The trackpad's left and right click buttons are much too noisy and awkward for a laptop with such a pretty design.
The sides of the device are built with a black molding. The ports are simple, yet plentiful; on the left side: two copper cased mic and audio inputs, two USB 3.0, a Mini DisplayPort, an HDMI port, a third USB 3.0 port, and a Gigabit Ethernet port. On the right hand side: a DVD drive, a USB 2.0 port, an SD(XC/HC) card reader slot and the power input.
Specs
There are two MSI Prestige models, the PE60, which is what I tested, and the PE70 which has the same specs but has a 17.7" screen and 16GB RAM.
Here is the MSI Prestige PE60 2QD configuration sent to TechRadar for review:
CPU: 2.6GHz Intel Core i7-4720HQ
Graphics: NVIDIA GeForce GTX 960M 2GB
RAM: 12GB DDR3L
Screen: 15.6-inch FHD (1920 x 1080) anti-glare display
Storage: 1TB 7200 RPM hard disk
Optical drive: DVD Super Multi
Ports: 3 x USB 3.0, USB 2.0, HDMI, Mini DisplayPort, Ethernet, SD Card reader
Connectivity: 802.11ac Wi-Fi, Bluetooth 4.0
Camera: 720p webcam
Weight: 5.29 lbs (2.3995 kg)
Size: 5.07" x 10.23" x 1.06" (38.28 cm x 25.98 cm x 2.7 cm)
As you can see above, this beauty comes fully loaded. Installed is a top-of-the-line fourth-generation Intel Core i7 Processor that runs at 2.60GHz, 12GB Memory, a 1TB HDD, and a NVIDIA GeForce video card, all built in a beautiful 15.6" aluminum casing. Also, this laptop comes with Windows 8.1 64-Bit already installed.
The MSI Prestige laptop has a gorgeous True Color 1080p display that comes calibrated to ensure high color accuracy. The True Color Profile button enables you to switch between different preset profiles when using the laptop. The True Profile has six options, sRGB, Designer, Office, Movie, Gamer, and Anti-Blue, which each change the contrast ratio, the brightness, and hue to promote a more enjoyable experience.
The Prestige handles games and movies beautifully, with a definition that is crisp and clear. It also handles 4K output for videographers and hardcore film buffs. For those who might pursue the Prestige as an office product, to bring it in for a travelling creative team or CAD user, the Prestige PE60 will handle AutoCAD and Photoshop design. And, for the Designer who is very particular about colorization on the screen, the Prestige is perfect for you, as the LCD of the Prestige PE60 will be best suited for this specifically.
The 2.6 GHz fourth-generation quad-core processor performs really well, especially when you use the MSI Shift feature, which allows you to get the most performance out of your machine. The Shift feature allowed me to change my system's performance on-the-fly between three different modes. The three modes are Green, Blue, and Red. Green is the eco- and battery-friendly mode, with low power consumption for both CPU and GPU. Blue is the mid-range mode that allows enough GPU consumption but not too much. Red enables you to go full throttle on both GPU and CPU.
I put the MSI Prestige on all three modes, and the Green Mode, if you're looking for performance, should just be ignored because everything is throttled down. I mean, everything, the whole machine just travels at a slug's pace. Comfort Mode gets you moving a little bit faster, but it is still annoying. Sport mode, the highest mode, really gets things going and you can hear that the fan is on.
When on Green my wireless bandwidth (via speedtest.net) was 12Mbps Down to 3Mpbs Up, which was really frustrating as I have 200Mb Down with 20Mb Up in my home. My iPhone 6 was getting 184.47Mbps Down to 15.17Mbps Up. When I got the Prestige on Sport mode, I found that I could get the wireless download speeds to be at 128Mbps Down to 17.11Mbps Up. Also, when in Sport mode, the Prestige really flies. This feature can, unfortunately, only be enabled when the power adapter is plugged in..
The MSI Prestige PE60 comes with a NVIDIA GeForce GTX 950M Graphics card that holds 2GB VRAM GDDR5. This is a pretty amazing card that produces really good graphics for a laptop. If you are using AutoCad or you want to play games, unless you are using VectorWorks or doing 3D imaging on a very, very high level, then the MSI Prestige PE60 will be good for you. The images on the screen are crisp and clear, but the gaming aspect and how it handles, is really good. I played Battlefield 4 and Serious Sam 3 on ultra and it was stunning. I have a GTX 770 SuperClocked in my home tower and I did not feel a difference in frame rate or quality of image swapping from my power tower to the MSI Prestige PE60.
The Prestige comes with 12 GB of DDR3L 1600 MHz RAM with one RAM being 8GB and the other 4GB. The Prestige has a max capacity of 16GB for an additional upgrade cost.
Performance, flaws and verdict
The benchmark results for the MSI Prestige PE60 were as follows:
3DMark: Cloud Gate: 6,282; Sky Diver: 10,577; Fire Strike: 3,294
CineBench: CPU: 489 Points, GPU: 12.57 fps
Battery Life: 1 hour 31 minutes
I ran all of the performance tests on the MSI SHIFT Blue setting. Once I set it to Red, the fast speed, I got a score of 3306 for 3DMark Fire Strike, so you'll get not amazing but noticeable gains when pushing this device to its optimal performance. However, because the Red mode will drain your battery quicker, I decided to run all tests using the standard mode
Now, in comparison to other workstations and gaming laptops, I have to say that they all performed a lot better.
The MSI GT80 Titan, for example, scored dramatically better on all of our 3DMark performance tests (Cloud Gate: 22,854; Sky Diver: 27,220; Fire Strike: 11,770). The same can be said for the Cinebench CPU (653 points) and Graphics test (104 fps). These poor results were consistent with the Aorus X3 Plus v3 as well as the Origin EON15-X.
When compared to enterprise workstations, the PE60 faired much better. It dramatically beat the Lenovo W550s, which received the following scores: Fire Strike: 1,426; Cloud Gate: 5,246; Sky Diver: 4,830. It also held its own against the Dell Precision M6800, which whomped it on Cloud Gate (13,879), but barely edged it out on Fire Strike (5,208).
The image quality of the LCD is really nice and the True Profile presets are really awesome. While having preset image settings for different types of use (e.g. Gaming, Working, Editing, Watching a Movie, etc.) seems to be an industry trend, the way MSI implemented it is pretty well done. The pre-calibration on the LCD of the Prestige is really stellar and it shows. This is especially nice for photo and video editors who like to punch out and immediately fire up their favorite game on the train-ride home from work.
Flaws
The battery is really a point of contention for me. When the Prestige PE60 is fully charged and you go ahead and use it, then the battery lasts about 90 mins. During my test I fully charged it, unplugged it, and watched a movie on Youtube (because Flash sucks battery life out of a system) to get an idea of how good it is. But, here is something I have noticed, if the Prestige PE60 is fully charged and you close the laptop to put it to sleep, and awake it in the morning, the battery indicator will say it has 90% but after 30 mins of use it will drop significantly. My real life experience when this happened was just internet browsing, no videos, just the Facebook look and some news articles.
I downloaded Battlefield 4 and played on Ultra. I found no real issues with playing the game outside of game load speed but I'm used to an SSD setup for my games at home. The one thing I was unable to play exclusively with the keyboard and trackpad. I really don't like the Prestige's trackpad. I think that was the worst part of my overall experience. Sometimes it wouldn't click accurately, it's loud, scrolling worked only half of the time. An additional USB mouse worked wonders and dramatically improved my gameplay.
For starters, the MSI Prestige required the use of an AC Adapter upon first boot so be prepared to remove everything to get started. Now, the MSI Prestige took forever to start up after removing it from the box. First initial boot took about 8 minutes and 45 seconds and then another 5 minutes and and 22 seconds for apps to install and for Windows to update.
The MSI software preps the use of Windows 8.1. When you start up the machine for the first time, and you wait for it to boot, an application asks if you want to set up Windows 8 non-desktop mode or desktop mode, and then it asks if you want Windows 8 Preview or Apps View, and then it asks if you want to install IE or Chrome. Then you have to sign out.
I hate preloaded laptops that come with nonsense. I want the Operating System, some useful tools and drivers, and that is it. The MSI Prestige comes with Norton Security, its own MSI tools, and some other stuff that just slow down the experience. Totally, the Prestige comes with Norton Online Backup, Norton Internet Security, along with MSI-specific software to the Prestige that allows you to utilize different features like Shift, change the LCD True Profile, and a daemonized application that will act as soft-keys to turn on/off wifi, Bluetooth, the webcam, etc.
But, what is annoying is that for starters, the Prestige PE60 will not utilize the Shift feature unless the power cord is plugged in. I get it, the lower the power consumption then the longer the battery life. But, off the power cord, this machine is slow. I don't know if it's Windows 8, I don't know if it's Norton Internet Security pop-ups that happen all the time, but it is slow. Annoying slow.
The MSI Prestige comes with a 1TB 7200 RPM drive. I have switched to full SSD on my computer at home so going to a 1TB drive is noticeably slower.
The MSI Prestige has pretty awful speakers. They are okay on a lower level but if you turn the audio up then you hear a tingy sound that is treble washed with little to absolute no bass. A MacBook Pro outperforms in audio, comparatively, by leaps and bounds.
We liked
The MSI Prestige PE60 is a decent laptop when it comes to weight, portability, and basic function. I liked using this laptop, though I did yell at it a couple of times.
The keyboard on this laptop is wonderful. I'm not a keyboard nerd, but I really hate switching from different types of keyboards (e.g. switching from a Mac to a Desktop) as I find that my typing is negatively impacted, but with the keyboard in the MSI Prestige PE60 I had no problems whatsoever. Also, the backlit LEDs are a nice touch. I love Backlit LEDs, specifically on a laptop, and it is a nice color.
Gaming on this laptop was good, not great, but good. If you are a diehard gamer who needs to be at the top of the performance, then you might want to look at something else. But, if you are looking for a decent laptop that can handle games on mid-level settings, then the Prestige is something to consider. The Prestige PE60 could also handle more than just gaming, such as Photoshop, Illustrator, Video Editing, and some of the lower-tier AutoCad applications. I can't imagine that the Prestige will be super fast rendering 3DS Max of full buildings, but it can do smaller simpler things.
I loved the LCD color as it was so vibrant and colorful. The ability to change the settings on the LCD, depending on applications and preference, on the fly are amazing. It is a nice touch, and is something that mirrors how my gaming monitors function. The sRGB True Profile setting is perfect for me but the Designer setting is perfect for applications requiring specific color palettes.
We disliked
The trackpad, touchpad and mouse that are built into the MSI Prestige is just terrible. The buttons on the touchpad are clunky, they click loud and are not elegant. The trackpad is the most frustrating thing ever. I will be typing something and all of a sudden the cursor is selected elsewhere, thus adding frustration and time to what I have to do. As a systems programmer, that is really frustrating. The MSI Prestige PE60 tries to mimic the two-finger scrolling of the MacBook Pro and horribly fails. It's spotty, at best, and does not generate a smooth scroll.
The battery life is questionable, as I have gotten good days out of it but also bad days out of it. The A/C Adapter that is packaged with the MSI Prestige is huge and annoying to carry. So, running for the power adapter is a nuisance. Now, if you are a business user and plan on this being plugged into a desktop configuration, with a monitor and external keyboard and mouse, then these things will be a minor nuisance only if/when you are traveling.
The only other thing I did not like is how bloated the install of the Operating System came, but that is pretty standard. If I were to keep this laptop, I would install Windows 7 (or Windows 10 when it comes out) as Windows 8.1 is terribly slow on this machine. I haven't fully figured out if it's a Windows 8 problem or an MSI Prestige problem. Updates take hours, and it is just unnecessarily long.
My recommendation is get a good gaming mouse (wireless or not) and wipe the machine clean as soon as you get it with a purchased version of Windows.
Final verdict
There is a lot to like about this laptop but if you are a stickler on the touchpads (I have friends who are) then you are really going to be upset about this.The keyboard though is so nice and pleasant to use. To be honest, I think the keyboard in the MSI Prestige is far better than an Apple MacBook Pro.
The MSI Prestige is no weakling as a gaming laptop or as a business workstation. It will be able to keep up with most games today, and it will let you conduct business without any issue (as long as you're connected to a power source). Now, if you are looking for extreme power, you might want to look elsewhere.

Read More ...
---
Buying Guide: 10 best network attached storage (NAS) devices: the best solutions for your network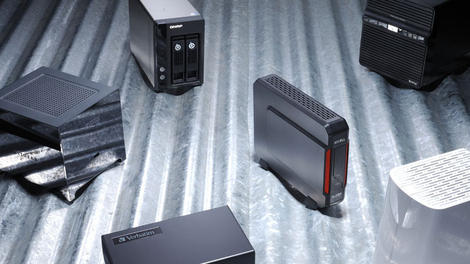 Introduction
There's no doubt that the cloud has become an increasingly relevant option for file storage over the past few years. However, if you don't trust your data in the hands of a third-party service, a Network Attached Storage (NAS) device might be the way to go.
Sitting somewhere between local and cloud storage, NAS devices keep your files and data in your hands. Whether for personal or business use, a NAS solution could be the right way to go for an easy way to share and back up data across a local network and beyond. However, sorting through the various features and price points can be a bit of a hassle, so we've rounded up ten of our top picks for NAS devices from the past year.
QNAP TS-470
A fully capable storage solution for the small business crowd with a price to match.
With excellent performance, ample expandable storage options, and easily navigable software, the TS-470 from QNAP is definitely impressive. The device comes packed with four drive bays and four Gigabit network ports, all running on a 2.6GHz dual-core Celeron processor.
With extra features such as SSD Caching and optional web apps, along with the option to upgrade to a 10GbE card, the TS-470 offers plenty of options for users. However, those options come at a cost: about $1,180 (£700, AU$1,270). At that price point, this offering from QNAP firmly straddles the line between high-end NAS solutions and full-blown rack-mounted options.
Read:
QNAP TS-470 review
Western Digital Sentinel DX4200
A full-featured solution for businesses.
The WD Sentinel DX4200 is definitely an interesting little NAS box. While the DX4200 comes in a similar size as other NAS offerings, its internals are what make it stand out. Rather than the traditional Linux setup, the DX4200 runs Windows, allowing it to seamlessly integrate Windows workgroup or Active Directory network. As a bonus, the DX4200 comes pre-loaded with four hard drives. However, that inclusion will set you back around $1,693 (£1,080, AU$2,036) for the 8TB option and $2,180 (£1,390, AU$2,620) for the 16TB option.
Our only notable qualms with the DX4200 were with the device's somewhat complex configuration software. However, with a separate boot disk (with an option of two for extra redundancy), solid build, and ample external ports, the DX4200 makes a great option for enterprise users that are willing to look past the price to add some storage to their existing Windows server setup.
Read:
Western Digital Sentinel DX4200 review
Synology Embedded DataStation EDS14
A rugged, compact solution for surveillance.
The EDS14 from Synology ($275, £160, AUD$295) is definitely a unique option. The tiny EDS14 foregoes the typical drive bays for flash memory and USB-mounted external storage. However, what it lacks in drive options, it makes up for in its ability to be tucked away out of sight.
The EDS14 can operate in temperatures ranging from -20 to +50 degrees Celsius (-4 to 122 Fahrenheit), and really shines when used as a network attached storage solution for IP cameras that are tucked away in the corners of a building or bus. Building on this idea is the device's relatively low power consumption, along with Surveillance Station software. In other words, if you're looking for a convenient way to set up a network of IP cameras, the EDS14 might be your ticket.
Read:
Synology Embedded DataStation EDS14
review
Western Digital DL4100
Excellent backup for a wide variety of users.
If you're looking for a NAS device to help manage your backup needs, the DL4100 might be worth. taking a look at. One of the coolest features of this device is its web dashboard that offers users options for backing up to cloud services such as Dropbox and Box. Additionally, we really liked the ability to set up SMS and email alerts in case the system failed for whatever reason.
As far as storage options are concerned, the DL4100 comes with four drive bays in your choice of four configurations: $529.99 (£499, AU$689.52) for the diskless model, $849.99 (£799, AU$1105.57) for 8TB, $1,169.99 (£1099, AU$1522.17) for 16TB, and $1,529.99 (£1419, AU$1990.53) for 24TB. Aside from some annoying issues with wireless transfers, we found that the DL4100's 1.7GHz dual-core Atom processor and 2GB of RAM (configurable up to 6GB) performed admirably. Combine this with an easy setup and cloud connected web apps, and you have an interesting backup offering on your hands.
Read:
Western Digital DL4100 review
Thecus N8810U-G
Redundancy is key with this rack-mounted storage option.
At around $2,350 (£1,500, AU$2,840), this rack-mounted NAS solution from Thecus definitely on the expensive side. However, with 10GbE, extensive redundancy, hardware-based 256-bit encryption, the N8810U-G offers plenty to like for business customers. Additionally, the unit comes with support for up to eight SAS or SATA drives, configurable in a wide variety of RAID modes, including RAID 50 and 60.
While we found the software to be a bit behind-the-times in terms of design, the N8810U-G performed well in our tests—especially with those speedy 10GbE speeds. As a bonus, if you find the RAM or CPU lacking down the road, the interior of the device is easily accessible for upgrades. As long as you keep in mind that this is a rack mount, and thus comes with the weight and size that entails, the N8810U-G is worth consideration.
Read:
Thecus N8810U-G review
Numbers 6-10
Synology DiskStation DS115j
Excellent NAS for a great price
If you've been put off by the price of the previous entries on this list, the DS115j is definitely worth checking out. This offering from Synology is a (relatively) simple single-bay NAS device that offers plenty of features for the home user at a very-affordable $125 (£78, AU$145).
While it's a simple setup compared to other options on this list, the DS115j includes Synology's fantastic DiskStation Manager software, which will make setup and management a breeze. Although we had a few issues concerning the device's build quality and lack of USB 3.0, the DS115j's price point makes it an excellent option for homes or small office settings.
Read:
Synology DiskStation DS115j review
ioSafe 1513+
'Rugged' is the name of the game with this NAS solution
While redundancy is important in any NAS box, your data is still at risk from the elements with most solutions. That's where the massive ioSafe 1513+ comes in, ready to weather such abuse from the elements with a rugged fireproof and waterproof case. the 1513+ can survive in temperatures of up to 840 degrees Celsius (1550 Fahrenheit), and depths of up to 3 meters (10 feet) for three days. Unfortunately, this comes at quite the cost—around $4,620 (£2,950, AU$5,295).
Aside from its ruggedized features, the 1513+ features five drive bays, ample expansion ports, and easy-to-use software. If you're looking for a disaster-proof solution for your data, look no further.
Read:
ioSafe 1513+ review
Netgear ReadyNAS 716
Speedy storage…at a cost
This six-bay option is billed as the world's fastest desktop NAS device by the folks at Netgear—and for good reason. Sporting a quad-core Intel Xeon E3 processor, 16GB of RAM, and two 10GbE interfaces, the ReadyNAS 716 certainly proved to be fast on its feet in our tests.
Aside from the ReadyNAS 716's performance, we were also impressed with the setup's enterprise-level snapshot and backup options, as well as its easy-to-use software. If you can look past the lack of power redundancy, this is a worthy option for those seeking rack-mounted performance from desktop chassis.
Read:
Netgear ReadyNAS 716 review
Synology DiskStation DS415play
For the media-hungry
If previous entries on this list have leaned towards the business crowd, this one swings things back into the realm of the home user. Simply put, the DS415play from Synology is a media-streaming powerhouse. Front and center with this model is its DLNA certification, allowing users to stream a wide variety of media content to PCs and smart TVs on their network with the accompanying Media Station package.
As far as specs are concerned, the DS415play packs 4 drive bays, for a total storage capacity of 24TB. With a 1.6GHz dual-core Intel Atom processor, 1GB of RAM, and Synology's excellent DiskStation Manager software on board, we found the device performed pretty well. If the DS415play sound like it's up your alley, it can be had for about $650 (£390, AU$700).
Read:
Synology DiskStation DS415play review
Synology DS1815+
Great for home and business users
The DS1815+ from Synology is an eight-bay NAS solution that offers up plenty of space for home and business users alike, supporting up to 48TB from internal drives, with the ability to expand that to a hefty 108TB through the device's dual eSATA ports. With its quad-core CPU and up to 6GB of memory, the DS1815+ scored well on our performance tests, though getting the device setup to bond its four gigabit ethernet ports together was a bit of a pain point.
Where the DS1815+ really shines is in Synology's excellent Linux-based DiskStation Manager software. With its simple setup, navigation, and glanceable widgets for tracking vital information, DiskStation Manager continues to shine over the competition. While the price of Synology's offering may be near the top end of the NAS spectrum at around $1030 (£850, AU$1320), the combination of attractive design and ample storage options makes this an excellent option for small businesses and home users that are serious about their storage.
Read:
Synology DS1815+ review

Read More ...
---
Available Tags:
iPhone 6
,
iPhone
,
Apple
,
iOS
,
download
,
YouTube
,
Olympus
,
MSI
,