Avengers: Infinity War to be shot entirely with new IMAX cameras
The Marvel Cinematic Universe is about to get bigger than ever before, with the announcement that
Avengers: Infinity War
Part 1 and 2 will be shot entirely in the
IMAX
format.
While IMAX cameras have been used sparingly for big sequences in several Hollywood blockbusters, including Michael Bay's
Transformers
films and Christopher Nolan's
The Dark Knight
trilogy and
Interstellar
, the Avengers: Infinity War films will mark the first time the format is used to shoot entire films.
This is due to IMAX and ARRI's revolutionary new Alexa 65 2D digital camera, which is lightweight, completely silent and shoots at a resolution of 6560 x 3102 with an aperture equivalent to a 65mm film camera.
These movies will be Gi-Ant, Man
Joe and Anthony Russo, directors of Avengers: Infinity War, will be using the Alexa 65 camera to shoot a 15-minute sequence for their current film,
Captain America: Civil War
, which began principal photography today.
IMAX CEO Greg Foster says that the Russos will be spending the "next 15 months or so" designing Avengers: Infinity War with these cameras in mind, as it is something that has "never happened before".
Captain America: Civil War is set for release on May 6, 2016, while Avengers: Infinity War Part 1 is due to arrive on May 4, 2018.
Get ready for the eventual Avengers: Infinity Wars home video release by checking out the world's best 4K TVs

Read More ...
---
New Netflix series from creators of The Matrix looks "sens8tional"
The Wachowskis have had a pretty rough year, with their latest film,
Jupiter Ascending
, being somewhat of a critical and commercial disaster.
Thankfully, that hasn't slowed them down, because if this trailer for the pair's new
Netflix
series, Sens8, is any indication, the siblings are back in kick-ass form.
YouTube : https://www.youtube.com/watch?v=iKpKAlbJ7BQ
Enter the Netflix
The show's premise follows eight people from around the globe whose senses and minds become connected somehow, seemingly allowing them to pull from each other's experiences, skills and knowledge.
Eagled-eyed Wachowski fans will notice some familiar faces, including Tuppence Middleton (Jupiter Ascending) and Doona Bae (
Cloud Atlas
, Jupiter Ascending), as well as other recognisable stars like Daryl Hannah (
Blade Runner
), Naveen Andrews (Lost) and Brian J. Smith (Stargate Universe).
Sens8 is due to arrive on Netflix in its entirety in all Netflix regions on June 5.

Read More ...
---
Move over, Facebook: Uber reportedly bids on Nokia's Here maps
Nokia's Here maps may be the hottest commodity on the market right now. How hot? Try $3 billion ... hot.
Uber has reportedly submitted a bid for as much as that figure to snap up Nokia's mapping service, according to
The New York Times
.
Uber is said to be up against a consortium of German auto makers, including Audi, BMW and Mercedez-Benz, China's search engine firm Baidu, a private equity firm and, at least at one time,
Facebook
. Everyone wants Here, and Nokia could hand over the reigns by the end of the month.
What's in it for Uber?
Uber would stand to gain a number of benefits if it bought Here.
For one, it'd flush out the mapping features of its taxi/ride-sharing service, which currently relies on bits from Google Maps, Apple Maps, other companies' mapping data and its own online data. Analysts speaking to the NYT noted Here could help Uber Pool in pairing coordinating ride-shares.
Buying Here would also help Uber distance itself from Google, a backer of Uber through its venture capital division.
Uber is apparently facing stiff competition from the automakers for Here, however. Here dominates the built-in car navigation system market and is likely seen as a boon for companies trying to expand their in-car technologies as well as develop autonomous vehicles, such as Mercedes.
Will Uber win out? Only time will tell.

Read More ...
---
Here's Rockstar's official stance on GTA 5 mods
Modders will always have a home in Rockstar games, says a new article on the company's blog that addresses recent concerns of players getting banned for using add-ons.
"We have always appreciated the creative efforts of the PC modding community and we still fondly remember the awesome zombie invasion mod and original GTA map mod for GTA 4 PC among many other classics," reads one answer from the
short FAQ
.
"Recent updates to GTA 5 PC had an unintended effect of making unplayable certain single player modifications. This was not intentional, no one has been banned for using single player modifications, and you should not worry about being banned or being relegated to the cheater pool just for using single player PC mods."
There you have it. Single-player mods will always be welcome.
Anything that changes the carefully crafted online multiplayer mode, however, aren't looked upon so fondly:
"Our primary focus is on protecting GTA Online against modifications that could give players an unfair advantage, disrupt gameplay, or cause griefing. It also bears mentioning that because game mods are by definition unauthorized, they may be broken by technical updates, cause instability, or affect your game in other unforeseen ways."
Other interesting info from the post is that the company plans on supporting all five systems (
PS4
,
PS3
,
Xbox One
,
Xbox 360
and PC) for as long as possible, though last-gen consoles are nearing the end of their lifespans, and that the PC playlist feature, unfortunately, will stay PC-exclusive until some technical details can be worked out.

Read More ...
---
Navigate through Game of Thrones, Google Maps style
A fan of George R.R. Martin's epic world has made a stellar map of Westeros in the style of Google Maps.
This map, posted to Reddit by user
selvag
this week, shows a detailed contemporary version of the fictional continent from Martin's famed epic fantasy novel series, A Song of Ice and Fire, and HBO's venerated series, Game of Thrones.
Although a true Google Maps version of Westeros isn't coming anytime soon, seeing it evokes all types of wishful thinking. What if we could use Google Maps to navigate from Winterfell to King's Landing and select "avoid the Kingsroad," or find some good late night grub in Dorne? Alas, this isn't possible yet, but this fan-made map is enough to get the imagination going.
For those of you who wish to have this piece of technological fantasy in your home,
MongoLife
sells the map on Etsy.

Read More ...
---
5 million internet users infected by adware
More than five million Google users may be surfing the web with a computer infected by
ad-injecting malware
, according to joint research by Google, the University of California, Berkeley and the University of California, Santa Barbara.
Conducted over a five-month span between June and October 2014, the study found 5.5% of unique IPs accessing Google sites contained some form of injected ads, known as adware. The goal of the paper is to raise awareness. Google says that it will work with the online advertising community to tackle the problem.
Keep your browsing safe
Google has already removed more than 192 deceptive
Chrome extensions
that infected the browser with ad injectors, affecting 14 million users.
"Injected ads arrive on a client's machine through multiple vectors: our measurements identify 50,870 Chrome extensions and 34,407 Windows binaries, 38% and 17% of which are explicitly malicious," Google said in its report.
The search giant also provided a tool to clean up Chrome and remove ad injectors if you've been previously affected. There is also the Safe Browsing tool that protects the billion internet surfers using Chrome, Safari and Firefox browsers.
"Today, Safe Browsing shows people more than five million warnings per day for all sorts of malicious sites and unwanted software, and discovers more than 50,000 malware sites and more than 90,000 phishing sites every month," Google said.
Are you infected?
If you've noticed irregular signs with the browser, chances are you're infected. If your browser doesn't block pop-up ads, your homepage has been changed, you've noticed unfamiliar extensions or toolbars added, or you're seeing a different search engine that looks similar to Google, you're likely affected by malware.
For Windows users, you can manually uninstall any unwanted programs. Additionally, you can also use Google's free
Software removal tool
.
You should also remove any suspicious browser extensions and reset your browser settings as well. Google cautions that safe extensions that you install could later be purchased by hackers. When the extension updates, malware could enter your browser that way.
How ad injectors work
"Ad injectors' businesses are built on a tangled web of different players in the online advertising economy," Kurt Thomas, Google's spam and abuse researcher, said in a blog post, noting the complexity of the problem.
Ad injectors start with software that infect a user's computer. The software could be in the form of standalone programs and apps, or browser extensions. Browsers like Chrome support extensions, and Google even has a web store that hosts extensions for its Chrome browsers.
"We discovered more than 50,000 browser extensions and more than 34,000 software applications that took control of users' browsers and injected ads," Google's research discovered. "Upwards of 30% of these packages were outright malicious and simultaneously stole account credentials, hijacked search queries, and reported a user's activity to third parties for tracking."
Google found 5.1% of page views on Windows and 3.4% of page views on Mac revealed obvious signs of infection with ad injection software.
The software is distributed through a network of affiliates and could get onto your computer in any number of ways, including being bundled with other popular software downloads.
The ads are sourced from injection libraries, and companies like
Superfish
, which became a household name after it was discovered pre-installed on select Lenovo systems out of the box, and Jollywallets make their profit whenever a user clicks on an ad.
Risks to advertisers and users
Referring to the Superfish attack, Google says that adware can also compromise your data and security. "Komodia SSL hijacker did not properly verify secure connections and it was not using keys in a secure way, Google explained in a separate
blog post
. "This type of software puts users at additional risk by making it possible for remote attackers to impersonate web sites and expose users' private data."
"The ad injection ecosystem profits from more than 3,000 victimized advertisers - including major retailers like Sears, Walmart, Target, Ebay - who unwittingly pay for traffic to their sites," Google said. "Because advertisers are generally only able to measure the final click that drives traffic to their sites, they're often unaware of many preceding twists and turns, and don't know they are receiving traffic via unwanted software and malware."

Read More ...
---
Review: Updated: New MacBook 2015
Introduction and design
Knock it for its
USB Type-C
port. Bash it for its wimpy horsepower. But don't even try to deny that Apple's new MacBook is one of the most attractive, impressively-engineered laptops that the world has ever seen - there's simply nothing quite as slick out there.
Even though it combines the portability of Apple's
MacBook Air
with the
Retina MacBook Pro's
high pixel-density Retina display, the new MacBook doesn't resemble either product line – or Apple's older, polycarbonate white MacBook of the same name, for that matter.
Instead, it feels like an entirely new species of otherworldly laptop that has more in common with an
iPad Air
than a ThinkPad. Flip open the lid, and you're transported into the best-looking
OS X Yosemite
playground yet - one that goes wherever you go.
But it's far from perfect: the new MacBook's sole USB Type-C port and moderately-powered
Intel Core M
processor mean that many of this playground's games are off-limits, and while some will find its unique keyboard more fun than a revolving roundabout, it will make others sick with frustration.
Divisive and sickly sweet, the new MacBook is the notebook equivalent of
Marmite
. Personally, I love the stuff (and like the new MacBook a lot), but whether it's for you depends on how much you're prepared to compromise.
On the catwalk
Two qualities stand out above all else when it comes to the new MacBook: thin and lightweight. Apple has managed to squeeze its components into an incredible aluminium body that measures just 0.35cm at its thinnest point and 1.31cm at its thickest.
Its thinness is in part due to Intel's fanless Core M CPU, which is passively cooled and runs whisper quiet. There's no fan inside, which enabled Apple's engineers to make its chassis slimmer. The new MacBook is an ideal option if you're frequently sharing a room with light sleepers - particularly compared to noisier, fan-based notebooks sporting Intel's Core-series chips.
Another factor that's helped Apple achieve the new MacBook's svelte dimensions is its dramatically thinner keyboard, which uses an Apple-designed butterfly mechanism instead of a traditional scissor type underneath the keys.
And while we're on the topic of thin, the new MacBook's bezel is slimmer than ones on previous MacBooks and is complemented by a matte strip along the bottom that bears the MacBook logo. It's available in three colors: Space Grey, Silver and Gold.
Cost and competition
Everything about the new MacBook's design screams premium, which is what you're shelling out for at the end of the day - you can almost forget what's housed inside.
Of course, we've been here before. The original MacBook Air, which was more portable than other notebooks at the time but came with fewer ports, cost an arm and a leg when it first came out - and history has repeated itself with the new MacBook.
Starting at £1,049 (US$1,299 or AUS$1,799), the entry-level MacBook comes with 256GB of flash storage and is powered by a 1.1GHz (Turbo Boost to 2.4GHz) dual-core Intel Core M flash storage, 8GB of RAM and Intel HD Graphics 5300. Rising to £1,299 (US$1,599 or AUS$2,199), the top-end model comes with a slightly faster 1.2GHz chip (Turbo Boost up to 2.6GHz) and a 512GB SSD.
The nearest alternative price-wise is Apple's less portable but more capable 13-inch MacBook Pro with Retina that starts at £999 (US$1,299 or AUS$1,799). That gets you a 2.7GHz (Turbo Boost to 3.1GHz) dual-core Intel Core i5 CPU, 8GB of RAM, 128GB flash storage and Intel Iris Graphics 6100.
If you're not too bothered about a Retina display, the top-end 13-inch MacBook Air costs the same price and comes with a 1.6GHz dual-core Intel Core i5 CPU (Turbo Boost up to 2.7GHz), Intel HD Graphics 6000, 4GB of memory and 256GB flash storage.
If you're in the Windows camp, the number of Core M-powered alternatives are growing all the time. Of those, the Lenovo
Yoga 3 Pro
, Asus
T300 Chi
and
Asus UX305
share the new MacBook's traits of slimness and portability. And if you wait a little longer, it's possible that there may be a new contender in the shape of the Microsoft
Surface Pro 4
.
Specifications and features
While the 13-inch MacBook Air (which weighs 2.96 pounds) never exactly felt unwieldy in the hand, being almost a pound lighter means that the new MacBook (2.03 pounds) is on a different level of portability.
The difference in weight between the 11-inch MacBook Air (2.38 pounds) is more subtle; while it's noticeable holding each device in a hand, you're unlikely to tell the difference between the two when they're slung into a backpack.
Taking a peek at the new MacBook's Windows 8.1-powered contenders, the Asus UX305 (2.64 pounds) and the Yoga 3 Pro (2.62 pounds) lie somewhere in-between the new MacBook and the 13-inch MacBook Air. The UX305 wins the gong for being the model with the lowest height, measuring 12.3mm, followed by the Yoga 3 Pro's 12.8mm.
Although the new MacBook is a whisker taller than the Yoga 3 Pro at 13.1mm, that's when measured from the tallest point at the back. Thanks to its tapered design, it measures just 3.5mm at the front and is easy to open with one hand thanks to a cutaway at the front.
At 280 x 197 x 13.1 mm (W x D x H), the new MacBook has the smallest footprint of the three, versus the UX305 (324 x 226 x 12.3), Yoga 3 Pro (330 x 228 x 12.8) and 13-inch MacBook Air (325 x 227 x 17mm), making it the clear winner if you're a frequent traveller requiring that inch or two of extra space on the plane or train.
Here is the configuration of the review model supplied to TechRadar:
Spec sheet
Processor: 1.1GHz dual-core Intel Core M CPU (Turbo Boost up to 2.4GHz) with 4MB shared L3 cache

Operating System: OS X Yosemite

Memory: 8GB of 1600MHz DDR3

Display: 12-inch LED-backlit IPS display

Graphics: Intel HD Graphics 5300 (video support up to 3,840 x 2,160)

Storage: 256GB PCIe-based onboard flash storage

Camera: 480p FaceTime camera

Networking: 1/10/1000BASE-T Gigabit Ethernet
Connectivity: 802.11ac Wi-Fi; Bluetooth 4.0

Audio: Stereo speakers; Dual microphones; headphone port (support for Apple iPhone headset with remote and microphone)

Dimensions: 28.05 cm / 0.35 - 1.31 cm / 19.65 cm (H x W x D)

Weight: 0.92kg (2.03 pounds)

Battery: Built-in 39.7-watt-hour lithium-polymer battery
Wave goodbye to full-size USB 2.0 ports, and the MagSafe adapters that juiced Apple's old MacBooks, because both have been replaced with a single USB Type-C port on the new MacBook's left-hand edge.
That's right: there are no other USB ports or video outputs to be found - including Apple's own Thunderbolt port. The absence of MagSafe is also disappointing. It was nice to know that you could wrap your leg around the power chord without sending your MacBook flying into the air.
Unlike MagSafe, which came out easily (which was the whole point), the USB Type-C connector feels uncharacteristically snug. If we're scraping the barrel to look for a positive, using the MagSafe adapter with the cord at full length meant that it had a tendency to fall out, whereas once a USB-C charger is inserted, it's rock solid. Plus, like Apple's Lightning connector it works both ways around.
Oh, forget it: let's hope a USB Type-C MagSafe adapter is invented soon.
On a practical level, the change to USB Type-C is the bigger issue as it means that you'll have to connect USB peripherals and monitors using a USB Type-C adapter, which Apple and other vendors supply. You can pick up a USB-C-to-USB-A adapter or a Multi-port adapter that lets you connect another USB-C device, a USB-A device and VGA or HDMI-equipped external monitor.
For writing this review, I used a USB Type-C Multi-port adapter with a VGA connection to hook up a 1080p monitor, inserting a USB mouse into the empty USB-A slot and hooked up the USB-C power supply to complete the adapter's trio of connections.
Did it annoy me? Well - not really. It felt tidy and practical and certainly wouldn't prove a dealbreaker to buying a new MacBook. Of course MagSafe would be better, as would more ports, but it wasn't quite the hair-tearing experience I was expecting. The obvious drawback is that the adapters aren't free.
If you're thinking about prying the new MacBook open and switching that pesky USB-Type C port for the old traditional one, well - you can't. Sorry. In fact, the whole device is incredibly difficult to upgrade, as the guys at iFixit found out in their
teardown
, rating the new MacBook a measly 1 out of 10 for upgradability.
Bundled software
One of the positives of buying any MacBook is that it comes with a slew of free Apple software, most of which is of an excellent quality and far from the bloatware your might run into on Windows machines - and Apple's apps look even better on the new MacBook thanks to its high-resolution display.
It currently ships with
OS X Yosemite
, undoubtedly the prettiest version of OS X yet - and future upgrades are bound to be free.
Plus, Apple's Mac App Store has come on in leaps and bounds in recent years, proving an excellent resource with frequent recommendations on apps in multiple categories - such as Games, Productivity, Writing, Navigation and more. Here's every app you'll find upon booting up a New MacBook for the first time:
iPhoto

iMovie

GarageBand

Pages

Numbers

Keynote

Maps

iBooks

Safari

Mail

Facetime

Messages

Calendar

Contacts

Time Machine

Photo Booth

Mac App Store

iTunes

Game Centre

Preview

Notes

Reminders
Performance and benchmarks
The new MacBook's Intel Core M CPU is adequate for handling daily computing tasks - such as browsing the internet, streaming audio and 1080p video and multi-tasking with several browsers open with up to 10 to 15 tabs each. It can't quite match the power of Intel's Core i3, i5 and i7 processors, but it does allow the new MacBook to run silently. Plus, it's mostly cool with the exception of a section along the right-hand side of the base that occasionally gets hot under heavy load.
You certainly won't be able to escape the odd bit of slowdown when you start to run 10 or more apps in addition to a ton of browser tabs. After that point, I would find that tasks such as clicking on Google Drive to open its preferences pane, or moving a Firefox window to a different monitor can cause apps to fill with white or black color and freeze, motionless, before springing back into life.
I actually found that, when using it from day-to-day, the new MacBook felt more responsive overall than my 2014 MacBook Air, which is likely down to it having 8GB of RAM, rather than the MacBook Air's 4GB. On the other hand, tasks that required the MacBook to do any sort of heavy lifting, such as using Gimp to scale the 60MB (or so) images that I took for this review up or down, took anything from 10 to 15 seconds longer than the Air.
Given that editing images is a vital but infrequent task that I need to carry out, the longer scaling and export times were well worth the trade off to get the new MacBook's svelte build and impressive display.
Benchmarks
Xbench: Overall: 314.66; CPU: 202.72

Cinebench R15 (CPU) Single Core: 98cb; Multi Core: 209 cb; Open GL: 19.05 fps

Unigine Heaven 4.0 Medium Quality (1,680 x 1,050): Score: 219; FPS: 8.7

Unigine Heaven 4.0 Ultra Quality (1,680 x 1,050): Score: 153; FPS: 6.1

NovaBench: Score: 500; Graphics: 29


Batman: Arkham City: Minimum 13 , maximum 25, average 19, 1440 x900

Tomb Raider: Medium quality, minimum 6fps, maximum 11.7, average 8.7

Geekbench 3 (Single Core): 2,299; (Multi Core): 4,423
Battery life (looping HD video over Wi-Fi, three-quarter brightness): 7 hours and 5 minutes
But make no bones about it: the new MacBook is no powerhouse, and that's reflected in the benchmarks. With a Geekbench 3 score of 4,423 on the Multi-Core test, its CPU came out 46% slower than the dual-core 2.7GHz Core i5 chip in the early 2015 Retina MacBook Pro.
While that may not come as a huge shock, it was also soundly beaten by the top-end 11- and 13-inch MacBook Air models from earlier this year, which attracted an average Geekbench user score of 8,947 and 6,828, respectively. If you're looking to use a MacBook for regularly editing image files or editing or converting video, those MacBook Airs both cost less than the new MacBook and would be far more suitable while remaining plenty portable.
The new MacBook's graphical grunt was nowhere to be found due to the inclusion of Intel's integrated graphics. Both Batman: Arkham City and Tomb Raider mustered low frames per second scores that would make either game unplayable.
Display
Here it is: the highlight of the new MacBook. The display is one of the best I've seen on a notebook, with incredibly rich colors and excellent 170-degree viewing angles.
Measured with our X-Rite colorimeter, it notched up a brightness level of 375.15cd/m2, which easily proved bright enough to see indoors and was just about good enough to read websites in bright sunlight too - even if videos were a little harder to follow.
Elsewhere, the MacBook produced decent black levels of 0.33 cd/m2 black levels, with color accuracy standing at 91.3% of the sRGB color gamut. While it's not quite high enough for media professionals, you probably won't notice the difference. The display's inky blacks and bold colours make text and images 'pop' on the impressive display - and once you've seen it, it's so, so hard to go back to a MacBook Air.
There's another advantage to that 2,304 x 1,440 pixel-resolution display: you can scale it up to get more desktop space and go far beyond Apple's default scaled resolutions.
By adding a custom resolution, I managed to soar all the way up to 1,920 x 1,080 in High-DPI mode using SwitchResX, which allowed me to see the same amount of spreadsheet rows and columns as a 27-inch monitor. Sure the text was tiny, but I could still make out the numbers and edit the spreadsheet without any trouble.
I might not be doing it all the time, but compared to my old setup, which was an 11-inch MacBook AIr connected to a portable USB DisplayLink monitor, I now have enough desktop real-estate to switch to see more on the screen at the same time. Sure, that's been possible on high-resolution Windows and Apple machines for some time, but having all that desktop space is even more impressive on a titchy 12.1-inch machine as thin as a pencil.
The new MacBook's stereo speakers are one the of the surprising highlights of the new MacBook. It's incredible what Apple has managed to do in that department. Located on the top of the base under the bezel, they're pleasingly punchy with good mid-range tones, even if the bass is predictably lacking. They're loud, too, for the size - and sound far better than the 11- and 13-inch MacBook Air's comparitively tinny speakers.
The new MacBook uses a new Force Touch trackpad that adds an extra click using haptic feedback. That means there's no mechanical construction under the trackpad, instead using haptic feedback to let you indicate where abouts on the trackpad the click takes place.
Initially I found that the larger trackpad size actually made me accidentally miss the right-click zone more often than I did on the 11-inch MacBook Air (which was never). However, after some practice I soon got used to the larger trackpad, which has tons of potential once developers get to grips with Yosemite's Force Touch Trackpad API (or application programming interface).
The new MacBook has good, but not excellent battery life, ekeing out 7 hours and 5 minutes from its 39.7Wr battery on our looping video test over Wi-Fi. That's not quite post-Haswell MacBook Air levels of battery life longevity, but it isn't far off Apple's older Ivy Bridge models. Still, that Retina display has to draw oodles of power from somewhere, and if you need the best battery life in a MacBook you can get, the new MacBook is not the way to go.
Keys to the heart
Apple has completely redesigned the new MacBook's keyboard, which now uses a new Butterfly hinge rather than the scissor switch under each key. The keys are still backlit, only now they have individual lighting zones that prevents light from bleeding between the keys - and you get fewer crumbs dropped between them, too.
The changes make the keyboard by far the most divisive feature of the new MacBook - and it took me a week to get fully used to it after using an 11-inch MacBook Air for five years.
Initially I couldn't quite type as fast as I could on the MacBook Air, but the reduced amount of pressure needed to make each key actuate makes the New MacBook's keyboard slightly more comfortable for typing on for hours at a time. Like me, once you get used to it, you'll find yourself flying.
Verdict
The New MacBook is the future, but it isn't for everyone just yet. The lack of USB ports and the need to buy an adapter (if you have peripherals and a monitor) will likely be the first dealbreaker, followed by its price. If you're still onboard after those potential pitfalls, the new MacBook is one of the most luxurious, compact and fun notebooks to use today.
We liked
After witnessing the Retina MacBook Pro's display, it was always likely that the new MacBook would have a stunning display - and it doesn't disappoint. Great viewing angles and bold colors make it one of the best we've seen in a laptop. It's all part of a brilliantly portable package that's the closest a laptop has come yet to offering the portability of a tablet (well, an iPad).
The new MacBook's speakers gave surprisingly full-bodied sound that won't shake the room but make for a far more pleasant listening experience than Apple's previous MacBook Air or MacBook Pro models. While many will sit on the fence when it comes to the keyboard, my experience with it only got better in time - and I ended up preferring it to the MacBook Air's after almost two weeks.
It's a similar scenario with the Force Touch Trackpad, which felt a little alien at first but became more comfortable over time.
We disliked
The new MacBook is far from a monster under the hood. However, if you can get over the fact that it's designed for anything from browsing the internet to light image editing, streaming video and music to other light computing tasks, it should perform OK for what you want it to do.
Bear in mind that you will need to pay for at least one of several USB Type-C adapters out there to use your existing peripherals and monitors. Some say that's just the price to pay for being an early adopter, but it could be hard for you to stomach considering its already high starting cost.
Final verdict
The decision of whether you should buy a new MacBook is a simple one: does it play to your strengths? Perhaps you need the lightest and most portable OS X machine out there today, one with good battery life. Maybe you appreciate an incredible, vibrant display that's equally as good at rendering your crisp documents as it is displaying the same amount of a spreadsheet as a 24-inch monitor.
Maybe, just maybe, you travel a lot and play music out of your laptop's speakers. But - and it's a big but - you need to be prepared to put up with its pitfalls. Don't expect to crunch through major mulittasking without slowing down. And you may end up merely coping with its keyboard rather than falling in love with it. You'll definitely have to put up with at least one adapter if you want to use any peripherals or an external monitor.
Like in any relationship, the one between you and your MacBook will be frought with compromises. But if it's meant to be, then you will be prepared to make them. If you're not, you can always take it back to the Apple store to save yourself a messy divorce. In other words: if possible, try before you buy.

Read More ...
---
Spotify's next big hit may be original videos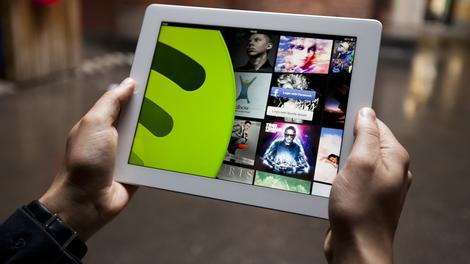 Music streaming powerhouse
Spotify
may be making a move into the video world.
The Wall Street Journal
reports Spotify "has been reaching out to companies that specialize in making content for YouTube." It's possible that Spotify is attempting to outdo its pricier competitor,
Tidal
, which offers music videos and will eventually stream live events.
According to the report, Spotify has been in talks with companies that create content for YouTube about acquiring existing material and possibly joining forces to test the waters of original video content. The specifics of Spotify's new venture into video could be divulged as early as this month.
The
WSJ reported
last month that Spotify's worth is about to rise to $8.4 billion, making it a stronghold in the streaming industry. The addition of video, and possibly taking pointers from
Google's Music Key
and Tidal looks like it could help strengthen the company's foothold as the top-dog.

Read More ...
---
Heartbreaker: Nearly half of all Tinder users aren't even single
If you're looking for some conversation fodder for the dinner table tonight, consider the question: "Hey, you're not on Tinder, right?"
In a recent report from Global Web Index, the firm found that out of the 47,000 Tinder users it polled, around 42% answered that they were either married or in a relationship already, while 3% said they were either widowed or divorced.
What does that leave? Only 54% of the group identified themselves as "single."
The company found that men were more likely than women to use the app (around 62% of the people surveyed were men), but it's unclear whether more men or women were likely to use the app for polyamorous purposes.
Before we jump to conclusions, though, we should probably have a bit more info. Are these people active users? Are the ones in a relationship - or worse, married - sending messages to potential dates? How many of these users also have an Ashley Madison account?
For the time being all we have is the hard data, posted for your convenience below.

Read More ...
---
Updated: E3 2015: the hardware and mega games we want to see
Hardware we're excited to see at E3
E3 2015 is just around the corner - so we've started preparing our wish list for both hardware and software.
By the time E3 rolls around players will be a year and a half into the new console generation, so publishers, developers and platform creators need to bring their A-game to LA.
Here's what we'd like to see - and believe us when we tell you, this is simply a starting point for an ever-growing list:
Console craze ... and PCs now too!
We don't expect to see very much in the way of hardware at the 2015 expo. Both Sony and Microsoft will have gaming platforms in the market that are under two years old and if Nintendo's past form is anything to go by, it's doubtful it's ready to throw in the towel on the
Wii U
just yet.
Nintendo's only just launched its new
3DS
and
3DS XL
and Sony continues to support the
PS Vita
platform, so new handhelds probably aren't on the agenda.
But the notion of a slimmer, more svelte
Xbox One
wouldn't be unappreciated. On the other hand, if the
PS4
loses any more weight it may disappear under your television altogether. What's more likely is that both Microsoft and Sony will make attempts to better utilize their mobile device gaming platforms. A price cut for any of the home consoles wouldn't be completely unexpected either.
An area of hardware we do expect to see plenty of is virtual reality. The
Oculus Rift
is officially expected to touch down
next year
, though
pricing
is still up in the air. But now that we know when to we'll see a more finalized version, we expect it to be at the LA expo with guns blazing.
Microsoft teased the
HoloLens
at Build 2015 developer conference though we're sure all the juicy info will pop up in June. The HoloLens
site
even lists the following blurb: "Holographic computing promises whole new ways for us to create, collaborate, work, and play. We look forward to showing and telling you more at E3, the world's premier trade show for computer and video games and related products."
Sony's
Project Morpheus
still has some way to go, but Sony's made big leaps forward with the second generation of the headset, and we expect to see more games for it shown off at E3.
Finally, Valve used
GDC 2015
to announce its new (and finalized) lineup of
Steam Machines
, which will launch later in the year. And if we're being incredibly optimistic for a moment?
Half-Life 3
, Portal 3 and Left 4 Dead 3 announced all at the same time. Imagine. Just imagine.
Speaking of imagining, year in and year out, our friends at
PC Gamer
would look on at the biggest gaming expo with wanting eyes. While Nintendo, Microsoft and Sony get to show off their wares with bombast, the excellent games and infinitely more powerful hardware on the PC received no such spotlight. But that's all about to change.
Presented by AMD and sponsored by Blizzard Entertainment, Bohemia Interactive, Tripwire Interactive and Digital Storm, the PC Gamer will play host to the
first E3 conference all about PC gaming
.
Hosted by StarCraft 2 e-sports commentator Sean 'Day9' Plott, the PC Gaming Show will be live streamed in partnership with Twitch from the Belasco Theater in Los Angeles on June 16.
Let's talk E3 games
It's hard to predict at this stage what developers and publishers will have in store for the E3 shop floor. But there are a ton of titles in 2015's pipeline we desperately want to see more of.
One publisher we're hoping will recapture some of its E3 glisten is Bethesda. The publisher's E3 2014 showing was tepid to say the least; showcasing The Evil Within and BattleCry failed to set the world alight. However, 2015 is set to be extra special - Bethesda has invited us to its first ever E3 press conference, which will take place this year. We'd be quite pleased with a sequel to Dishonored, or if there was any news about the undeniably intriguing Prey 2. But on the very top of our wish list is an announcement about Fallout 4. They've got to at least give us a tease, right?
Update: More rumors about Fallout 4 spilling out with the conference inching closer.
IGN
reports that behind the scenes gameplay sessions of the next Fallout game will be held in LA.
Other hopefuls include the Warner Bros Mad Max game, one of the belle's of the E3 2013 ball that we saw neither hide nor hair of it at E3 in 2014. We'd like to see a lot more of that now it's been given a September release date.
Elsewhere, it'll be interesting to see if Activision has more in store for the world than another Call Of Duty, another Skylanders or more bolt-on parts to Destiny. The normally reserved publisher introduced one of this year's biggest and best new IPs. We'd love to see them repeat that trick - even if the odds on it happening are slim.
Square Enix could do with some regrouping. Aside from Final Fantasy XV, which is receiving a mixed reception at best, and the upcoming sequel to the Tomb Raider reboot Square doesn't really have much beyond games with niche appeal. Why is this? This is the publisher that holds the rights to both the Hitman and Deus Ex franchises.
We've already had a good glimpse at Uncharted 4, and we expect the game to have a big presence at E3, although it has now been pushed back into 2016. It's shaping up to be one of the most "next gen" games yet - have you
seen
the detail in Drake's chest hair?
There are also rumours that United Front is working on a new Sleeping Dogs title and we'd love to see that. Oh, and Sony could 'fess up and tell us whether we'll ever see The Last Guardian in this lifetime.
As for Nintendo, it's bad news:
we won't see Zelda Wii U at E3
. In fact, Nintendo announced that it's pushed the game back beyond 2015. We're still expecting Star Fox Wii U this year, however, so hopefully that will be flaunting its stuff on the E3 show floor. Perhaps Nintendo might give us a glimpse of something else?
We don't want to start any rumors, but the recent release of the Metroid Prime trilogy on Wii U could be a sign that another franchise might eventually make a glorious return to the home console ...
Additional writing by Lily Prasuethsut

Read More ...
---
Updated: Grooveshark clone still swimming, will be 'better and stronger than it ever was'
Update:
Shark, the person responsible for Grooveshark.io, emailed TechRadar to give us an update on how things are going at what Shark called "the re-incarnation of Grooveshark."
Shark revealed the new site has had to move hosting companies four times. The team is working to make playlists available, and should arrive sometime between today and Sunday.
Another feature in the works is turning Grooveshark into an open source project, Shark said. According to them, the idea came from the many developers who have reached out over the last two days to help with the site.
"We're sure that together with the help of talented music loving devs from all over the world, Grooveshark will end up becoming way better and stronger than it ever was," Shark wrote.
While Shark wasn't able to answer specific questions we sent, they said, "Once everything I wrote here is up and running and Grooveshark is grooving again and everything is cool," Shark will be able to. Sounds like Grooveshark.io is showing no signs of slowing down.
Original story below...
Grooveshark as we know it is
dead
, but a group has apparently reincarnated the music streaming service, albeit in a very murky manner.
Here's the deal: Four days ago,
Grooveshark.com shut down
after coming face-to-face with $736 million in copyright violation damages. Violate the terms of its settlement, and Grooveshark would need to cough up $75 million.
Grooveshark.com
still has the company's announcement/apology message detailing the circumstances of its shut down and no sign of its user-uploaded tunes. But head over to
Grooveshark.io
, and it's like seeing a ghost.
How Grooveshark got its groove back
Jacob Siegal at
BGR
got an email today from someone calling themselves "Shark." Shark was "connected" to Grooveshark a few years ago, according to another email sent to
The Verge
.
Shark revealed that along with an assembled team, Shark essentially cloned Grooveshark.com over to Grooveshark.io. The .io site is completely operational: users can go there right now to search, stream and download tracks, which include the very copyright-protected files that put the kibosh on Grooveshark.com.
The site quasi-lives again because Shark said they "started backing up all the content on the website when I started suspecting that Grooveshark's demise [was] close." Shark claims to have backed up 90% of Grooveshark.com's goods and is currently working on locking up the final percentage.
The idea is to recreate Grooveshark's UI on Grooveshark.io, but how long the site will be up and running remains to be seen. While it looks to cover itself with a righteous
disclaimer page
and claims to always show the page where a stream is indexed, we didn't find any instances of this during our own song and artist searches.
Given Grooveshark.com's decisive shutdown after years of legal battles, it's impossible not to question how long Grooveshark.io can last.
Shark had this to say to BGR about keeping the clone site up: "We have all the servers/domains infrastructure in place, it's going to be a roller coaster and we're ready for it."

Read More ...
---
Tesla Model 3 will be the first electric car you can remotely afford
During Tesla's latest quarterly earnings conference call on May 6, CEO Elon Musk announced the unveiling of the long-awaited Tesla Model 3's design in March of 2016.
The Model 3, which will be approximately 20% smaller than the spacious
Model S
, was made in hopes of bringing an affordable electric option to the mainstream market. Tesla looks to price the Model 3 at $35,000 (about £23,048, AU$44,197,) starting it at half the price of the Model S. While this isn't "cheap" by any stretch of the imagination, it's the most economical option that the high-end electric car maker has offered.
Musk also disclosed a broad window for releasing the new electric car, aiming for late 2017. However, given Tesla's track record with release dates, it's entirely possible that we won't actually drive a Model 3 until 2018. Tesla's debut crossover vehicle, the
Model X
, is set to debut later this year, which Tesla is counting on to alleviate some of its
losses in 2015's first quarter
.
To Musk, however, it's not all about the profit. He counts himself as an innovator at heart who wants to see the idea of electric vehicles catch on outside of Tesla. When asked on the conference call whether Apple's recent, possibly unofficial interest in electric vehicle transportation would be a detriment or benefit to Tesla, Musk replied, "I certainly hope Apple gets into the car business, that'd be great." Musk appears to be, in essence, looking towards the bigger picture.

Read More ...
---
Acer updates TravelMate P645 with Broadwell chip
Acer is upping the power of its TravelMate P645 ultrabook range thanks to the addition of
Intel
's 5th Generation Broadwell Core i5 and i7 processors.
Targeted at multi-tasking executives and professionals that are constantly on the go, the updated P645 line provides battery life of up to eight hours, 24% better graphics performance and 50% faster video conversion.
"The TravelMate P645-S is the ultimate traveling companion," said Steve Su, Acer business manager, commercial mobility, in a statement. "Our latest TravelMate P645 series ultrabooks are lightweight, provide great battery life and exceptional reliability. IT staff will also appreciate the stringent security for keeping data safe and the ability to troubleshoot remotely."
Two different configurations are in place to cater for different ends of the market. The "premium" version has a 14-inch full HD display with IPS and an Nvidia GeForce 840M graphics card. The "mainstream" machine, meanwhile, has an HD 1,366 x 768 display and Intel HD Graphics 5500. Both have 8GB of DDR3 RAM that is upgradeable to 12GB plus a solid state drive with 256GB capacity.
Fingerprint reader
Beyond that there is a 720p webcam, dual microphones, HD audio and Acer Purified.Voice to make communicating with colleagues flawless regardless of where in the world they are located. The laptop also retains the integrated biometric fingerprint reader of the previous model to build on its security as well as a range of different ports.
The TravelMate P645-S Series, which runs on
Windows 8.1
, is out right now in the US and prices start at $949.99 (around £623, or AU$1199.95) for the ultrabook.

Read More ...
---
Galaxy Note 5 and Note 5 Edge get detailed in a new leak
As sure as summer follows spring the
Samsung Galaxy Note 4
will be followed by the
Samsung Galaxy Note 5
, but while we've always been fairly certain it's happening we're only now starting to hear specifics about it.
According to
Sam Mobile
's sources the Galaxy Note 5 will have either a 2K (QHD) or 4K Super AMOLED screen and an Exynos 7422 processor.
The 7422 is apparently set to be Samsung's first all-in-one solution, combining CPU, GPU, RAM, storage and the modem on a single chip. There's an outside chance that the Exynos 7430 could be used instead, as it's apparently being tested with this too, but supposedly that chip is just an engineering sample.
No Note 5 Edge
Interestingly, although Samsung is also likely to release a new curved-screen phablet along the lines of the
Galaxy Note Edge
, it won't actually be a curved version of the Note 5.
Instead according to these rumours it will have very different specs, with a 5.4 or 5.5-inch Super AMOLED dual-edge curved screen, a hexa-core Snapdragon 808 processor, a 16MP rear camera with optical image stabilisation, an 8MP front-facing one, 16GB of storage and an S-Pen.
By the sounds of things then it might not be quite as high-end a device as the Note 5, assuming there's any truth to these rumours. It's also apparently going by the codename 'Project Zen', which had
previously been attached
to a
Samsung Galaxy S6
variant.
Hopefully we'll hear more soon, but we're probably still a way out from release yet, as going on past form we're likely to see the Galaxy Note 5 and Project Zen in September.

Read More ...
---
Don't drown in data: how Microsoft's new Azure data services can help
Introduction
Everyone sees how useful
data
is to their business these days, observes T.K. Rangarajan, who runs the teams creating Microsoft's core database platforms. In fact, they're beyond enthusiastic.
"The world is drunk on data," he says. "Everyone has seen enough evidence that with data you can get great insights, with data you can see the effect of recommendations, like people liking your stuff on Facebook. Now business leaders are looking at these sorts of examples and interpreting them for their own business, and they're asking 'why can't I have that?' There is a tremendous deep desire on the part of businesses to achieve their objectives with greater, deeper, more intensive cultivation of data."
Getting the data isn't the problem. "There's a proliferation of data," he points out. "Every human interaction with a digital system – every time you come into contact with a company, every time you send an email or a text or a tweet – they're all opportunities for somebody to learn about what you want, what you think, what you value, what's popular. Then there's all these sensors measuring temperature and humidity… Data is produced in all sorts of places."
Coping with the data flood
But dealing with that isn't easy, because so far there hasn't been an easy way to take what developers and IT administrators know about building business systems and use that for running
big data
systems. The new Microsoft data services change that, because they use familiar SQL options – but integrate with Hadoop systems, as well as Microsoft's own cloud analytics and
machine learning
services.
"Our approach for developers is to bet on standards so we can leverage the familiar tools, technologies and frameworks they're used to," says Rangarajan. "The world as we know it for running businesses is relational databases – we know how to run businesses on it. SQL is a well-trodden path. We know how to do
business intelligence
, how to load data into a warehouse, how to optimise your sales force every quarter; we know how to do that."
"From a data point of view we make it easy for developers to extract value from any type of data, whether it's richly structured, JSON, flat relational transactional or flat relational data warehouse, or completely unstructured
Hadoop
. You can analyse that data, you can do machine learning on any data that you move into
Azure
from anywhere.
"We want to make it easy for developers to get meaning out of this data, to put it together and use visualisation tools for human insights or machine learning tools for automated decisions. We want to support the ways insight is shared and creates value."
Elastic data pools and Azure Data Lake
The first new service is elastic data pools which let you share resources between multiple databases – this is a service you can create your own cloud service on, or use to support multiple departments or subsidiaries (imagine creating a service that helps people manage the franchises your business sells).
"Apps that are developed for the cloud, based on scale out, have large numbers of databases that are information repositories with some partitions scheme by which people's data is getting sharded across databases," he explains.
"One things we're seeing again and again is that these different databases and shards see different levels of activity and resource requirements. And that changes over time – sometimes that change is predictable and seasonal, sometimes it's unpredictable and spikey with hotspots of usage. People who run cloud apps are finding themselves in situations where the individual databases are getting unpredictable and harder to manage."
An elastic pool can cope with that, because resources can be automatically reallocated to the databases that need them. "You get a predictable business model even though you have unpredictable databases," Rangarajan explains. "It's the mutual fund principle – it enables them to fund a large number of databases and the pricing structure allows them to use them any way they want."
The elastic data warehouse is a cloud version of a familiar data tool. "It's built on decades of innovation in SQL Server, that's the core engine on which the node engine is running. It has an in-memory column store, all the fancy optimisers we've perfected over years – all the good stuff you expect in an industrial-strength database. We're taking those technologies and combining them with the fundamental elasticity of the cloud. Azure SQL Database is the basis of the service and with the Sterling v12 database engine that has full compatibility with SQL Server."
That means it's the same powerful data warehouse you could set up on your own servers, only much faster to create and to add more capacity to – plus you can pause it when you don't need to run it, and you don't have to keep paying for it. And as well as running your own analysis models, you can connect it to other Microsoft services to look for more insights. "It integrates with Azure Machine Learning and to Power BI for insights," says Rangarajan. "
Power BI
works directly against it."
Deep data waters
The other new service is Azure Data Lake, which he calls a "global scale, Exabyte-scale data store optimised for analytical workloads." It's ideal for companies who have large amounts of data in different places. "We have data location so they can find out where their data is and move the query to where the data is rather than spending time and money to move the data. You don't need to move data around the world to bring it into one place where you do processing; instead you can shift the queries to the data."
The Data Lake is based on the Hadoop File System so it works with Microsoft's HD Insight service (as well as with any standard Hadoop workload for analysis). "HD Insight will benefit enormously from this; it will just blow through some of the limits that are there in Azure. It's a simple, tactical advantage."
You can store files that are petabytes in size, "but it can also handle large numbers of small writes so you can take sensor data and quickly make it available for real-time analysis," says Rangarajan. "There are times when you will pay more money to use more resources to get the same answer faster," he points out, "and then the elasticity of cloud is valuable. I need to borrow a thousand cores and crunch this data and do predictive analysis about engine failure before the plane leaves on its next flight."
He thinks the Data Lake will also appeal to companies who have requirements for data sovereignty. "Sometimes data movement is restricted because of other constraints than technology – how can you still get the job done when the data is restricted? You can only do it if you are able to move the query. This is ideal for multinational companies with data siloes that cannot leave the country.
"Our intention with this is that your desire to use your data, to get value out of data, should be limited only by the economic concern that the value you get is good for what you spend, not by technological concerns."

Read More ...
---
Samsung Galaxy Note 5: what we want to see
Samsung Galaxy Note 5: what we want to see
The
Samsung Galaxy Note 4
is the ultimate refinement of the phablet platform the company created with the original Galaxy Note.
A powerful display, even more power stuffed inside and new take on the phablet's design made for a handset worth of 4.5 stars even though it's controversially expensive and huge in the hand.
Since its release back in November, we've seen the
Samsung Galaxy S6
come out as well with a completely rethought design and it's possible we may see those changes come to the Galaxy Note 5 as well.
Nothing is confirmed as of yet, but we can predict we'll see an iteration of the Galaxy Note 5 at IFA 2015 this September – that's Samsung's previous form for releasing it's phablet line.
News and rumors
Not much is officially known about the Galaxy Note 5 - which is also being referred to as Project Zen in some leaks - but rumors are beginning to seep out and give us a slight idea of what to expect.
A source at the South Korean publication ETNews suggested a display manufacturer had received an order from Samsung for over 8 million flexible displays.
It's expected these will cross between the Samsung Galaxy S7 and the Galaxy Note 5 but it's an interesting prospect.
The article refers to them as flexible displays but it isn't currently clear whether it means a set up similar to that on the
Galaxy S6 Edge
or a full blown curved and movable display.
We'd expect to see a standard version of the Galaxy Note 5 and maybe accompanied by one with the flexible display type – much like the
Note Edge
did last year.
A model number for the Galaxy Note 5 has also appeared on the
IMEI
database under SM-N920F.
The Note 4 was referred to as the SM-N910 so it makes sense this is the next iteration, whilst a number of different sources have revealed to
SamMobile
that the phone is being referred to as
"Project Noble"
or "
Project Zen
" within Samsung.
What we want to see
1. Same display, forget 4K
Rumors suggest Samsung may be looking to adapt a 4K display into the Galaxy Note 5 – but we really don't want to see that, what we've got is good enough.
The Galaxy Note 4 comes with a 5.7-inch display with a pixel resolution of 1440 x 2560 equaling a stunning 515ppi. The battery life on the current handset isn't the worst but neither is it the best we've ever seen so let's hope Samsung doesn't opt for a battery hungry 4K display the next time around.
2. Wireless charging
One feature missing from the Galaxy Note 4 was wireless charging. Wireless charging is becoming the norm fast and with the technology getting stronger and some now putting it into furniture such as IKEA tables and chairs in the coming months it's time to get ready for it.
It's easy for Samsung to throw the tech into the Note 5, so we can charge it up on a desk without having to plug in and not worry about it dying anytime soon.
3. Better battery life
Not that battery life on the Note 4 was poor but improvement is always welcomed and a day and a half battery life on normal usage would be fantastic.
There's no guarantee the Galaxy Note 5 will be set up to hold a bigger cell but we hope it'll have a more efficient processor set up to save a little on battery life.
4. Top of the range processor
The processor on the Note 4 kicked ass but by the time a new year has rolled around it's bound to be a bit sluggish compared to what else is on the market.
Samsung has dropped away from using Qualcomm processors so it's likely we'll see a brand new top of the range Exynos chipset behind the scenes on the Galaxy Note 5.
We're not fussed if its Samsung made or of a Snapdragon flavor, we just hope Samsung manages to have the sense to put the biggest and best processor in its new phablet.
5. More S Pen functionality
The S Pen is a lovely touch to the Note series but we often find ourselves forgetting it's there after the first couple of weeks and missing out on the tasty stylus based features.
What we need is a stand out feature that makes us really pine to use the S Pen and then we'll be with it all day everyday - hopefully we'll get that on the Samsung Galaxy Note 5.
6. Improve the fingerprint scanner
Samsung nailed the fingerprint scanner on the Galaxy S6 – we've called it one of the best on the market. It's a single touch function this time around instead of the weird slide your finger down like it was on the Galaxy S5.
All Samsung needs to do now is to adapt that same technology into its Galaxy Note 5 and we'll be pretty chuffed.
7. A flexible version
Rumors have suggested Samsung is looking into flexible displays for its next batch of Note handsets.
We've got our fingers crossed it'll make the Galaxy Note 5
a flexible display
by printing onto plastic instead of glass but it's more likely they'll accompany the main phone with a new sibling, much like the Galaxy Note Edge sat alongside the Note 4.
8. Larger storage versions
The Note 4 was restricted to only a 32GB version with microSD support of up to 128GB. We vote Samsung ditches the smaller options and just goes right in at the deep end and supplies a 64GB and 128GB version for each.
This way everything will work slightly quicker as we don't need to worry about transfer rates between the microSD and phone plus we get all the storage we need.

Read More ...
---
Buying Guide: 10 best home cinema projectors 2015
Home cinema projector
Home entertainment always looks better when it's been super-sized. Whether you want to splash Blu-ray movies across a large white wall, magnify your gaming experience, or want to throw photographs or slides from a mobile device onto a 100-inch plus screen, a home cinema projector should be your first choice of display.
To help bring the big-screen home we've tested ten top models of home cinema projector. They range from pocketable Pico projectors, to cinema grade 4K Ultra HD models; the surprisingly affordable to reassuringly expensive. The days of fuzzy old pub projectors are long gone.
With HD now ubiquitous, you can get great results from 1080p source material. Indeed, our top pick is an Epson Full HD model that won't break the bank, yet is equally outstanding with movies as games and sports.
1. Epson EH-TW6600
Superb value home cinema projector
Price:
around £1145
Buy:
Richer Sounds
|
Amazon
|
PixMania
Epson's EH-TW6600 is the ideal projector for home cinema fans looking for a giant picture on a modest budget. It delivers sharp, vibrant Full HD images comparable with models costing twice as much. Rated at 2,500 lumens, it's also bright enough to be used in a partially lit living room, making it a great choice for gamers, plus there's a 2 x 10w sound system for impromptu FPS sessions. Contrast is rated at 70,000:1, which translates to plenty of visual punch. Operating noise is an unobtrusive 23dB in Eco mode. Overall, unbeatable value.
2. Optoma HD50
Great value, high performance home cinema projector
Price:
Around £999
Buy:
Seven Oaks
|
Ask Direct
|
Amazon
The Optoma HD50 is a Full HD projector designed for wall-sized movie watching and console gaming. At 3.8kg it's easy to park on a coffee table. and would suit those who want to go large occasionally. There's no onboard audio, so you'll need to use it with a separate sound system. HD images are bright (Optoma quotes 2,200 ANSI lumens) and contrast is good (50,000:1). Rainbow fringing, an artifact common to single chip DLP projectors, is notable only by its absence. Operating noise is 29dB. A fine 1080p projector for AV enthusiasts and gamers.
3. JVC DLA-X700R
With inky blacks, JVC D-ILA is built for home cinema.
Price:
£5999
Buy:
Projector Shop
|
Audio Visual Online
|
Audio Affair
Home cinema aficionados will be delighted by JVC's DLA-X700R. It uses D-ILA imaging technology to deliver prodigious black levels with unbeatable contrast, on this model rated at 1,200,000:1. Images pop with extraordinary clarity. Although a 1080p model, it uses proprietary e-shift3 technology to deliver a pixel dense 3810 x 2160 4K resolution image. Don't think you'll be able to pull this out of sock draw when you need it though, it's big and hefty. Build a home cinema around it though and you'll always have a full house.
4. Sony VPL-HW40ES
Dynamic SXRD projector for gamers and movie fans.
Price:
around £1700
Buy:
Amazon
|
Seven Oaks
|
Projector Shop
Sony's curvaceous VPL-HW40ES is solid choice for all-round entertainment duties. Using SXRD imaging technology, it casts colour rich, contrasty pictures that look particularly great with live sports. The low-lag game preset is effective too. Brightness is rated at 1700 ANSI lumens, so it's best used in a fully dark room. Build quality is excellent although serious users may bemoan the lack of a 12v trigger for automatic screen control. Operating noise is a low 21dB, making this a very easy model to live with.
5. Sony VPL-VW300ES
The most affordable 4K Ultra HD projector yet.
Price:
£5,800
Buy:
Seven Oaks
|
Peter Tyson
|
Amazon
Offering four times the picture resolution of Full HD, 4K UHD is tailor made for the big screen. Native content may be scarce, but the Sony VPL-VW300ES does a great job of upscaling regular HD to digital cinema grade. There are caveats though. With a brightness of 1500 lumens you'll need to use it in a light controlled room, and it deserves a dedicated screen for the best results. Operating noise is 26dB. A future-proofed option for hardcore cinephiles.
6. Philips PicoPix PPX3614
Versatile pocket projector for mobile devices.
Price:
£350
Buy:
John Lewis
|
Amazon
|
Currys
This Wi-Fi enabled LED PicoPix projector is perfect if you want to throw big images from a smartphone or tablet. Weighing just 0.28kg, it throws vivid (140 lumens) images from mains or battery. It comes with a simple remote control, but also boasts a touchpad on top for easy navigation. There's even a diddy onboard 1w sound system. In addition to multimedia files, this little Pico LED DLP projector can also read office documents, so it's handy for road warriors too. Native resolution is 854 x 480. Astoundingly good value.
7. Asus S1
Recommended for portability and ease of use.
Price:
Around £243
Buy:
Projector Shop
|
Amazon
|
Google
If you want a pocket Wi-Fi enabled projector, but don't need all the features of the PicoPix PPX3614, consider the Asus S1. This gorgeously finished pocket-sized LED model is perfect for pop-up presentations, casual gaming or impromptu sports screenings. The onboard battery gives around two hours of use. Fan noise is a moderate 28dB. Rated at a 200 lumens, the S1 is able to throw an image roughly 1.5m from about the same distance. Native resolution is WVGA 854 x 480, so don't be tempted to blow it up larger.
8. Vivitek Qumi Q7 Plus
Good for home entertainment and business presentations.
Price:
around £699
Buy:
Google
|
Personal Projector
Slim enough to slip in a briefcase, yet smart enough to inspire envious glances on a coffee table, this latest iteration of the Qumi Q7 ticks all the right boxes. Image clarity is higher than its smaller Pico projection rivals, thanks to a native resolution of 1280 x 800, and brightness is quoted at 1000 ANSI lumens. With a contrast at 30,000:1, this is a solid home entertainment proposition, while the Office Viewer offers PDF support.
It also runs quietly. A tad pricey, but worth it.
9. Viewsonic PLED-W800
Best for boardroom presentations and weekend r&r.
Price:
£499
Buy:
E Buyer
|
Projector Shop 24
|
Amazon
The PLED-VW800 is an LED DLP projector with quite a few tricks up its sleeve. You can use it with HDMI/MHL sources and laptops, SD cards and USB sticks, or wireless connectivity via an optional £49 dongle. The Viewsonic is native WXGA 1200 x 800 and rated at 800 lumens. For the best movie watching results, you'll need to watch in a darkened room. Contrast is a tad limited, but the onboard sound system is loud enough to be heard in a smallish boardroom.
Read our full
PLED-VW800
review
10. Canon LV-X300ST
This Ultra short throw projector is brilliant for business, classrooms.
Price: £534
Buy:
Projector Point
|
Projector Shop 24
|
Shop BT
If you have limited room to cast an image but need a big image, consider an ultra short throw projector. The LV-X300ST uses clever optics to cast a huge picture just one metre from the screen. There's also a powerful 10w sound system onboard. The projector is unusually bright too, rated at 3,000 ANSI lumens. Operating noise is high at 36dB though. Native resolution is 1024 x 768, so text and graphics look sharp. Ideal when space is limited, or in a classroom/boardroom environment.

Read More ...
---
Review: Nikon 1 J5
Introduction and features
Nikon's compact system camera (CSC) line-up seemed to start well when the Nikon 1 J1 and Nikon V1 were first announced back in September 2011. But after an initial flurry of impressive sales reports, the market seemed to lose interest. However, the changes brought by the latest introduction, the Nikon 1 J5, could see renewed interest from Nikon SLR lovers looking for a smaller alternative.
With its new 20.8 million pixel CX-format (one-inch) sensor, the J5 has the highest resolution of any Nikon 1 camera yet. What's more, the new sensor is backside illuminated, which means that the circuitry is out of the way of the light receptors, allowing them to be larger than they would otherwise be. This should be good news for low light performance. Additionally, as with previous Nikon 1 cameras, the sensor has no anti-aliasing filter, which should make it good at resolving fine detail.
A new Expeed 5A processing engine makes the J5 faster, as well as enabling more movie options (the Nikon J4 and Nikon V3 use Expeed 4A). The J5's sensitivity range also steps up to ISO 160-12,800, whereas the selectable options of the J4 topped out at ISO 6400.
In addition, the new processing engine enables a maximum continuous shooting rate of 60fps (frames per second) when the focus is fixed at the start of the sequence. That should be fast enough to record split-second moments such as a water splash or a dog shaking itself dry. In continuous autofocus mode, the maximum rate drops to a still impressive 20fps, a figure that SLR users can only dream about.
Quiet please
The shutter itself is electronic, and not mechanical like the shutter in the Nikon 1 V3. This has a few advantages. It allows the camera to be smaller, for a start. It also means that extremely fast shutter speeds can be achieved – the top rate offered by the J5 is 1/16,000 second, which is great for capturing fast moving action, or if you want to shoot at wide apertures in bright light. Lastly, an electronic shutter is completely silent, making it good for discreet photography.
Like the other cameras in the Nikon 1 line-up, the J5 has a hybrid AF system with 171 AF points, 105 of which are phase detection points, distributed across the imaging sensor.
On the back of the camera, the 3-inch 1,037,000-dot screen is touch sensitive and can be flipped through 180 degrees for shooting selfies. It can also be pulled out and tilted downwards, making it useful for shooting above your head – such as when standing in a crowd. By contrast, the J4 has a fixed screen. As soon as the screen is flipped to face forward, selfie mode and face detection is activated automatically.
There's no viewfinder, and unlike with some of the other Nikon 1 models, there's no hotshoe or accessory port to allow you to attach one either.
While the J5 is the first Nikon camera that's capable of shooting 4K video, it is limited to shooting at 15fps at this resolution – so it is unlikely to prove a hugely popular option. However, full HD video recording is also possible at a range of frame rates up to 60fps. There's also a 120fps option for 4x slow motion playback. In addition, up to 20 full resolution still images can be captured while shooting full HD footage with no interruption to video recording.
Time lapse movies can also be created in camera with up to 300 images and a range of time frames and intervals being available.
As you might expect, Wi-Fi connectivity is included in the J5, but there's also NFC (near field communication) for connecting with an NFC device such as an Android phone. Once it's connected by Wi-Fi it's possible to control the J5 remotely using Nikon's free app.
The J5 is available as a body-only kit, but most will probably buy it with the 10-30mm retractable kit lens. The CX-format sensor has a crop factor of 2.72x, making that equivalent to roughly 27-81mm in 35mm terms. You can attach existing Nikon F-mount lenses via an adaptor, but it's worth remembering that these will also be subject to the same crop factor, making a 50mm lens equivalent to around 136mm. The range of Nikon 1 lenses is much more limited than those available for Micro Four Thirds cameras, but there are still 13 to choose from, covering a total focal range of 6.7-300mm (18-810mm effective).
Which cameras are the competition for the J5 is debatable. If you're a Nikon fan, perhaps one of its DSLR owners, you may find the J5 a tempting purchase instead of buying a compact camera. It has the same size sensor as some of the premium compacts on the market, such as the
Canon G7X
and the
Sony RX100 III
. In terms of compact system cameras, if you have no loyalty to Nikon, you might want to consider the
Panasonic GM5
, which has a similar body size but has a larger sensor and a viewfinder.
Build and Handling
Nikon has opted for an attractive two-tone design for the J5 and it looks much smarter and more retro than the J4 it replaces. It looks much more like a Nikon camera than previous J-series Nikon 1 models.
The J5's body is plastic but it looks like metal and feels nicely put together. The faux leather covering is also quite stylish and it gives the grips a little extra purchase.
Like the J4 and V3, there's a mode dial on the top-plate of the J5. Unlike on the J4 however, this gives a direct route to the enthusiasts' favourite exposure modes: shutter priority, aperture priority and manual, as well as the collection of scene modes and fully automatic options.
There is a smattering of direct control buttons, just like the J4, but there are also dual dials which make it easy to adjust key settings. The first dial, on top of the camera is used for altering shutter speed (in shutter priority and manual) as well as having some functionality when in playback. The second dial, a scrolling dial on the back of the camera is used for altering aperture (in aperture priority and manual).
For those who may be disappointed not to find a direct access button to ISO sensitivity, you can customise the new front Fn button to one of seven different functions – including sensitivity. Pressing the up directional key on the rear of the screen brings up a number of key settings for quick access and thus saving you from delving into the main menu. Unfortunately, this menu is not customisable, but it has just a few options so you shouldn't be doing too much unnecessary scrolling.
Touch-screen control
You can use the touch screen to set a number of key settings, and it is nicely responsive. You can choose to set the autofocus point with the screen, simply by tapping the area you need on screen, or, if you prefer, have the camera focus and fire off the shutter release when you touch the screen. This can be especially useful if you're using a tripod or shooting from an awkward angle and don't want to have to use the shutter release button itself.
The touchscreen can also be used to make settings changes when using the function menu, or to scroll through pictures. The good thing here is that you don't have to use the screen if you prefer the feel of real buttons. We've often found it to be beneficial to use a touch sensitive screen in tandem with physical buttons for the best experience.
Like other Nikon 1 models, the Nikon J5 uses Micro SD cards, which is a little annoying for those who have collected a number of full-size SD cards but, on the plus side, it helps to keep the overall size of the camera down.
Focus features
You have a few different focus options to choose from. These are auto-area, single point and subject tracking focus. There are 171 focus points, with the centre being 105 phase detection points. There's no way to choose for yourself whether contrast or phase detection focusing is deployed, since the camera will choose for itself depending on the lighting conditions.
Using manual focus with the J5 is not quite as nice an experience as with some other cameras currently on the market. Once you've selected Manual Focus from the function menu, you press the OK button to see a magnified view of the scene. You then use the scrolling dial on the back of the camera to adjust focus. If you're using the kit lens, there's no focusing ring on the lens itself, so this is the only way to achieve focus. It's also worth noting that the J5 doesn't offer focus peaking to emphasis object outlines when they're sharp.
Connecting to a smartphone via Wi-Fi is pretty easy. There's a dedicated button on the back of the camera which you can press either in shooting or playback modes. You'll then be prompted to connect to the camera's Wi-Fi from your phone or tablet. Once connected, you need to launch the Nikon Wireless Utility app. This app is used with a wide range of Wi-Fi enabled Nikon cameras, but it remains disappointingly limited. You can only fire off the shutter release – and while that is useful for group shots and perhaps selfies, the more serious photographer would probably appreciate being able to change other key settings.
If you have an NFC enabled device, you simply hold the two together to form a connection and automatically load the WMU app (once it's already installed).
Performance
It's clear that the improvements Nikon has made to the J5's sensor has had a significant impact on the camera's performance.
As there's no anti-aliasing filter, the amount of detail resolved by the camera should be pretty good. Overall, it's fair to say, the impression of detail when viewing a (JPEG) image at normal printing or web sizes is fantastic. If you examine at 100% however, it is possible to see some degree of image smoothing even at the lower end of the sensitivity scale (such as ISO 200).
This kind of image smoothing isn't really problematic, however, throughout the sensitivity range you're likely to be using for the majority of situations. Even at ISO 6400, there's a decent overall impression of detail. Images taken at ISO 12800, the maximum setting, are useable too, if not quite up to close scrutiny.
Click here
for a full size version.
Click here
for a full size version.
By looking at the equivalent raw format files (in Nikon's Capture NX-D), we can see how much noise reduction is applied to the JPEG files created in the camera – but this gives you good scope for applying your own preferred amount of noise reduction, which is especially useful if you're photographing something with a large amount of detail that you want to preserve.
Putting the J5 through our labs tests reveals some interesting results. In terms of signal to noise ratio, it is beaten by other cameras which also have a one-inch sensor, such as the Sony RX100 III and the
Samsung NX Mini
. We can also compare it against the Panasonic GM5 since its competes in the same market, even though the Panasonic's sensor is much larger. The Panasonic wins out here, by quite a significant margin for both raw format and JPEG images.
The J5 fares better for dynamic range, being a close competitor for the GM5 and Samsung NX Mini, and beating the Sony RX100 III quite comfortably – again both for JPEGs and raw format files.
Unsurprisingly, the Panasonic GM5 is better equipped for resolving detail at the higher end of the sensitivity scale, but the J5 compares well with other cameras at the lower end of the scale, and throughout the range for those equipped with the same size sensor.
Click here
for a full size version.
Click here
for a full size version.
Overall, the camera's matrix (general-purpose) metering system does a good job of producing accurate exposures; however, there are some cases where a touch of positive exposure compensation is needed to help to brighten up the scene a little.
Under artificial lighting, the camera's automatic white balance setting tends to err a little towards unnaturally warm tones, but it's not too bad. If you're finding it to be problematic, you can always switch to a more appropriate white balance setting, such as Tungsten.
Nikon is very keen to boast about the J5's autofocusing speeds, and in good light the lens is able to snap to focus incredibly quickly. In lower light conditions, the lens will tend to hunt around a little, but it's still pretty good in all but the very darkest of conditions – there's also a focusing assist lamp to help in these situations.
Switching to tracking focus allows you to keep focus on a moving subject. Once you've set the subject to be tracked, the camera will carry on tracking it until you tell it to stop. This works quite well, but it can fall down when another subject enters the frame and confuses the camera – which could be problematic when you're photographing team sports.
Another headline specification of this camera is its 60fps shooting capability, which is way above and beyond the realms that DSLRs can achieve. However, this is limited by the camera's buffer size – it can only hold around 20 (raw or JPEG) files before it will stop shooting, so while shooting at this speed is useful for capturing very fast action, only being able to shoot for less than a second at a time requires your timing to be pretty accurate.
The 10-30mm kit lens is a decent performer to get you started with, or as a walk around lens. When using it at the full 30mm reach, there is some softness in some areas of the image if you examine closely, but it doesn't have too negative an effect on the overall image.
Click here
for a full size version.
Click here
for a full size version.
I've already mentioned the buffer's effect on fast continuous shooting, but general operational speeds of the J5 can be frustratingly slow – once a shot's been taken, it takes a between half a second and a second for it to be displayed in preview, and the same time again before the camera is ready for next shot, thus making the shot to shot time distinctly slow. This is annoying if you're trying to take a series of photos in relatively quick succession.
Although I haven't tested the video capability of the J5 in extreme depth, it is capable of recording high quality video footage. While it can shoot in 4K, it's unlikely many will take it up at just 15fps – it seems more like a marketing gimmick at this stage rather than a useful addition, since the video playback won't be as smooth. Those who are serious about video will also likely be disappointed by the fact that there's no external microphone or headphone ports, too.
Lab tests: Resolution
We've carried out lab tests on the Nikon 1 J5 across its full ISO range for resolution, noise (including signal to noise ratio) and dynamic range. We test the JPEGs shot by the camera, but we also check the performance with raw files. Most enthusiasts and pros prefer to shoot raw, and the results can often be quite different.
We've also picked out three of its chief rivals so that you can compare their performance directly.
•
Panasonic GM5
: Another tiny compact system camera, but this one has a much larger Micro Four Thirds sensor and a built in electronic viewfinder.
•
Samsung NX Mini
: Samsung's baby compact system camera uses a 1-inch sensor, just like the Nikon 1 J5.
•
Sony RX100 III
: The Nikon 1 J5 is also competing with high-end compacts like the Sony, which also has a 1-inch sensor.
We test camera resolution using an industry-standard ISO test chart that allows precise visual comparisons. This gives us numerical values for resolution in line widths/picture height, and you can see how the Nikon 1 J5 compares with its rivals in the charts below.
Nikon 1 J5 resolution
JPEG analysis:
All of these cameras offer broadly similar detail resolution at low-medium ISO settings, though the Sony is sharper than the rest up to ISO 400, and the Panasonic, with its bigger sensor, performs better at high ISOs. The Nikon 1 J5, however, produces the least sharp JPEGs.
Raw analysis:
The performance of these four cameras is much closer when comparing raw files, though the Nikon 1 J5 is, again, the weakest. Its results are far better than you'd expect from a regular compact camera, but the Panasonic, Samsung and Sony are all a little bit sharper.
Test chart samples
Click here
for a full size version.
Click here
for a full size version.
Lab tests: Dynamic range
Dynamic range is a measure of the range of tones the sensor can capture. Cameras with low dynamic range will often show 'blown' highlights or blocked-in shadows. This test is carried out in controlled conditions using DxO hardware and analysis tools.
Nikon 1 J5 dynamic range
JPEG analysis:
The dynamic range of all four cameras is quite close, with the Nikon 1 J5 just edging ahead of the rest right up to ISO 800. At ISO 6400 and 12800, though, it's clearly worse than the others.
Raw analysis:
When the raw files are compared the Nikon 1 J5 does well again, but this time it's overshadowed by the Panasonic GM5 and its larger sensor. The Sony RX100 III's low figures are unexpected.
Lab tests: Signal to noise ratio (noise)
This is a test of the camera's noise levels. The higher the signal to noise ratio, the greater the difference in strength between the real image data and random background noise, so the 'cleaner' the image will look. The higher the signal to noise ratio, the better.
Nikon 1 J5 signal to noise ratio
JPEG analysis:
The Nikon 1 J5's signal to noise ratio is significantly worse than the rest – you can expect its JPEG images to show more noise than those from the rival cameras in this group.
Raw analysis:
When the raw files are compared, though, the situation is turned around completely. Now, the J5 is one of the best in the group.
Test scene samples
We also carry out real-world noise tests across the camera's ISO range with a specially set-up studio test scene. You can see two of the results below:
Click here
for a full size version.
Click here
for a full size version.
Verdict
By revamping the design of the J range to give it a classy, retro look, and including more and improved dials, Nikon has widened the appeal of its mid-range compact system camera.
It's easy to like this camera, and especially if you're firmly in the Nikon camp, you may see this as a great walk around camera as an alternative to a standard compact camera. The fact that you can use your existing F-mount lenses (via an adapter) is an appealing prospect if you have a large collection, but with a 2.7x crop factor to consider, you may not find this useful very often.
JPEG images direct from the camera are great, and while they don't quite stand up to those from CSCs with larger sensors when you examine them at 100%, the overall impression is great. The increase in pixel count doesn't appear to have had a negative impression on image quality, and even those taken at high sensitivities in low light conditions are good.
Although there are extra dials and options on this body when compared with the J4, if like even more control, you'll probably want to consider the V3 instead. The same is true if you like to work with a viewfinder.
That said, the camera's screen is excellent, offering plenty of flexibility both in terms of the fact that it's hinged so it can face forwards and downwards, and because its touch sensitivity allows you to control certain aspects of the camera shooting.
There are some great specifications which are unique to the Nikon 1 series which should be appreciated both by those looking for an alternative to a compact camera, but also for those with a little more experience. Things like Best Moment Capture and the range of digital filters add a little fun into the mix, too.
We liked
Nikon's engineers have done a cracking job with the redesign of the J5. Its retro look and feel, coupled with an improvement to some of the dials and controls, give it a more serious and classy look, as well as improving the usability and functionality of the camera. Those who are Nikon fans may finally have a Nikon 1 camera to get excited about.
We disliked
Despite the fact that the J5 has the latest image processing engine, operational speeds could be better. Shot to shot times are a little slow, which can be frustrating at times, and it's worth considering that despite an advertised 60fps shooting speed, the camera's buffer can only hold 20 frames before you need to wait for that to clear, making it a little less impressive than it sounds.
Final Verdict
Nikon has once again produced a very capable camera for its compact system camera range. Lots of people criticise the Nikon 1 system for having a much smaller sensor than most of the other compact system cameras on the market. However, this makes it a much smaller camera, so it's a bit of a trade off.
It's also perhaps not surprising to see Nikon shying away from creating a direct alternative to a DSLR, as it probably doesn't want to cannibalise its own market. However, the J series remains a very real alternative to something else – a compact camera. And, if you happen to be a Nikon user already, switching to the J5 will feel very familiar.
If you're not so loyal to the Nikon brand, or perhaps are looking for something to be your only camera, the Panasonic GM5 remains king of the small format compact system cameras, so make sure to check that out too.

Read More ...
---
Available Tags:
Google
,
MacBook
,
hardware
,
Acer
,
Galaxy
,
Samsung
,
Nikon
,