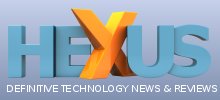 QOTW: Are we ready for cash-less high streets?

With Denmark considering cash-free shops, could the UK follow suit?

Read More ...
---
HEXUS Week In Review: SSDs, gaming rigs and high-end PSUs

Your chance to catch up on the week's tech developments.

Read More ...
---
European Commission: Pirate site shutdowns are ineffective

Such actions have short-lived and relatively limited impacts, according to research.

Read More ...
---
LG and Verizon launch the LG Lancet Windows Phone

Meanwhile Windows 10 Insider Preview build 10080 for phones becomes available.

Read More ...
---
Report: Lenovo looking to buy MSI gaming laptop business

However MSI denies any such negotiations are taking place.

Read More ...
---
Raspberry Pi Model B+ price cut to $25 (£16)

Thanks to production optimisations that allowed $35 price point for new Raspberry Pi 2.

Read More ...
---
Tom Clancy's Rainbow Six Siege to be released on 13th October

Ubisoft publishes a new video trailer to celebrate the announcement.

Read More ...
---
Review: OCZ Arc 100 (240GB)

A budget drive with mainstream performance.

Read More ...
---
Minecraft tops the YouTube most watched games top 10 list

Video site currently hosts over 42 million Minecraft videos.

Read More ...
---
Samsung Galaxy Tab A, with 9.7-inch XGA screen, comes to UK
Wi-Fi, Wi-Fi plus S Pen, and LTE models will all become available in the UK from 21st May.

Read More ...
---
Available Tags:
HEXUS
,
gaming
,
Windows Phone
,
LG
,
LG
,
Windows
,
Lenovo
,
MSI
,
OCZ
,
YouTube
,
Galaxy Tab
,
Samsung
,
Galaxy
,
UK
,