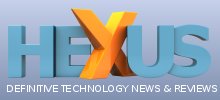 Verizon agrees to buy AOL for $4.4 billion (£2.8 billion)

Gains 2.1 million dial-up subscribers and sites such as Engadget and TechCrunch.

Read More ...
---
Nvidia set to update Grid streaming service to 1080p60

But you'll need a fast Internet connection.

Read More ...
---
AOC 25-inch Q2577PWQ QHD IPS display is aimed at professionals

Flicker free and colour accurate display married to flexible stand, all common ports.

Read More ...
---
Google's self-driving cars have been involved in 11 accidents

But all the accidents were caused by other cars, driven by humans.

Read More ...
---
Fallout 4 cinematic trailer listed on CG artist's LinkedIn profile
Artist has previously worked on Far Cry 4, next gen Forza and Elder Scrolls games.

Read More ...
---
Microsoft Edge security improvements detailed

New browser uses safer sandboxing, compiler and memory control techniques.

Read More ...
---
Review: be quiet! Dark Power Pro 11 850W

The best that German engineering has to offer.

Read More ...
---
Available Tags:
AOL
,
Nvidia
,
Microsoft
,
security
,